Grilling for 1 and a Half
Happy Saturday Bloggies 🙂
Yesterday was a super busy day for me and I barely left my apartment. Do you ever have one of those days where you feel like you haven't sat down, yet accomplished nothing? That was yesterday!
I started my day off with yummy toast and a greek yogurt that the nice folks over at Yoplait sent me. Usually I am picky about my greek yogurt and I eat it plain. This had pineapple in it but just a hint of it. It wasn't super strong, just the right amount of flavor. So delicious 🙂
Since it was Friday I hit my favorite spot, WEGMANS! I only go every few weeks now because I'm worse than a little kid in a toy store. I just grab and grab and then I have a fridge full enough for a family of 6. I really did need to go though because I had to stock up on fruits and veggies. Check out my produce cart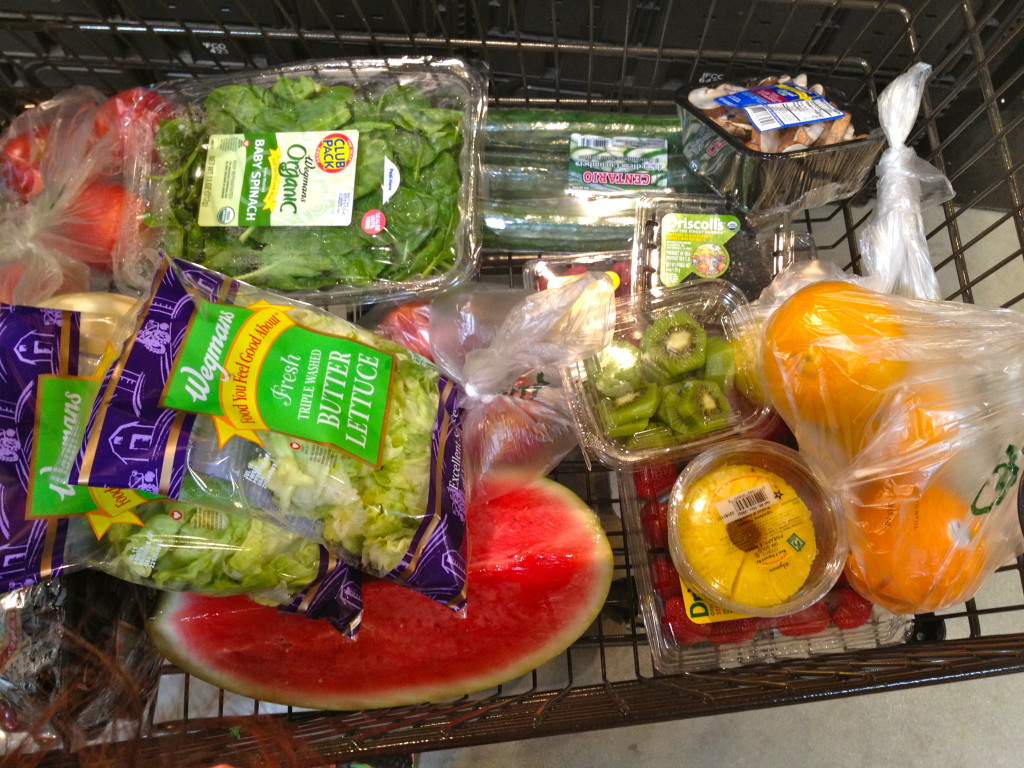 I love going to Wegmans because I always find new things. I call them Fun Friday Finds: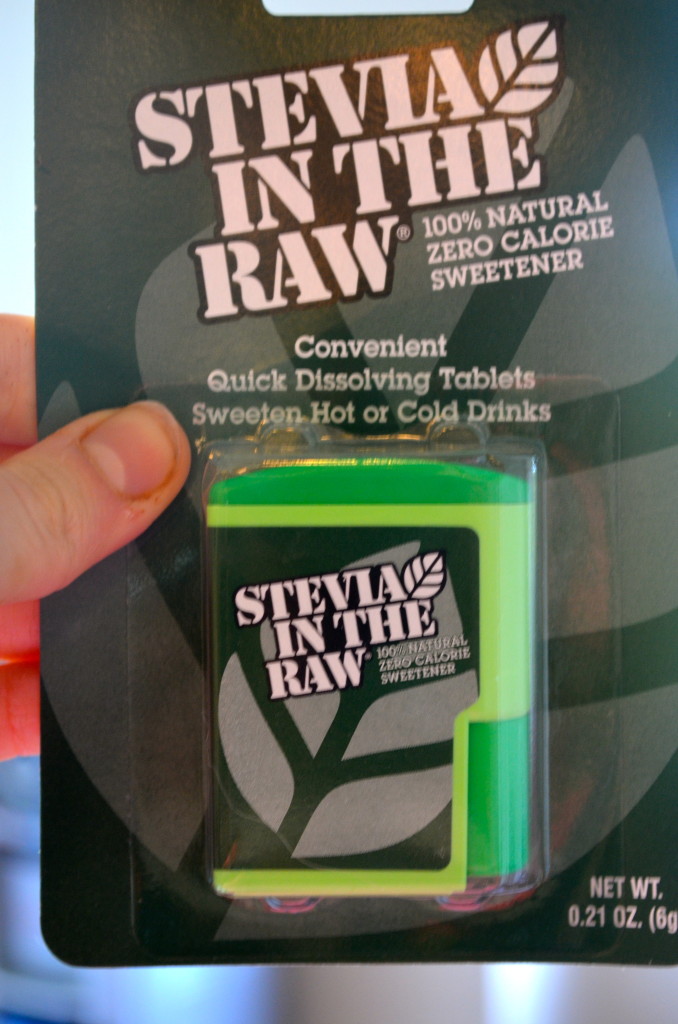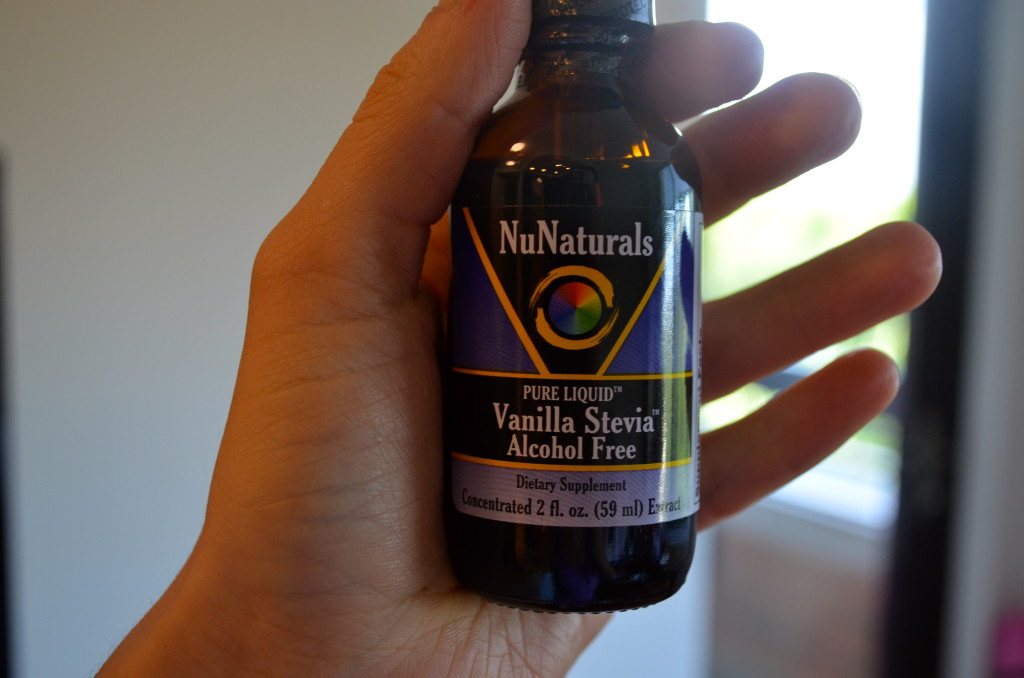 I also saw these, too bad it's past the 4th of July! I ended up buying plain white petite roses
After I came home I wanted to juice right away since I bought all those pretty fruits and veggies!
This one had spinach, kale, one pineapple ring, 1/4 of an english cucumber, a small kiwi, strawberries, unsweetened almond milk, regular ice, coconut nectar (another find that I forgot to snap a picture of), and topped with acai powder (superfood).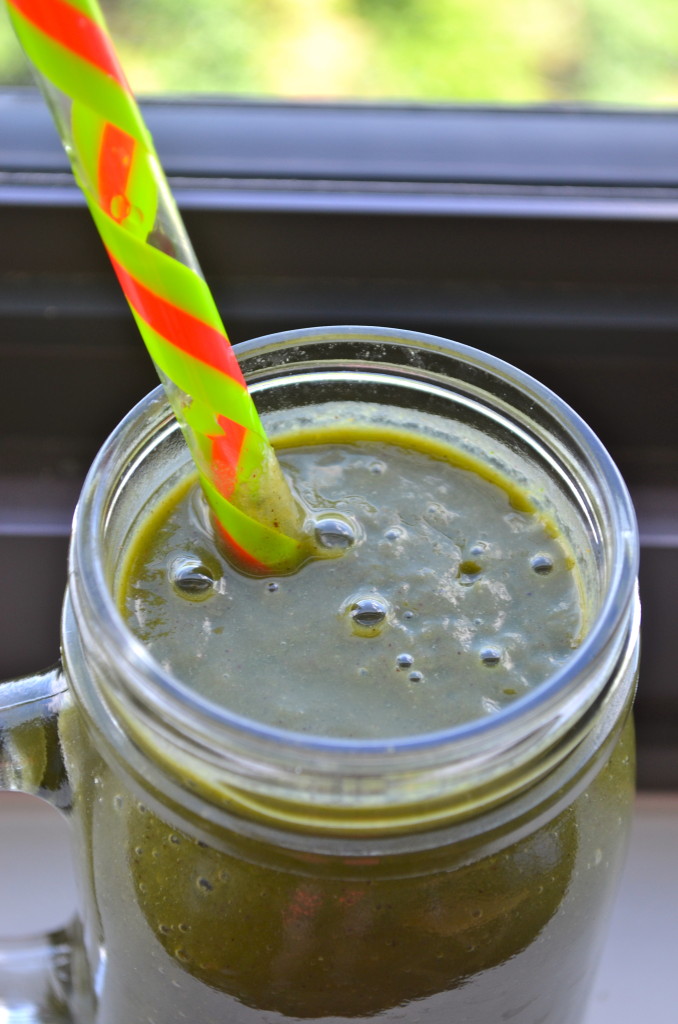 Unfortunately it was not as good as my original. Still good, but I think the strawberries threw it off.
After juicing, I hit my apartment gym for a little cardio and leg day action. I only worked out about 75 minutes, which is light for a leg day. Instead of powering through one giant leg session, I focused on hips, booty, and hamstrings. In a few days I'll hit quads and calves.
I used the smith machine and played around with new moves. This one was my favorite. I call it a hip press.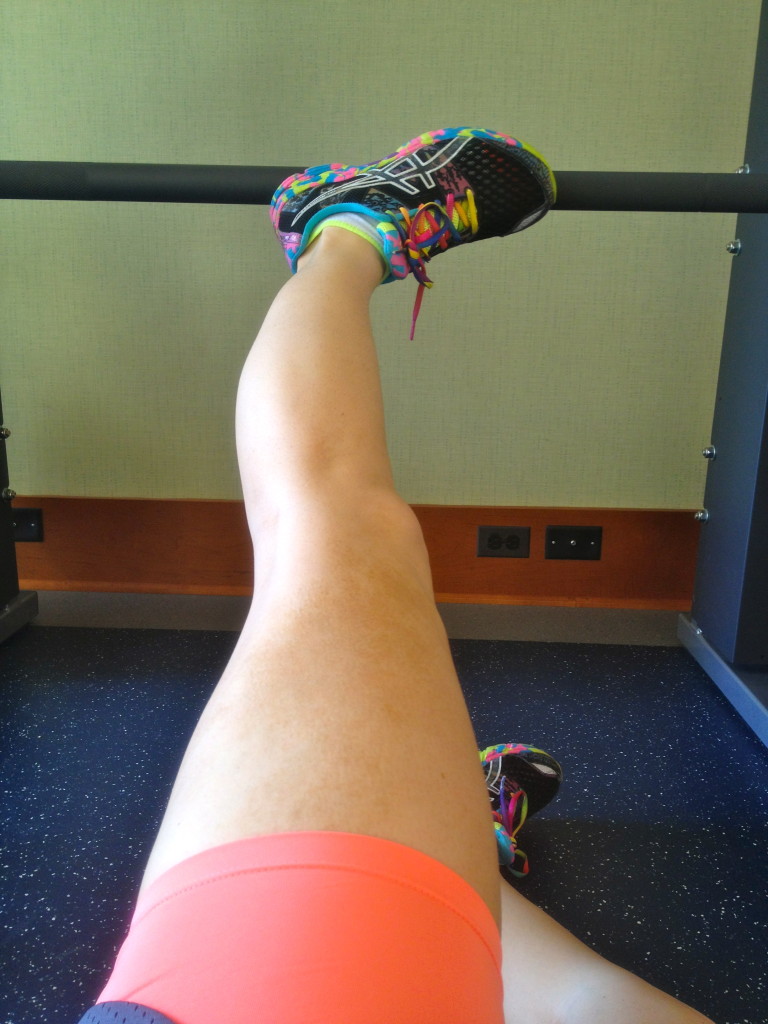 Basically you lay on your hip on the ground (mat down to protect yourself!), and push the smith machine away and back in (knee will bend). It really works that outer hip area. I did 10 reps x 4 sets each side (alternate back and forth to let each side rest). I also posted a video on my Instagram account for you to see it in action.
Cardio didn't last long because my knee was really killing me. This really scares me for when I want to run that 1/2 marathon!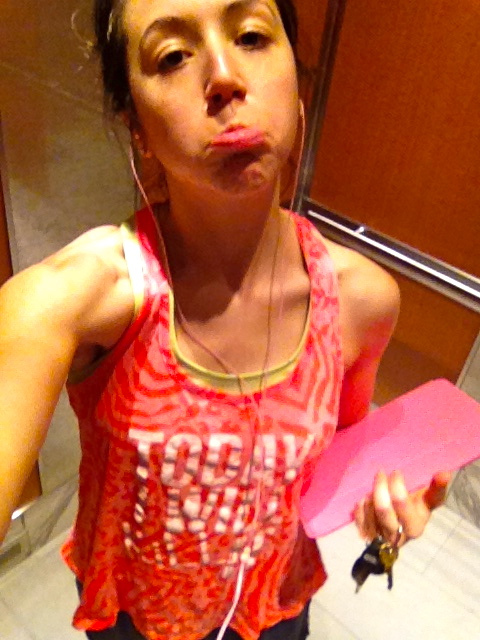 After working out I started to organize my closet, unpack LOTS of things, and do LOTS of laundry. It took forever and I'm still not done! Phoebe and I played around in my closet. She just loves it in there, it's like her little hideout.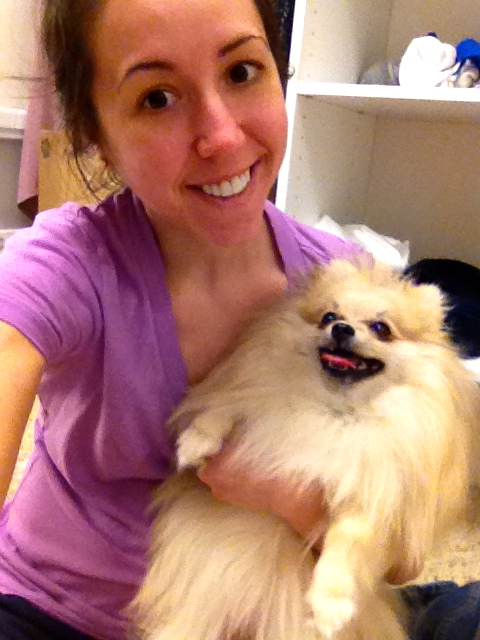 When it came time for dinner I knew I was going to hit the grills outside. When I was in Wegmans I saw some beautiful fish and couldn't resist!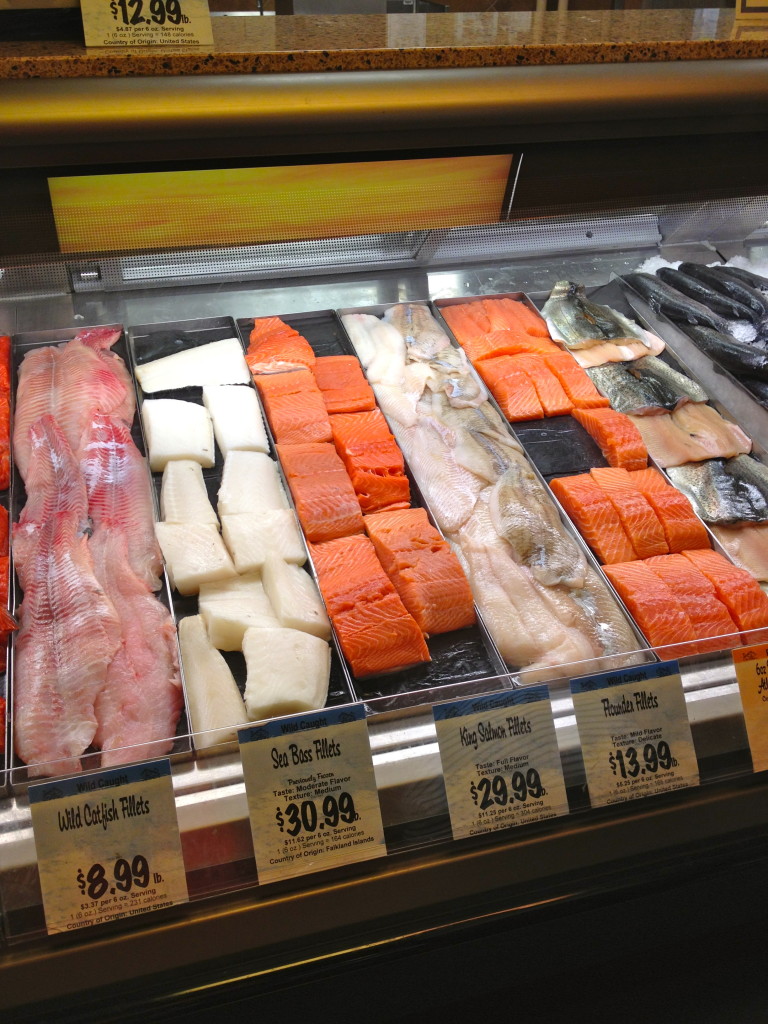 I decided to pair it with some veggies so I put them on kabobs to grill easier. For the salmon I used the hoisin sauce I bought, along with some pineapple slices, and a sprinkle of fresh rosemary (growing up! I hated rosemary before). The plank underneath the salmon is a grilling plank. It's supposed to give the meat a smokey flavor and it's easier for grilling.
It was beautiful out so I enjoyed getting a little vitamin D while waiting for my food to cook.
I am not a pro at the grill, but I figured it out pretty quickly! My food turned out fabulous! It was just me of course (and Phoebe- she counts as half), but I made both pieces because it was fresh fish and I can eat the other serving for lunch the following day. I was really hard not to inhale both because it was so tasty!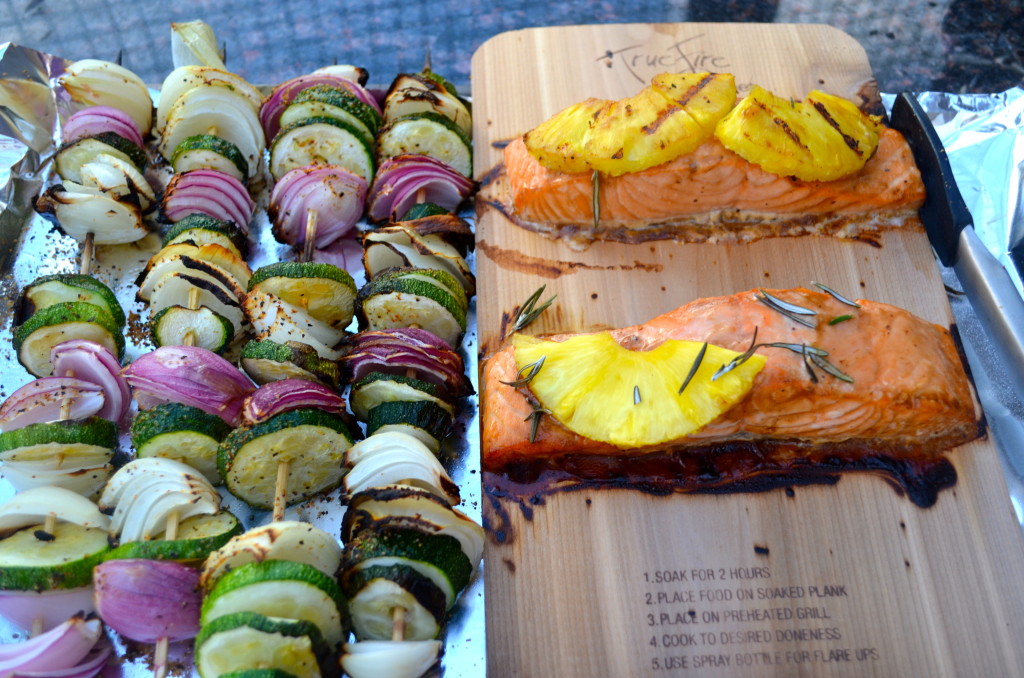 I couldn't wait to get my food upstairs and devour it!
Best piece of salmon I've ever had, hands down. It was so buttery it melted in your mouth. I will never buy frozen again! Plus that center cut really makes a difference. Mouthwatering….
Phoebs really liked the zucchini too!
Our night finished by doing things around the apartment and me chasing my little ball of fluff because she kept getting her paws on things she shouldn't.
But seriously folks do you think I could ever yell at her? Look at that adorable little thing! I just laugh most of the time.
Tomorrow I will have another new recipe up! Working on making a version of that granola I had at the conference. Yummy in the tummy!
XOXO With a Cherry On Top,
-Minnie
P.S. I know some of you have figured out I have been eating like I used to pre-prep. After I got back from Portland I decided to push back my competition until November. I lost a lot of "Minnie" these past few weeks and I wasn't happy. In order to do prep I need to be healthy, stress free, and 100% committed. I feel good about the decision and I feel good being ME again!