Happy With Gains
Happy Thursday! It's a super happy Thursday for me because 10 hours separates me from the weekend. A much needed weekend! I am in desperate need of some sleep, but this time hopefully I won't sleep until 1:30, wow that was crazy!
Yesterday at work was pretty low key for me. The morning I was busy, but the afternoon was blah. This was my breakfast:
I also had my casein shake because I didn't want to hold off until lunch. Lunch was a repeat of Monday. Clean Corn Chowder and an apple to go with it. Tick Tock Tick Tock, is it time to go to the gym yet? That's pretty much how my afternoon went. I kept trying to leave early, but then I would wait for someone to go over patients with, and before I knew it my regular time had arrived anyway.
Changed for the gym and ready to hit some biceps and chest!
I started with 22 minutes on the stairmaster. My last 3 minutes (before my cool down) was 3 straight minutes of pounding those steps @ 126 steps per min. That's fast for no breaks! I was burning like crazy. My normal step holding on is 111, not holding on is anywhere from 90-105. Felt good though!
Then I did biceps and chest. Here was my routine:
Bicep push outs with 40 lb bar, 10 reps x 4 sets

Bicep rows with 40 lb bar, 12 reps x 4 sets
Pushups 10 reps x 4 sets, 2 sets regular, 2 sets with 1 leg in air
Chest expansions (open and close wide), 8 lb kettles, 10 reps x 4 sets
Hammer curls, 15 lb weights, 12 reps x 4 sets
Diagonal Hammer curls, 15 lb weights alternating, 20 reps x 4 sets
Drag curls (bar skims body like a bicep curl), 30 lb bar, 10 reps x 4 sets
Cable bicep curls, 40lbs, 12 reps x 3 sets
Cable bicep rows, 60 lbs, 12 reps x 3 sets
Pec Fly's machine, 50-60 lbs, 10-12 reps x 4 sets
Incline chest press, 55-70 lbs, 15 reps x 4 sets
MORE PUSHUPS! This time on the bosu, 10 reps x 3 sets
Also did some bosu squats (not a lot) and 20 more minutes on the elliptical! Included my cardio today. Even though I did an all day lifting day the day before, cardio still needs to be done!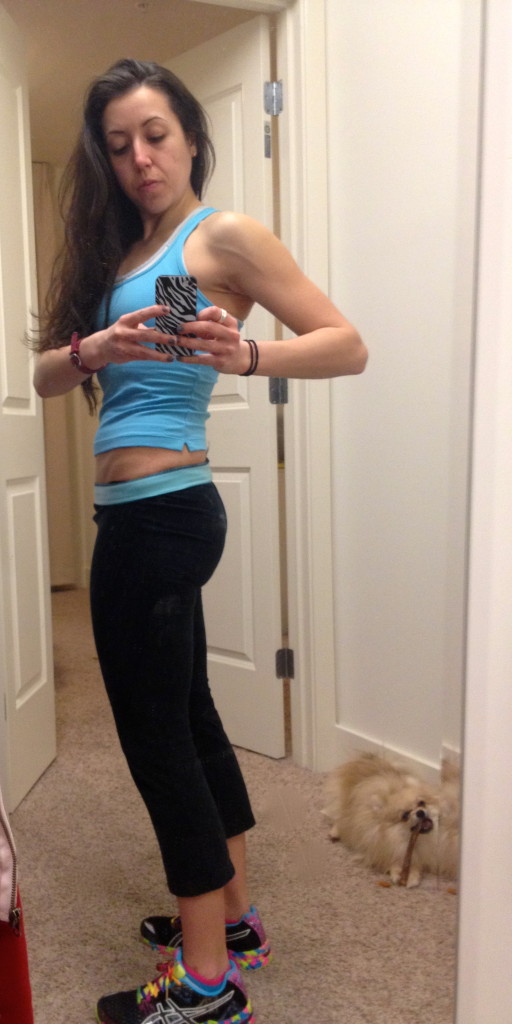 Our dinner consisted of chicken breast, veggies, and a salad. I also had a casein fudgesicle and a really big granola bar. I didn't take pics sorry. I was having about 5 text conversations at once and forgot!
Then Phoebe got a little bit mouthy. What can I say? She takes after her mother 😉
After much debate from yesterday's post about the haircut I want to give her (I posted on Instagram too), I've decided we will be doing it! Everyone on my Instagram said to go for it! Phoebe's fur is VERY hard to take care of. It's beautiful but becomes matted very easily. It will be a good summer cut for her and I can't wait to see what she looks like! We are at least going to wait until May though. Shelby Ann gets the teddy bear cut and looks adorable, so I'm sure my Phoebe will too. It'll always grow back!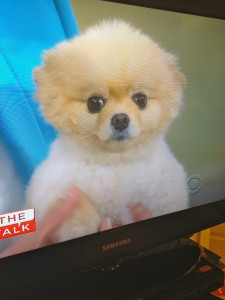 I know I have been lacking on the recipe stuff. I just haven't had much time and have been dealing with my "sick" issues. I will definitely have one up soon I promise! Especially because I have ingredients in my fridge I need to use ASAP! Stay tuned for something yummy coming your way 🙂 Thanks for your patience!
Thursday is here! YAY!
XOXO With a Cherry On Top,
-Minnie