You LIFT Me Up!
Well hello there!
I am in a really good mood as I am typing this. Why you ask? Well I got back from the gym and my hour session was ALL LIFTING! No cardio! What? Crazy, I know! I've never done this before. I always do cardio, even if it's 20 minutes. But this time I said let me give this a go. We will get to this in detail in a bit…
But first, my morning started feeling under the weather again and extremely tired. I'm talking 3 cups of coffee before 6 am tired. I know, don't judge.
After morning rounds I sat down in the PA office and all I wanted were those apple crunchies. I dig through my bag, dig a little bit more, then I get a glimpse in my brain of them sitting on my kitchen counter. Noooooooooooooo!
Isn't that a bummer? I settled for my cottage cheese and had my protein shake early.
I really was having motivation issues since I was so tired. I couldn't snap out of it! I felt like I was just dragging my feet all day long. By the time lunch rolled around I perked up a little bit.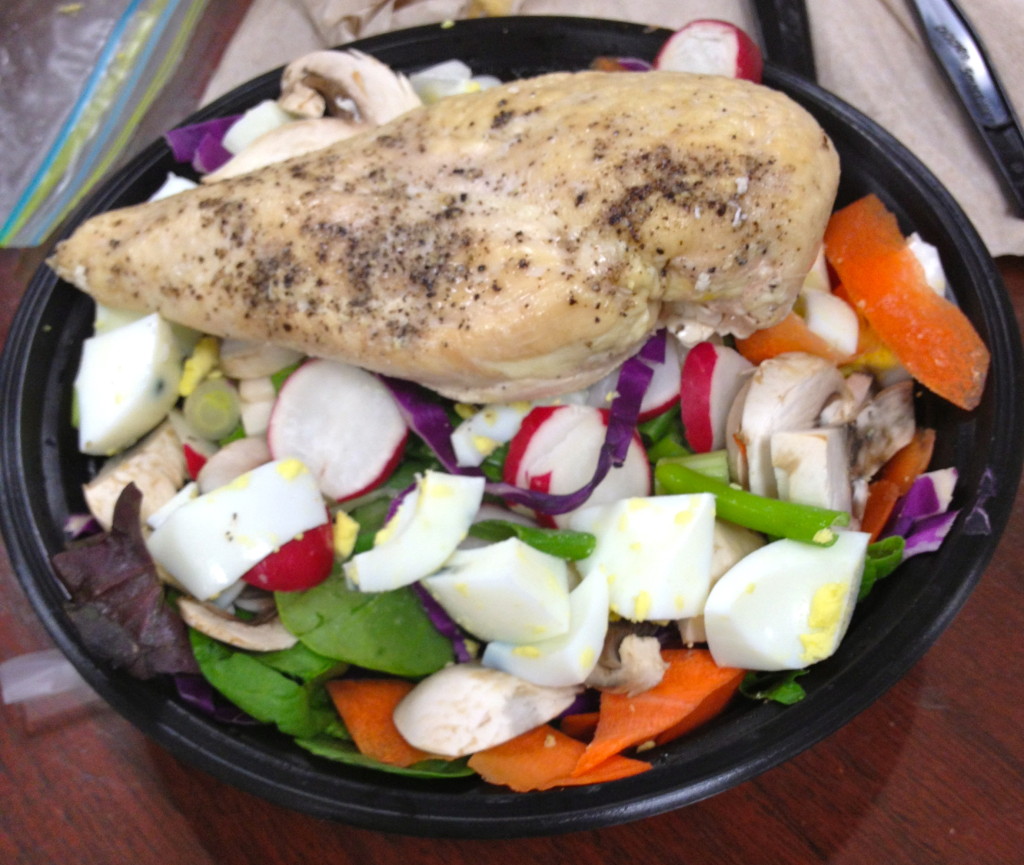 I topped with my apple cider vinaigrette. I spilled half of it (bummer), but what was left of it was really good! I also had some fruit and this Kashi bar. Yum!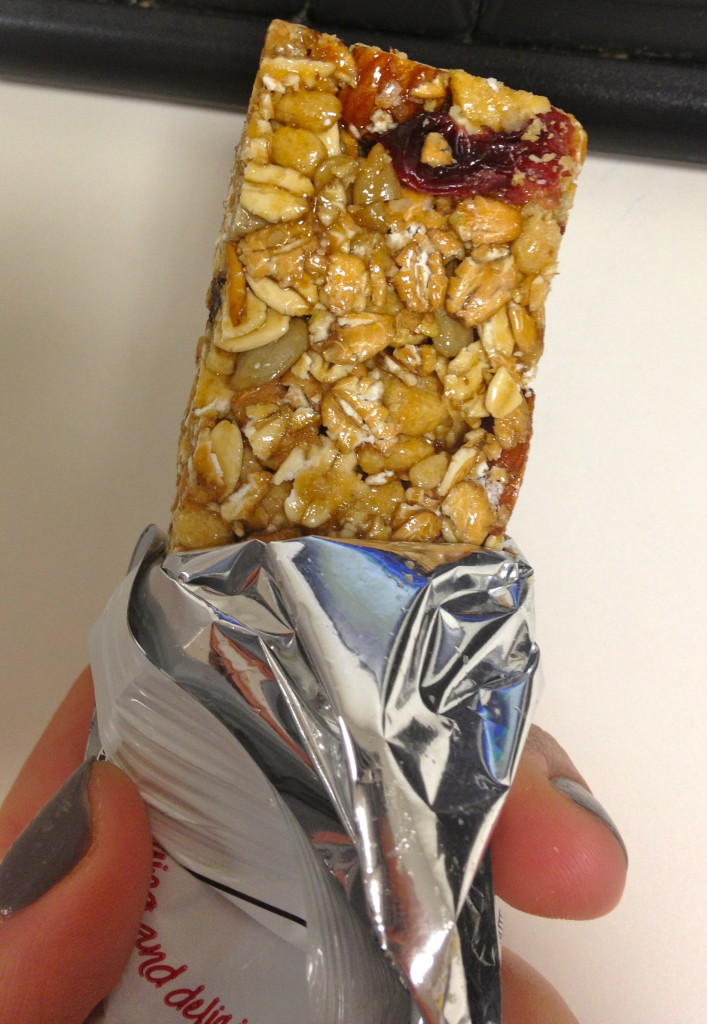 I wasn't sure if I was going to go to my gym because I left a half hour later than normal, plus I hit traffic, and it was pretty warm out! Check it out!
But I am SO glad I did. It was just what I needed. Like I said before, all lifting, absolutely no cardio. I eyeballed the cardio machines a bit, but resisted. I felt like a beast for sure after I finished, like I could conquer the world. It definitely LIFTED me up!
Strong woman indeed! Here was my back routine:
Wide grip 60 lb bar rows, 12 reps x 4 sets
Narrow grip 60 lb bar rows, 12 reps x 4 sets (alternating this with the wide)
Assisted pullups, 12 reps x 4 sets
Bent over rear delt fly's, 15 lb kettles, 10 reps x 4 sets
Pushups 10 reps (on toes!)
Lat pulldowns, 50-60 lbs, 8-10 reps x 4 sets
Stiff leg dead lifts, 90 lb bar, 12 reps x 4 sets
Pushups on toes with 1 leg in the air! Holy cow! 10 reps x 4 sets (2 each leg)
Kettle bell rhomboid squeeze, (like shoulder shrugs), 20 lbs each hand, 12 reps x 4 sets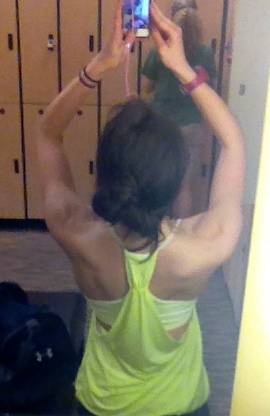 Then I decided to do some back work on the mat
Superman's (arms and legs up off the mat, neck aligned straight, gaze to the floor). Hold and lower x 10. I used a 10 lb plate for 2 of my sets. Pulse up for 8 x 4 sets

Low back twists. Face down on the mat, hands under chin, rotate waist and move left elbow to left side (you are twisting). 10 reps x 2 sets each side
Planks x 1 minute. 2 sets
Swimming (superman but with fluttering arms and legs) 30 seconds x 2 sets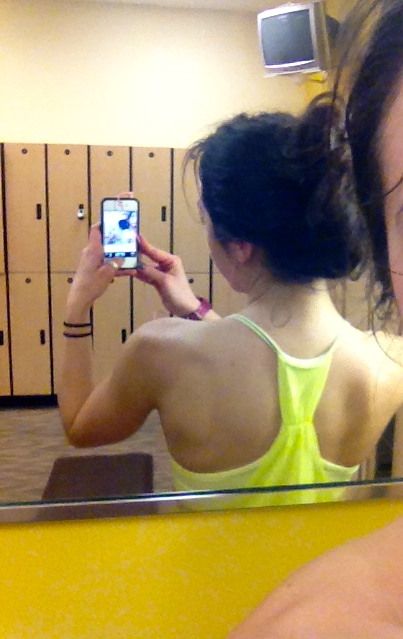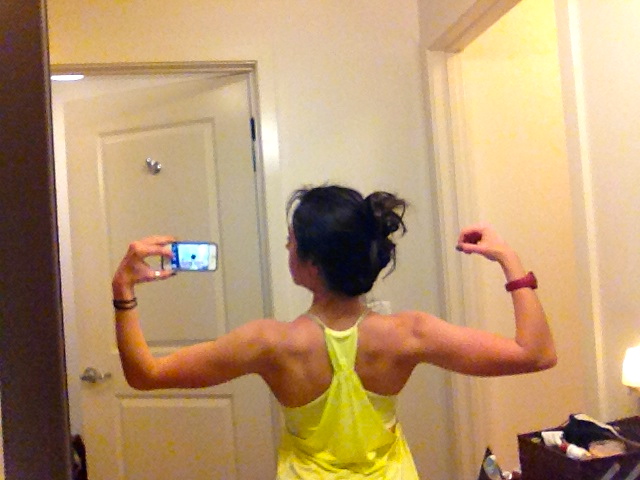 Finished up with some kettle bell work, deep squats, and some ab stuff:
Kettlebell swings, 35 lbs, 15 reps x 4 sets
Cable torso twists, 50 lbs, 10 reps x 2 sets each side
Captains chair V crunches, 10 reps x 3 sets, then obliques 10 reps x 2 sets each side
Low back extensions over the stand holding 25 lb weight, 10 reps x 3 sets, then 10 reps x 2 sets each side
Deep squats, 12 reps x 5 sets. How low can you go?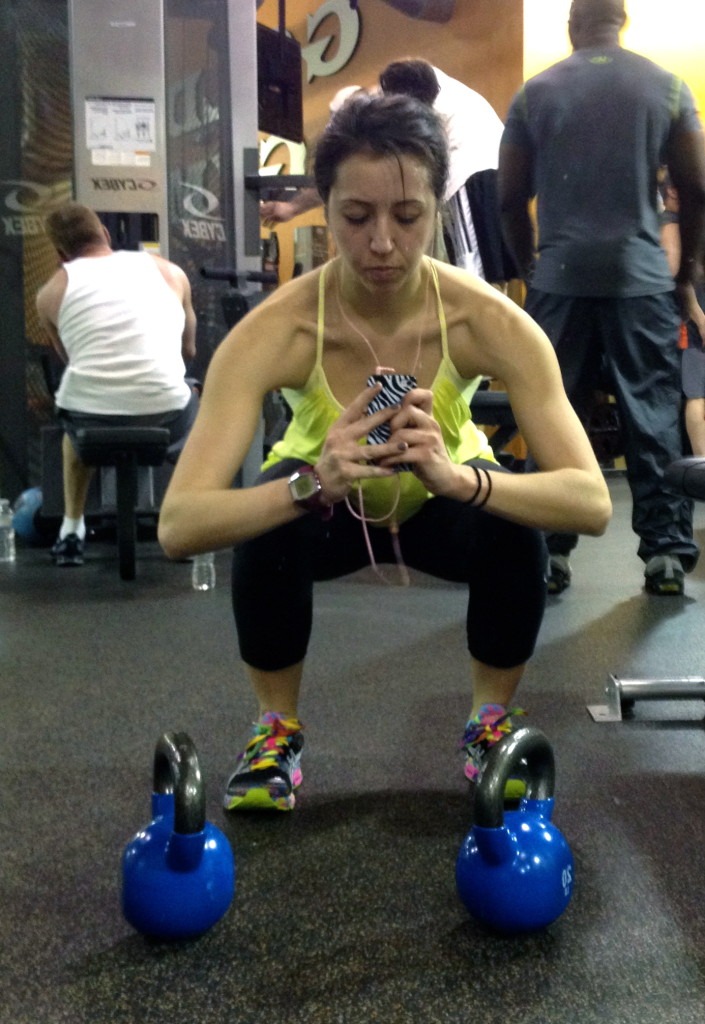 Don't forget to stretch… and FLEX!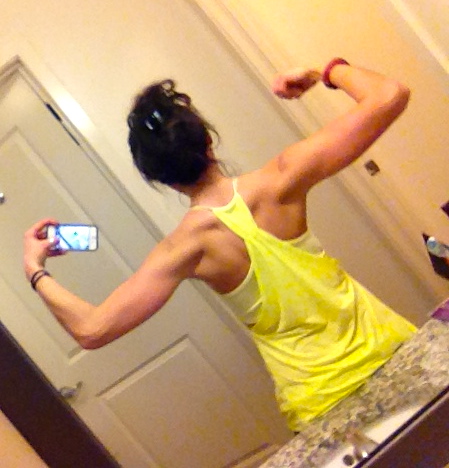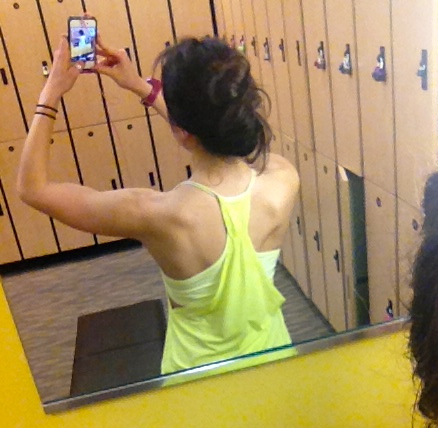 At home I made chicken and asparagus. I also snacked on grapes and some granola I had. Okay a lot of granola…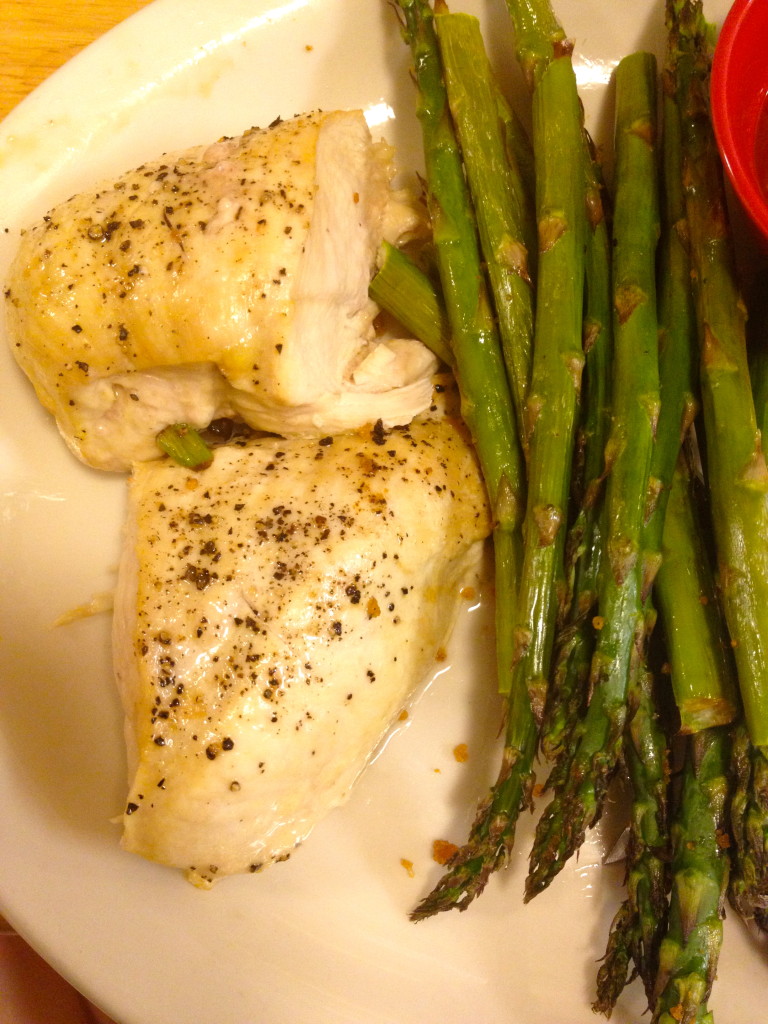 I also watched one of my favorite shows, The Talk, and Sharon Osborne showed her dog Bella. HOW ADORABLE! This is how I plan on cutting Phoebe this summer. How do you think she will look?
It's definitely a summer cut. G-Mama wants me to cut her like this now, but she just grew her pretty fluffy coat! I can't bring myself to do it yet. Maybe June 🙂
We made it to Wednesday! Half way through. Chest and Bicep day combo coming later! If I'm not too sore… ouchies, already feeling the back soreness!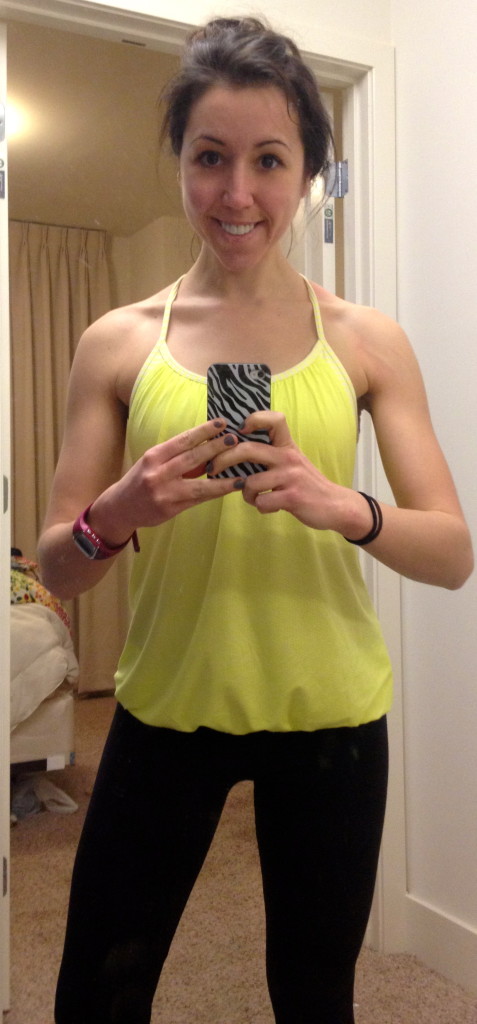 XOXO With a Cherry On Top,
-Minnie