Healthier Guacamole
Happy Cinco De Mayo! While the rest of the world is out downing a few Margaritas, I made  the best guacamole I've ever had!
The best part about this guac is that it is healthier than the guacamole you get at a restaurant. How can that be? And how could it possibly taste better? Well my friends, it's possible!
The secret ingredient in this guac is the pea. While avocados are healthy and the good fats, too much will still pack on the pounds, so that's why I am careful about my portion sizes when it comes to this food. By replacing half the recipe with peas, you still get the avocado taste with half the fat.
So skip the margarita, grab these ingredients and make a healthy guac instead!
For this recipe you will need: 
1 cup of frozen peas

1 large avocado
2 small tesoro tomatoes (a little over 1/2 cup)
1/4 cup red onion
2 1/2 Tablespoons of freshly squeezed lime juice
1/2 teaspoon of sea salt
Makes about 10 servings
I use avocados that can fit in the palm of my hand. Not too small, but not too big, just right!
This is such a simple recipe because you just throw everything in the blender! My Lucy (Vitamix) made the most amazing guac! You can also use a food processor
View from the to- pre mix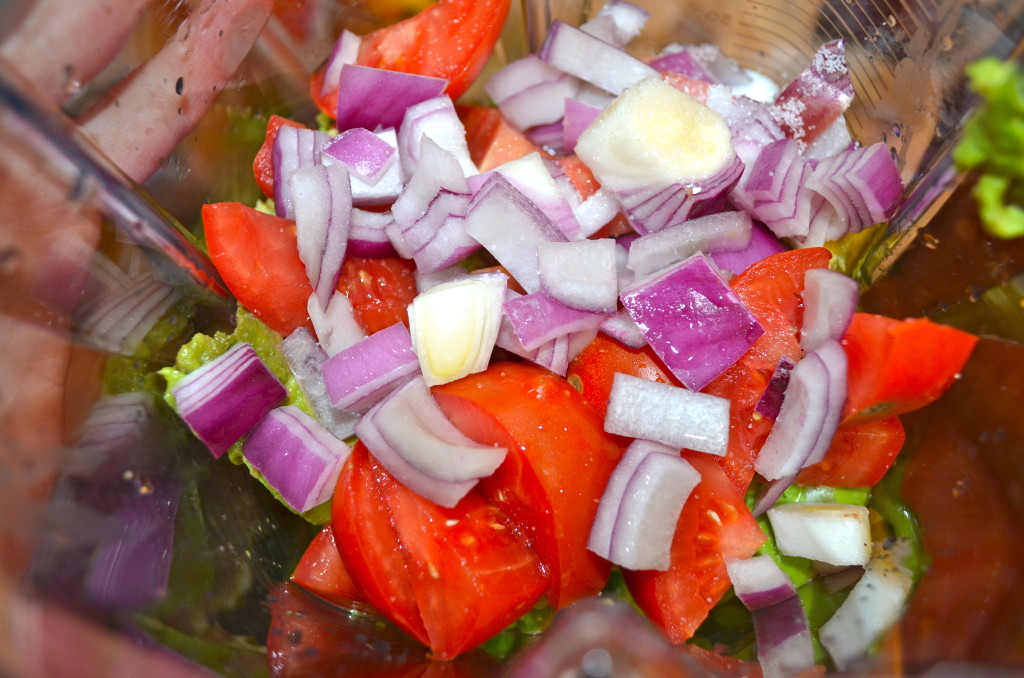 Hit pulse about 6-7 times on a medium speed for a chunky guac, mix continuously on medium speed for a smooth guac. I like it chunky!
This guacamole is INCREDIBLE. All of the ingredients make the perfect dip. Follow the measurements exactly 🙂
I seriously think the peas make the guac taste better. I've had many guacs, and the peas add a hint of sweetness that other guacs do not have.
I grabbed a sweet potato chip and was ready to dig in!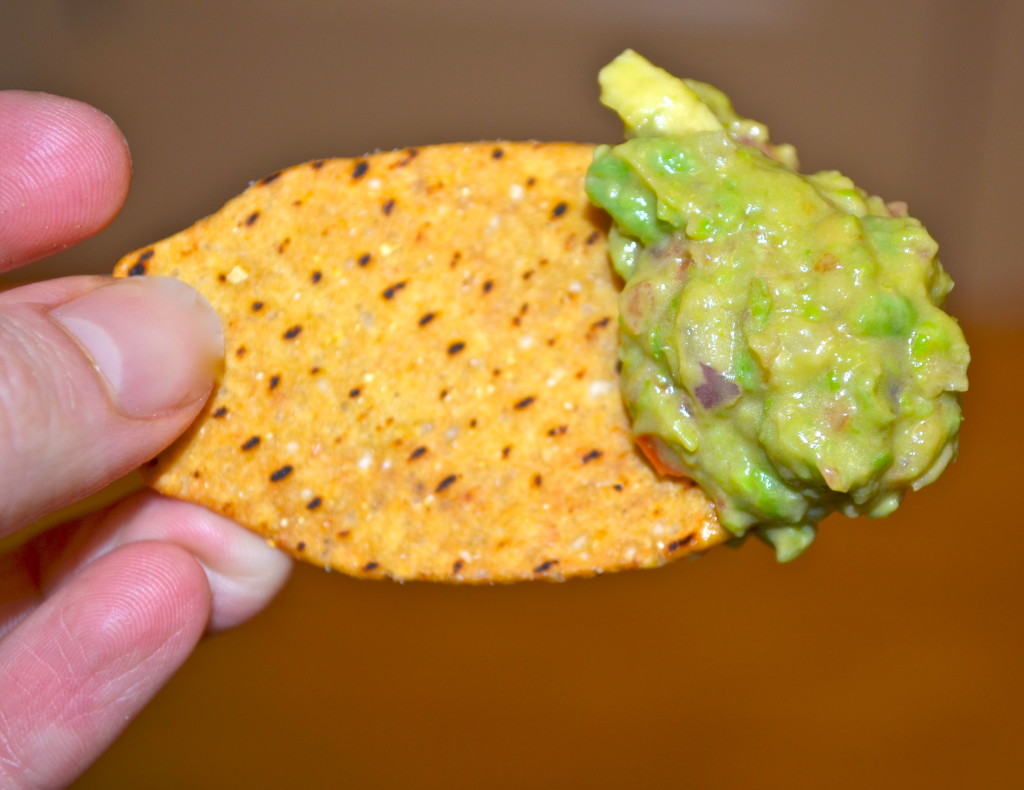 MAKE THIS NOW!
Nutritional info per serving (1/4 cup = 1 serving): 52.5 calories, 3.49 grams of fat, 5 grams of carbs, 1.33 grams of protein. 
Compare that to regular guacamole that is 100 calories and 9 grams of fat. We are cutting the calories almost by half! And getting rid of 5.5 grams of fat!
Also if you go out to the popular Mexican chain restaurants and order the guac, they load it up with extras like sour cream. One serving of this at Chevy's is 525 calories, 34.9 grams of fat, 50 grams of carbs, and 13.3 grams of protein! Oh my goodness! I remember once I ate a whole order myself. And that didn't even include the chips! Chips are 430 calories and 20 grams of fat. WOW!
So save yourself the calories, the fat, and the guilt trip and make this healthy version at home. Plus I think it tastes so much better! Fresh, sweet, and healthy 🙂
I ended up putting it on top of my baked tilapia. Man was that good.
Happy Cinco De Mayo
AND
Happy eating…
XOXO With a Cherry On Top,
-Minnie