Here's What I Can Tell You
Hi Everyone.
Here's What I Can Tell You.
I'm sorry for not updating regularly. I've just been enjoying my new space and life. I've been loving gym time and NOT having a headache all day every day. I'm smiling, I'm laughing, I'm even letting random people spot me in the gym. YES, ME!
Happiness came to a halt on Saturday night (Valentines Day). What did I get? Well my gift was a love bug.
Nope, not a cute love bug…
A lovely little stomach bug!!!
Yeah, it's been going around here unfortunately. The worst of it lasted just a few hours, but I still feel a little "icky" all over. Phoebe kept me company on the couch though.
Kinda… 
I was able to get my gym session done on Sunday, but I took it a little easy. No crazy leg days or mega sweat sessions. I'm not sure my body could've handled it and frankly I didn't want to find out if it could.
I did get in a little ab work which probably wasn't the smartest idea, but I stuck to oblique work instead of regular abs that would upset my stomach.
Here I am doing side planks dipping my hip down and up (also works the glutes). At the end of each set I lift one leg up and hold it as long as I can (the picture). FEEL THE BURN!
As far as the diet goes, you guys know I am a cake batter freak. My favorite flavor of whey is Cellucor's cor-fetti cake batter (seriously it's the only one I use now), and I've been begging Quest to come out with a cake batter bar for years! C'mon guys work with Minnie here…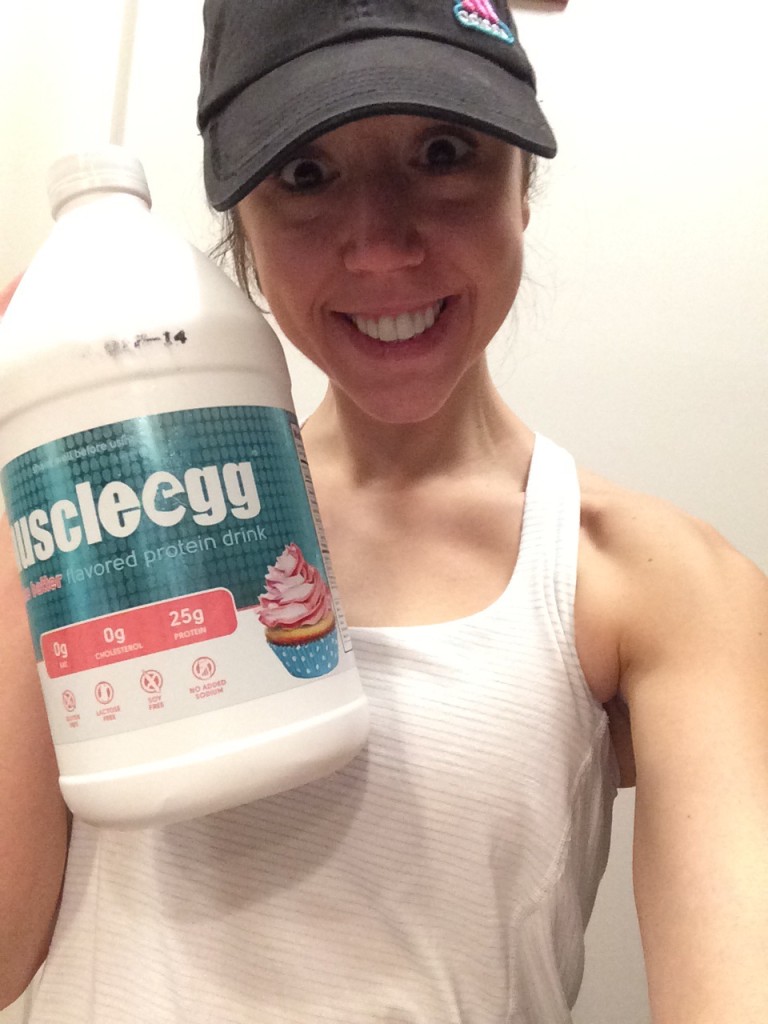 Anyway Muscle Egg FINALLY released a cake batter flavor and it's pretty delicious. You can do many things with this (pancakes, muffins, whatever you use egg whites for), but I like drinking it straight.  It's just liquid egg whites and some flavoring. Yum! Please excuse the crazy eyes in the picture, I was a tad excited… 
Today I am hoping to hit legs… as long as my body agrees with me. ALWAYS remember to listen to your body and treat it nicely. It's the only one you have 🙂
 Source
Have a great Monday!
XOXO With a Cherry On Top,
-Minnie