I love lucy
Hey gang! This is for you. The ones who have it all… on your to-do list.
As we all know Skinny Minnie is a very active girl. I'm one of those people who has a million dreams and I want to achieve all of them.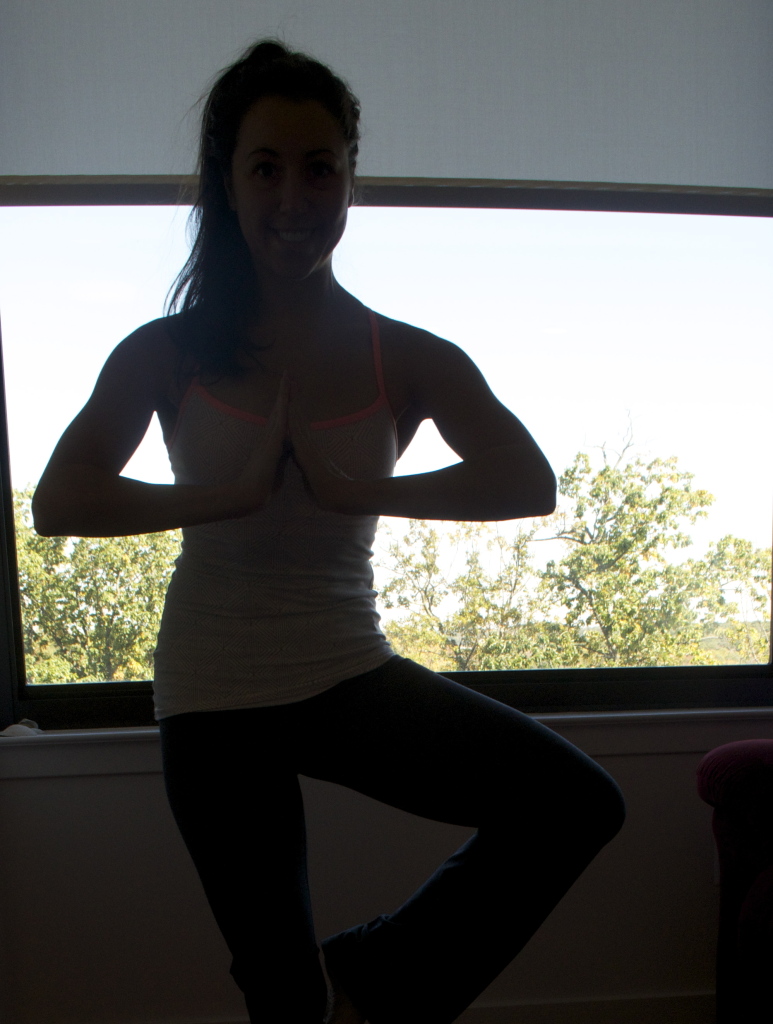 However, I'm a normal woman. I have responsibilities. A job to go to each morning, a home to clean, meals to prep, a pup to take care of. It would be nice if someone could do some of those things for me, a girl can dream right?
Actually one of my favorite workout brands lucy is doing a giveaway on just that. I've never heard of a giveaway like this before, but they are calling it "This is for you".
Using Facebook you can enter to win a year of housecleaning, babysitting, and meal delivery. Crazy right? One grand prize winner will get ALL THREE! I'm not sure they would consider a puppy like Phoebe to be babysitting, but she's my baby and would love some company 😉 Contest ends December 16th.
I first discovered lucy a few years back when I was doing pilates reformer quite a bit. I found that their workout clothes were super stylish, but also made for the high-performance athlete. These are clothes you live in, not just workout in. I would go from a reformer class to the grocery store, throw on a lucy hoodie over a tank top and be ready for my errands. Even the pieces I have had for years look brand-new. You get so much for your money!
Here are some of my recent purchases:
Now let me just say I want to live in these. I've never had a pair of pants make my butt look so good before. Not only are they moisture-wicking, but they have a little bit of compression and "body-skimming" material to hug curves in the right places and create a smooth full look. These were a must have!
*told ya they make the butt pop*
I loved this top. It has built-in cups you can remove. I left them in because I don't need an extra sports bra for support. It was perfect. The fit up top was great to show off my shoulders and back, but cinched nicely at the waist.
An adorable sweatshirt I've worn out 3 times already. The back is so fun! Plus it goes with EVERYTHING. Dress it up, dress it down, you choose! I've worn it to the gym, to lunch, and to girls night 🙂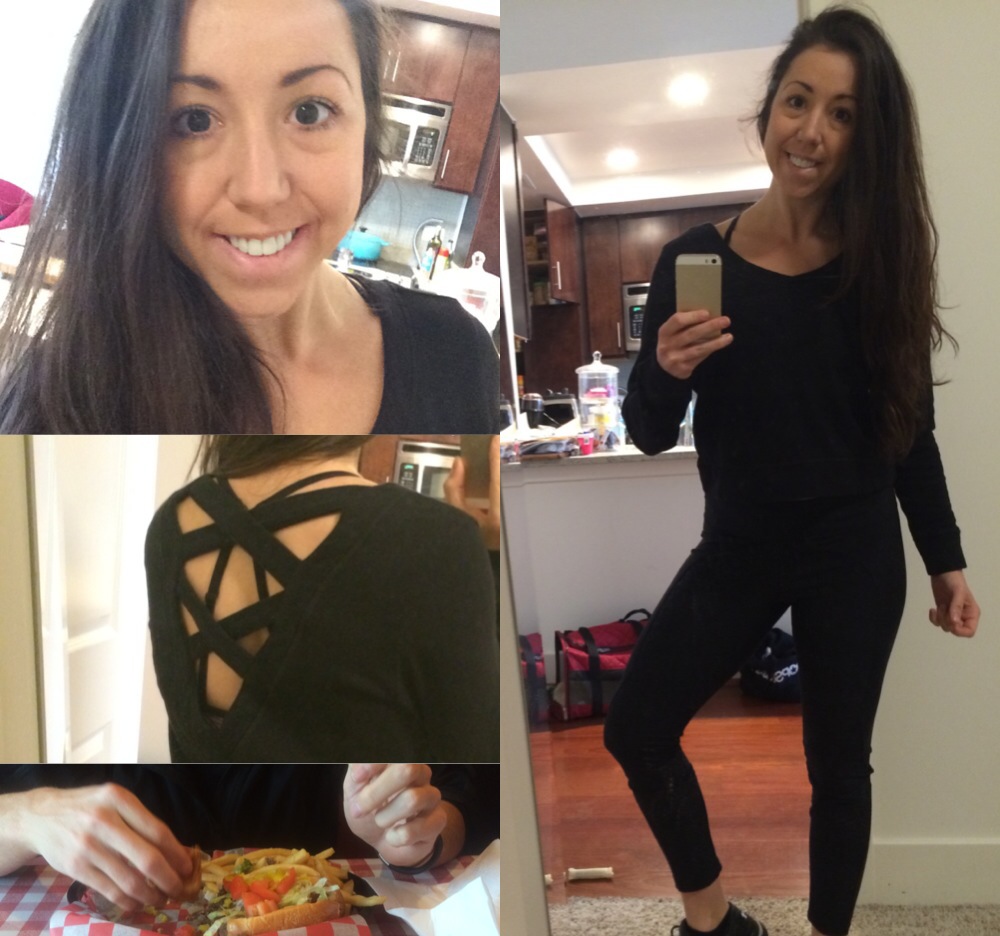 My favorite item! I can't go anywhere without people stopping me and asking where I purchased this. I wear this just about every day as a jacket since fall came here in Maryland. It can be worn two ways: with a wide asymmetric collar, or with a high collar almost scarf-like. I've already had two friends order one!
*Sorry there are always dog chews around me*
So as you see I've been living in my lucy lately. It's so versatile. I even have been doing some stretching and foam rolling at home with Phoebe! Cutting that extra 10-15 minutes off my gym time every day gives me that little bit of extra time with my girl at home. I know the lucy clothes soak up the moisture from my hardcore workouts, so I can stay in them for the extra time 🙂 Plus, Phoebe always loves to foam roll with mama! Win-Win.
Doing downward dog better than me… Brat!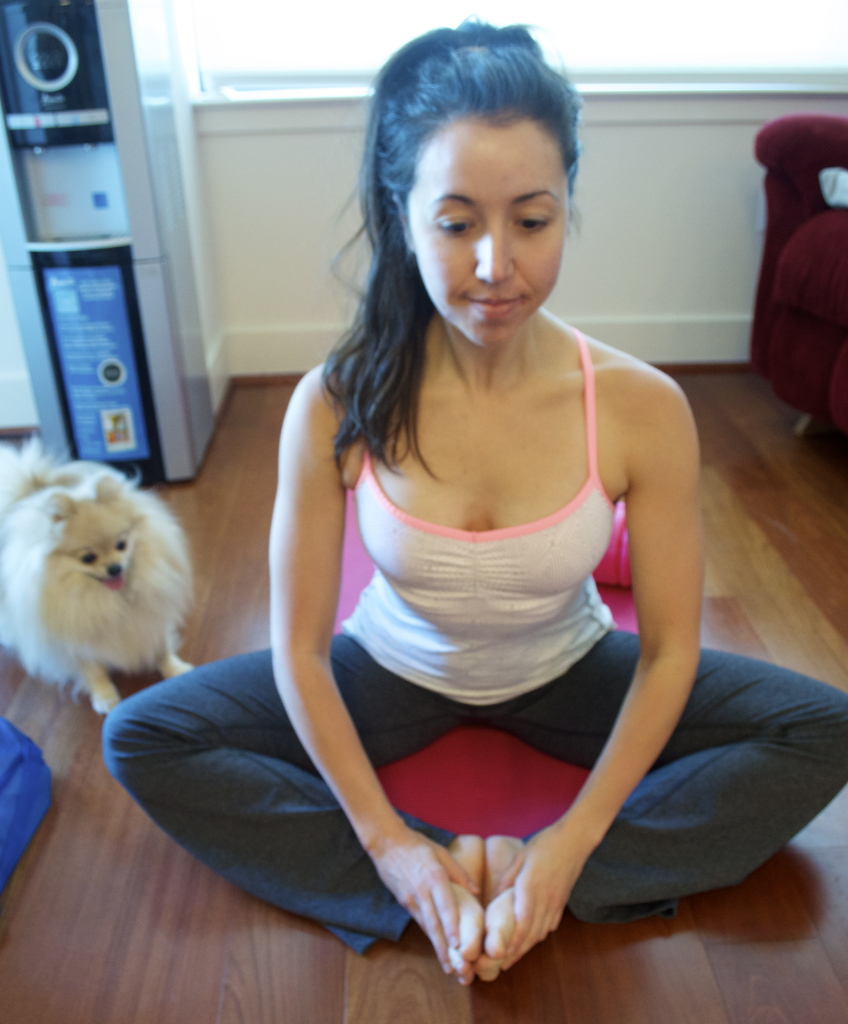 Tomorrow I'll be back with food updates and my weekend wrap-up. Confession: I even cook in these clothes 😉
Have a great day!
XOXO With a Cherry On Top,
-Minnie
Disclosure: This post was sponsored by lucy through their partnership with POPSUGAR Select. While I was compensated to write a post about lucy, all opinions are my own.