I Ruined Mom's Picture Perfect Pumpkin Pie
As a kid of the 90's it wouldn't be Thanksgiving without Joey Gladstone from Full House saying "The Miracle… (Horns blow) of Thanksgiving!"
It's my tradition to watch this every year and watch little Stephanie Tanner drop that pie on the floor. Geez Steph, be a little careful next time would ya?
But anyway, Happy Thanksgiving from Minnie and Phoebe! I am SO thankful I have her 🙂 This is our first Thanksgiving together!
We got all dressed up…
Check out my cool witchy poo shoes!
And went to my sister's house for dinner with my parents, sis, brother-in-law and amazing 5 year old niece Bella (Oh and don't forget their precious pup Marley!)
My sister, Casey, is a fabulous cook and the house smelled like Thanksgiving heaven! When we got there she had appetizers waiting. Score!
Even the butter was adorable!
Before dinner G-Mama, Bella, and I played Wii. I had no idea my mom was that competitive. I mean we've done everything together my entire life, but ya know mom's, when you are a kid they let you win! Needless to say Bella whooped both our butt's and won every darn game. Even though G-Mama claims "I was in a bowling league suckers"
I am a VERY competitive person myself. Just look at that determination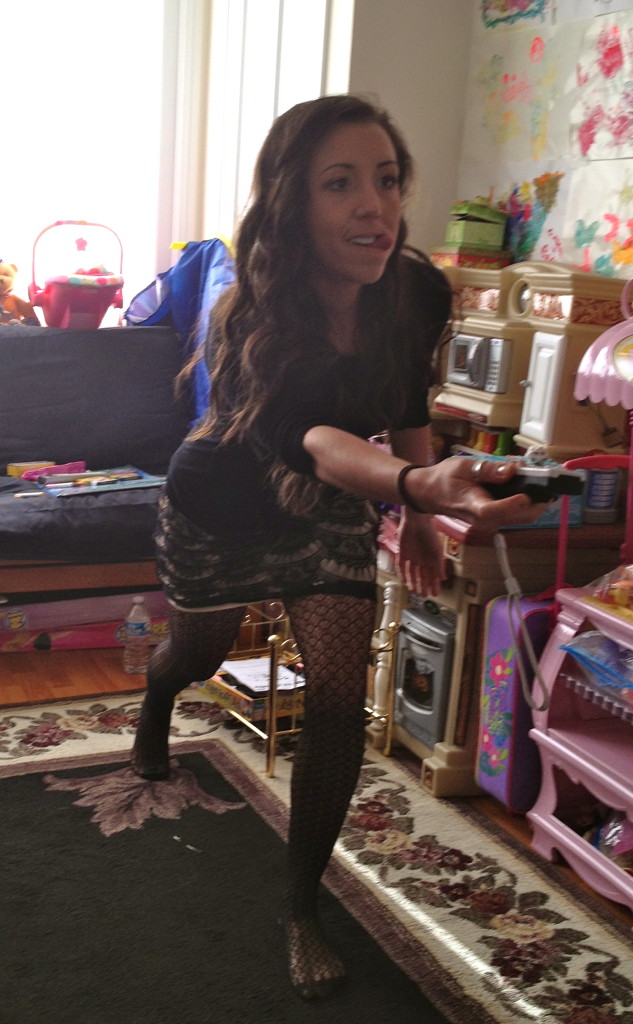 (Bella has a massive play room as you see. Lucky kid!)
Fact is I hate to lose, and when I do win something I rub it in your face. Classy… I know 🙂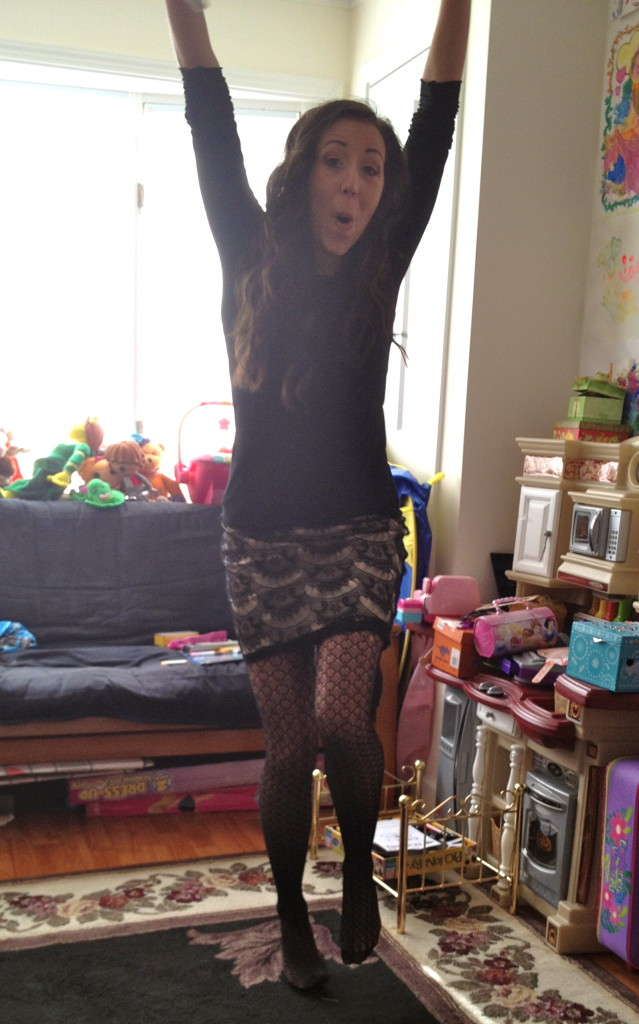 This was actually an excellent workout. Not only did we do tennis, and bowling, but we did a dance game too. It definitely raised my heart rate. So if you ever have a rainy day in, break out the Wii and burn some calories! Lots of fun 🙂
After Wii, I joined Bella on the trampoline. YES! The benefit of being a Skinny Minnie! I can jump on this thing 🙂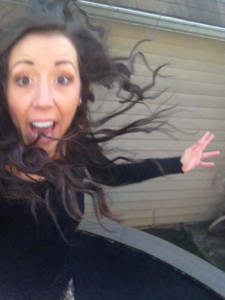 I had the best time on this with Bella! We must have bounced over 30 minutes before getting called to dinner. Since today was my recovery day/skip day, I felt good about getting some activity in. I was out of breath! I had no idea a trampoline was such a wonderful workout, and so fun 🙂
DINNER!
This holiday is about eating! So yeah, it's okay to cheat just once. But I didn't go crazy to the point where a button popped off my shirt and poked someone in the eye or I had to be rolled to my car to drive home. My plate was all sides, because I'm a vegetarian and don't eat meat. Probably the best part of the meal was Casey's homemade biscuits. Man carbs are good!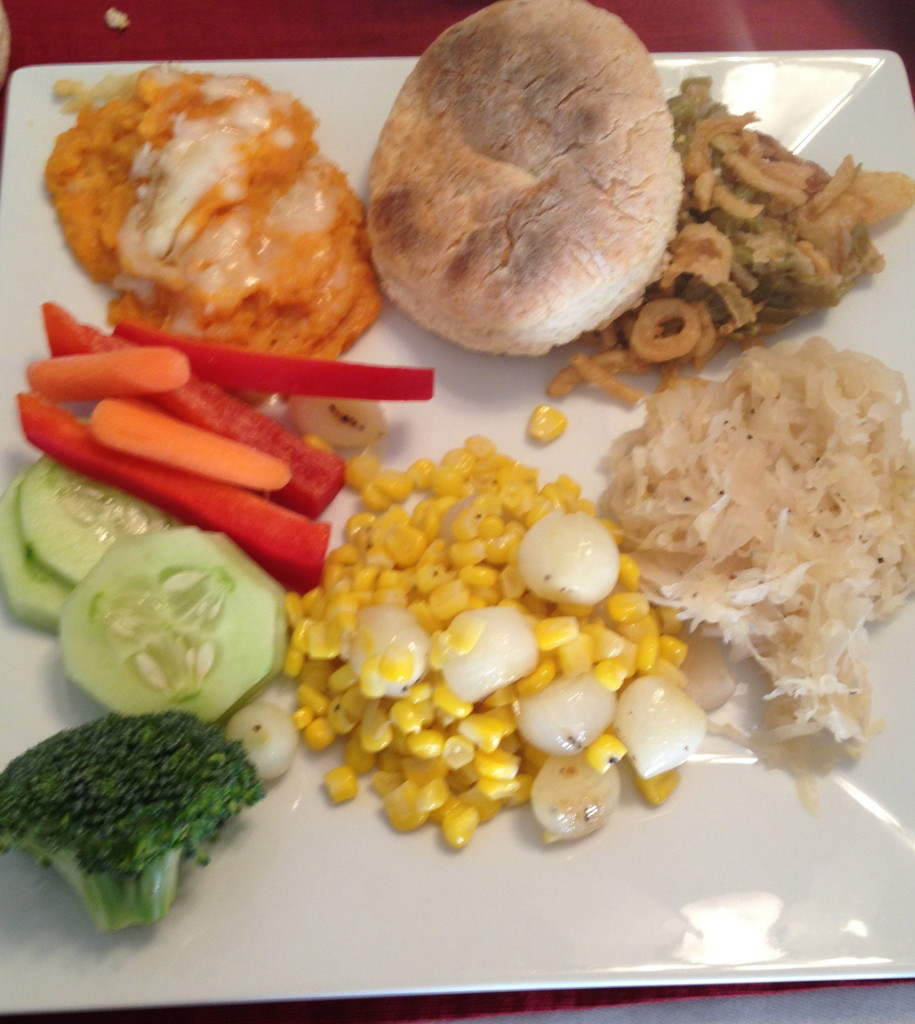 As you can see, I was pretty healthy. I did go back for an extra serving of sweet potatoes, but they are G-Mama's healthy recipe that she made for me! I skipped dessert, and had apples at home with almond butter and peanut wonder.
If you did over do it, guess what? You are gonna burn that extra slice of pie off tomorrow in the gym right!? RIGHT! 
I hope you guys enjoyed the holiday. It's great to just spend time with the people you love. We are all busy, have a million things going. But on this one day, everything stops and we give thanks to the things that really matter.
So while I hope you are reading my blog 😉, I also hope you put your cell phone down for a few minutes, logged out of Facebook, and sat down and talked to your family without your face buried in technology. I'm super guilty of this, like the rest of the world. I think back to even 5 years ago, and how much I rely on technology and my phone now. But, things change, and you have to keep up with the times!
I want to end today just saying how THANKFUL I am for my health, and my family's health (#13 giddy giddy giddy, LOVE you) 
XOXO With a Cherry On Top,
-Minnie
P.S. Today I don't have a recipe up, but I did publish Products I Love. So check that out! New recipe and workout tomorrow 🙂