Is it Thanksgiving?
Good Morning to all my readers!
It's Monday, I'm back at work and busy in the operating room as you're reading this. Long day ahead of me, but blessed for every day I spend on this earth.
Yesterday I hit some back workouts, MINUS the dead lifts. My spine just won't let me do it anymore, so I am coming up with new ways to work my low back without piling on the heavy weight.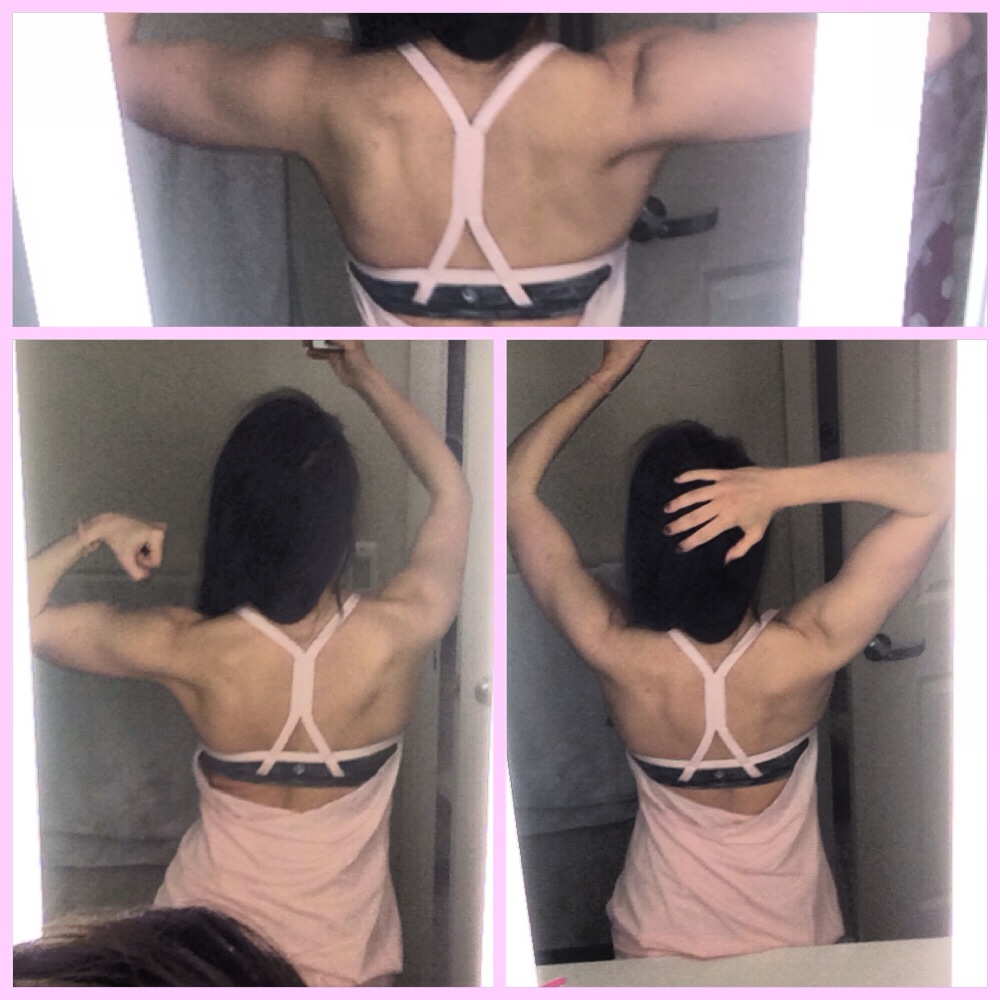 Here are some great exercises for you to do AT HOME for your low back. All you need is a mat for comfort 🙂
Supermans- On abdomen, arms straight and legs straight. Lift arms and toes off the floor, lower down. KEEP NECK NEUTRAL! 10 reps. I end with some pulses.
Ball pass *you can do without a ball*- Same as superman starting point but rotate right arm to the side and back to the middle, passing the ball side to side. Look over your shoulder to make it burn more. 10 reps.
Flutters- flutter your arms and legs for 10-20 seconds without stopping
Scissors- Scissor your arms and legs. This really works the low back, no more muffin tops! 10 reps.
Here's a video of me doing the exercises. Again you do not need to use a ball for any of this!
Of course I did my other stuff with weights: rows, lat pulldowns, TRX pull ups, etc.
My cardio was 15 minutes on the spin bike and then 15 minutes HIIT cardio on the step mill. I felt like bundling up for cardio.
Back at home I was in full blown meal prep mode. Things have been hectic lately with meal preps. I also had to make a turkey since I defrosted it this weekend. Over the Christmas holiday my work gave everyone a free turkey and I put it to use for some lean protein for this weeks lunches. Did I know what I was doing? NOPE! I've never cooked a turkey before. So just like any other person would do, I googled "how to cook a turkey". I went with the simplest one. I also stuffed it with a few cloves of garlic and half an orange for a little citrus flavor.
Why did I throw the spices on top? I have no idea… I don't eat the skin and it just made it burn anyway. Lesson learned.
3 hours later I wasn't sure if it would be edible because it looked a little too crispy to me… 🙁
But once I started carving, the meat was beautiful! Win! Things were messy so I didn't have a picture of me carving it. Plus let's face it, I looked like an animal hunting for food or Edward Cullen chasing a mountain lion.
I did place it in storage bags though. ALL 14 POUNDS! Geez what am I going to do with all this turkey? At least it was free!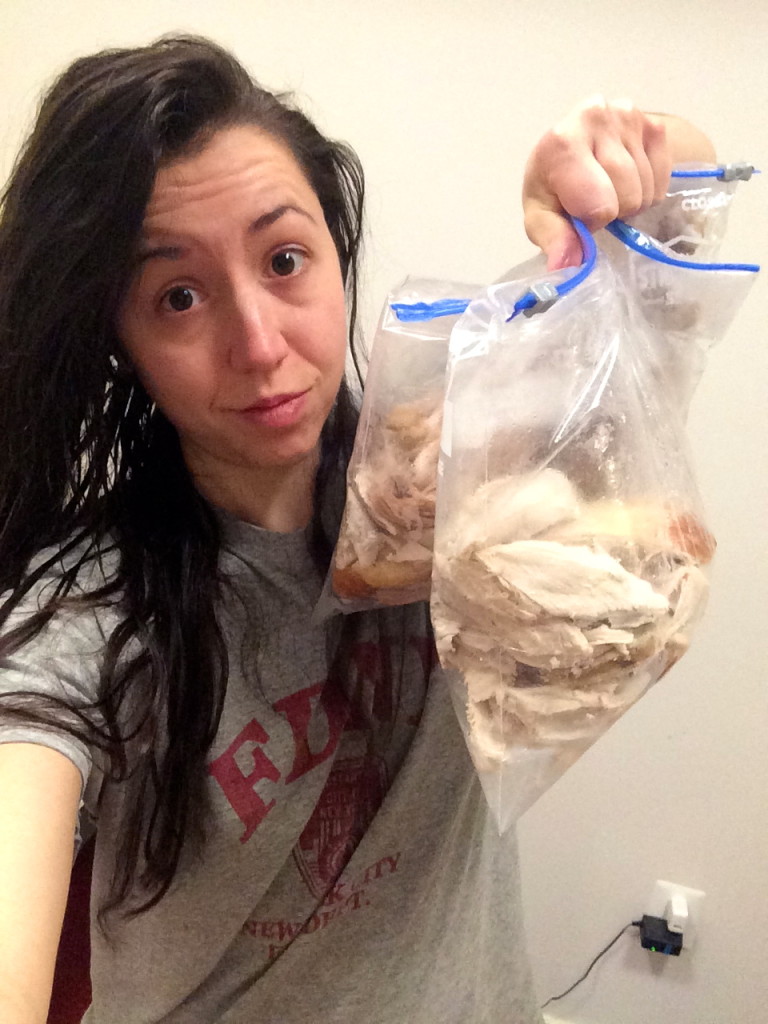 And yes guys this is wet hair, no makeup, air brush free. Not many online faces let you see the real them. I really don't care! Plus if you ever see me in real life I don't want you to be in total shock 😉
I finished my night with some frozen casein in a bowl (it's like cookie dough!) and the little one was creeping over my shoulder.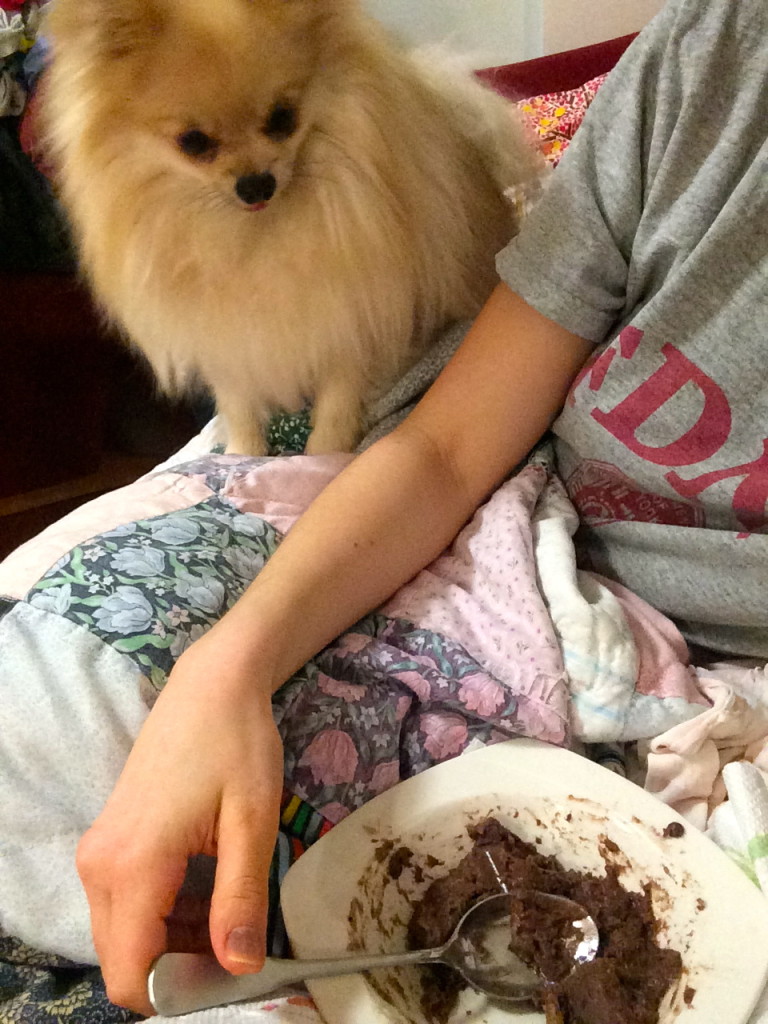 And for those of you wondering what happened to the almond butter, well I hit a little bump in the road unexpectedly. If you ordered from me I have refunded you (check your inboxes), HOWEVER I will be back up and running soon! Just have to figure a few things out first. Sorry for any inconvenience!
Have a great Monday folks 🙂
XOXO With a Cherry On Top,
-Minnie
P.S. Many of you have heard of the Columbia Mall shooting by now; an awful act of terror that hit way too close to home for me. I go to that mall almost every weekend. In fact I was there last weekend buying all my new workout pants and it's the Lululemon I always go to. I had plans to return leggings to Nordstrom that morning around 10-11, my favorite time to go, but Phoebe and I overslept. The shooting occurred around 11 and I am very lucky I did not go. We live in a dangerous world and it breaks my hearts that we have to fear for our lives doing normal activities.  My thoughts are with those who were taken from us too soon, their families, and others injured in the tragedy.