Lions, Tigers, and COWGIRLS?
Hi everyone! Happy Monday.
I have to say it was extremely hard to come to work this morning.  I had such a blast this weekend with some great people. A part of me sits back and says "Katie you are 29, and you're now just starting to have fun… you wasted a lot of time". However, I can't look at it that way. I've made sacrifices in my life to get to this point in my career, my blog, and my fitness, and I have a lot to be proud of. So it may have taken me a while to get to this fun Katie, but I'm glad she finally arrived! Plus it's all about balance right? If you're not there yet, no worries, it'll all work out one day. Believe me, it happened for me and I didn't think it would!
ANYWAY! Let me share my weekend with you guys.
Friday I woke up super early and pounded out an epic gym session in about an hour and 20 minutes. I bundled up like Rocky and sweat like crazy. I made it a full body workout filled with super sets, cardio bursts, and barely any breaks.
Here's the type of things I did:
12 minute step mill
2 superset exercises- Stiff leg dead lift x 10, low barbell row x 10. Then a 15 second jog in place. Repeat 4 times
Superset exercises- Kettlebell plie squat x 12, 6 dumb bell curls, 6 shoulder presses, 12 side squats. 20 jumping jacks. Repeat 4 times.
13 minutes on spin bike
Planking with hands on kettle bell, alternate leg lifts squeezing the glutes x 10. 30 second Jog in place. Repeat 4 times.
Clean and Presses with a barbell x 6 (DEEP SQUAT), Jog in place for 15 seconds, 12 Plie pulses, Jog in place for 15 seconds. Repeat 3 times!
Glute cable kick backs, 3 sets each side
15 minute treadmill incline speed walk and side shuffles.
I WAS DONE!
So after this killer workout, I got all pretty to go to the Washington DC Zoo.
It was so fun, a little chilly, but the perfect day to go because it was pretty empty! A lot of the animals were napping though which was disappointing.
This cutie pie!
For those of you who don't know… I'm terrified of birds, yet I was told I had to "face my fears". I was NOT HAPPY. We went in the bird house…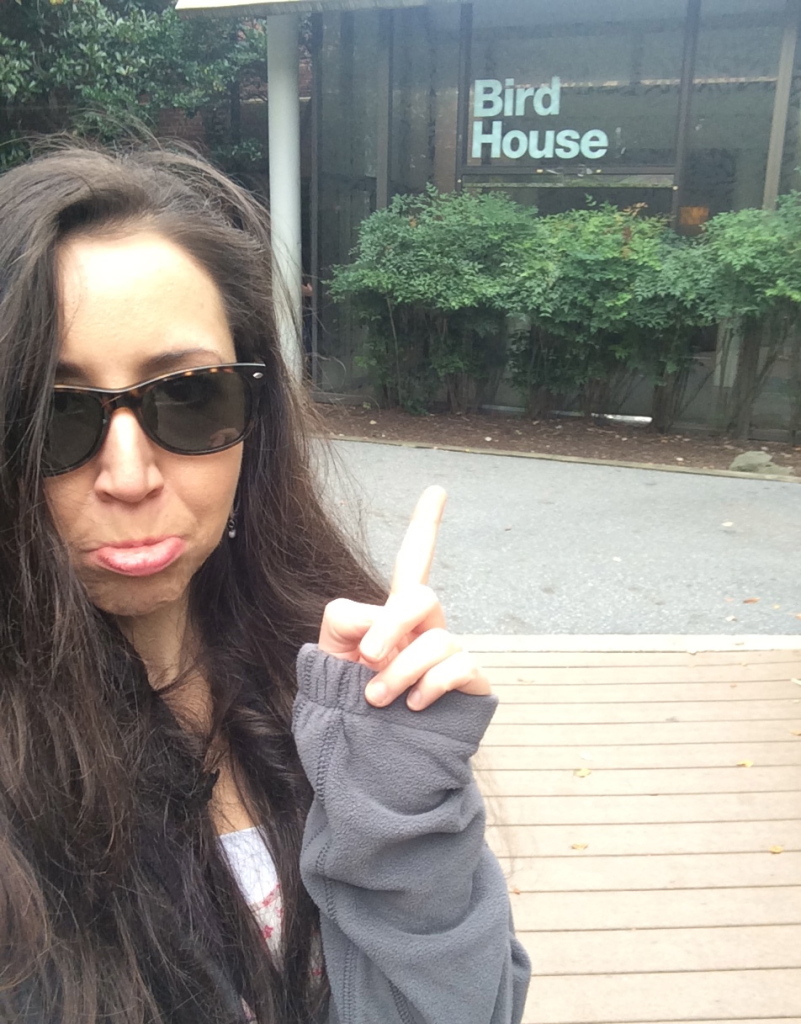 And luckily they were behind cages. PHEW!
HOWEVER, there was an outdoor place and this sign scared me.
I made it out alive!
Meanwhile, walking in the zoo there was this squirrel that was running around in the center of the walkway. He had a huge hump on his back with a wound like he had been attacked in the past. I felt terrible for him! So out came my almonds. He needed a pick me up! That little guy ate it with gusto! When we walked back out I saw him again, chased him down and gave him another. He looked at me like he said "thanks almond lady!". Have to share my goodies with the squirrels 🙂
Later we were starving and went for lunch/dinner. Here is where I wanted to go….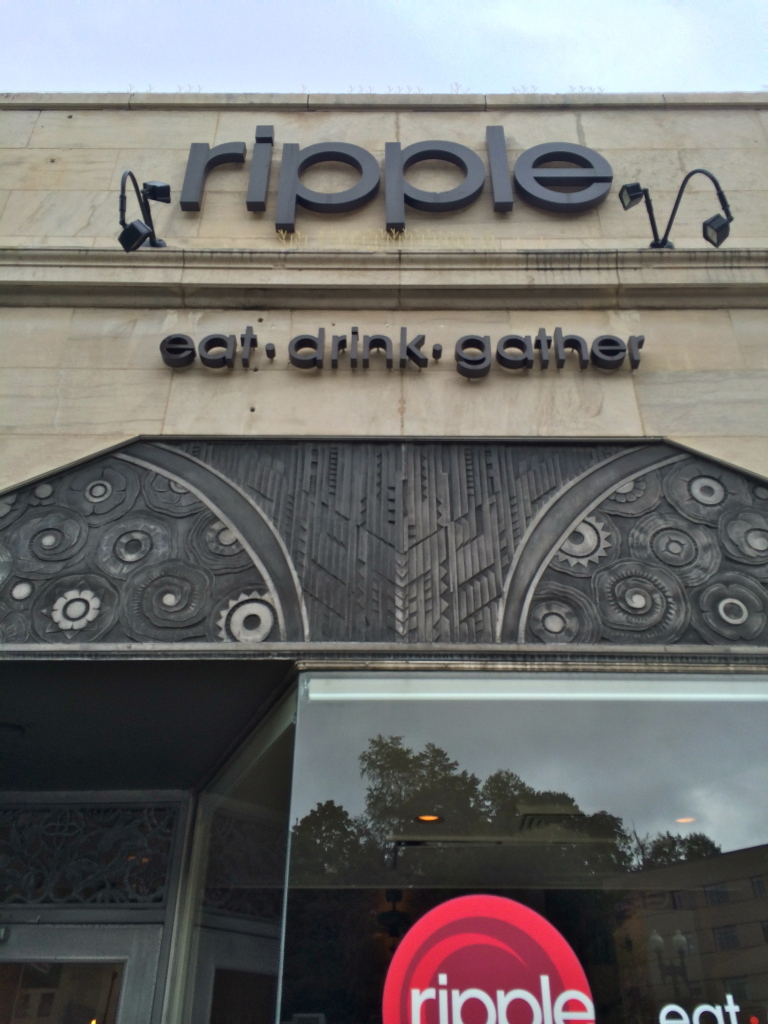 Here is where we ended up going…
Obviously not the girl friendly choice, HOWEVER I did manage to find the one non-meat option on the menu at a BBQ place 😉 I'm sure I was the first person to order it. They probably were in the kitchen saying "which crazy ordered the tofu". Needless to say the serving was extremely generous! Probably because they had to get rid of all that tofu 😉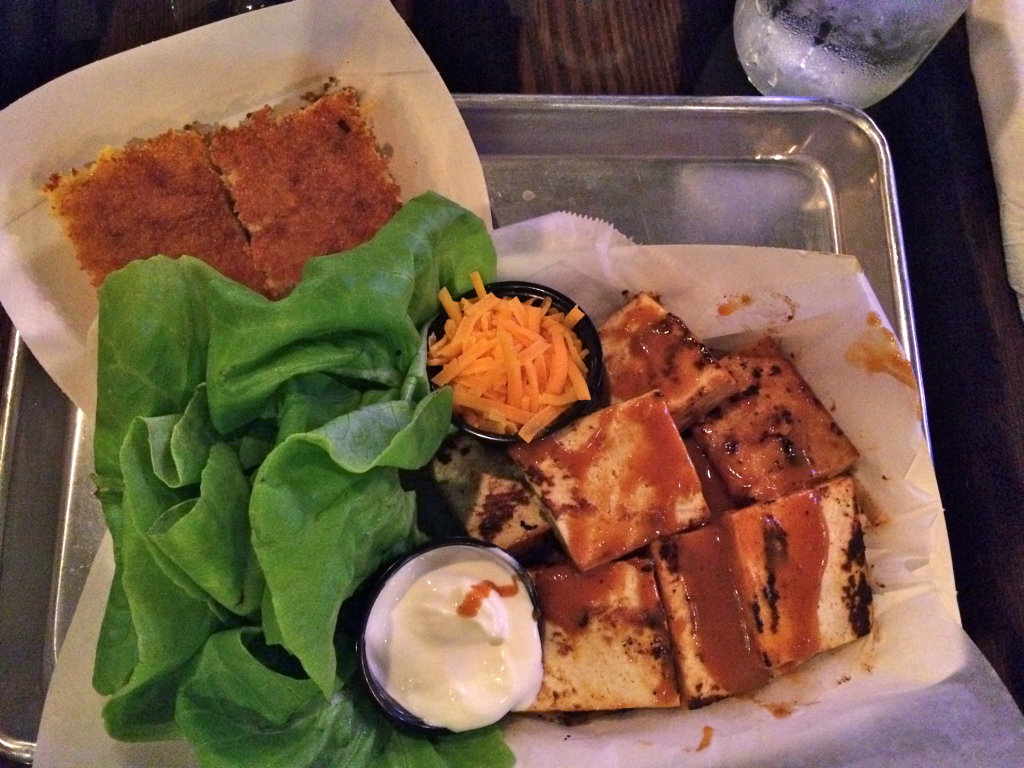 The lettuce wraps were amazing, oh and that cornbread… couldn't help myself!
My company didn't go with the tofu… YUM!
On Saturday I went to a local country music festival called "Saturday in the Country".
It was DOWN AND DIRTY COUNTRY FOLK! I can be one at heart and hang with them, but I have to say I was a TAD worried I'd be extremely judged because I rolled up looking like this…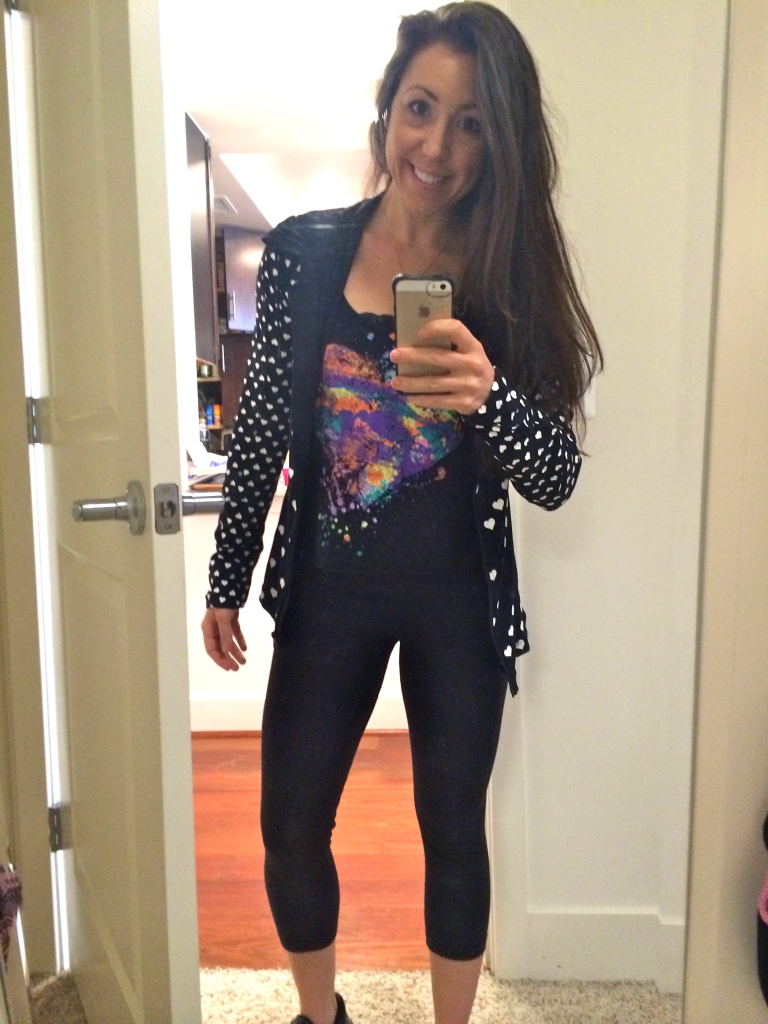 That would be Lulu and Lorna I'm sporting. Hey, it was an ALL DAY THING and I would rather be comfortable than fit in. I actually have some plaid, jeans, and cowgirl-esque boots, but I'm all about comfort. Jeans to me are foreign. I couldn't do it.
Luckily, I was welcomed with open arms by those I didn't know. People kept saying, look at this adorable little thing flexing. You know me! 😉
Someone put this hat on me so I fit it fine! And no worries here, this is just lemonade and water folks! And Maybe a few gummy bears in the bottom… 🙂
We had fun in the parking lot outside the concert, probably my favorite part of the day! There was a lot of food but I stuck with chicken.
When we plaid corn hole (a Maryland necessity), my partner Scott let me down. We were the muscle in the group so obviously we were paired together. I called it Team Beast Mode. I held the team unfortunately… I even sunk 3 out of 4 during one round. The guys were pretty darn impressed 😉 And I'm 100% Monica Gellar when doing something competitive. I have to win. We lost, but I still did happy dances about my performance.
Scott's form looks on point, yet no points 😉
The concert was so fun too. Just hanging out in the sun, listening to great country music, and making new friends. It was beautiful out.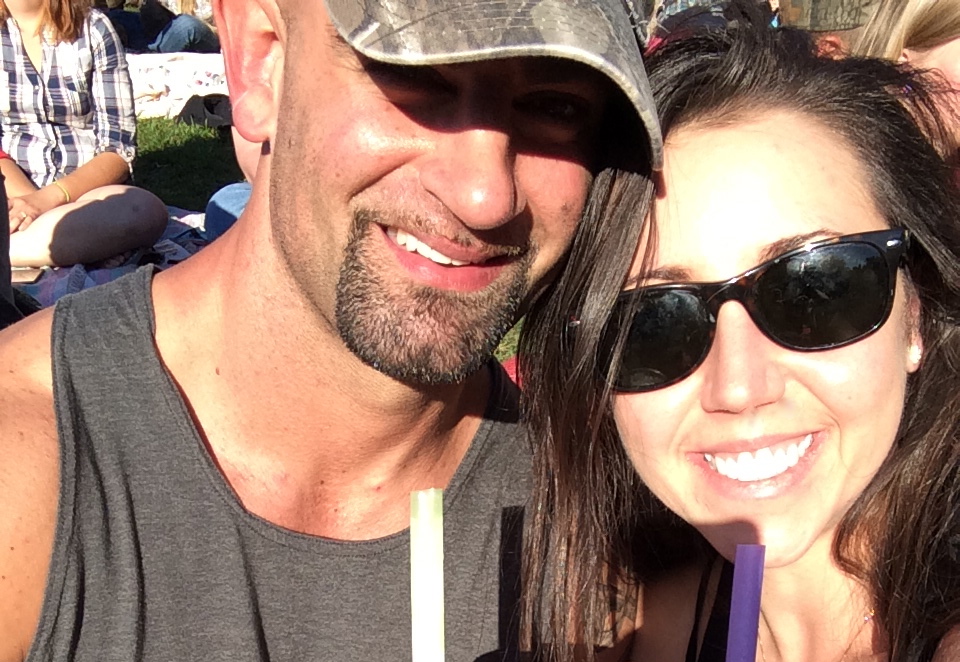 Team Beast Mode!
There were two girls behind me that were only 18, but I ended up talking to them a lot. I was like the cool older sister I guess. And you know I had to share my almonds with them. Had to set a good healthy example!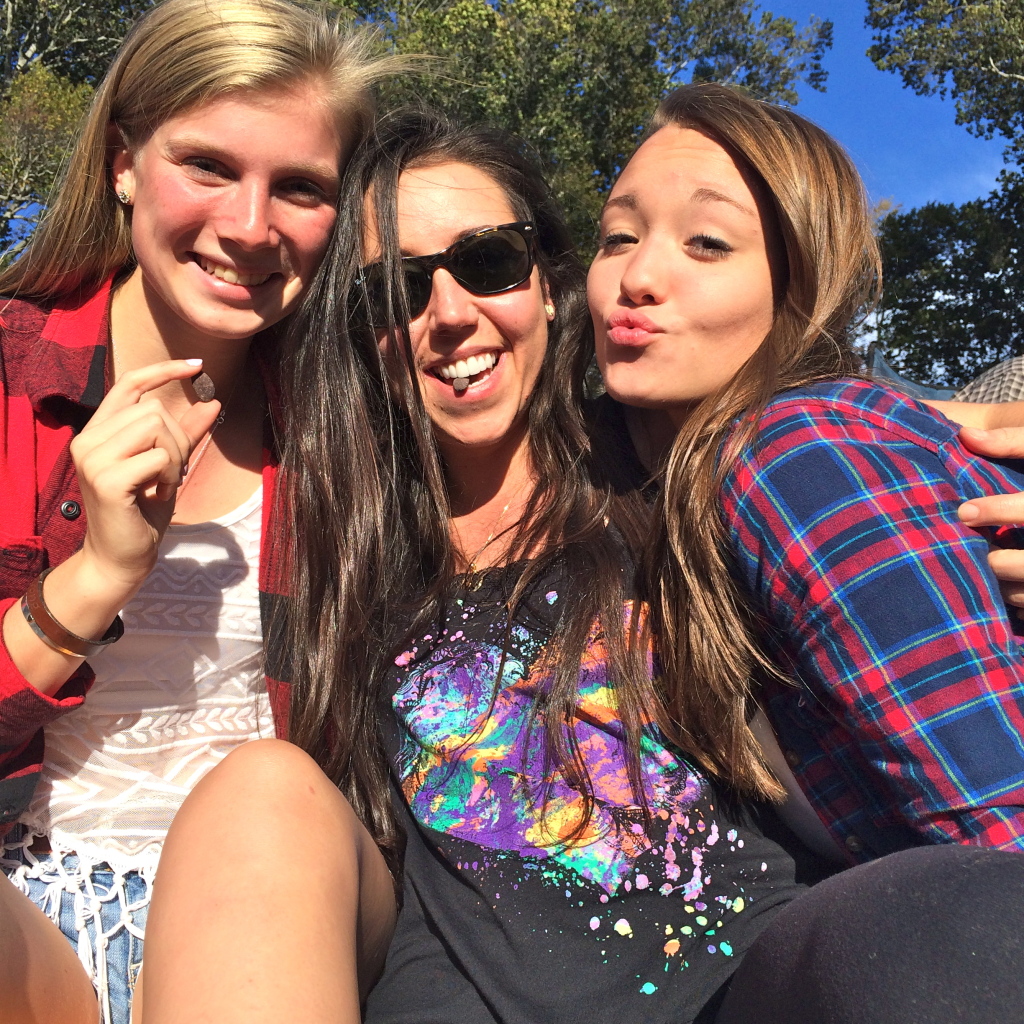 It got SUPER chilly in the evening time and my phone was DEAD, but I had the best time with great company. I laughed all day and sometimes you just need that!
So take it from me, take a step back from your normal crazy routine every now and then if you can. It'll keep you sane, and make you a happier person. Thank you to all my friends for making this an epic weekend! 
XOXO With a Cherry On Top,
-Minnie
P.S. Even though I said it a lot, yesterday was G-Mama's birthday, so I'd like to wish a public Happy Birthday to the most beautiful woman I know. Mama, you make me a better person and have taught me what it means to be a REAL WOMAN. I love you always. Our bond will never be broken. XOXO