Los Angeles Part One
Hi everyone!
On my last post, I talked about what I learned at BlogFest, and today I'm going to talk about the recap of the entire vacation!
Let's just say traveling was a nightmare. I was getting off night shift, never slept, then 17 hours later we finally made it to LA.
Snapchat filter for the win to lighten the mood… 
Sarah and I arrived the same time… kinda. I'll spare the horrific details, but it was SO GOOD to see her!
After finally making it to the hotel Tony and I went to dinner in downtown LA. It was one of those "I'll eat anything with cheese" dinners. Which seemed to be the theme of the vacation for dinners out.
When you're photo bombed by a man and a news truck… :/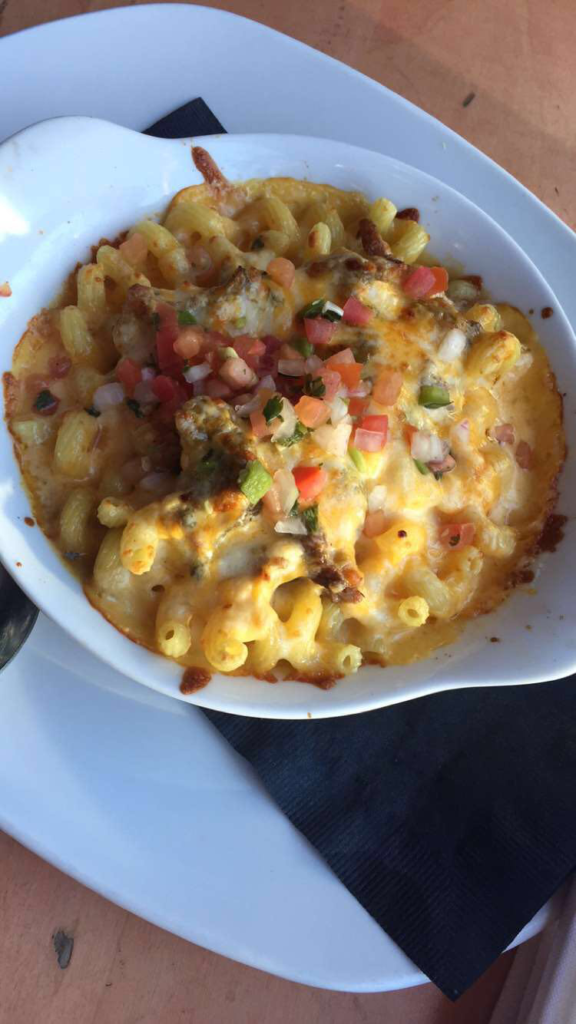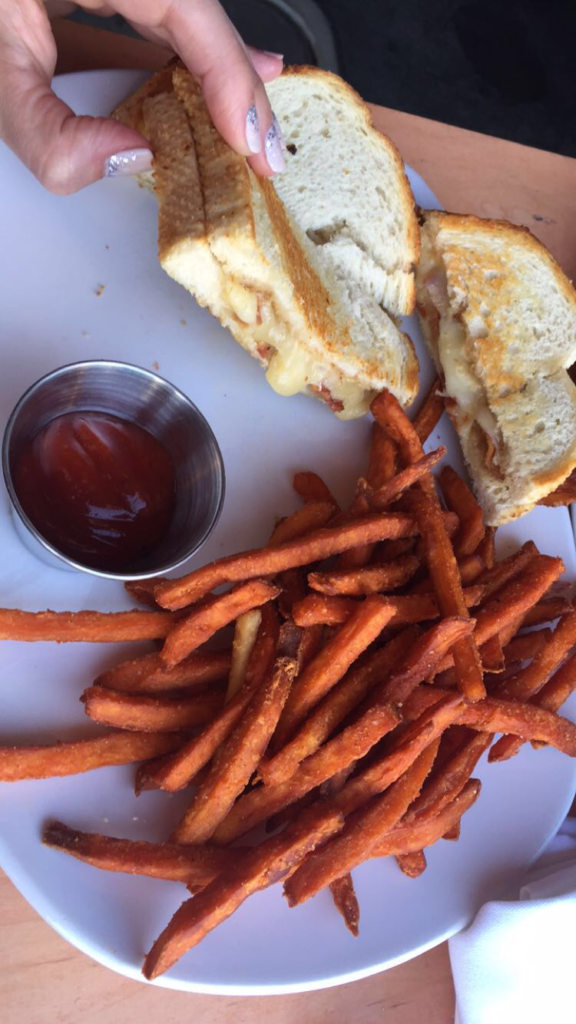 I know this looks like plain bread, but it was probably one of the best things I ate in LA. A grilled cheese with bacon and fig jam. Who knew fig jam was SO delicious? Not me, but it's now on my radar.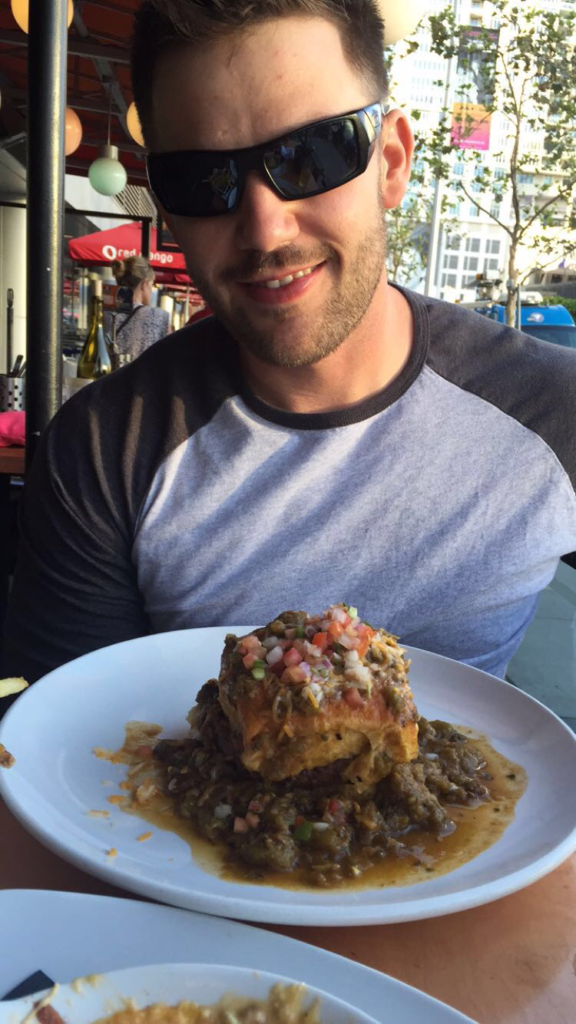 Tony got some monster sloppy burger thing that I don't even remember exactly what it was; and to be honest from the picture I can't tell either. I do remember it being spicy and delicious though.
Let's not forget his dessert. I had a bite of the cheese pizza and granted I haven't had a New York Style slice in a while, it was still pretty darn good for NY pizza in LA. He found the hole in the wall pizza place, which always seems to have the best pizza don't you think?
The next day it was finally time for conference related things. I'm very thankful for the girls over at Fit Approach/Sweat Pink for putting together an amazing conference and giving away some great swag.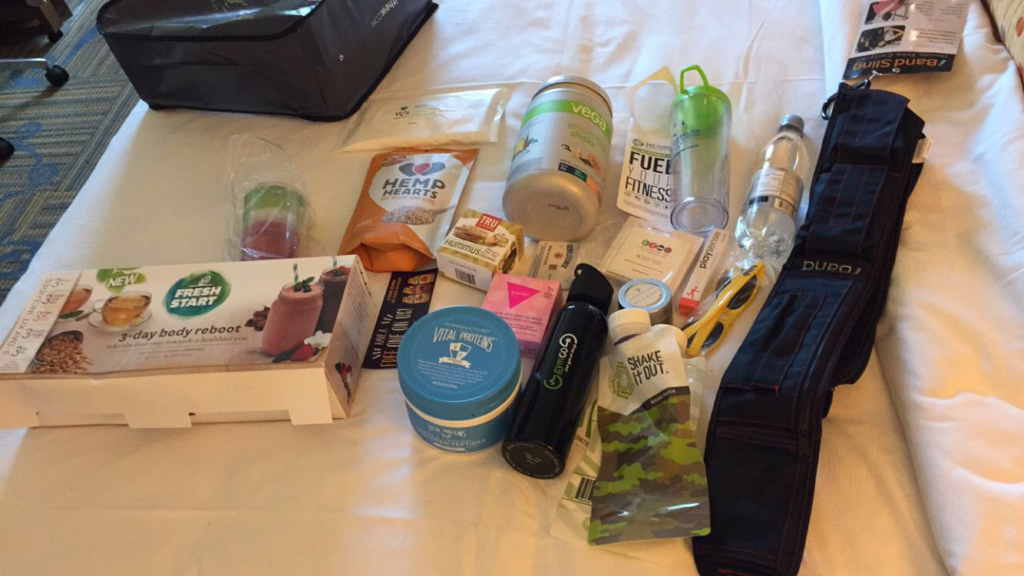 I was also really pumped to see great healthy options for breakfast and lunch to keep us fueled!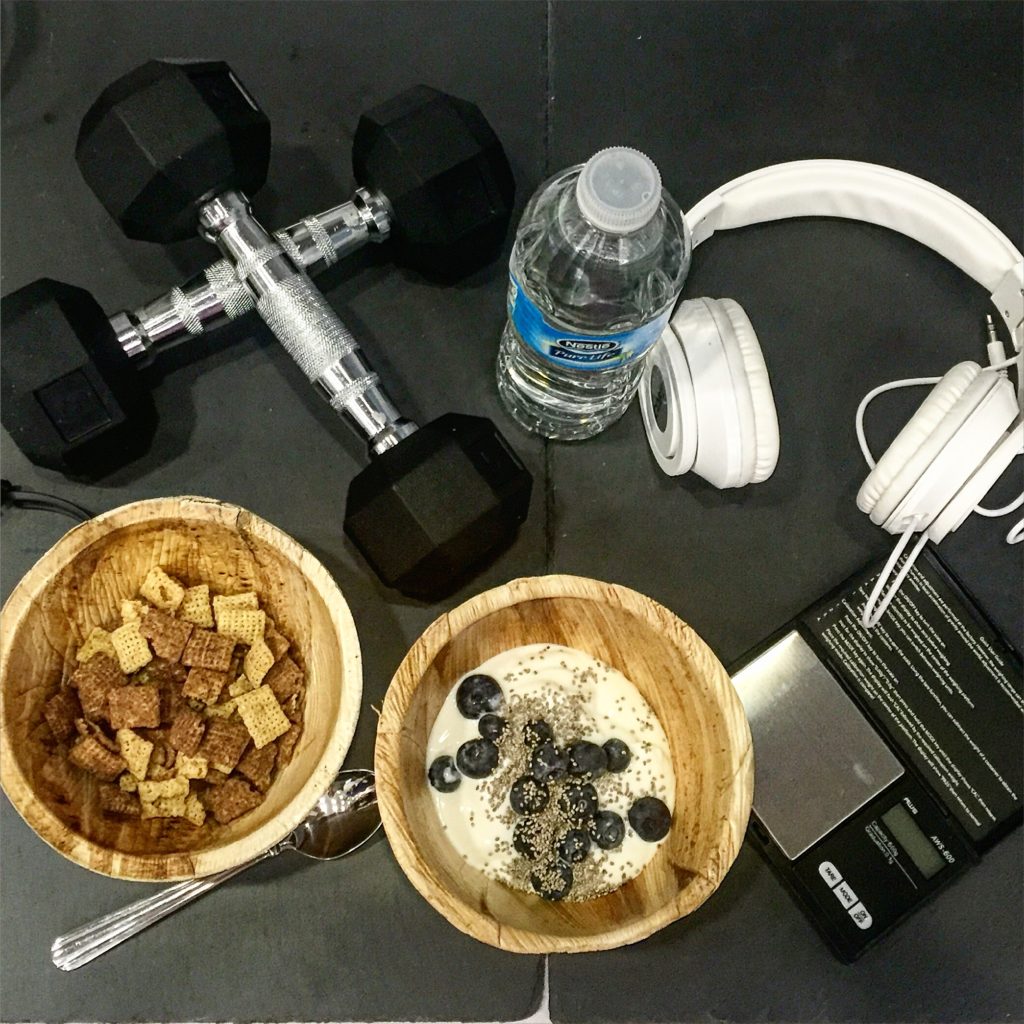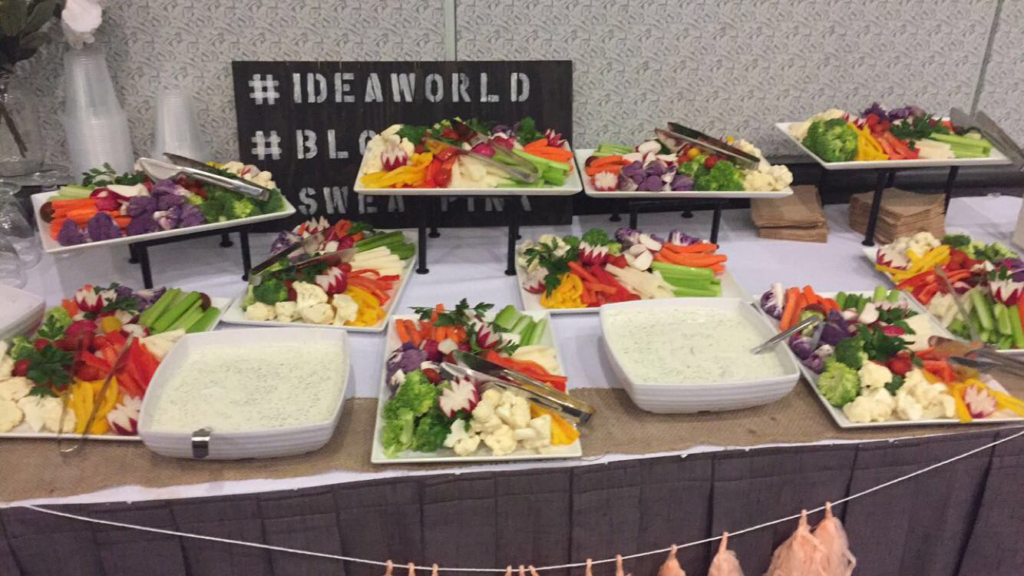 I took a seat way in the front for lectures and of course you know I had my best friend right there with me.
Typical fitness blogger picture… Could I be more cliche? Phone in hand, Lululemon hoodie, pineapple bun, and BCAAs. However if you take a look in the background you will see everyone else staring down at their phone 😉
It was good seeing Sarah and other blogger friends I haven't seen in 2 years.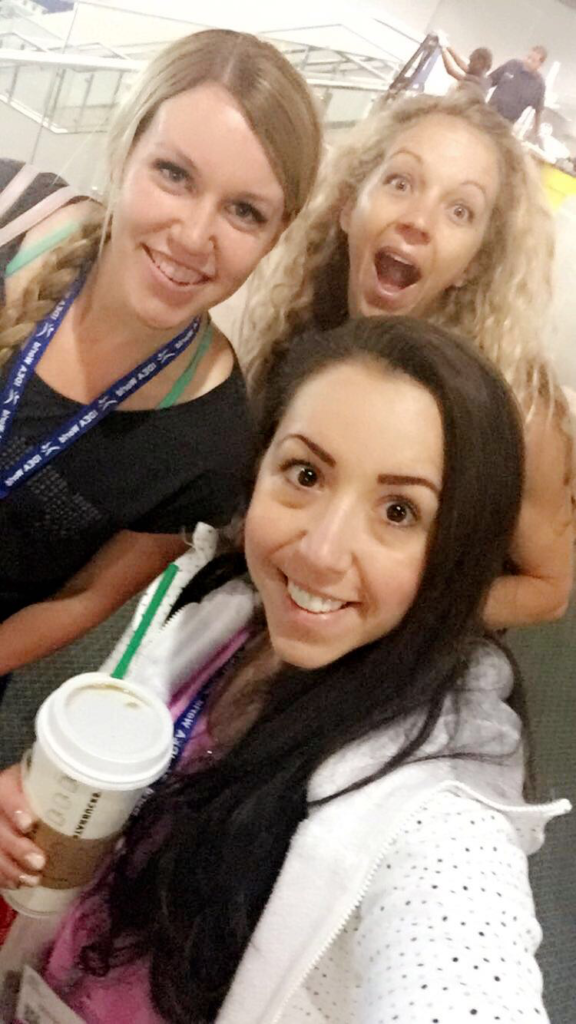 Luckily with social media, it certainly doesn't feel like 2 years. You open your phone and see people that are thousands of miles away every single day 🙂
In between sessions I sprinted over to a main shopping center in Downtown LA where a Golds Gym was located.
A little cardio and some shoulders hit the spot! I had some energy to burn after our dinner the night before.
That's the face of burning with reps… hey I keep it real 😉
I may have stolen this from Tony's snap video, hence the quality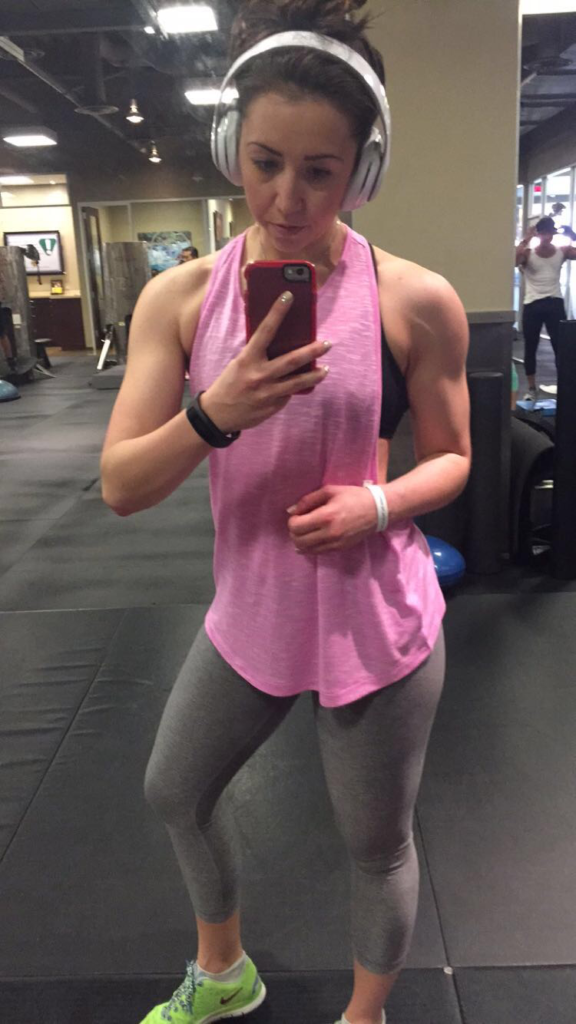 Back to blog sessions I went, and when I say I sprinted, I mean it! I never run to be honest. I started my fitness journey by running, but I think the longest distance I've ever run was 7.5 miles. However I was running late and wanted to get back on time, so yes I did run in Downtown LA.
And I made it back with a flex and a smile on my face!
I have to say I really enjoyed going to the sessions, but my favorite part of the vacation was spending time with Tony at night. We are both SO BUSY all the time so it really was nice to relax with my favorite person in the world.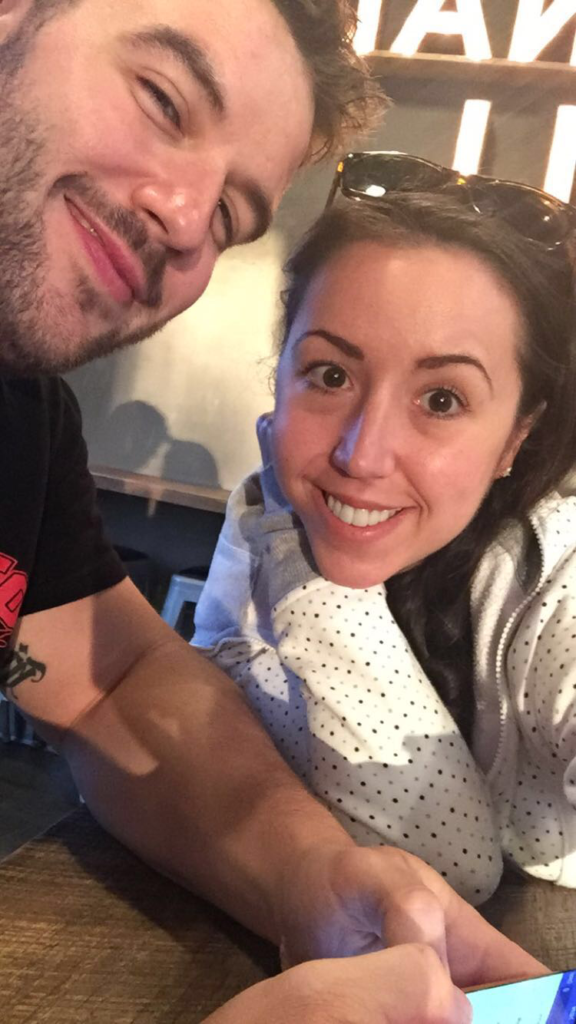 We drove down to Long Beach to an epic burger spot that Tony thoroughly enjoyed. Okay, and maybe me too 😉
Yes, that's a red raspberry bun. Pretty cool, huh?
I had a calorie heavy chicken sandwich with an amazing honey sriracha coleslaw. You can see a peek of Tony's in the background. Your eyes are not fooling you, there are mozzarella sticks on his burger.
And my bucket list dessert item? THE MILKY BUN!
The milky bun is basically a glazed doughnut with ice cream sandwiched in the middle. The classic is the blue "cookie monster" ice cream, but it just tasted like vanilla to me, so I opted for the cookie butter ice cream which tasted like the Trader Joe's cookie butter. YUM!
After dinner we walked the beach. I was so excited to be on a West Coast beach!
One of my favorite shows from my teen years was The OC. If anyone remembers, Ryan Atwood was the main character from Chino. He was portrayed as the bad boy who liked to fight all the rich kids, but he had a heart of gold. When I saw the lifeguard stands, I just HAD TO get a Ryan Atwood picture. He always wore a hoodie and looked like you didn't want to mess with him.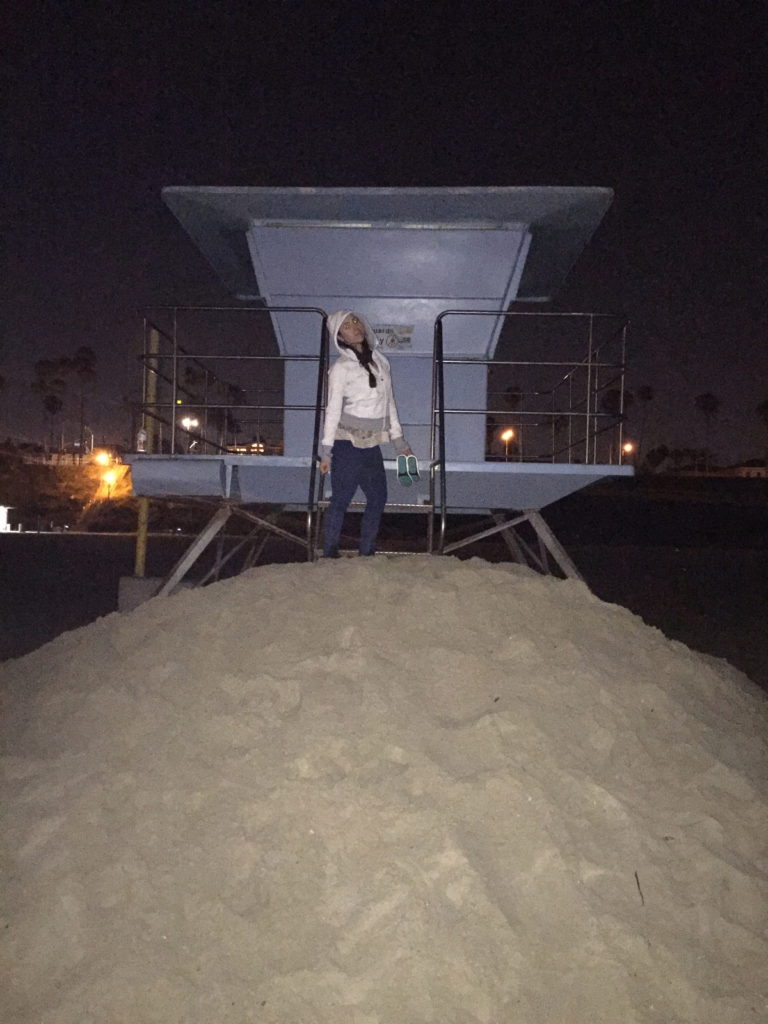 "I stole a car" — probably my favorite OC quote next to "You want to know what I like about rich kids?… NOTHIN'!"
I look real hard core with my Tieks in my hand don't I? 😛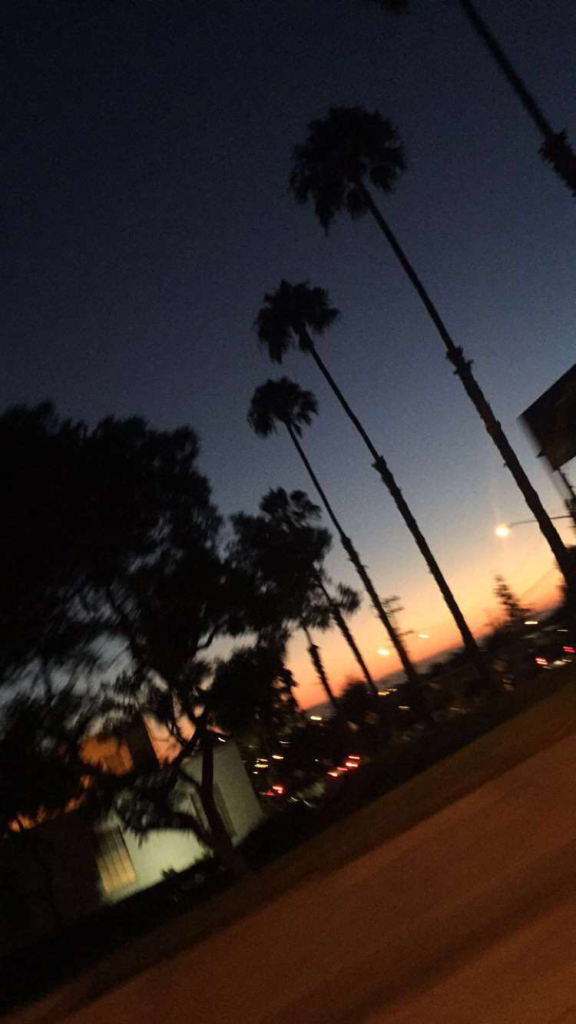 It really was such a nice first few days. Learning a lot, but also playing a lot!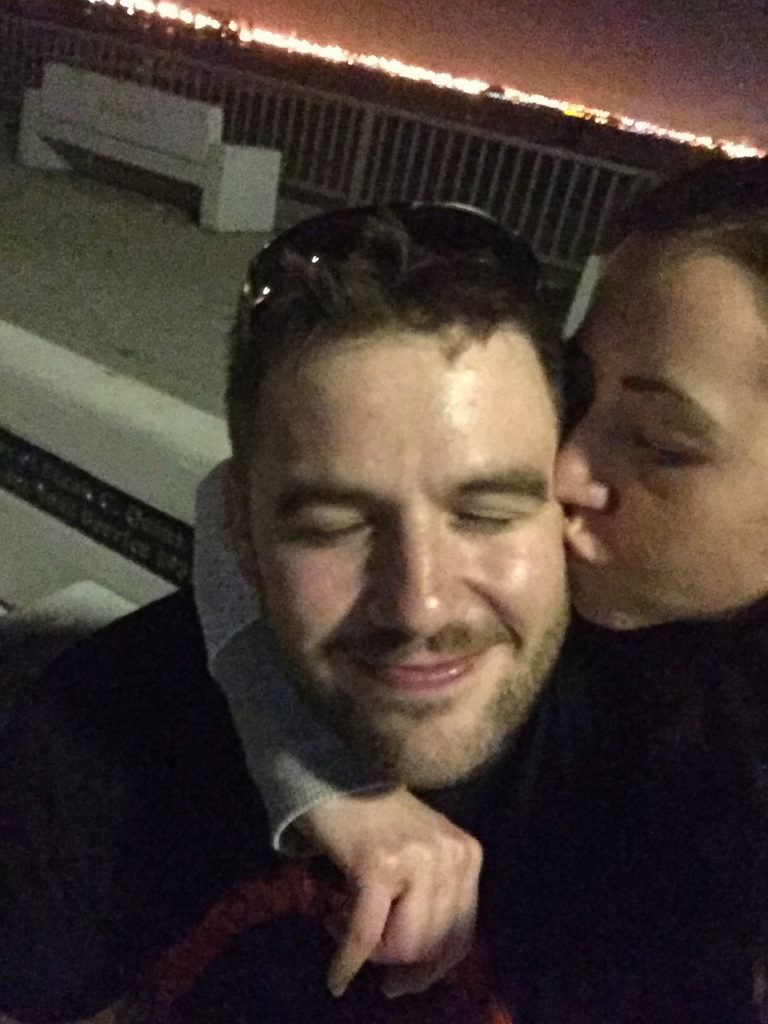 I'll be back tomorrow with the next part of our travels.
Have an awesome start to the week!
XOXO With a Cherry On Top,
-Minnie