LA Continued
Hey everyone!
I hope you enjoyed part one of my LA travels. It's really cool to relive it with you all.
Day two of BlogFest was lots of fun! I majorly crushed on our keynote speaker Jenna Wolfe. You may remember her from the Today Show, but what I didn't know about her is HOW AWESOME she is in real life. There are those people who speak and you listen, but there are those that speak and you are captivated. I think Jenna has a huge future ahead of her (she said she wants to be the next Ellen or Oprah- I really think this is a high possibility for her). I'm really interested in reading her book too.
Mid afternoon we had a band and body workout by Propel. I tell you I haven't done that many plyos in a while, and phew my body hated me later. Burpees, jumping lunges, and tons of glute work with the bands. It was a great workout and I'll share some different moves with you next week 🙂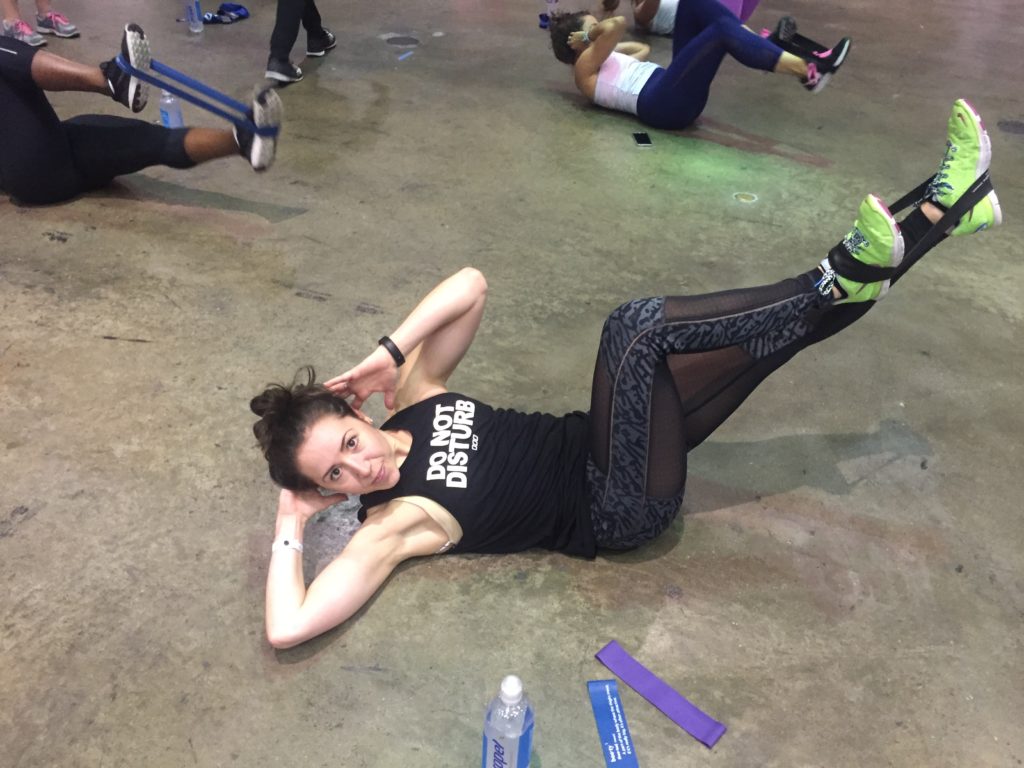 For those of you not familiar, the conference I attended is for bloggers, it's maybe about 150 of us, but the real conference is called Idea Fit which includes thousands of personal trainers and fitness instructors. The best part is the giant expo you get to attend when you aren't taking classes. This place is loaded with all the up and coming fitness products, food, equipment, etc. Sarah and I had fun trying a lot of new stuff including these spin bikes that rotated, and this really cool rower that was like a rower/elliptical hybrid.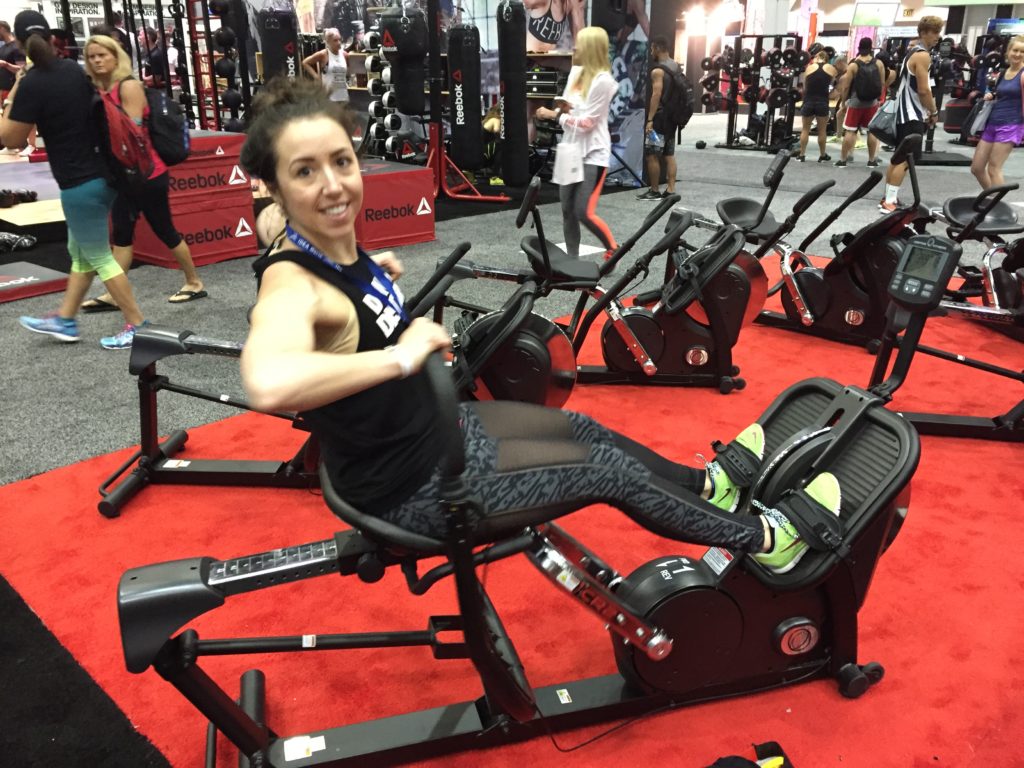 So what was Tony doing while all this was going down? He was lifting at Metroflex in Long Beach. A bodybuilder gym he's been following for years. I was lucky enough to snag a shirt, and Tony was lucky enough to meet someone he's been following for quite some time, Rob Did It. I obviously didn't know much about him, but Tony raved that he sat down and talked to him for 20 minutes and asked for fan feedback. It's always refreshing to hear when someone you admire is super down to earth.
Reminds me of when I met Heidi and Chris Powell, embarrassing the heck out of myself. We remember that, yes?
Anyway, night time came around, I got all dressed up for a Blogfest party! We snapped a few pics and chit chatted before I met Tony for the night.
Note: this was probably one of the coolest yet cheapest outfits I've ever worn! Forever 21 and fabletics for the win.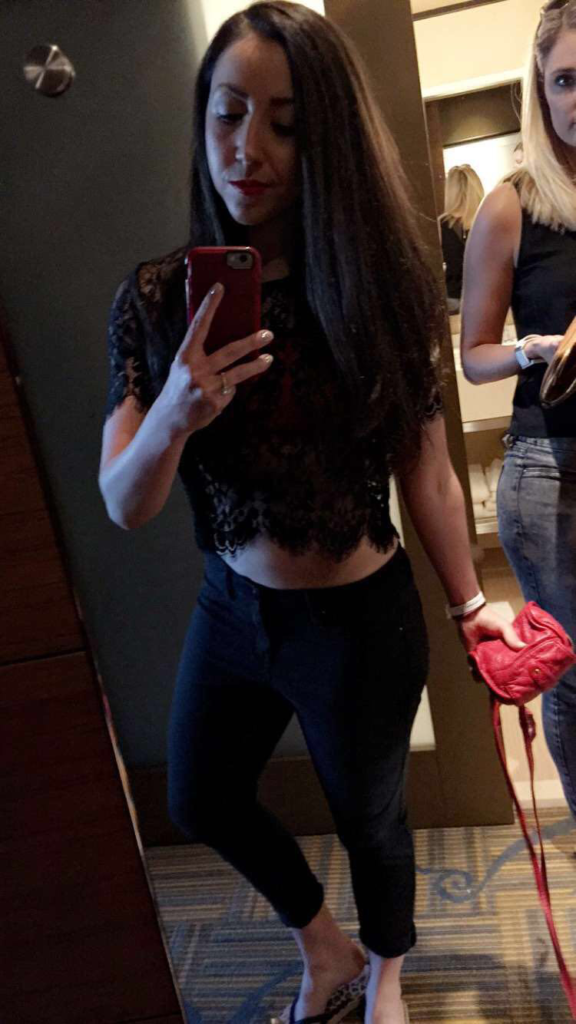 We scoped out Venice Beach at night and then stopped over in Santa Monica for Tony's bucket list food item.
DK DONUTS.
I put that in caps because it has to be in caps. I thought oh great another doughnut place. I know all are not created equal, but is one really better than the other?
Then I was introduced to this doughnut.
Yes, that's cookie dough STUFFED in a doughnut. I really could sit here and say "oh gross, how could you eat that?, but really it was the best thing I've ever eaten. It was homemade cookie dough, just like G-Mama makes, and it was well worth every single calorie. If you are ever in town do yourself a favor and indulge in this!
They have mini ones too, so you won't feel QUITE as bad 😉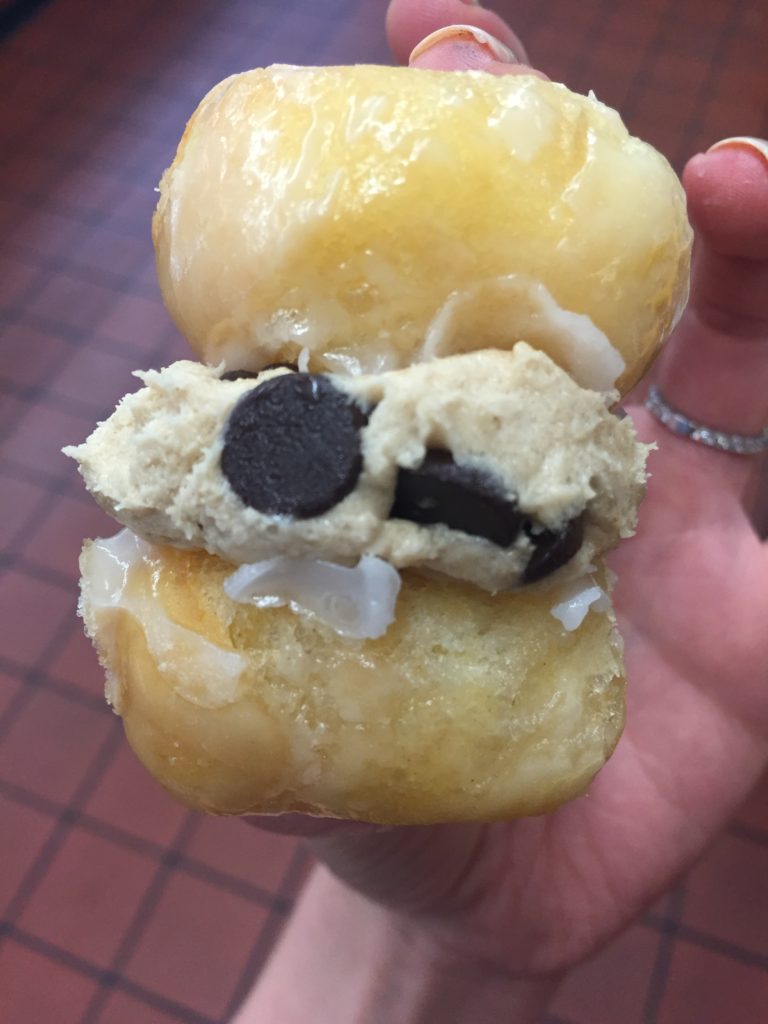 That's it for today. I'll be back tomorrow, but in the meantime I'll be working off that cookie dough.
XOXO With a Cherry On Top,
-Minnie