Lost and Found
I know I have been MIA the past few days. That's normally not me. My regular readers know every day I find a way to post SOMETHING even if it was "oh here's what I ate today, here's how I feel, here's Phoebs". Sometimes stress takes over and you need a break away from things.
So now that I was lost in the blog universe for a few days, I am found, and determined to get things back on track.
Prep is insanely hard when you are stressed. The prep in itself is stressful, so when you add a fun bag of extra stress to it, it becomes worse. I had a bad week with it. Water intake has been low, haven't been eating my meals properly (no fatty foods, in fact I skipped a lot because I was busy or not hungry). In prep mode skipping meals is just as bad as having a cheat meal. The whole idea to these healthy planned meals is to "eat to grow". Well my muscles are saying "hey over here feed us so we can look fierce in that bikini". Okay muscles, you win, I'll do better.
Today is Thursday, so that means a new weekend is approaching after a very long day ahead of me, and I have ZERO time for stress. Getting rid of it… POOF. I leave for Oregon next Thursday, so this weekend will be lots of prepping for that trip since I still need to be in competition mode! No one is going to stop me from doing this now. I wanted it and small bumps in the road come and go. Just have to keep driving.
Unfortunately today's blog is not back to normal. I didn't take pictures of my day because I was so busy at work (not good busy either- pull your hair out kind of busy and pep talks to yourself kind of busy to make it through the day).
I did take a picture in the morning because my tan is still going strong (even though it's splotchy up close on my lower arms from scrubbing in cases). Plus I was happy my waist looked very tiny in this tank.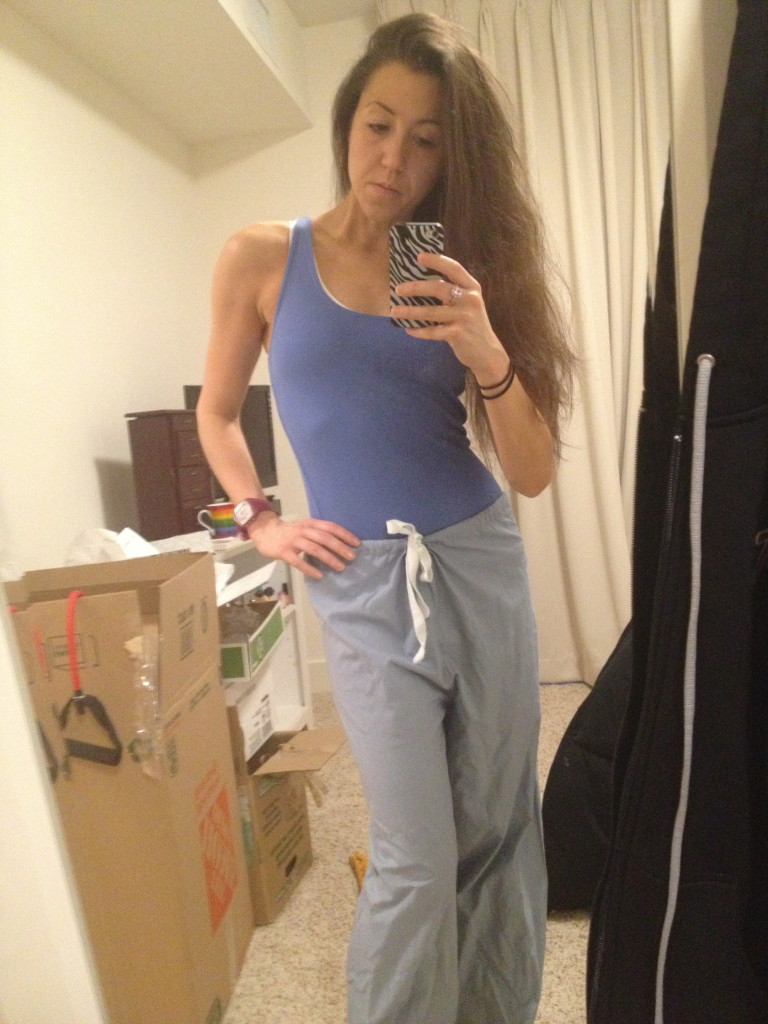 Blog will be better this weekend once the week has died down some. So make sure you come back. You know where to find me…
XOXO With a Cherry On Top,
-Minnie