Maple Mash Casserole
This fun little healthy recipe is not only figure friendly, but it's holiday appropriate!
In the fall, nothing says comfort food like mashed potatoes. With Thanksgiving around the corner comes the sweet potato madness.
As my regular readers know, I LOVE sweet potatoes. They are one of the best complex carbs you can eat, they give you tons of energy, and when made properly, you can turn this yummy food into a savory dessert side.
I decided on this recipe as an entry to a blogger contest for Pure Canada Maple. The challenge was to create a recipe using pure maple syrup as the only sweetener, and make it in one pot.
After pondering over the possibilities, I went back to my biggest inspiration, G-Mama! (My mom). My mom always used to make this great sweet potato casserole for me, sometimes daily. It was healthy and delicious. So I put my own spin on it for some good eatin' and good memories 🙂
For this recipe you will need:
4 medium sweet potatoes, peeled, cubed- about 20 ounces/2.5 cups.
6 cups of water
1/2 cup of unsweetened vanilla almond milk
2 teaspoons of cinnamon
1 1/2 teaspoons of pure vanilla extract
2 Tablespoons of coconut flour (you can use whole wheat or almond)
2 1/2 Tablespoons of pure maple syrup
2 -35 calorie spreadable light cheese wedges (I used laughing cow brand)
salt and pepper to taste
1 oz shredded mozzarella
1/4 cup of chopped pecans
1/3 cup of TVP (textured vegetable protein-find me in the health food aisle, I use Bob's Red Mill brand )
One large dutch oven pot
Makes 8 servings
Start by peeling and chopping your sweet potatoes. Add to the large dutch oven with the water and bring to a boil. Cover and simmer for 30 minutes until sweet potatoes are soft. Drain the water.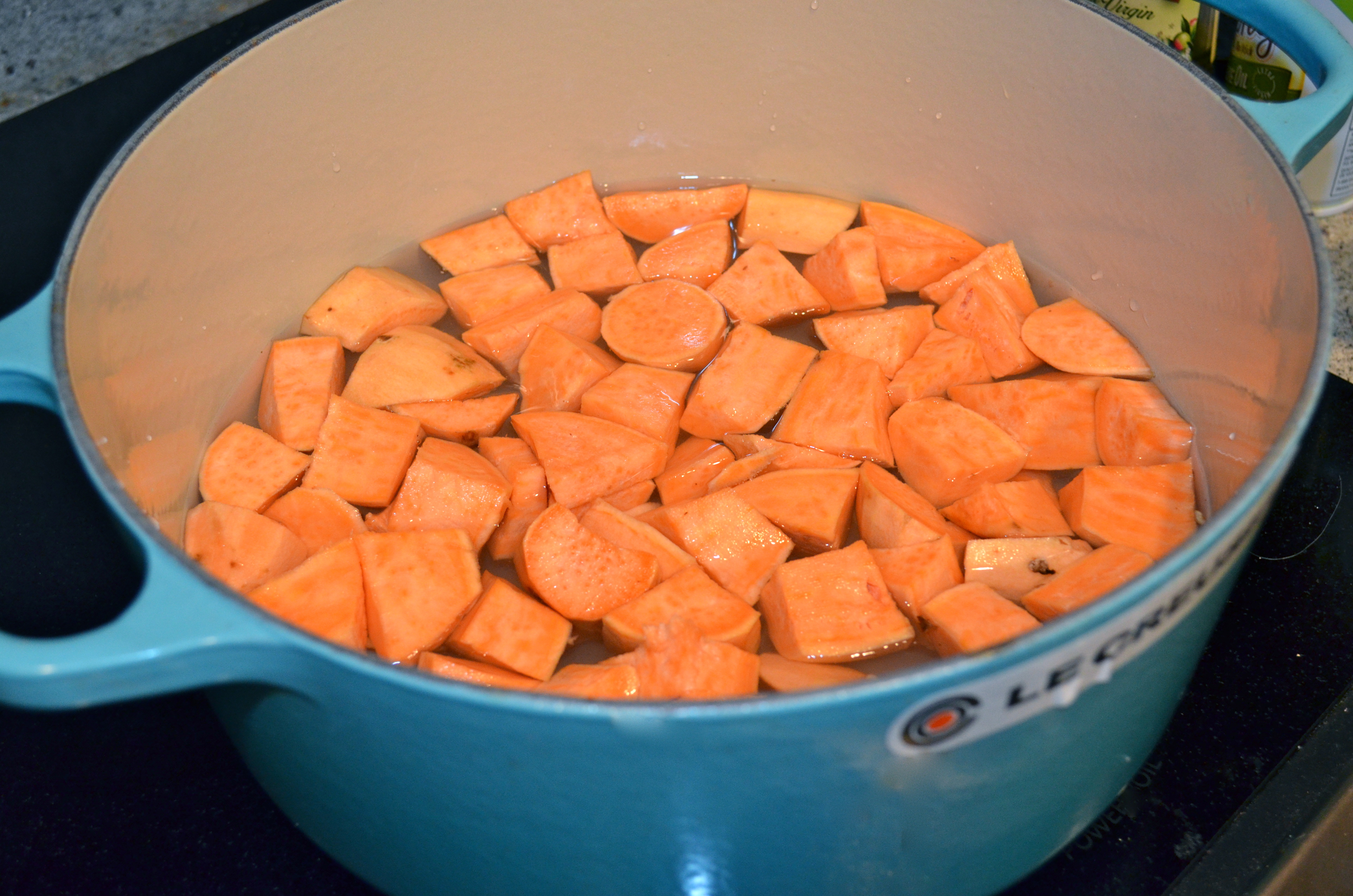 Next, lightly mash the potatoes in the dutch oven until major lumps are gone.
Add the almond milk, vanilla extract, cinnamon, coconut flour, and maple syrup. Mash the potatoes until a smooth consistency is acheived without lumps.
Stir in the spreadable light cheeses, salt and pepper. Smooth out the potatoes to a flat surface to create the casserole.
To the top of the dish, sprinkle the shredded mozzarella cheese, TVP and 1/2 teaspoon of cinnamon on the potatoes.
Finish with the pecans.
Place on the top rack of the oven on 425 degrees Fahrenheit. This will melt the cheese, and toast the TVP and pecans. About 20 minutes gets everything toasty brown, but make sure you keep an eye on it!
Looks fabulous doesn't it?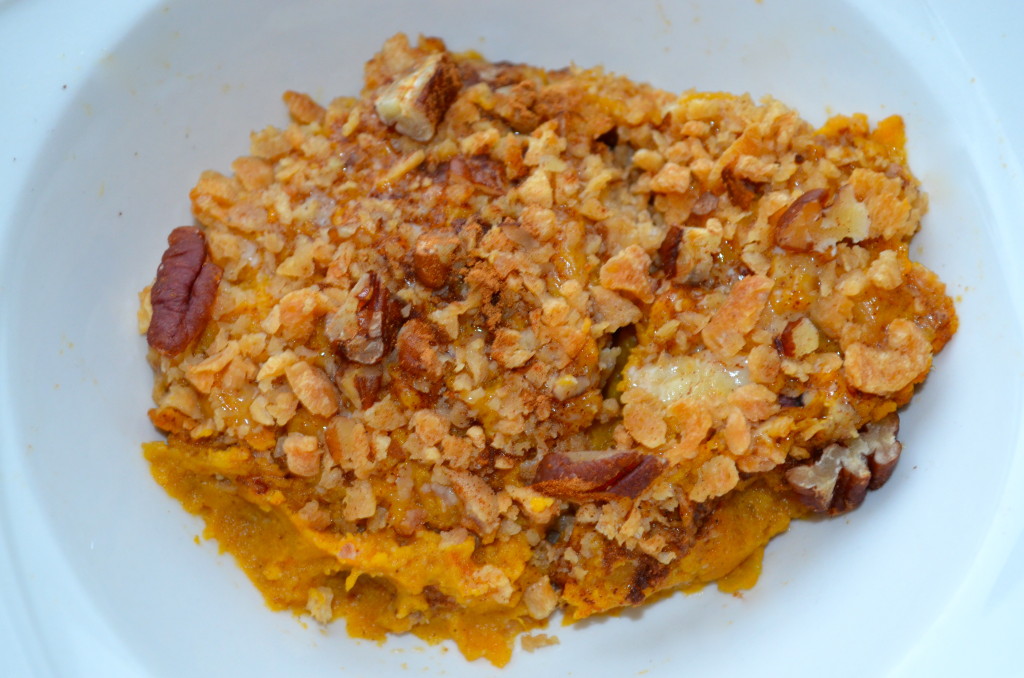 Drizzle a little maple syrup on top to serve.
A HEALTHY side dish for fall and the holidays! No one will even know 😉
Can't eat all of this or want to change it up?
Stuff a chicken breast with the leftovers! Makes a delicious, creamy meal that will impress your family and friends.
Take one large chicken breast and tenderize/flatten the meat. Place 1/3 cup of the casserole in the middle of 1 chicken breast. Flatten it in the center, but leave about 1/2 inch of chicken breast around it.  Roll it, and hold in place with toothpicks. Top with a little pepper.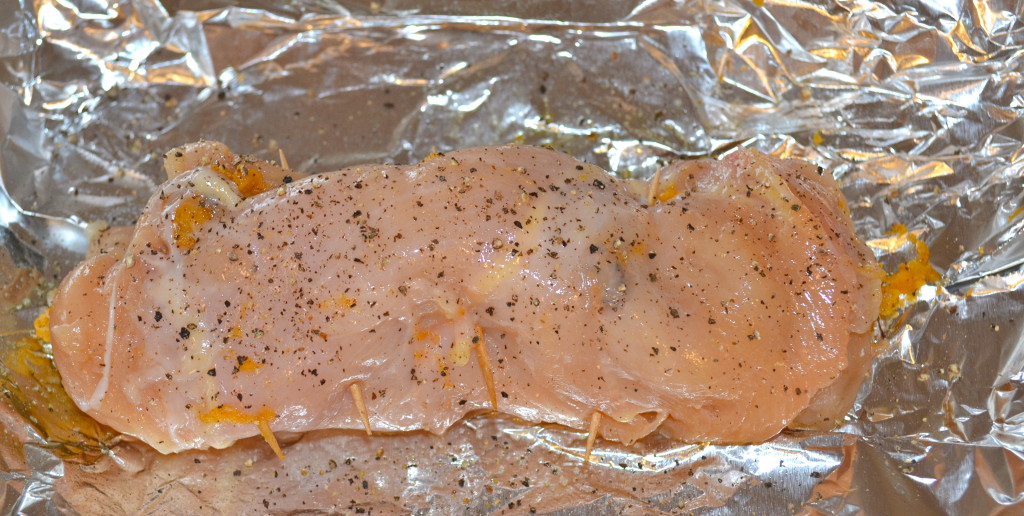 Place on a sprayed baking sheet and cook on 400 degrees Fahrenheit for 20 minutes. Dinner is served from leftovers!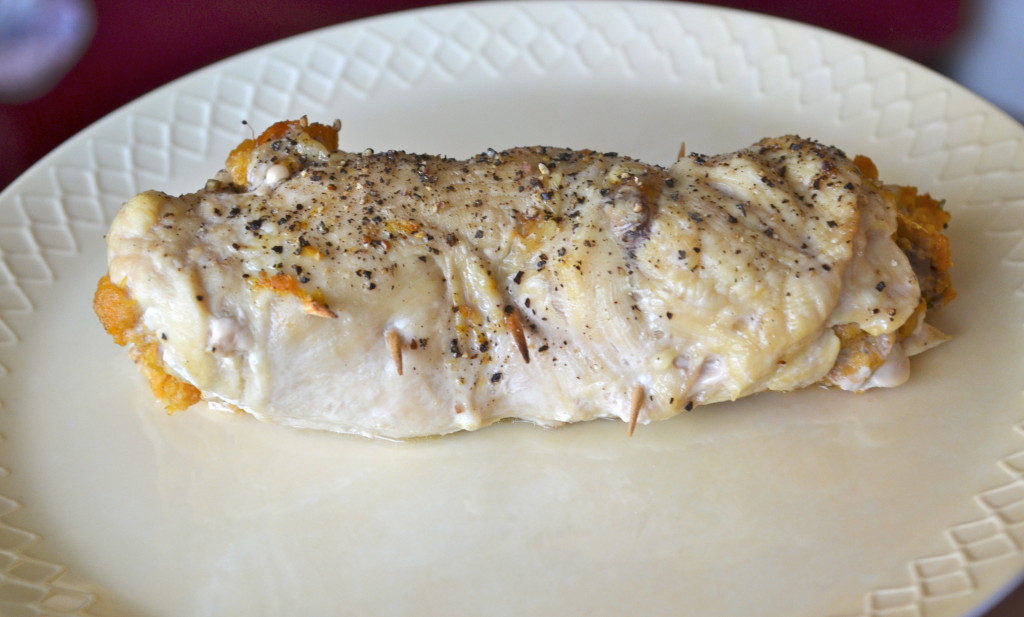 Cut in half and make sure you remove those toothpicks.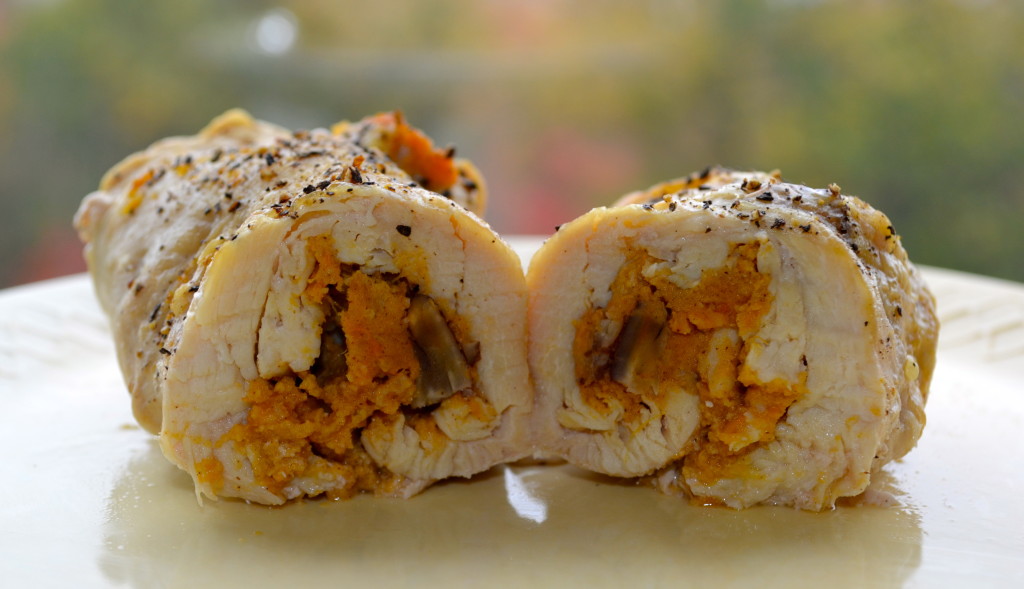 And again, another healthy recipe.
Here's to the winning meal! (Hopefully 😉 )
Happy eating…
XOXO With a Cherry On Top,
-Minnie