New Kicks for a "New Balance"
Hey there fit friends 🙂
Did you have a good weekend? I hope so. You guys know how much I LOVE workout gear. Minnie always has to be coordinated and look good in the gym. After all I spend a huge chunk of my week there. Work? Nah, I can look a hot mess 😉
My wonderful friends over at PopSugar Select and Heidi Klum for New Balance  (HKNB) sent me these gorgeous new shoes to try out.
The minute I opened the box I was in love. I am a huge fan of items that are different, bold, and make a statement. These do just that. Plus the blues and mint colors are so pretty. I've been looking for a blue pair of shoes and couldn't find the right pair until these entered my life.
This is the  HKNB 890v4 Graphic Shoe (Heidi Klum for New Balance). It's light, and comes in several widths, so no matter if you have a wide or narrow foot you can make this baby work! I have very round toes and the normal width fits me like a glove. The cushioning in the shoe is also fabulous, no sore spots or overlying seams. Runner's World even awarded the shoe "Best Update" in their December 2013 Winter Shoe Guide. See, must be good! Even though I am not much of a runner, I do tons of stepping, and interval training for my cardio and these are perfect for that.
I think I pull these off pretty well 🙂
And you know me… have to hit a bikini girl pose even in sneakers!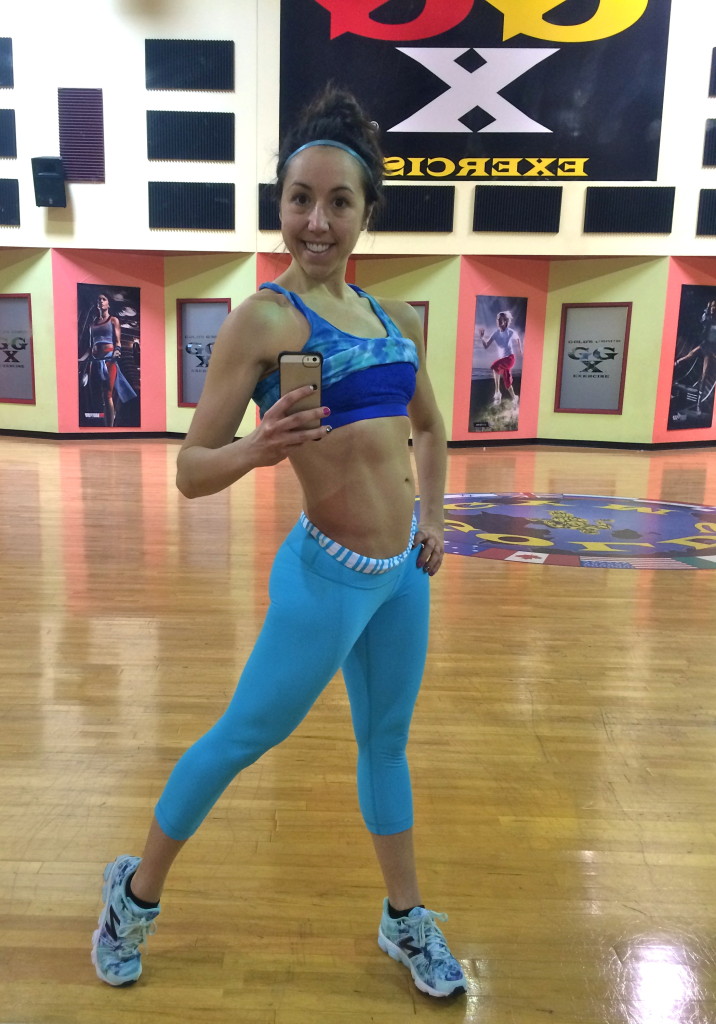 Heidi Klum for New Balance is the perfect balance for practicality when it comes to fashion sense meeting fitness. Because the shoes are so well made, my workouts do not suffer while trying to stay fashionable! These are adorable and meet my fitness needs. I was excited when I saw Heidi Klum was starting a line for New Balance because I absolutely LOVE project runway. Two worlds meet with a collision of sport + fashion: one part Heidi and one part New Balance. Make a bold statement in the gym with her line 🙂
Here are a few tips to staying fit without sacrificing your wardrobe: 
Choose the right shoe. Just because something is pretty doesn't mean it feels good. Look for a description with the words "cushion" and "lightweight". Also it's a major plus if shoes come in different widths! Mine are perfect and pretty! 🙂
Make sure you can move in it. This goes for tops and pants. If you bend over and are constantly pulling up your pants, these aren't the pair for you.
Be realistic. If you are a yoga enthusiast, you're better off in fitted tops. If you are a runner and prefer things loose, go with tees and tanks that breathe. Heidi Klum for New Balance offers adorable tops in both types!
Choose things that flatter your shape. I like clothing that shows off my best areas like my back and arms. I feel confident when lifting if I have on something that showcases these parts of me!
If you want to check out more of the line, hit up my Pinterest! I created a board with a few items that I love, plus some pictures of inspirational women. I especially like the sports bra that matches my shoes 🙂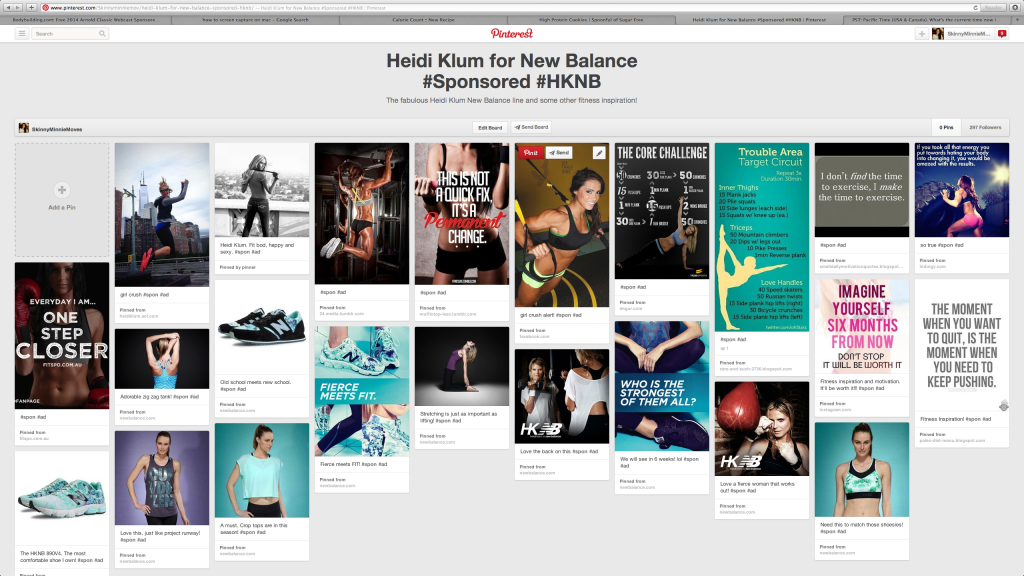 I hit a few workouts in my new shoes, including a MASSIVE leg day.
I changed things up a bit and increased my reps to see how things would work and how I would feel the next day. I'll let you know on that one. But here were some of my "big guns" as I call them.
Sideways hack squat machine 50-60 added pounds (hips aligned, one foot in front of the other), 12 reps each side. Before switching to the other side I did 12 squats on my heels or 12 squats on my tip toes. So basically sideways squat, regular squat, to the other side. Repeat 4 times!
Leg press alternating plie stance and narrow stance, 170-180 lbs, 15 reps plie, then 15 narrow. Repeat 4 times. YOWZA THAT BURNS!
Plie style 
Narrow 
Glute press using the assisted pull up machine. Now people may look at you weird like you are using the machine wrong, who cares, let them look! I ended up pressing the entire stack to make 112 lbs, but go lighter if you need to. One foot on the lever, push down and back up. Make sure to bend from the waist a little bit, this will KILL your glutes, I promise 😉 15 reps each side for 4 sets!
Walking lunges holding 15 lb weights in each hand. 12 reps back and forth for 5 sets. YEP 5! Make it burn!
This wasn't my entire workout, just some of the really heavy hitters. These are the exercises that make the big changes in your legs.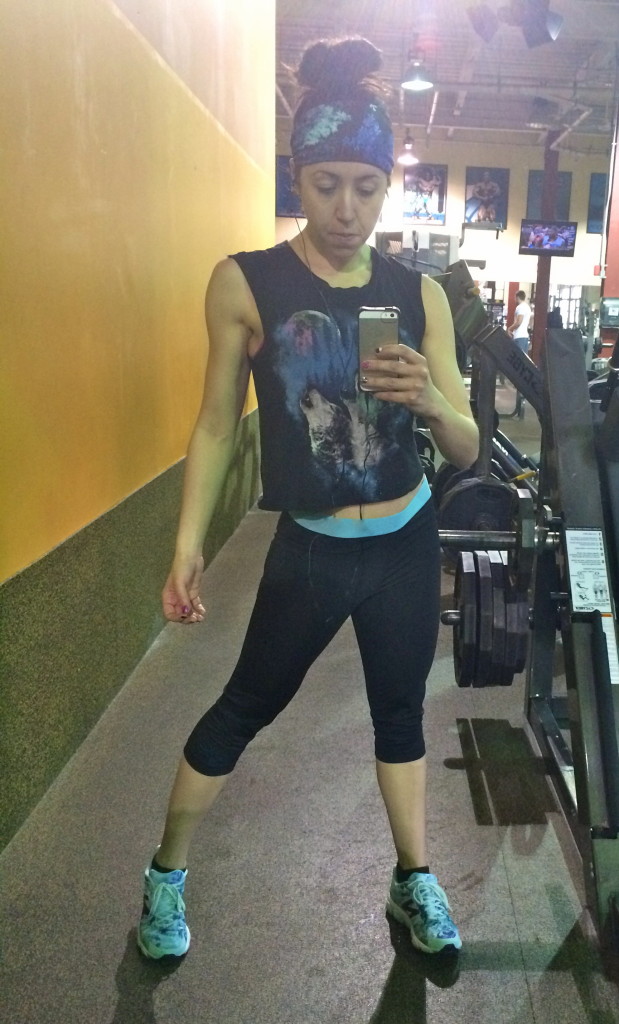 Remember, The Burn is Beautiful! 
When I went home I had plans to meal prep and have a small "cheat". I've been so hard on myself this entire prep and decided it was time. However, I was so busy I really never got around to something crazy! I just had a few extra rice cakes because my body needed carbs. I track everything I eat with this prep, but because I worked legs so hard yesterday I could tell I needed the pick me up. This process is about learning what my body needs and wants to make it the best it can be.
And just for fun, let's look at how my posing has improved. This is a 3 week difference!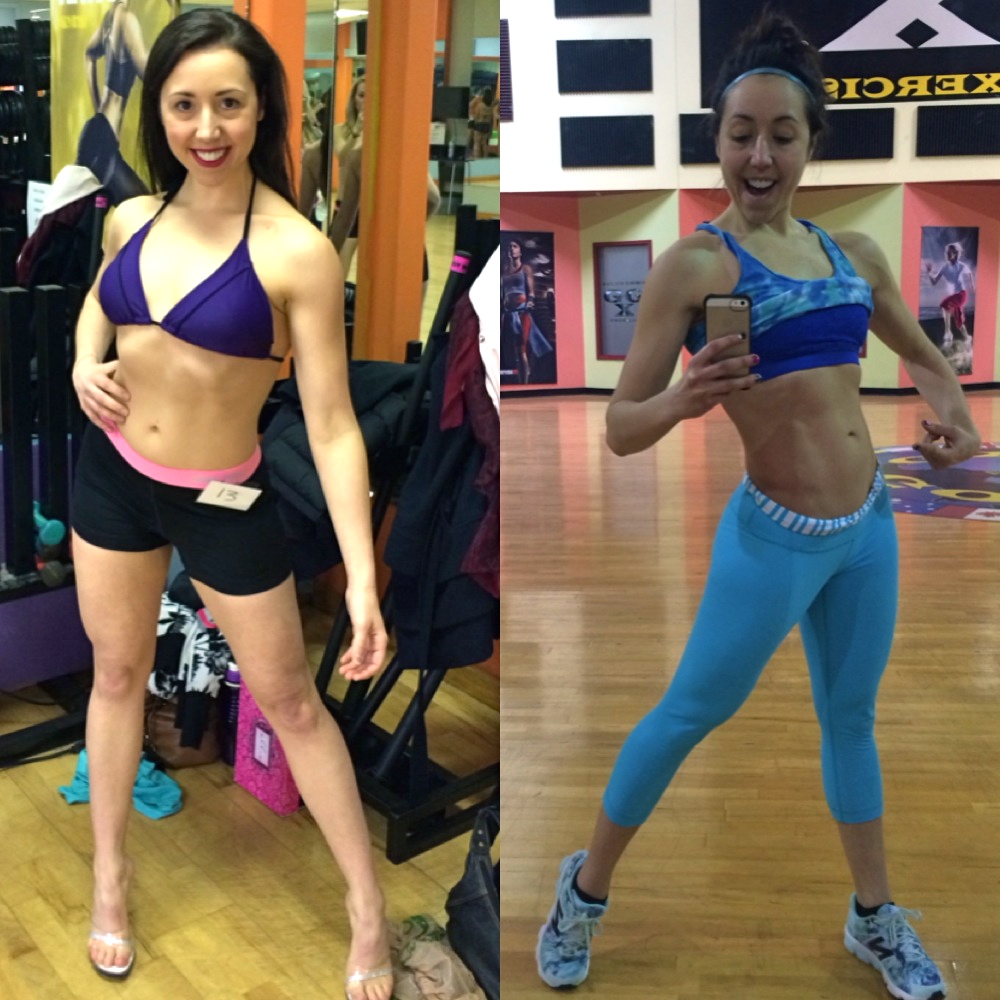 Have a great Monday, and let's hope Maryland doesn't get another foot of snow. I can't handle it. Neither can my paycheck!
I'll be back with some more workout things!
XOXO With a Cherry On Top,
-Minnie
Disclosure: This post was sponsored by Heidi Klum for New Balance through their partnership with POPSUGAR Select. While I was compensated to write a post about Heidi Klum for New Balance, all opinions are my own.