Hakuna Matata
Hi friends! Sorry for the lack of post yesterday. My day was a whirlwind and I never had a moment where I was relaxed. This one over here is super high strung! Days off are supposed to be relaxing… hmmm… well maybe after prep is over with?
I am absolutely BLOWN AWAY by the response of Thursday's blog. I was so hesitant to post it because I thought it was a bit controversial, but I felt it needed to be addressed. I cannot believe how many of you reached out to me on all of my different social networking accounts, my blog, and my e-mail. I am deeply touched that you shared your stories with me and supported my post. It's nice to know my words are touching people, rock on readers! 🙂
In case you missed it… 28 and Bullied.
Moving on, Thursday was supposed to be a rest day but I have been extremely bloated. My abs that were looking great last week? Almost non-existant. I have to keep drinking that water to flush this all out! Since my muscles were so sore and I needed to loosen up a bit, I went straight home from work to my apartment gym. In fact I had all my bags in the gym with me because once Phoebe sees me I can't leave. She get's way too excited to see Mama 🙂
I started with an intense Pilates ab session. I figured I'd kill 2 birds with one stone: lengthen and strengthen!
I found these exercises on Pinterest and they killed. Try them out!
The first set is from Womens Health Magazine. You can find all the workouts I did for this one HERE! I did 12 for each exercise instead of the 8-10 they suggested.
The second set is from Blogilates. Phew it burns 🙂
Both of these took me roughly 38 minutes without really stopping. Remember to do these exercises nice and slow with controlled breathing. Pilates is all about the inhale and exhale.
I finished with some long stretching for about 15 minutes. Instead of basic stretches, I fought gravity. This means I pushed my own body weight and made it burn even more. So if I'm stretching my arms out in front of me, I SLOWLY bring them back in as if a wall is pushing back against me. You get a stretch and a burn at the same time. It's a win win 🙂
A little something different for me, but it felt good. I had originally planned on trying to do a "drop in" class at the Pilates reformer studio I used to go to, but instead I saved myself $30 bucks and a little gas money.
When I came upstairs Miss Buffay surprised me with a little "mishap" from behind. Poor little thing! I hate to think of her in that mess all day long 🙁 I had no choice but to throw her in the bath tub, which gave me an extra bit of a workout 😉
Usually she is good in the tub, this time she fought me like I was wrestling a gator.
Don't you just want to say "Hakuna Matata"?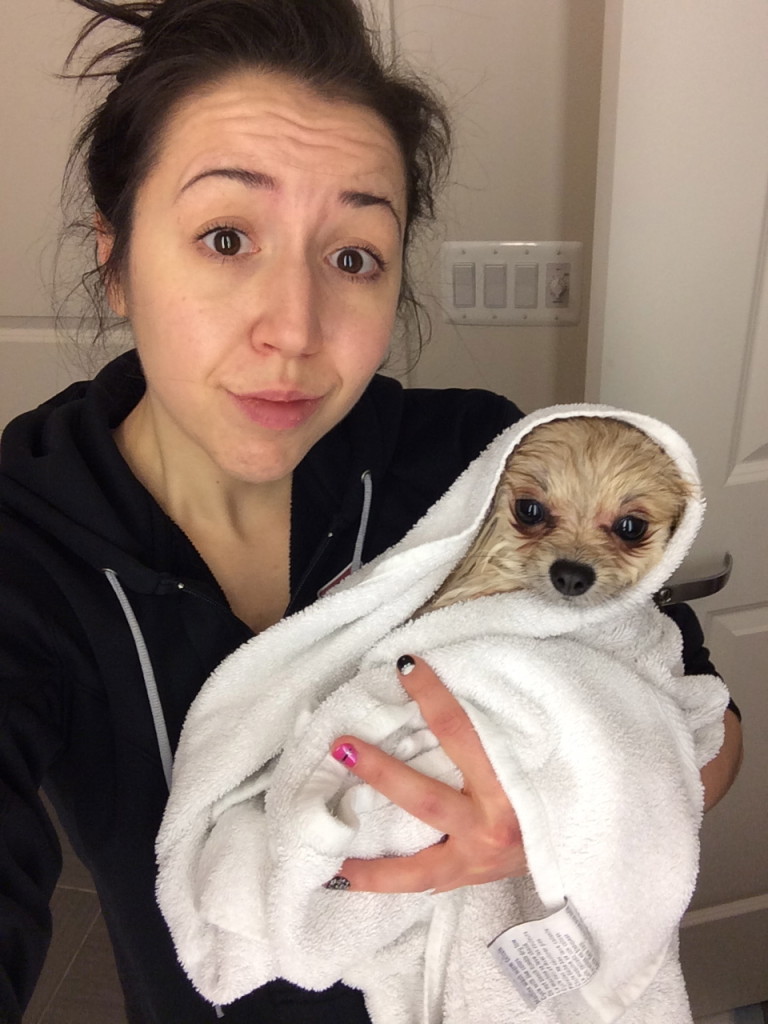 Mommy was soaked too!
Getting back to yesterday, I had a posing class with my coach! It was nice getting one on one attention. It's funny because the second I got in front of her that awesome posing that I've been practicing? Out the window! I froze up, panicked, and turned into a baby giraffe learning to walk all over again. Good to know that I freeze up in front of people. I need to keep practicing, I have 6 weeks to get the walk perfect!
My coach was great because she corrected things I had no idea I was doing wrong. Because of my scoliosis I tend to lean a little bit, so I have to make an extra effort to straighten my body to the judges. She also showed me a few ways to point my legs that make my quads pop a little bit more. Everyone is different, so it's just what works on your own body. There's no one correct way to pose or walk, it's what looks best on you! I was able to ask her what looks better and more natural with my walk and she gave me excellent feedback. When you look at pictures of bikini girls and even videos you think "wow anyone could do that", but it's SO MUCH HARDER than it looks! Just a hand on the hip? Not so! Plus holding an uncomfortable flexing pose in heels for a long amount of time STINKS! Lots to do these next 6 weeks.
I was however able to do a little business card swap. Mine finally came in and they came out beautifully. I designed these myself and couldn't be happier with how they turned out.
I end today announcing I am a new FitFluential ambassador! I am over the moon excited about this because I waited over a year to even apply, then the application process kept getting push backed. I received my "congratulations" letter yesterday morning and am thrilled! FitFluential is all about influencing others about fitness through different social media outlets. Ambassadors also get to work with amazing brands. Thousands apply each year and I was one of the lucky ones to be chosen. Big thank you to FitFluential for recognizing I am an influential blogger! SO excited to get started.
Have a great Saturday folks.
XOXO With a Cherry On Top,
-Minnie