No More Bad Days
Good Morning. Happy Terrible Tuesday (oxymoron).
So yesterday morning I started the day off right, well wait… I NEVER WENT TO SLEEP! Nope, my Sunday just continued into Monday without closure of my eyelids. I even took Benadryl, and it had the opposite effect. At one point (around 1:30) I listened to a car engine outside my window vrooming (not a word-but it's ok) away for a good hour. This is not the first time this has happened. Several occasions at that time of the night the same obnoxious orange Lamborghini has been out there doing the same thing. I'm on the 7th floor too, so I can't imagine how it sounds for the people on the 1st. Makes you question what this guy is doing at that time of night and in a very suspicious looking car? But I always have a million theories about things and trust no one 😉
My work day was busy from the start and I'm pretty sure there was coffee in my hands at all times. And I am also sure I have permanent heart burn because of it. That stuff just stinks! The whole work day was just poo, but I did get to take an impromptu trip to the OR. Really though the only good thing about my day? It was a great hair day.
I left a little after 430 and was BEAT but I still went to the gym. Usually by Tuesday or Wednesday I cannot function properly, so I wait for one of those days for my gym day off. Plus lets be real, I wanted to wear some of my new workout clothes.
New black wunder unders and another one of my favorite Lululemon tops in red! Why do I look so short in this picture by the way?
So these two items were two of my purchases from my shopping extravaganza the other day. I just love the top, red is one of my favorite colors! Finally Lulu is making things in my "signature color".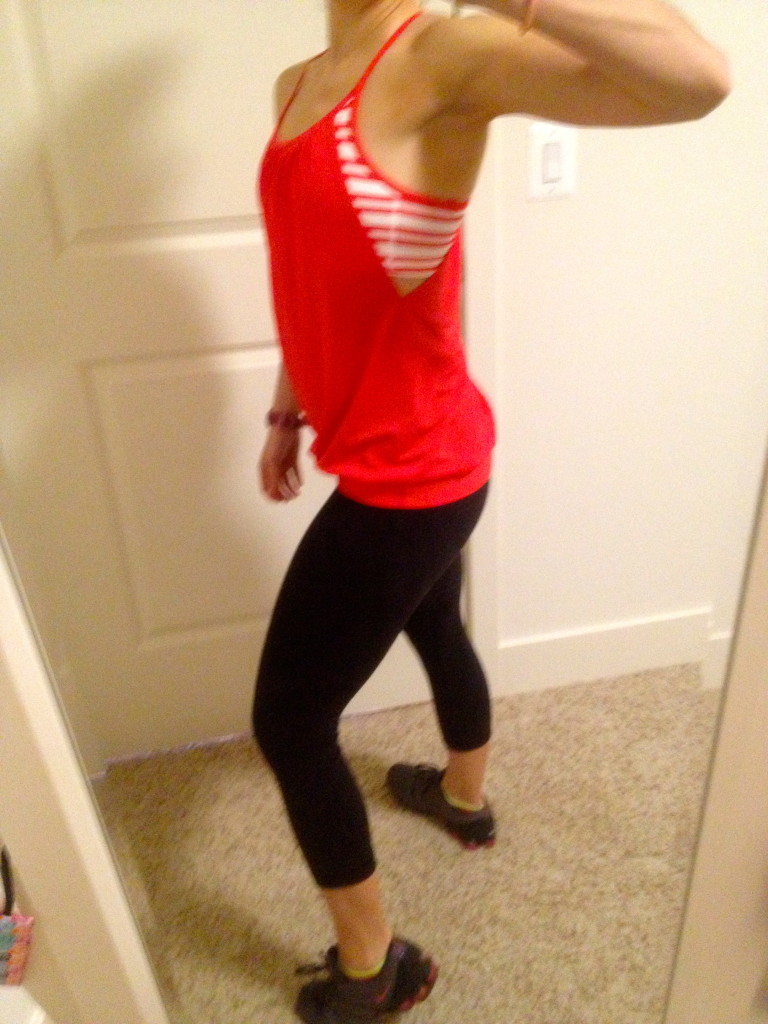 And the back
Here is the part where G-Mama sends me a text and says "I love that top on you Minnie". My mom is my biggest supporter, even with the silly stuff 🙂
So onto my workout. Usually Mondays are arm days, but I decided to switch things up a bit because I wasn't in the mood for arms. You have to go with what your body asks for!
So I did a mini leg workout instead. I like burning the calories.
Alternating Smith Lunges, 95 pounds- 16 reps THEN 10 smith squats with same weight (get low!), 3 sets of these 2 exercises! YOWZA

Calf raises, smith machine, 185 lbs, 12 reps x 4 sets

Plie squats holding 35lb kettle bell, 12 reps x 2 sets with toes elevated, then 12 reps x 2 sets flat feet, 8 pulses at the end of each set

Deep Bosu Squats, 12 reps x 4 sets

Leg extensions, 70-80 lbs (my knee was bothering me so I had to decrease my usual weight), 10 reps x 3 sets
My cardio was 15 minutes on the treadmill (5 minute fast run, 10 minute incline walk), then 20 minutes on the step mill. Get it!
When I left the gym I actually felt VERY sick. I think it was way too much coffee through out the day, and I also did not take my heart burn medication (not a pretty combo). I was nauseated and dizzy, but once I got home and ate some food I felt better. Carbs! Yes I needed carbs at night because it helped soak up some of the icky stuff. I had some delicious blue corn tortillas I bought from BJs the other day (they didn't have my sweet potato chips), and then I had dinner which included my dads smoked chicken (thanks Dad, you're the best!) and a salad with avocado.
Then came the bad stuff… well MORE bad stuff. Hey the ice in my freezer is all melted… WHAT!? Noooooooo…. NOT AGAIN!
Fridge BROKEN. #2 for Minnie. Just 3 months ago in my old apartment the same thing happened. In my college apartment it happened too. Seriously I have terrible luck with refrigerators! I'm like Joey Tribianni "YOU BROKE MY FRIDGE!". Remember where he sits there and eats every single item in the fridge including that brown stuff in the jar that they didn't know what it was? Chandler: "That's still in there?" Joey: "Not anymore". As you can tell I am more than a Friends fanatic!
I did not eat everything, luckily the maintenance man came right away, even at 9pm and thinks he solved the problem. He is going to check again in the morning. Otherwise I won't be fitting into my wunder unders!
The remainder of my night was blogging, watching Big Bang Theory and trying to pep talk myself into getting through this week. Seriously, is it Thursday afternoon yet? 🙁
So if you are having some bad luck like I am, take a few deep breaths, have a good hair day to make it better, squat like a beast, and don't eat the brown stuff in the fridge 😉
XOXO With a Cherry On Top,
-Minnie