Not So Pretty Sticky Buns
So what's with the title of these? Well you know when you are making something, whether it's food or some other project and in your head you imagine how great it's going to look? Then it comes out looking a hot mess and you're disappointed? Well that's this recipe!
So I call them my "not so pretty" sticky buns. They are messy, and by no means perfect, but they are a healthier version and absolutely delicious! I had to stop myself from eating the whole pan.
If you walk by a Cinnabon in the mall and smell the baked goods, keep walking! One of those sticky buns has 880 calories (320 calories from fat), 36 grams of fat (17 grams saturated fats), 127 grams of carbs (wow), and 59 grams of sugar (yikes).
My sticky bun has 205 calories, 1.7 grams of fat, 33.4 grams of carbs, 3.2 grams of protein, and 13.4 grams of sugar.
Now you might be thinking 13.4 grams of sugar is still a little high, but when you compare the two, it's quite a steal! Plus next time you grab that greek yogurt mixed with fruit take a look at the side nutrition and you will find out those are loaded with sugars! Sometimes up to 18 grams for one little yogurt. That's why I eat plain. So enjoy these sticky buns guilt free 🙂
To show you what we end up with:
I think I've caught your attention!
For this recipe you will need: 
BUNS:
3/4 cup of unsweetened vanilla almond milk

1/4 cup of unsweetened natural applesauce
1 Tablespoon of coconut oil
1/2 cup of stevia in the raw
1/2 packet of organic active dry yeast
1 cup of whole wheat flour
3/4 cup of unbleached white all purpose flour
1/4 teaspoon of baking powder
1/4 teaspoon of salt
FILLING:
1 very ripe banana

3 Tablespoons of organic molasses
3 Tablespoons of sugar free maple syrup
1 Tablespoon of natural honey
3 Tablespoons of Brown Sugar
ICING: 
1/2 cup of xylitol 

1 Tablespoon of unsweetened vanilla almond milk
1 teaspoon of sugar free maple syrup
Got all that? I know it sounds like a lot, but really it all comes together nicely! You do this in shifts, so it's easier than it seems!
Let's start with the buns! Mix 3/4 cup of almond milk, the applesauce, and coconut oil in a sauce pan. Heat on medium-high heat. When it has heated through, add the 1/2 cup of stevia. Remove the pan from the heat right before it comes to a boil.
Let it cool and then add to a mixing bowl. Sprinkle 1/2 the package of dry active yeast on top of the mixture and let it sit for 1 minute
Add 1/2 cup of whole wheat flour, and 1/2 cup white flour to the top of this
Once mixed, place a kitchen towel over the top and let it sit for 20 minutes
You come back to this: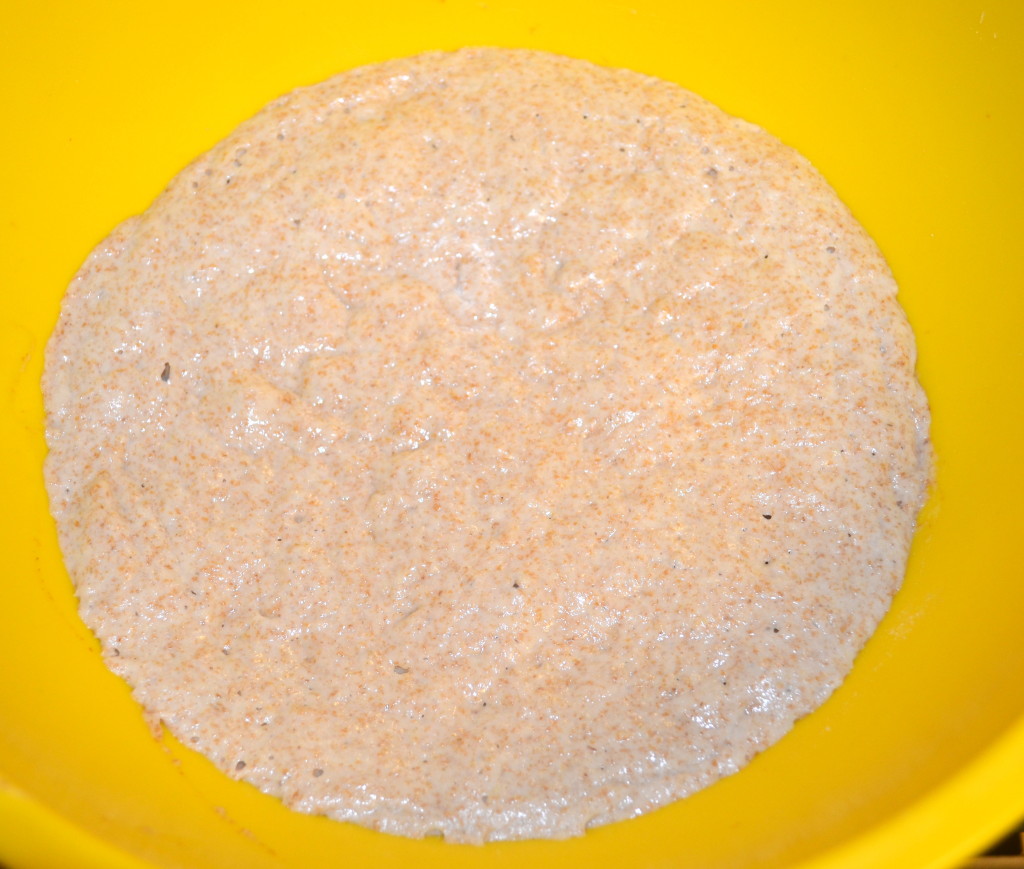 Now here I added the rest of my flour, you want to add 1/2 cup of whole wheat flour and 1/4 cup of regular flour and mix. I ended up refrigerating the dough overnight and using it the next morning to let it rise some more. But you can also work with it right away. Might have to add a tad more flour if you do it this way!
The next morn:
(Preheat your oven to 375 degrees Fahrenheit)
Next is the filling. To a sauce pan add the molasses, ripe banana, honey, and sugar free maple syrup

Next roll out your dough. Make sure you sprinkle the counter with flour first so it doesn't stick! Make a large rectangle (about 10 x 30)
It doesn't need to be perfect, the sides will be pinched later! Once it has been rolled out add the molasses mix
Then spread it out evenly. WARNING. Things will get messy!
Sprinkle with Brown Sugar, you could also substitute cinnamon here for a cinnamon roll, but I wasn't feeling the cinnamon today!
Now it's time to get rolling. Take the part of the dough farthest from you and roll towards you.
You end up with a log of dough (pinch the sides in so the filling doesn't fall out)
Cut into 8 equal pieces! Spray a pie tin with olive oil spray and place evenly in the tin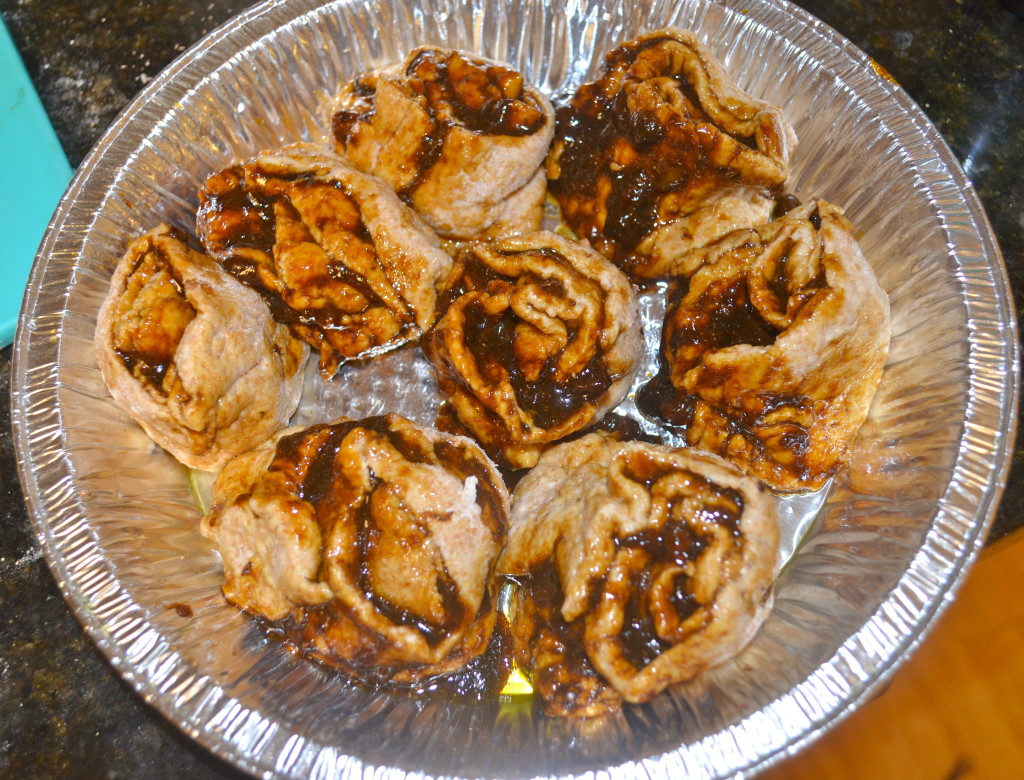 Cover with a kitchen towel for 20 minutes to let them rise a little more
Place in the oven for 18 minutes.
While these are cooking we make the icing!
To a food processor add 1/2 cup of xylitol. Xylitol (40% less calories than real sugar) is a crunchy sugar crystal, so when blended, it makes a powdered sugar! Blend for a minute or two until it becomes snow like
Add 1 Tablespoon of almond milk to make a glaze! Then drizzle in 1 Tablespoon of sugar free maple syrup (I just folded in by hand)
 DING! Sticky Buns are ready!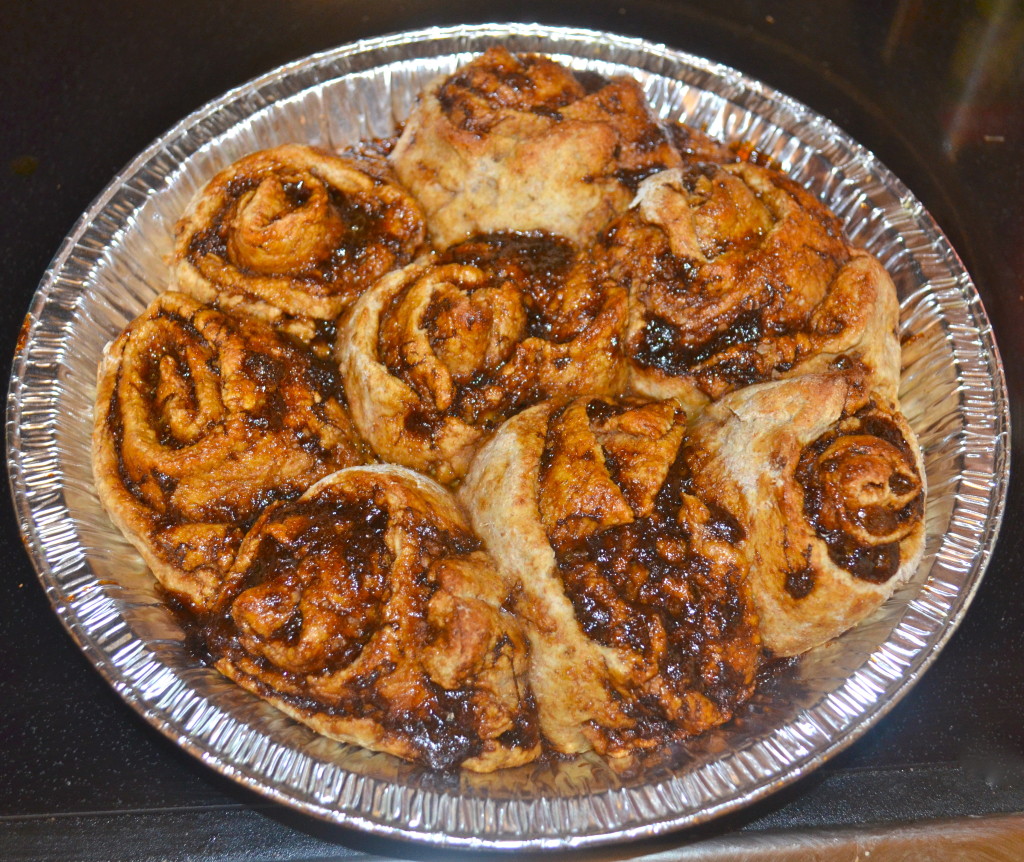 Let's look up close and personal
Pour the icing over the top while they are still warm and gooey!
All glazed and ready to eat!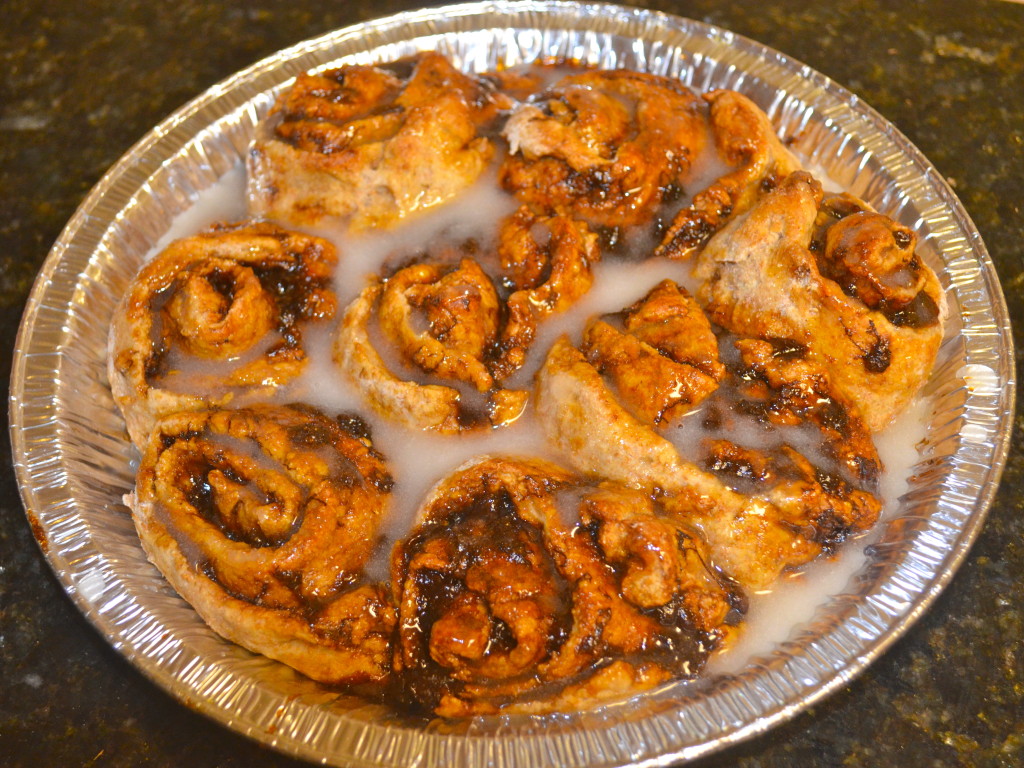 These are best warm right out of the oven. So try to make them when you want to eat them!
These really didn't stand a chance… even sick I couldn't resist!
Guilt free sticky bun, well worth it!
Happy eating…
XOXO With a Cherry On Top,
-Minnie