OCB Eastern Regionals 2015- That's A Wrap!
Hey everyone!
Well I did it! I placed in both my classes this weekend 🙂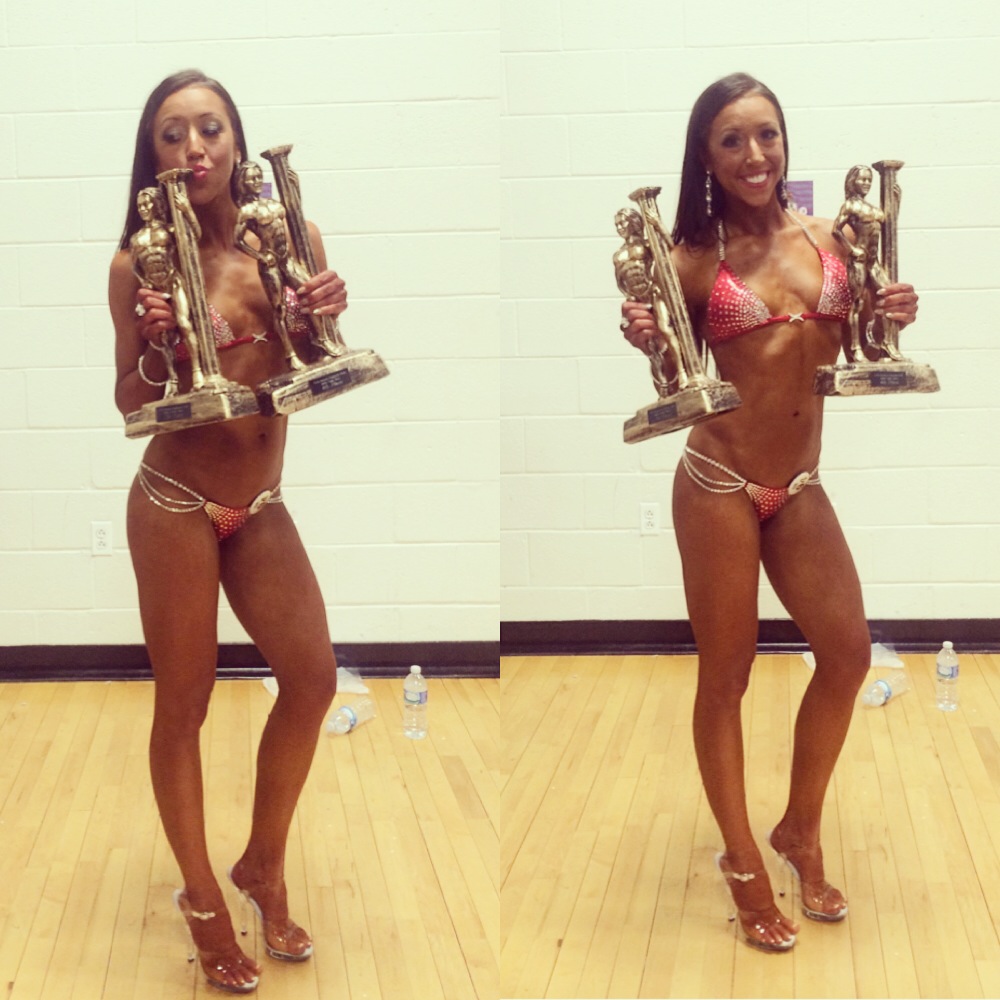 Second place novice and fourth place open bikini. I FINALLY cracked the top 3 (my goal this whole time).
This post will be mostly a picture extravaganza with small captions 😉
Friday night I got my spray tan and this time I was MUCH happier with it. It looked beautiful without streaking and it was crazy dark!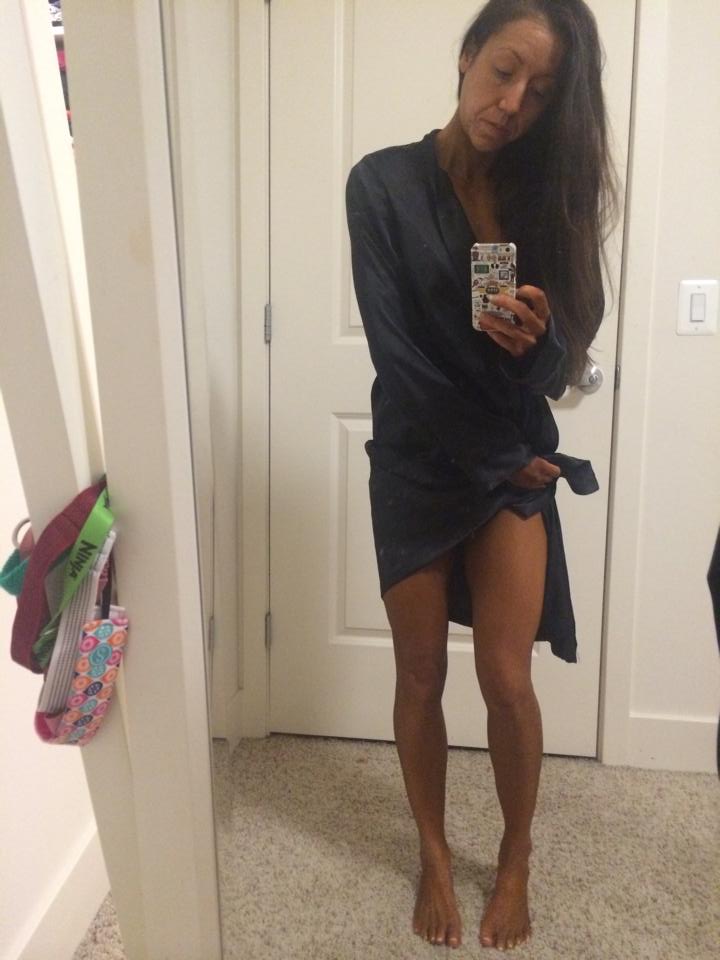 Believe it or not there was a girl darker than me… wow!
Anyway I did my own hair and makeup again but this time I wore a new red suit.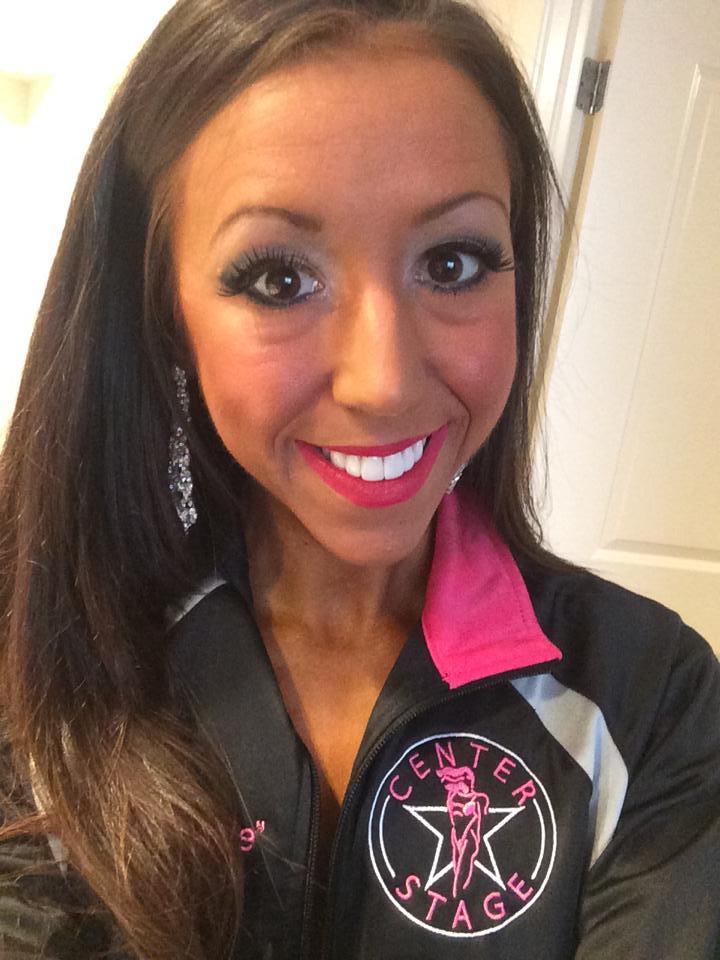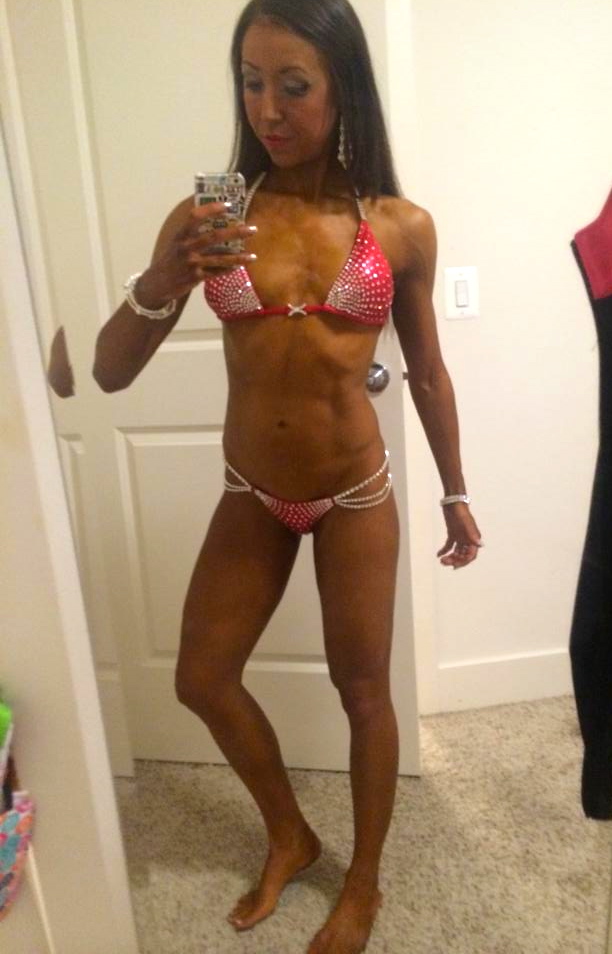 After a few "posing pics" I was out the door ready to go!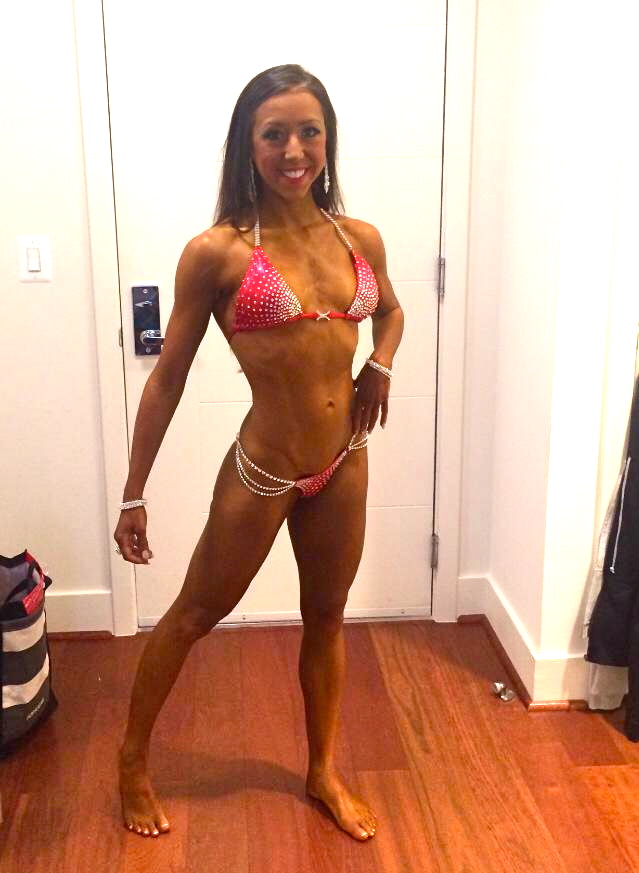 I was really happy with my look for this show. I think I achieved keeping my shape while presenting a tad softer.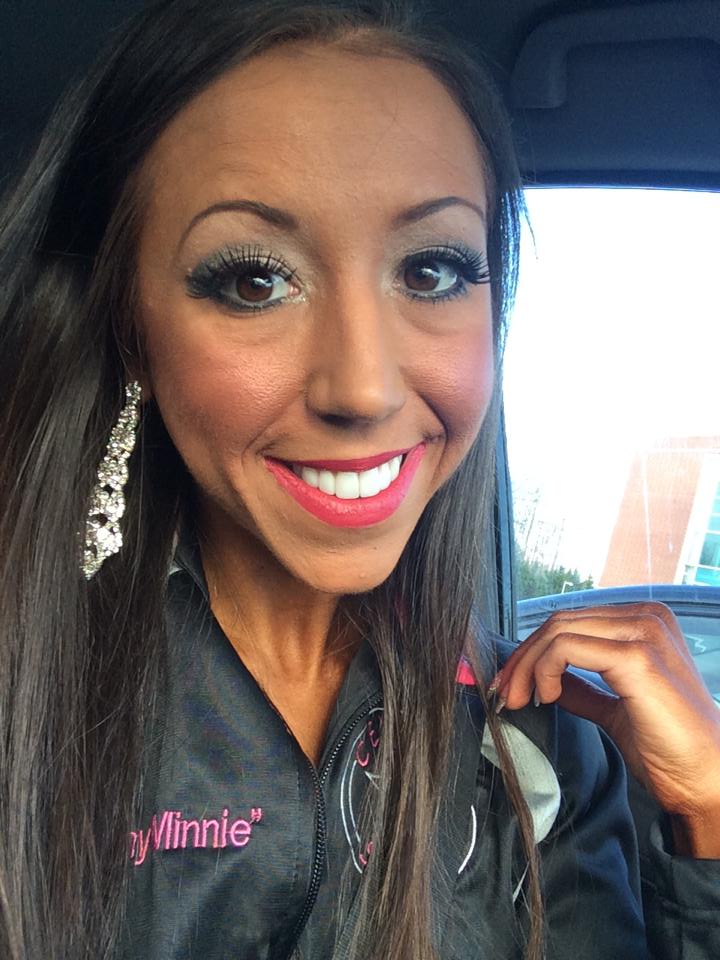 Don't you love these earrings? Yeah, they didn't last. Fell off three times before it even hit 9am, thank goodness I had back ups!
Backstage was total chaos again! But I have to say EVERY SINGLE GIRL backstage was a sweet heart. I talked to so many amazing athletes. There was absolutely no cattiness, or worry about people stealing your things (yes that happens at shows). I think it was because a lot of the women were my age and older. There was a level of maturity and respect in the room and I loved it. Yes these days drag, but when you surround yourself with awesome people it makes it so much better. Let me share some of the backstage fun!
"chaos"
This is Raima. An amazing female bodybuilder and choreographer for fitness routines.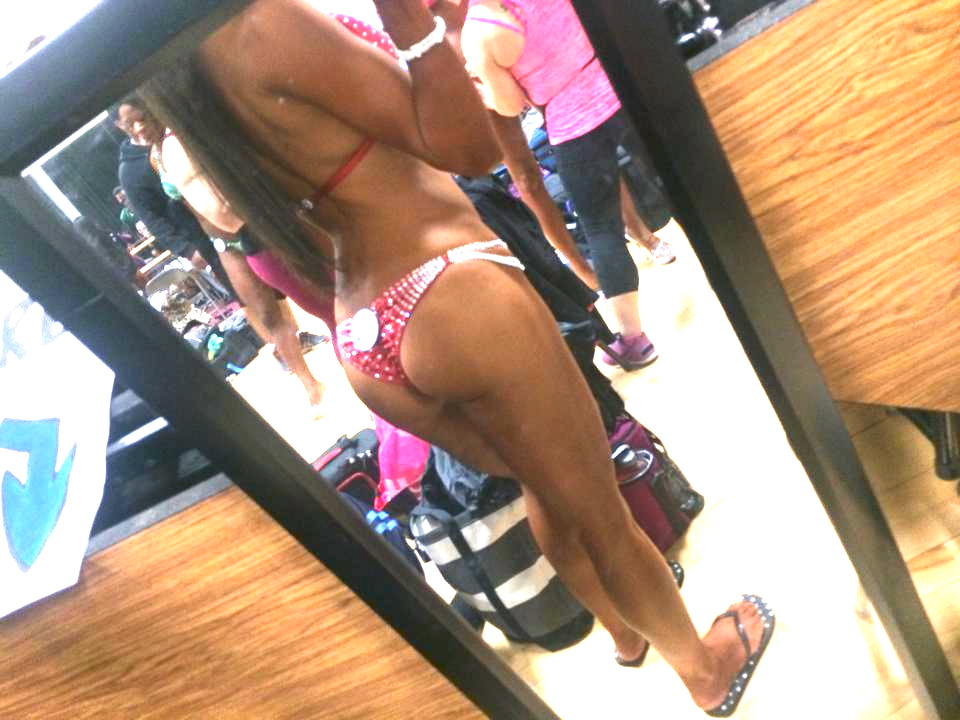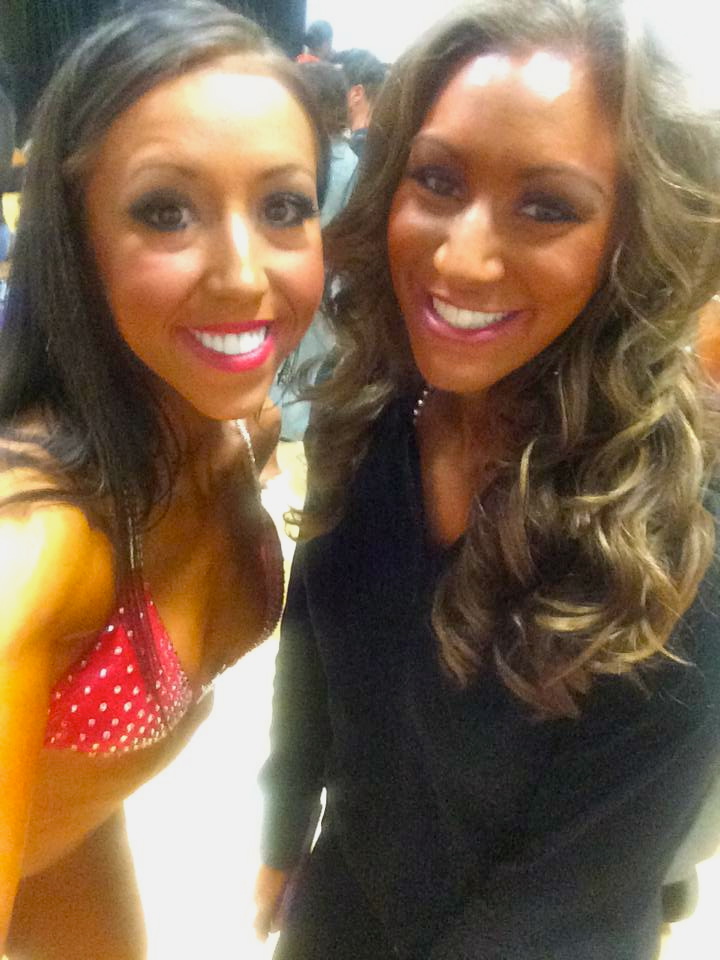 Meet Samantha. A nurse and woman with a heart of gold! It was her first show and we hung out all day. I always gravitate towards the people in medicine without knowing it at first. So easy to talk to and beautiful inside and out.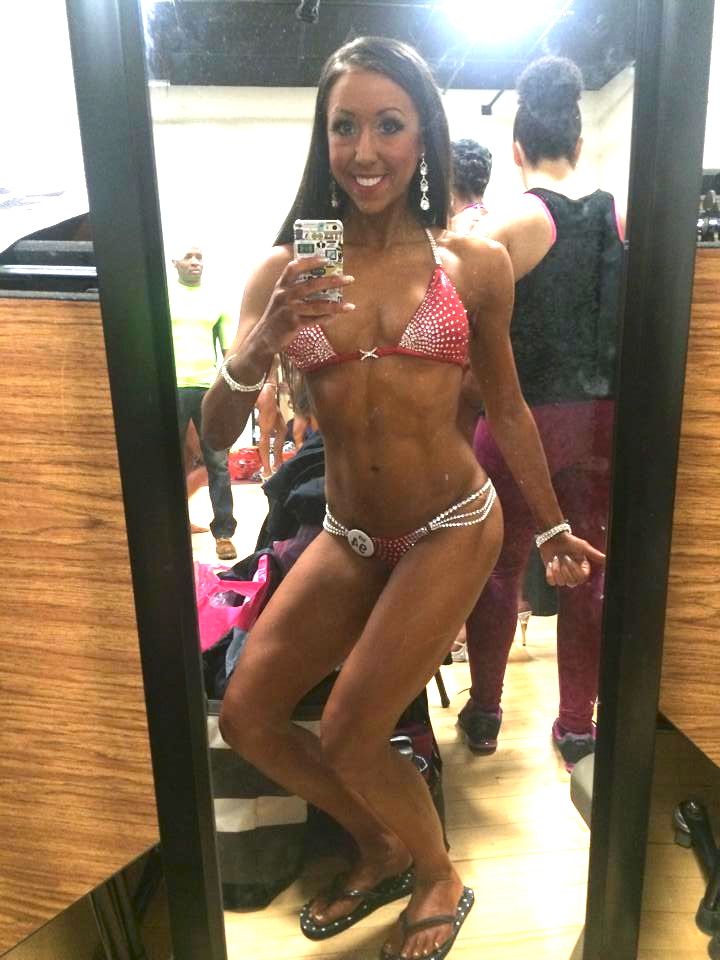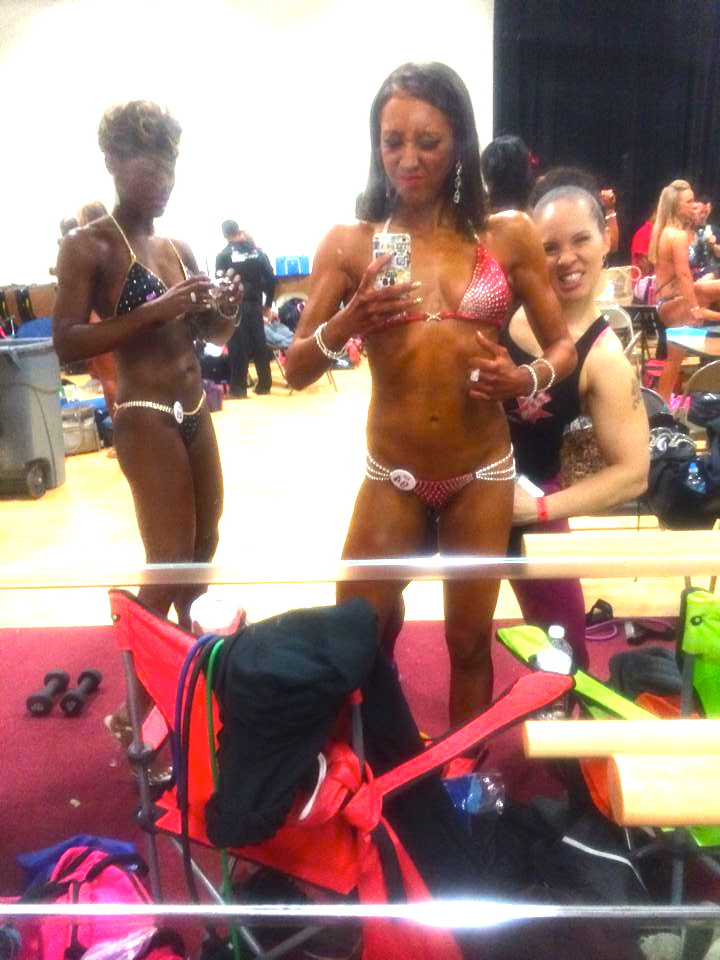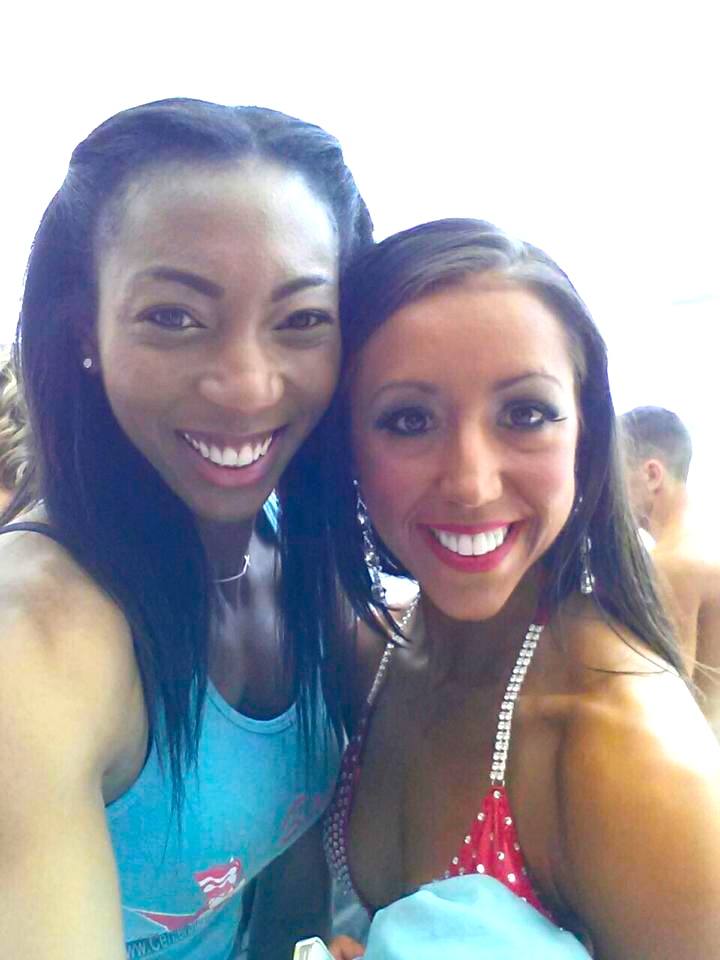 One of my competition friends, Shar. We competed together last year at my second show.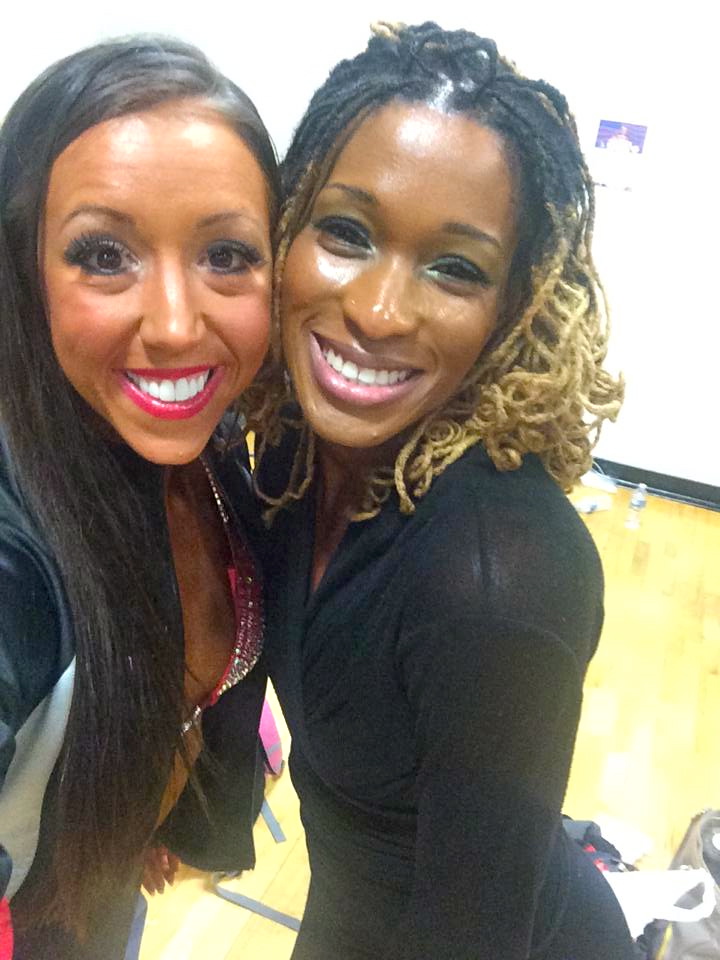 Another teammate of mine, Omi. This was her first PRO Bikini show and she rocked it!
Samantha and I again.
Some goofing off…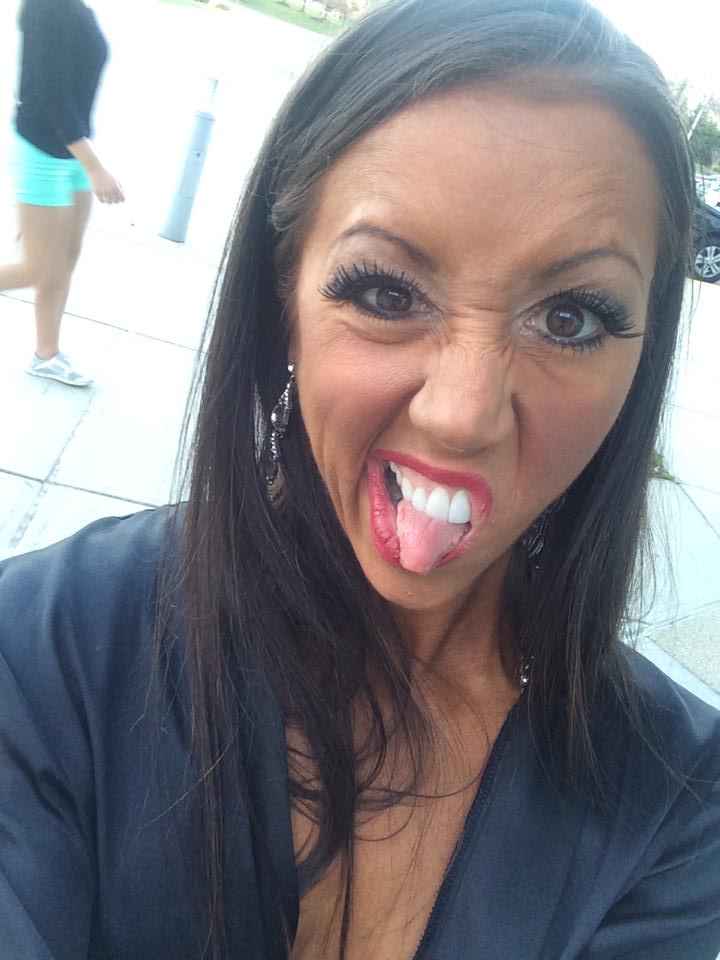 Pretty huh? 😉
I did take a few nice pictures in front of the banners!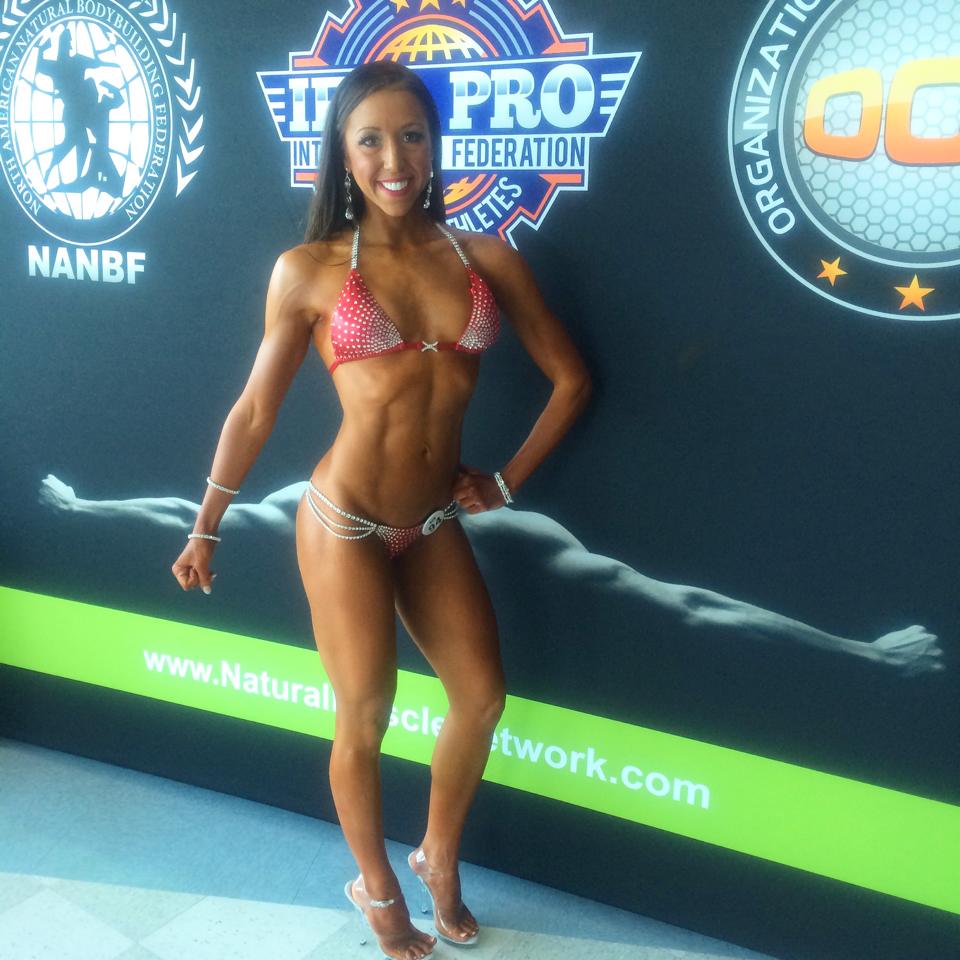 Pre-judging went insanely fast. I was onstage around 10:30am! I wasn't expecting to hit the stage until 1-2pm at least so that was a surprise.
Bikini Novice Short was up first and I was moved towards the center which was a good sign!
However, they had me switch places in my back pose, which was extremely awkward, thank goodness I pulled it off well.
I also did bikini open. I was moved a few spots away from center (the closer to the center you are the better).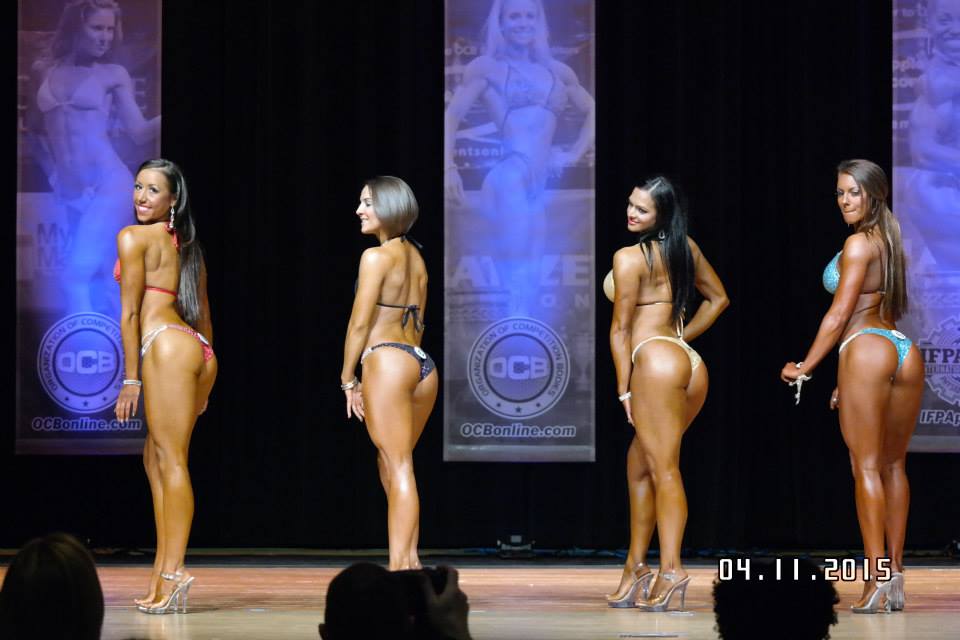 These girls definitely had size on me. I know that. With NPC they like "teeny tiny" so that's how I prepped. I knew if I did well at the Gladiator 3 weeks ago I probably wouldn't do as well in OCB. They like two different things.
I held my own though! We finished pre-judging by 12:30pm and finals didn't start until 5pm. I had a huge gap in the day with nothing to do so I went back home, answered some texts and chilled out for a bit. I gave into having coffee because my head was pounding and I needed the caffeine. Decisions were made anyway!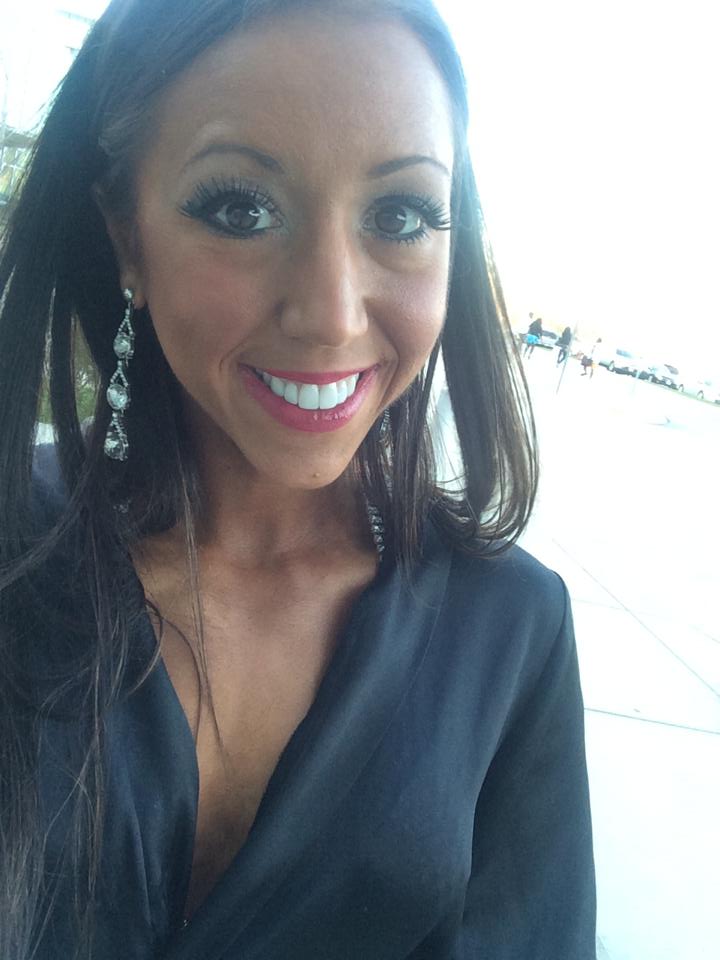 Coffee pump?
Back in the car I went for finals! This consists of each competitor getting 60-90 seconds to strut their stuff to music of their choice. It's a SUPER LONG process and I didn't even do mine until about 9pm. Numerical order… and I was #94.
Finally time for awards! Bikini novice I placed second. You would think as they announced top 5 and I'm hearing other girls numbers called for placements that I would think "I might get first!?", but I didn't. I knew I got second and I'm THRILLED!
I finally cracked top 3!
Bikini open I placed fourth.
And THEN I had cake!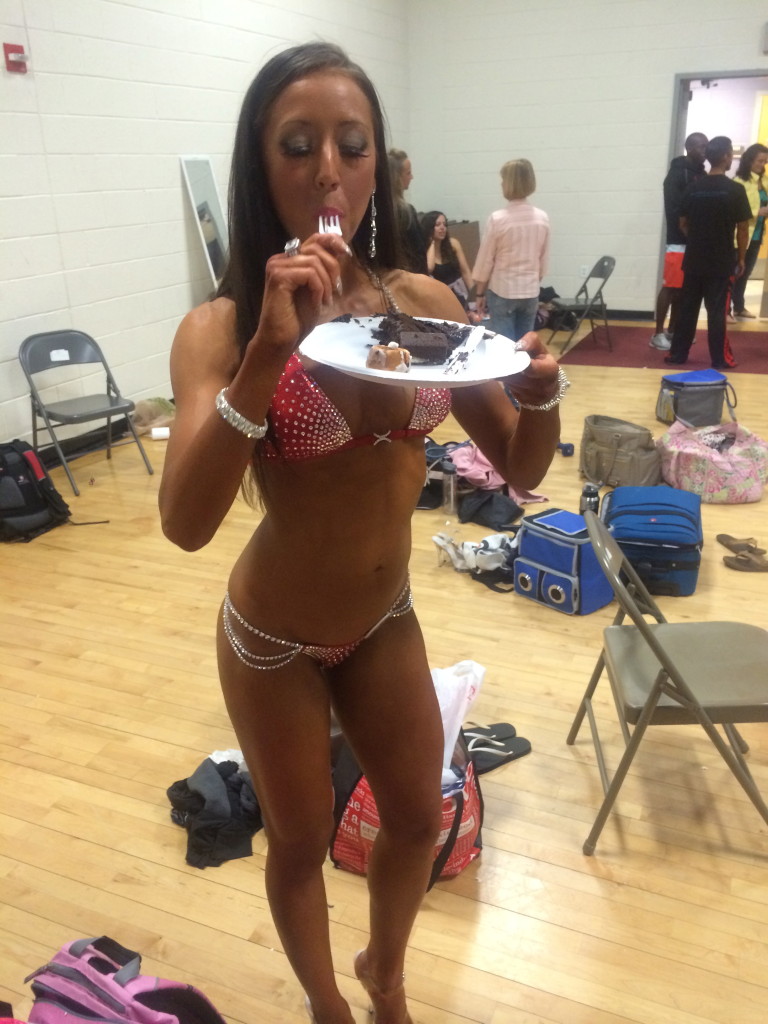 So yummy!
You can tell I had cake here… 😉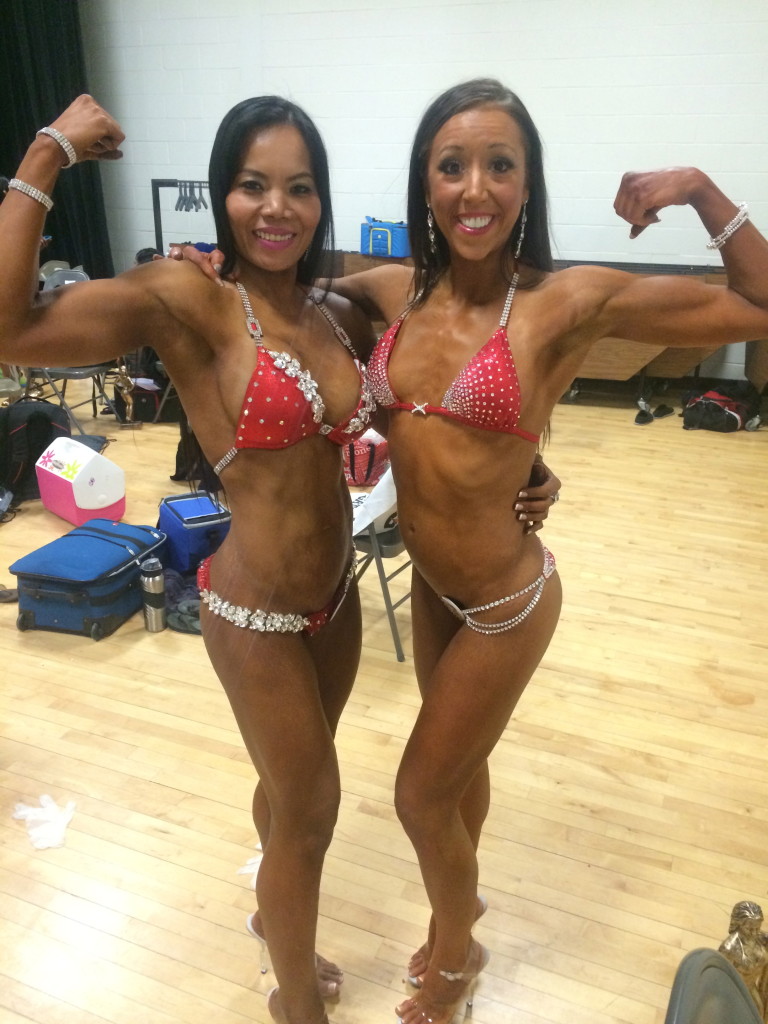 I didn't finish the day until almost 11:30pm. SUPER LONG DAY!
I want to send a huge thank you to my parents for supporting me and this journey. They were by my side every step of the way and were in the audience for both shows. Big thank you to my dad for yelling out that "I'm good" when the judges were trying to correct girls. I don't know what I would do without my mom and dad!
Also a huge thank you to this amazing woman and friend, Tina! Tina taught me how to pose and also took the beautiful stage shots.
So that's a wrap on the bikini days. I'm glad I went out on a high note! I always go back and forth in my head if I'm going to hit the stage again, but I don't think you can keep me away. So goodbye for now, but I'll see ya later!
XOXO With a Cherry On Top,
-Minnie