Peanut Butter Banana Parfait
I love bananas! I eat them a lot. I usually buy 2-3 bunches at a time. Weird, because as a kid I hated them! People change I guess…
"You know what ELSE everybody likes? Parfaits! Have you ever met a person, you say, "Let's get some parfaits," they say, "Hey no, I don't like no parfait"? Parfaits are delicious!"
Okay so that quote was from Shrek… one of my favorite things Donkey says! (besides I like that boulder, that is a Niiiiice boulder) He's hilarious, and it's extra funny because it really is so true. Have you ever looked at a parfait and said? "Oh no that doesn't look good" Heck no!
Growing up, G-Mama made us parfaits ALL THE TIME. And I loved the different layers and flavors, all in a cute little glass. Half of the greatness of a parfait is the presentation 😉
So I put together a small little peanut butter banana parfait using Better'n Peanut Butter/ Peanut Wonder and some other scrumptious ingredients. Comes together in minutes, great for an afternoon snack or an after dinner dessert!
For this recipe you will need:
-1 box of sugar free fat free vanilla instant Jell-O pudding
-2 teaspoons of yellow cake mix (Betty Crocker mix)
-1 3/4 cup of unsweetened vanilla almond milk
-2 Tablespoons of sugar free cool whip or "lite"
-1 Tablespoon of Better'n Peanut Butter or Peanut Wonder Spread
-1/2 of a small banana
-Mason jar or glass
Start by making your instant pudding. Dump the contents of the box in a mixing bowl and add the cake mix.
(I actually used the large 6 cup box, because I will eat off of the pudding for a while, but you can get the smaller box, milk ratio will change)
Now you are going to add your milk.  The box says 3 cups! This makes it way too watery, and I like a thicker pudding. If you don't like your pudding that way, I'd still say use only 2 1/4 to 2 1/2 cups at the most!
This has to sit for about 5 minutes to set up, so while this is happening, make your peanut butter/cool whip mix
All you do is add 1 Tablespoon of Better'n Peanut Butter to 2 Tablespoons of cool whip. This creates a fluffy peanut butter whip! So great 🙂
Mix this up until it's a light tan color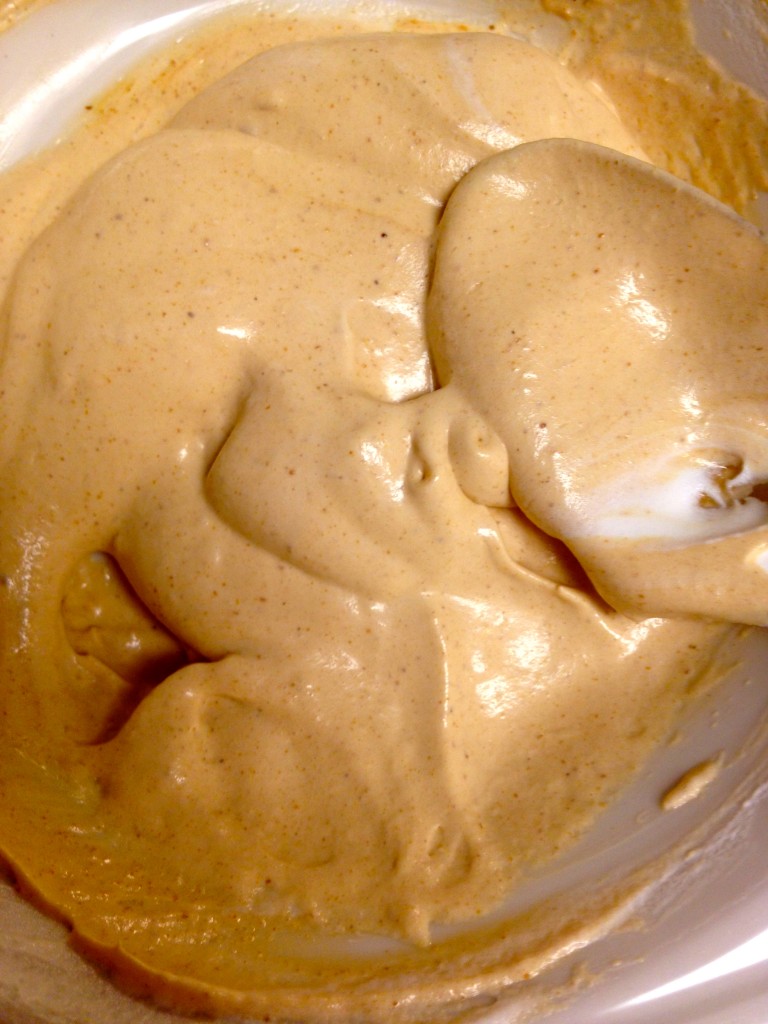 Now let's start chopping that nanner!
I use only half of this, but you can use more… Grab a mason jar or glass for your parfait
Add some bananas to the bottom of the jar
Now we start the layering process! Put in some vanilla pudding. The amount doesn't matter. Eyeball it, or put in as much of each layer as you like 🙂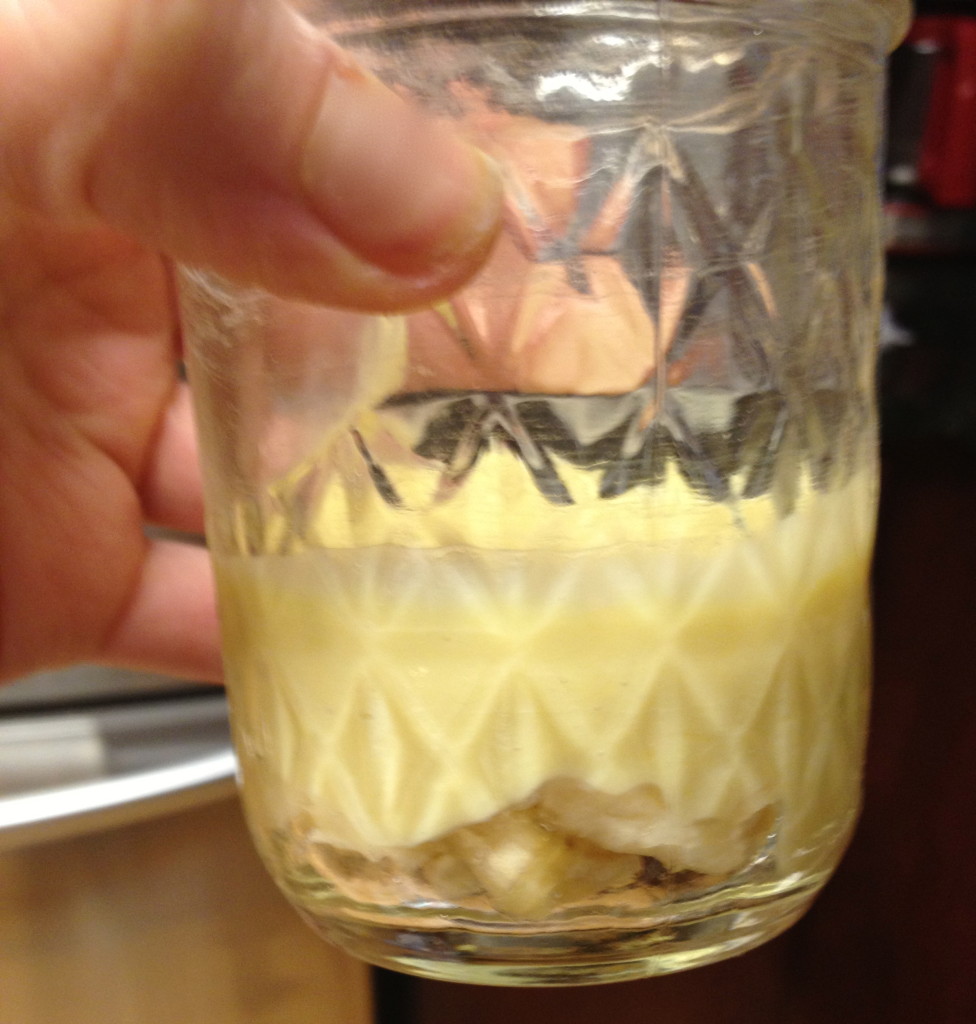 Next goes the peanut butter cool whip
More banana…
More vanilla pudding…
Another peanut butter cool whip layer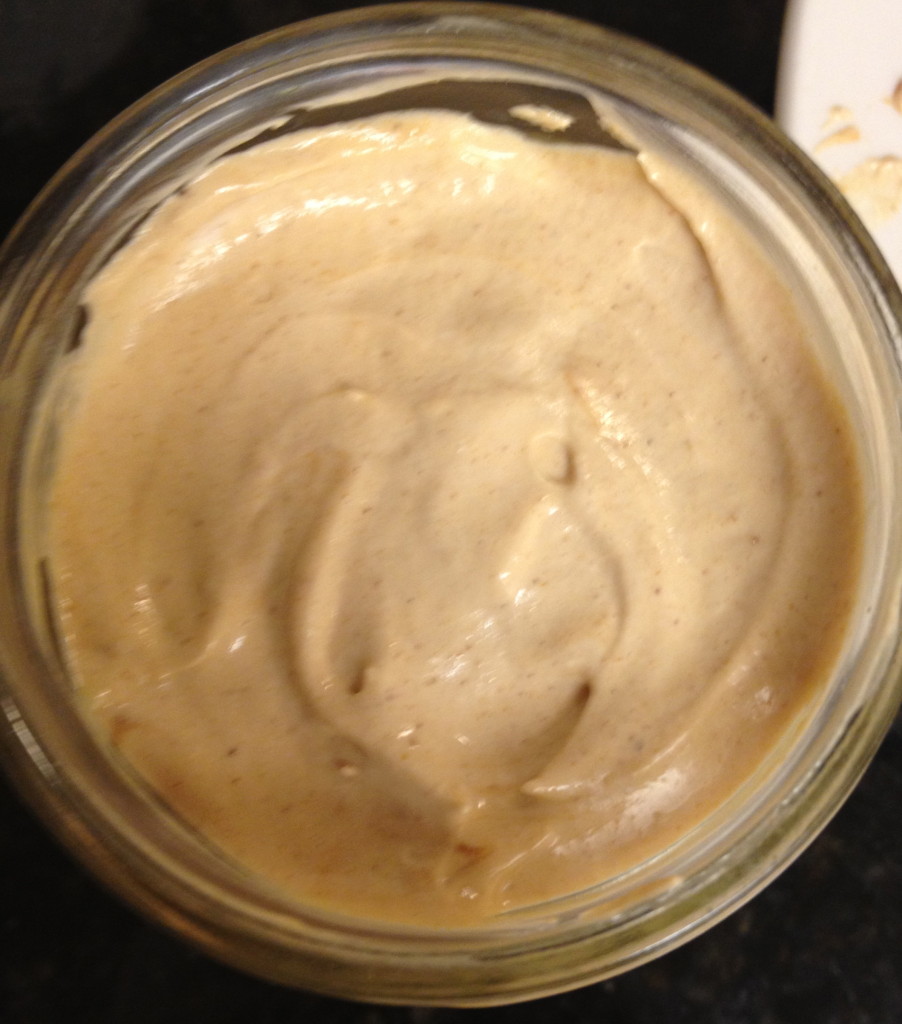 And now we finish this off with some razzle dazzle!
I added a dollop of cool whip, a dark chocolate chip, and made a little banana "sandwich" on the side (filling of pb). Then sprinkled with a little PB2 powder
To show you size…
I don't have a calorie count on this little guy today because I eyeballed the layering process. But it's still SUPER figure friendly, so enjoy it without worries 🙂
Happy eating…
XOXO With a Cherry On Top,
-Minnie