Pillows and Puzzles
Terrible Tuesday, coming at you live today. Since today is my Monday, I am starting off with a bang with Terrible Tuesday. At least I am getting it out of the way first thing this week! Usually Monday comes and I dread it and then all day long I think GREAT tomorrow is the worst day of the week. So bam, let's do it and move past it!
I actually am not dreading work so much, which means one thing… it will probably be the worst one yet. Whenever I mope around and complain about work it ends up being an easy day. That's just the way things work sometimes.
Yesterday I really enjoyed my day off. It was nice to be home on a Monday for a change. I started my morning with some overnight oats and a trip to Wegmans!
I finally hit my goal and spent under $200 at Wegmans. I know some of you are thinking WOW that's a lot for one person, but I usually stock up on meats and things like that when I go. The only reason I came in under the goal was because they didn't have any bison. I even asked the butcher, all out 🙁
The picture on the bottom right is the rice paper wraps I buy! You should be able to find them in any international aisle. I end up buying 2 packs at a time because they go so fast.
When I came back home and unpacked everything Phoebe and I headed to G-Mamas. We were right on time because my sister Casey and Bella were there too 🙂
We did a puzzle on the table. For those of you that don't know I am kind of a super freak with puzzles. As a kid I could put them together upside down, with my eyes closed, etc. I seriously need to go on one of those game shows or reality shows where the challenge is a puzzle. I'd be done in 2 seconds! Whenever I watch the house guests on Big Brother do a competition that's a puzzle I cringe when it takes them forever. Puzzles are just my thing.
After girl time, I went to the gym for arm day! What is it with me and the gym and men that think I do not belong there? I had issues AGAIN today. I am getting to be super impatient with guys that take up space and act like I am non-existant. Then I end up mouthing off… I need to cool off!
I take my aggression out on my workout, how perfect! I ended up doing 20 minutes on the treadmill at a high incline/speed walk, 10 minutes on the stairmaster, and another 10 on the elliptical. Here was my arm workout:
Bicep curls, 30 lb bar, 10 reps x 4 sets
Tricep kickbacks, 20 lb weights, 10 reps x 4 sets
Overhead tricep extensions (seated machine), 25-30 lbs, 10-12 reps x 4 sets
Diagonal hammer curls, 15 lb kettles, 20 alternating reps x 3 sets
Tricep pushbacks, 15 lb kettles, 12 reps x 3 sets
Plate hammer curls, 25-35 lbs, 10 reps x 6 sets
Plate overhead tricep extensions, 25 lbs, 10 reps x 4 sets
Tricep dips (assisted), 10 reps x 4 sets
Forearm curls, 30 lb barbell, 8 reps x 4 sets
Side bicep curls, 10 lb weights, 10 reps x 3 sets
TRX overhead tricep extensions, 10 reps x 3 sets
At home I did a meal prep which included chicken breast in nugget form with italian Mrs. Dash and onion and herb Mrs. Dash. I trim the fat off my chicken breasts but never throw it away. That's puppy food!
Phoebe will be eating good these next few days 🙂
I decided to do salads for lunch this week and put my sweet potatoes right in for my carbs. Yum!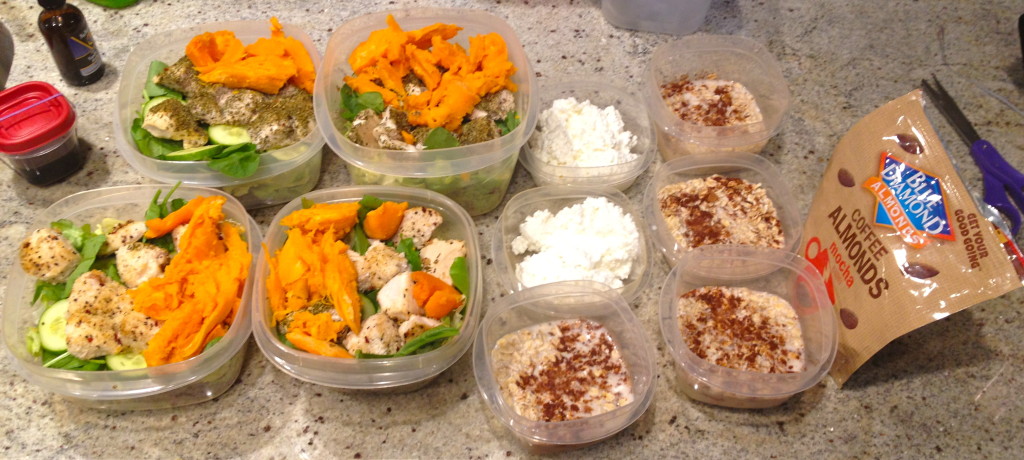 I also have my classic overnight oats for the mornings, some cottage cheese, and almonds for snacking. This is obviously not everything for the week.
While I was meal prepping, I received a text from my best friend DiPeppe showing what she had made me! She is the sweetest person alive and so thoughtful 🙂
DiPeppe has taken up sewing. I've mentioned on my blog before that Elvis was my first big crush as a kid. I am obsessed with these pillows! So adorable. Going right on my bed. Thanks "bebe".  I also told her she needs to make me a matching John Stamos pillow and I will be set for life 😉
Today is a back day for me if all goes well at work and I am not too exhausted. I am ready for some dead lifts!
Have a great day!
XOXO With a Cherry On Top,
-Minnie