Poppin' Bottles
Good Morning, it's Thursday!
This means I'm rounding up my week at work after the sickness, which is still lingering unfortunately. At work yesterday people said I thought you were better?  You could hear the tightness and wheezing from across the room as I coughed and coughed… gross right? Well I have to pay the bills, and no worries I limit patient rooms I go in so I don't infect anyone.
I've been really good about getting my water in too! Thanks to my friends at Blender Bottle, I now track my intake with this pretty blue bottle. This is a 26 ounce sport mixer, and I use it for my shakes too! I am now going through THREE bottles of water at work now and carry it with me everywhere.  I love the pop top on this one and it is super secure, no leaks. They also sent me these new GoStaks, which are so convenient to put your on the go items in.
I put my vitamins, protein powders, and almonds in here!  They twist off and you can take them individually too.
Thanks to my new friends, you can win this little combo! To enter please leave a comment below with your favorite on the go snack!  One lucky reader will win a 26 ounce sport mixer blender bottle and 4 pack GoStak starter kit (color of choice). Winner will be chosen randomly next Friday August 9, 2013. You may enter once. Product will be sent directly from Blender Bottle 🙂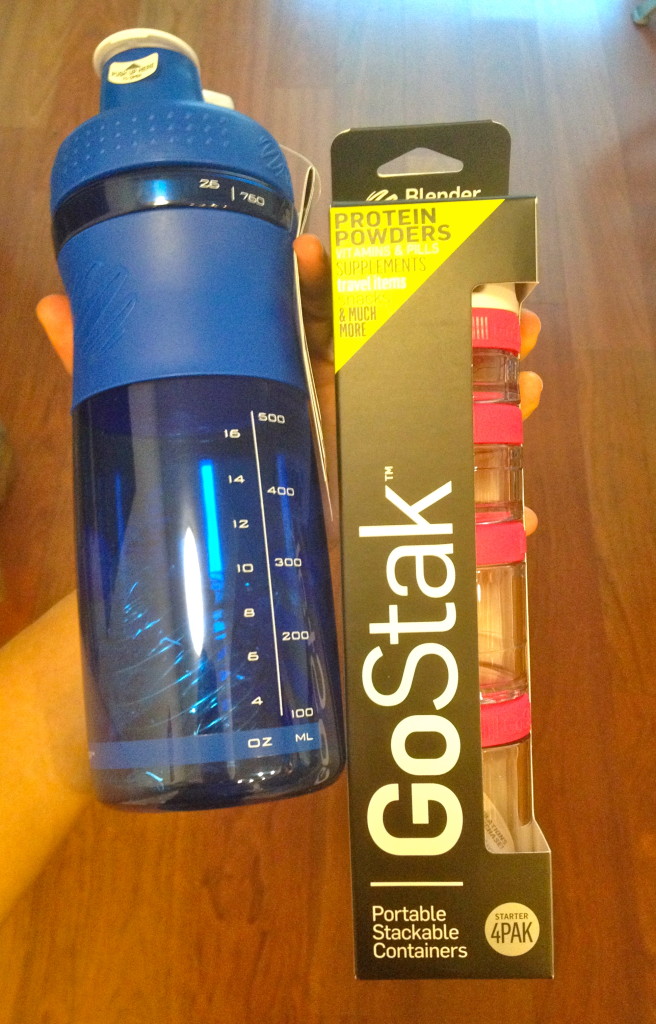 More goodies will be coming soon too, so no worries if you don't win this one!
—————–
Get this. Tuesday night I slept 6 HOURS. I have to say it REALLY made a difference, imagine that? 😉 I woke up a little groggy because my body wasn't used to it on a work night, but at work I wasn't dragging like normal. I did play the clock game a bit during the day because I just wanted to get in the gym to work on my leggies. I made my workout a leg day but focused on hamstrings and quads. This weekend I will do glutes/hips/abs. My hamstrings have been incredibly tight lately, so I need to strengthen them. I think a massage would be good too, but I blew that money on Justin Timberlake tickets… whoops!
I started by stretching them out and then hit some leg work. I like to do different things now and then because since they are repeatedly tight, I need to change it up to make sure I am taking proper care of those hammies!
Stability ball squats on the wall, 12 reps x 3 sets unweighted, then 3 sets with 20 lb kettles
Front leg raises with 5 lb kettle on foot, 10 reps x 3 sets each leg
Front leg knee raises with 5 lb kettle on foot, 10 reps x 3 sets each leg
Good Mornings, 40 lb barbell, 12 reps x 5 sets
TRX hamstring curls, 10 reps x 4 sets
Linear acceleration wall drills. Standing, lean at a 45 degree angle on the wall and really press. Alternating high knees up repeatedly for 20 reps. I did 3 sets slow, 2 sets fast! Harder than it looks!
Leg extensions, 90-95 lbs, 9 reps x 4 sets (I realize 9 is an odd number)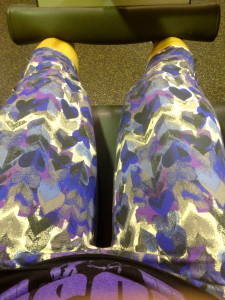 Hamstrings were a little TOO tight for prone leg curls, I could do it, but if they HURT something is wrong, so I skipped those.
I felt super confident in my cute little gym outfit too. I LOVE these pants! So comfy 🙂
I hit some minor cardio, only 20 minutes- 10 on the treadmill, 10 on the elliptical. My cough was REALLY bothering me and I just couldn't do it. I already felt short of breath so I didn't want to get myself in trouble!
At home I made chicken and a salad with kale and cooked zucchini. I love the crisp, cool lettuce combo with the warm cooked veggies.
I also was informed my watermelon refresher was published by VeriaLiving. Check it out here or click the picture below!
Rounded my night out with a teeny bit of tv, blogging, and some chores. I swear time away from work goes by in the blink of an eye! I never feel like I get to do anything before I pass out again.
Today if all goes well I'm going to hit biceps, need to work on these babies! If the cough is still bothering me, I may take a day to rest.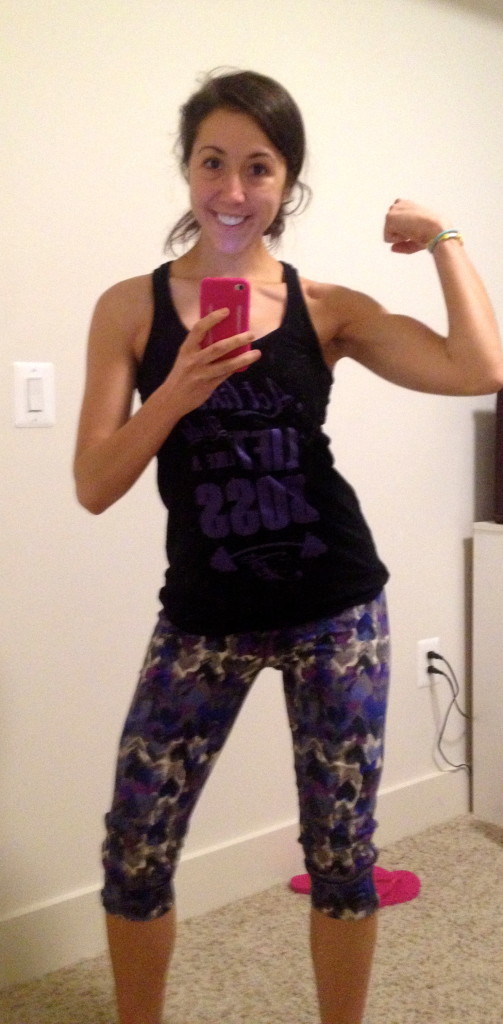 Don't forget to enter below for the goodies!!!
XOXO With a Cherry On Top,
-Minnie