Power Hour and Puppy Pics
Good Morning and Happy Friday! I am at work too, not at home, or napping on G-Mama's couch. Maybe tomorrow 😉
Yesterday my morning started with a few cases in the OR. I didn't have time to eat my breakfast, so I grabbed a handful of soy nuts and freeze dried strawberries from my emergency snacks in my locker. I was finished a little after 12 and grabbed my lunch. I inhaled it pretty quickly because I had work to do.
I had a salad with baby romaine and spinach for my lettuce, sugar snap peas, leftover shredded chicken breast (love that this stuff lasts a while!) and my strawberry balsamic vinaigrette on top.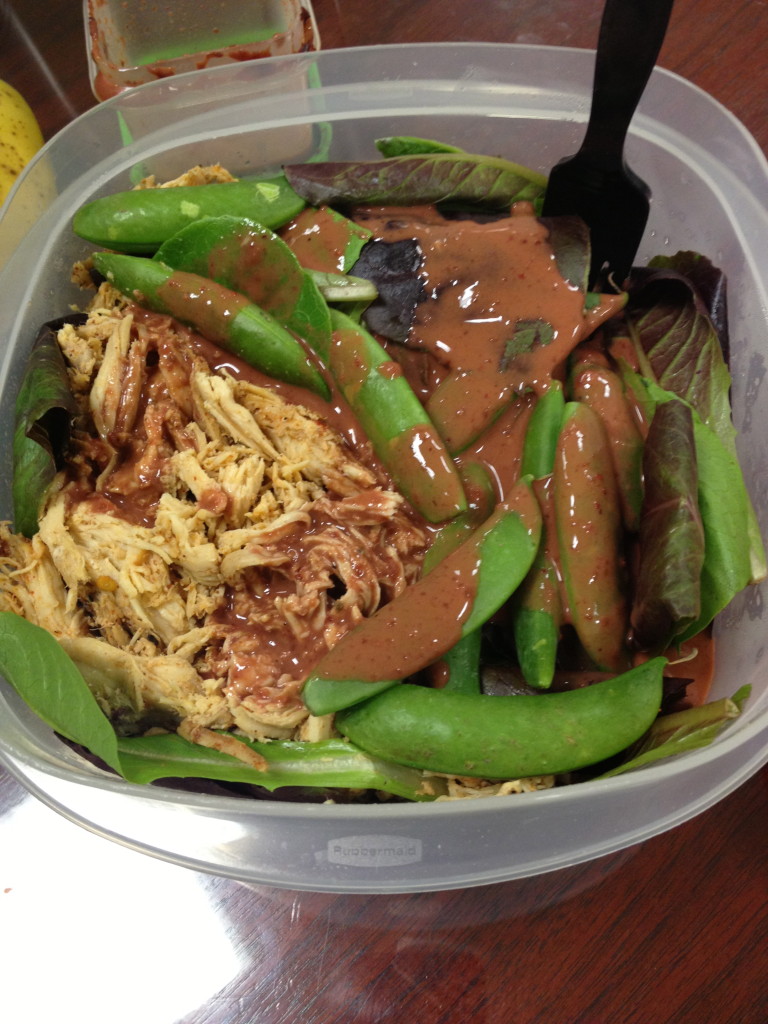 I also had a banana, casein shake, AND my morning cottage cheese. I was starving!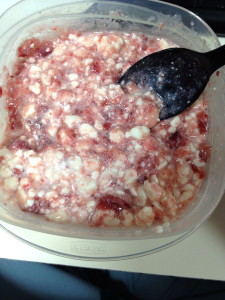 I couldn't get out of there fast enough, even though I left late. I was still determined to hit the gym. Originally I had planned for chest day, but I was slowly becoming more sore in my low back from all the dead lifts! Instead, I took a lifting day off and did a cardio power hour instead. It felt really good.
I started with 25 minutes on the elliptical. Like I've said before I like a high incline, high resistance.
Then hit the stairmaster for 17 minutes (okay I'm really sweating now)
And finished with 20 minutes on the treadmill. A speed walk incline (NO HOLDING ON!) 3.7-3.9 mph at 6.0-10.5 incline. A 7.0 incline is a comfortable challenge for me. 8-9 is tough, 10.5 is a sweat fest!
Then a nice long stretch, focusing on hamstrings!
When I got home Phoebe and I had a big hug fest. It felt good to see her. Ya see, My sisters pup Marley is super sick and was in the vet hospital today, please send puppy prayers her way! I love you Marls! 🙂
For dinner I was craving protein pancakes. Plus after the cardio session, I wanted some carbs. I had all those huge fresh blueberries so decided to use them. The pancake looked super promising!
HOWEVER, they tasted terrible! It was going to be my recipe of the day, but these incredibly expensive pans I bought? Yeah, burned my pancake horribly.
So it ended up being a scraped off baked oatmeal kind of mush pancake. I ate it anyway, but it was NO BUENO!
I'm posting because even I make mistakes in the kitchen. It happens. If at first you don't succeed TRY AGAIN! Don't let one bad meal discourage you from being an amazing kitchen goddess, or god 😉
I ended up snacking on other things I had in my fridge since dinner was a massive fail.
Night ended with American Idol (Why do I still watch this? It's almost like I won't give up. It's so terrible and Nicki Minaj?, don't get me started)
I also did laundry and watched Phoebs play. She kept jumping around and wouldn't sit still for my camera. So enjoy these throwback pictures. Just a little baby!
Then I got sucked into watching the videos I took of her when I brought her home. I laughed so hard I started crying. Don't you just love to watch puppies walk and play? They all do those little bunny hops! So precious. I can't imagine if I'm this crazy over my pup, how I'll be one day when I'm a mother. Watch out!
Have a great Friday. Isn't it awesome to say this? Hitting chest hopefully!
Love you Casey, Druebs, Bells, and Marley!
XOXO With a Cherry On Top,
-Minnie