Products I Love
These are some of my absolute favorite products or FUN FINDS as I like to call them.
Some of these things you cannot find in every supermarket. Seach your local health food store, organic market, even Amazon (I order a lot of things from here). Luckily, local Giants have a great health food aisle now, and many grocery stores are starting to carry more of these items. Yay! Finally jumping on the health food bandwagon. You just have to search. I'm always excited when I run into Safeway for something and see my almond butter sitting there on the shelf. It's a wonderful feeling.
Almond Butter 
I cannot live without this stuff. Okay so I eat the delicious chocolate kind. But, everything in moderation right? Well, I've tried MULTIPLE brands because Justin's is really expensive, but, if you portion it out it goes a long way. I've bought all different kinds because they are 1 or 2 dollars cheaper, thinking it's the same, oh well. It's NOT! I usually end up not eating it, so I wasted my money when I could have just paid the extra 2 bucks and ate something I love
-Get me at Whole Foods, local grocery stores, any organic market/health food store
Chia Seeds
These are very nutritious! And I put them in everything I can. Yogurts, oatmeal, various muffins/breads. Not only are these little guys loaded with omega 3's, but they have 11 grams of dietary fiber and 4 grams of protein! Pretty good huh? So get out there and sprinkle those chia seeds on more than just your chia pet from 1990!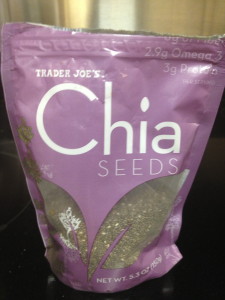 -Get me at Trader Joe's or any health food store
Peanut Wonder Spread
This little gem is pressed peanuts, made into a delicious smooth peanut butter. It is 85% less fat than peanut butter! WOW! I dip my bananas and apples into it, put it on whole wheat toast, or eat it straight out of the jar 😉 I came across it one day at MOM's Organic Market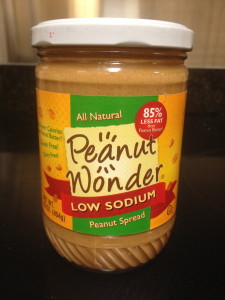 -Get me at MOM's Organic Market
Hummus
Garbanzo beans (chick peas) all mashed up! One of the best things to dip your veggies or pitas in. I put it on salads, breads, eggs, shirataki noodles. Pretty much EVERYTHING. Like I said in What I Eat , this is the best brand and I will never switch!
Get me at Mom's Organic Market, or Whole Foods 
BBQ Tofu shreds
I love these! I eat them in a wrap, sometimes just as a side protein dish. They are so good. Basically, they are shreds of soy, wheat, etc. Again, a meat substitute.
Get me at MOM's Organic Market 
Tofu
I love tofu! Don't be fooled thinking it's just a yucky block of mush. If you season it right, it can be as delicious as any chicken or fish! You can grill it, saute it, bake it, chop it up and put the crumbles in dishes. Great source of protein. 1/2 a cup has 20 grams of protein! WOW! BJ's carries the double packs. I'm always excited when I find them because it's a value!
Get me at BJ's, health food stores, or any grocery store
Wraps
There's all different kinds of wraps out there. Wraps, Pita Pockets, Pitas, Sandwich flats, Flatbreads, Flatwraps… you name it, they sell it! I have tried many of these. Then one day I came across these and was so excited! These are low cal, low carb, and have flax, oat bran, and are whole wheat! The larger ones which are lavash bread or "sheets" as I call them, are 100 calories for the whole thing! The good thing about these are they keep a while. Major plus. The round ones are 60 calories. Wow. I usually end up just eating a whole sheet with hummus or using the round ones with tzatziki and cucumbers, or any other type of sandwich
Get me at BJ's
Protein Powder
This is a must. Not just for the boy's! I supplement with protein powder not only because I am a vegetarian, but it helps keep me strong for my workouts. I use the whey proteins because they are water soluble milk proteins. If you are a vegan, shoot for the soy protein. But, I have so much soy in my diet that I go with the whey. These can be pricey, but if you only use a scoop a day (like me) it goes a long way. I previously bought the whole foods brand, but when I didn't feel like taking a 35 minute drive, I looked in BJ's instead. Buying in bulk is the way to go with protein powder. You know it will be used, it keeps, and it saves you a few pennies! Tasted the same to me 🙂 I mix mine with the unsweetened vanilla almond milk… and a few other things.. check out my fluffs!
I also love Optimum Nutrition
Get me at any grocery store, AMAZON, health for store, or BJ's
Goat Cheese Pin Wheels
I LOVE Goat Cheese. Just a little bit of this stuff and it really changes your dish! It's tangy, it's creamy, and you can put it in anything. I add it to egg whites, salads, wraps, even to veggies. Like I said in Minnie's Strawberry Melt I buy the pinwheel goat cheeses because they are individually packaged for portion control and it won't go bad quickly like an opened log of goat cheese does.
Peanut Butter Powder
So this is pretty much peanut wonder BEFORE it's mixed. I came across this one day in Whole Foods and literally bought every darn jar. This is PB2, meaning it's mixed with cocoa. They have the plain PB without the cocoa, but I don't like the taste of it at all. All you do with this powder is mix water! 1:1 ratio. 1 Tablespoon of water to 1 Tablespoon of powder, mix, and boom! Peanut butter! It's great. I often dip bananas in this.
Get me at Whole Foods, Mom's Organic Market, or Amazon
Sweet Potato Chips
These are absolutely yummy. They are salty, yet sweet. Best of both worlds! Be careful with these guys though. You definitely need portion control or you end up eating a whole bag and you didn't realize it. I like them because they are thick and great for dipping. I usually dip them in my favorite dip (Trader Joe's black bean) or eat them plain.
Coconut Oil
This is a good fat I use in a lot of recipes! Research has shown it boosts the body's metabolism, raises body temperatures, and gives you more energy, which can lead to more weight loss! Use this in moderation though. It is still a fat after all. But I add a tablespoon or so to muffin mixes, banana breads, or even if you want to use it as the oil to cook your dinner in instead of olive oil! (I even use this in the shower sometimes as a shaving gel! It makes your skin SO smooth) 
Get me at any local health food store
Shirataki Noodles 
An amazing find. These "noodles" are actually a tofu noodle substitute, low carb, and as the package says GUILT FREE! The entire bag is only 100 calories. I actually like the angel hair ones the best, but I was out of those, so I am showing you the fettuccine bag. Keep these in the fridge. Sometimes you have to search for these, they sell out quickly. The other day I did find them in a Shoppers though! Super exciting!
Get me at Whole Foods, MOM's Organic Market, or search local grocery stores!
Almond Milk
I buy the unsweetened vanilla almond milk. Either brand works (almond breeze or silk), but I like Silk better. Sometimes it's harder to find the Silk. This milk is the best for adding to your recipes. If you are going to drink it straight or add to cereal (I'm not a big cereal person), I suggest the regular almond milk. But for protein shakes, oatmeals, or ANY recipe at all the unsweetened kind controls calorie intake. Plus it's only 30 calories a serving! AMAZING!
Get me at any local grocery store
Tzatziki 
This is a great dip, or spread for sandwiches. Made out of greek yogurt, cucumbers, and dill. It's cool and refreshing. I usually put it on a pita with extra cucumbers and sprouts to make a sandwich. Or I just dip my cucumbers in it. Nice and healthy, and tastes great. This is the same brand as my favorite hummus. This brand also makes some baba ganoush/eggplant dips, but haven't been able to try them because I'm allergic!
Get me at MOM's Organic Market or Whole Foods
Tofu press
You can find this little miracle at Amazon. When you buy tofu you have to press it to get the excess water out. Even if the package says firm still do it. I previously pressed my tofu the old fashioned way, with a frying pan on top and a heavy object on top of the pan to push the water out. But, I never was able to have perfect tofu. It would squish out, crumble, and make a huge mess. Then I came across this little gadget and it creates a perfect tofu block you can slice so easily. I usually take out the tofu the day before I plan to make it and put it in the press and back in the fridge. The next day you have all the water on top and you just dump it and take the tofu out! Simple.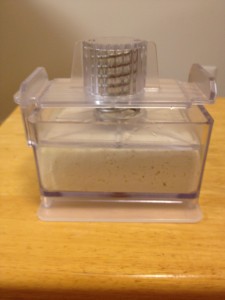 Get me at Amazon
Polar Watch I use for my heart rate! I love this baby 🙂
Get me at Amazon
If you want me to try a product YOU love, Email me!
Check back often for more updates of Products I Love!
XOXO with a Cherry On Top,
-Minnie