Protein Pudding Pie
Protein! I'm all about increasing it where I can. Lately I have been obsessed with my protein powders, shakes, protein fluff, and casein. It really is like a dessert to me rather than a supplement. Plus since I mix it with unsweetened almond milk, it's good for you while keeping the calories low.
I thought to myself, what else can I do with this stuff? Then I thought back to the pudding pies my mom used to make me all the time. I literally could devour a whole pie by myself. She would make them with jell-o puddings, lactose free milk (sensitive tummy), cool whip, a graham cracker crust, and lots of jimmies (yum).
Well I made my own version of this using my protein powders (whey and casein). It is really simple to make, and you don't need that many ingredients!
For this recipe you will need:
2 cups of old fashioned oats 

3.9 ounces of natural unsweetened apple sauce (about 1/2 cup)
3 scoops of vanilla casein powder
1 scoop of vanilla whey powder
1/2 cup +1 Tablespoon of unsweetened vanilla almond milk
1 cup of fat free evaporated milk (makes it creamy)
1/2 Tablespoon of stevia in the raw
5 drops of almond extract (if you don't have this you can substitute with vanilla)
1/4 cup of shredded raw organic coconut
(Makes 6-8 slices)
Preheat your oven to 375 degrees Fahrenheit
Start by making the crust. This is so simple! All you do is add the oats and applesauce to a food processor. I pulse the oats alone first so they grind nicely before blending with the applesauce.
Spray a pie tin with extra virgin olive oil spray and evenly press the pie dough into the pan. Press up on the sides to create a nice crust!
Place in the oven for 25 minutes or until the top edges begin to brown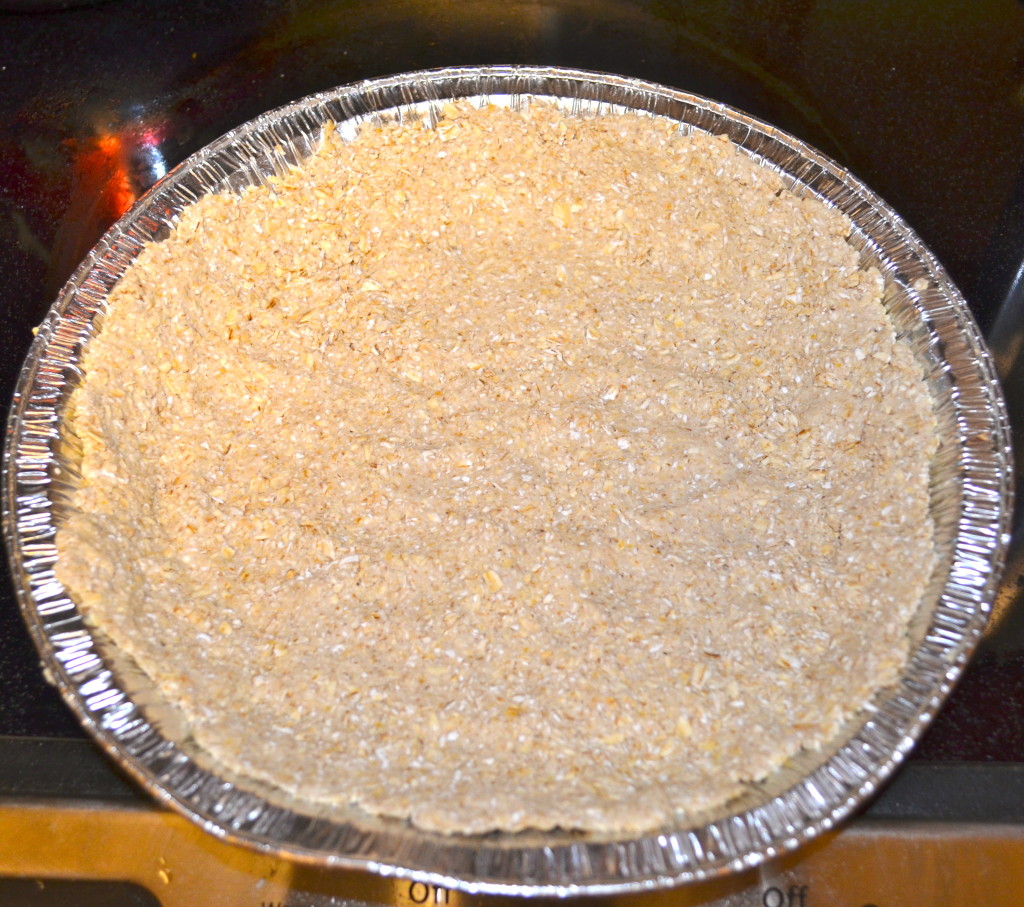 While this is cooking, prep the filling. To a large mixing bowl add three scoops of casein powder and 1 scoop of whey. The casein powder is what makes this pudding like, so really this should not be substituted. If you don't have whey, you don't need to add it, I just wanted an extra protein boost! Add the evaporated milk and almond milk and mix
Oh and don't forget to mix in the stevia and almond extract!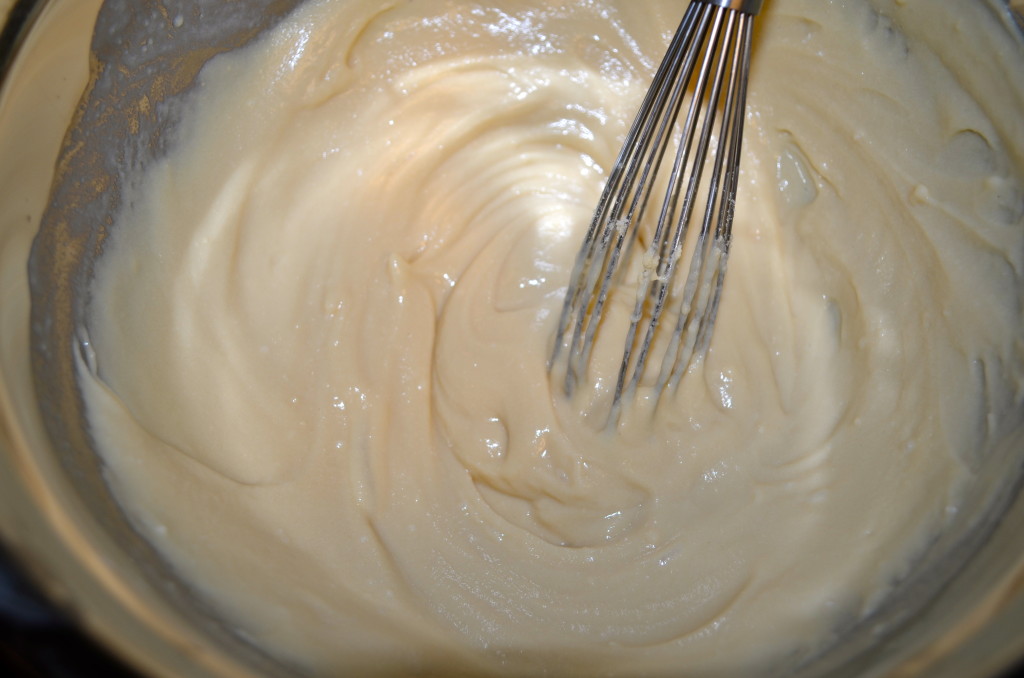 When the pie crust is done, let it cool completely on the counter.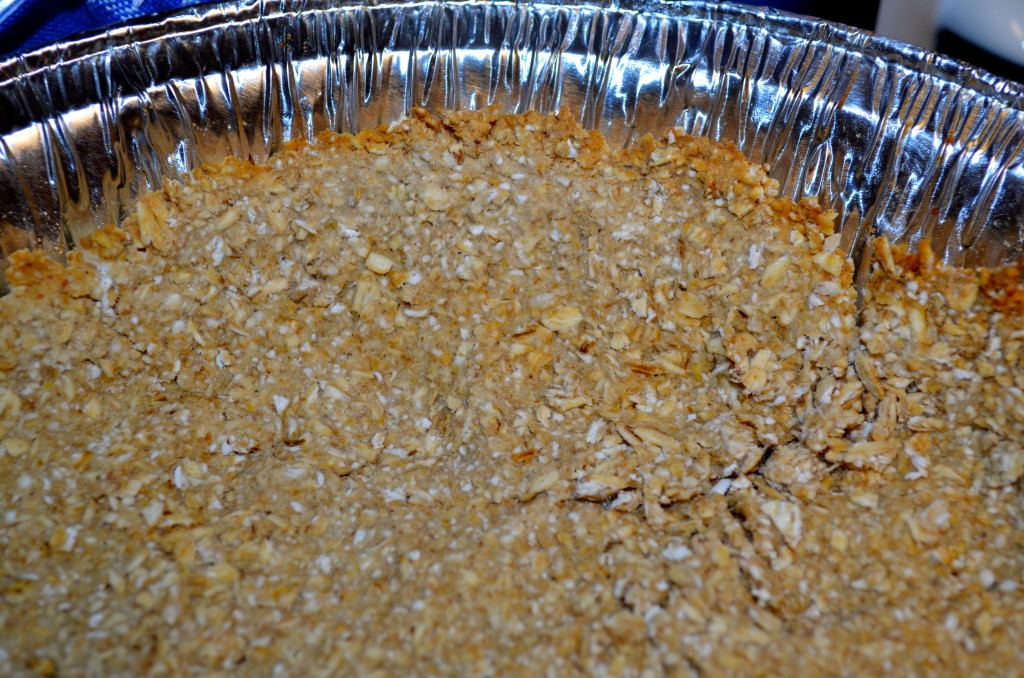 In the meantime, roast the shredded coconut on a baking sheet. I actually roasted 1/2 cup but it was too much. I ended up using 1/4 cup only. It only takes about 5 minutes! Keep an eye on this, it will burn easily.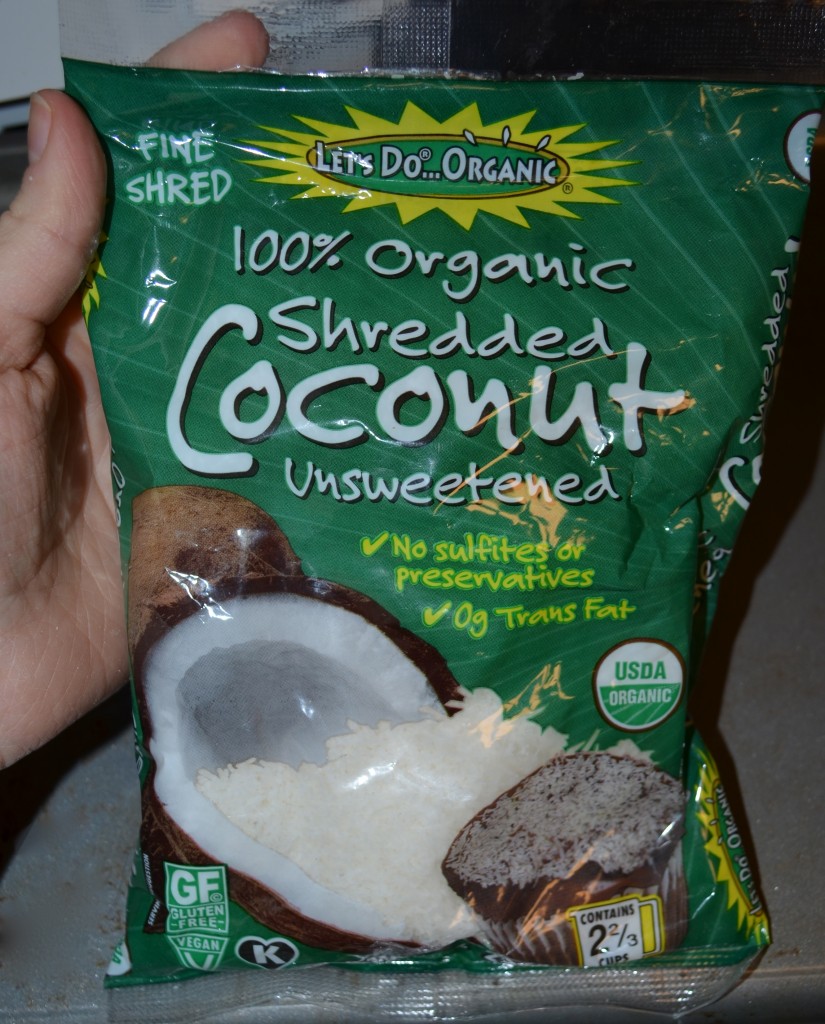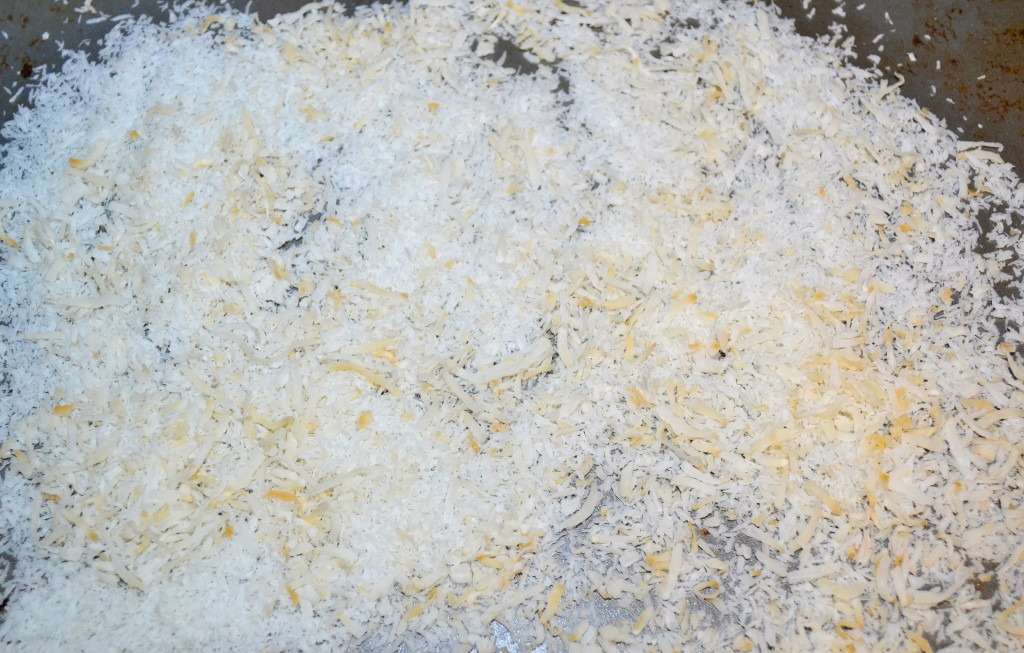 Now that your pie crust has cooled, add the filling!
Top with the toasted coconut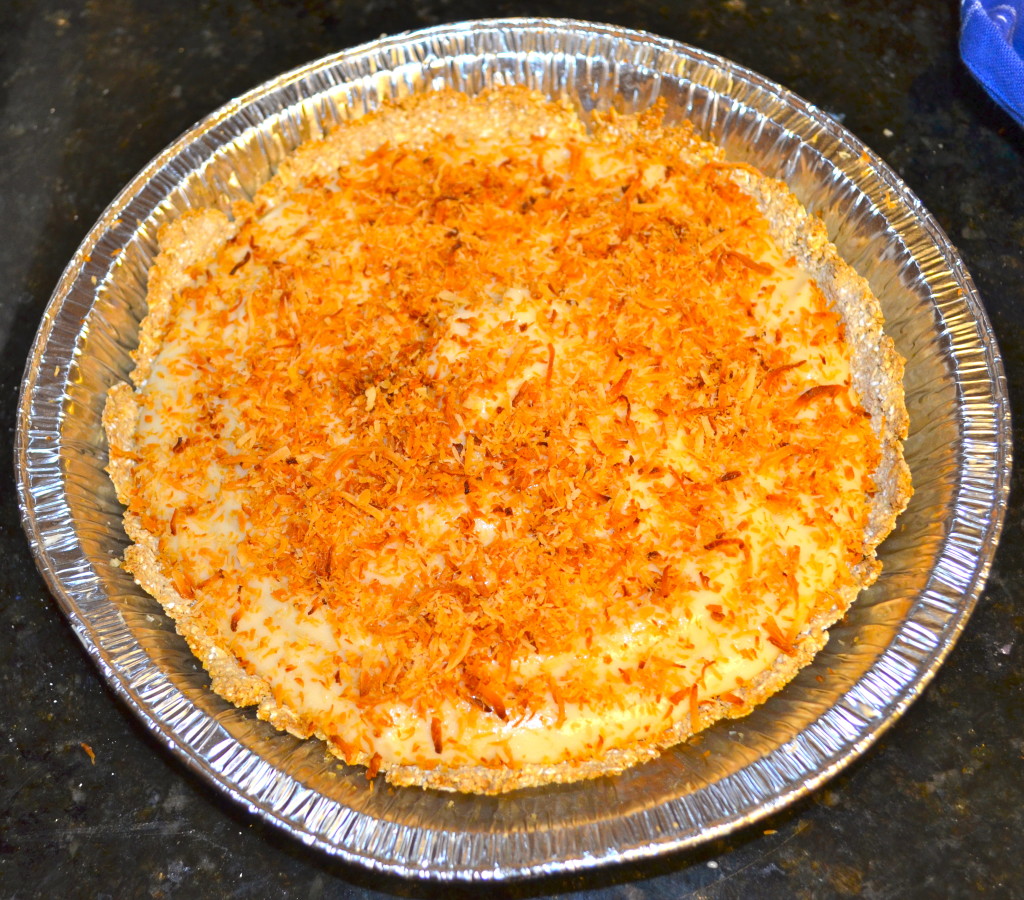 Pop in the fridge for at least 1 hour to let the casein set a bit more. The longer you keep it in the fridge, the better, but I simply couldn't wait longer than an hour!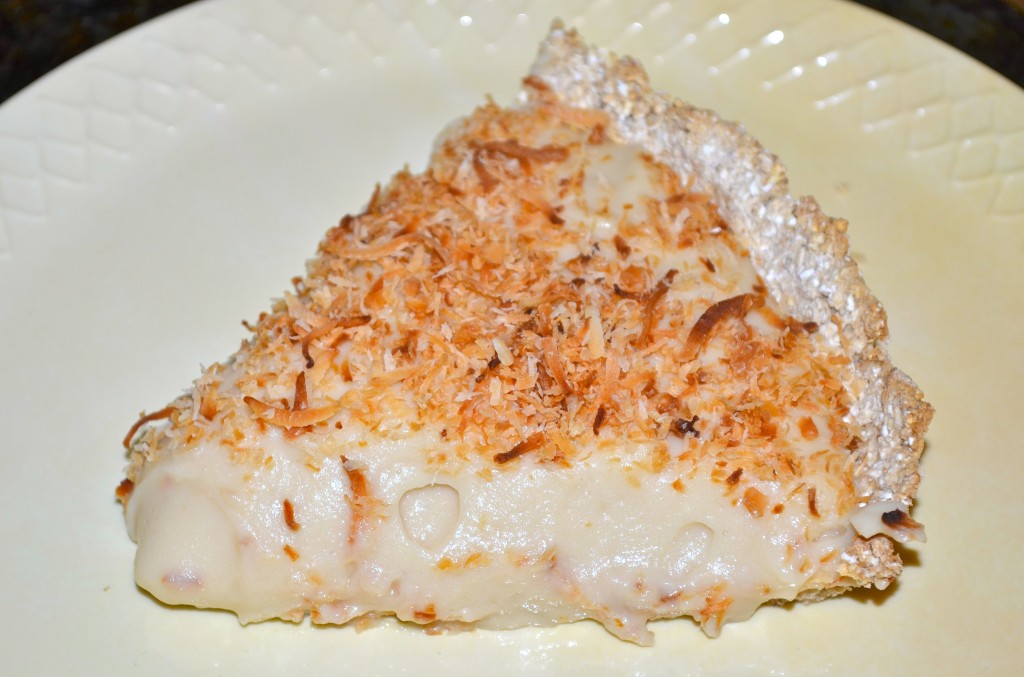 Yummy crust
Nutritional info per slice: (6 slices in one pie). 256.4 calories, 5.2 grams of fat, 31 grams of carbs, 24 grams of protein, 3.4 grams of sugar. 
I like big slices. While it's more calories, it's MORE protein! These are all good calories folks 🙂 If you want to cut down on fat and calories a smidge you can cut out the toasted coconut, but it's so yum! Live a little 😉
If you want to compare this to an average vanilla mousse pie, the same serving would cost you around 525 calories, 27.2 grams of fat, 61.6 carbs, 16 grams of sugar and only 9 grams of protein versus my 24! I win again!
Happy eating…
XOXO WIth a Cherry On Top,
-Minnie