Roasted Cauliflower Mash
After looking over my list of recipes I have created so far, I realized my sides are lacking! I came home from work and the gym exhausted and I was craving something different, but also easy.
When we think of sides, most often our minds go to the good old mashed potato. Problem is even if you make a "healthier version" they are super starchy! Carbs are good, but mashed potatoes are an excessive carb overload. Let's examine these numbers.
If you make a pot of mashed potatoes with 4 cups of white potatoes, this ingredient alone has 104.8 grams of carbs! Want to make a sweet potato version then? Watch it! 4 cups of sweet potatoes have 129.2 grams of carbs! Yikes… I'll save this side for Thanksgiving.
I decided to use cauliflower instead. It's less starchy, and great for you! 4 cups of cauliflower is only 20.4 grams of carbs! Wow what a difference! 🙂
This mash I made is super creamy, and has a boost of cheesy flavor from just a little bit of parmesan cheese. I made it and LOVED it. Plus the serving is HUGE (major points). So here I am sharing 🙂
For this recipe you will need:
-1 medium cauliflower head, chopped into medium sized florets, it's about 4 cups
-1 small-medium yellow onion, diced
-1 1/2 Tablespoons of minced garlic
-1 Tablespoon of extra virgin olive oil
-1/2 cup of water
-1 1/4 cup of unsweetened vanilla almond milk (essential!)
-3/4 cup of PLAIN greek yogurt (Oikos brand is my favorite)
-2 Tablespoons of parmesan cheese, shredded
-1/2 teaspoon of salt
-pepper to taste
-paprika for sprinkling
Start by preheating your oven to 400 degrees Fahrenheit
Chop your head of cauliflower into small-medium size florets. Leave as much of the stalk as you can! Spray a baking sheet with olive oil spray and place in the oven to roast for 20 minutes or so until browned.
While the cauliflower is roasting, heat a large pot on medium to high heat with a Tablespoon of extra virgin olive oil. Add the diced onion and garlic and cook until onion is translucent and slightly brown
Remove the cauliflower from the oven. Look how nice and roasted!
Add 1/2 cup of water to the large pot and then the cauliflower
Let this cook for 5 minutes and mash the cauliflower
Keep mashing until you have little chunks
Now add the almond milk and greek yogurt. I do not recommend using anything but almond milk. It really gives the mash a sweet creamy consistency! If you must use regular milk, use skim and try a vanilla greek yogurt instead (watch the sugars).
Add your salt and pepper
I apologize for the steam, there was no way around it! I must have taken 100 pictures and they all were foggy.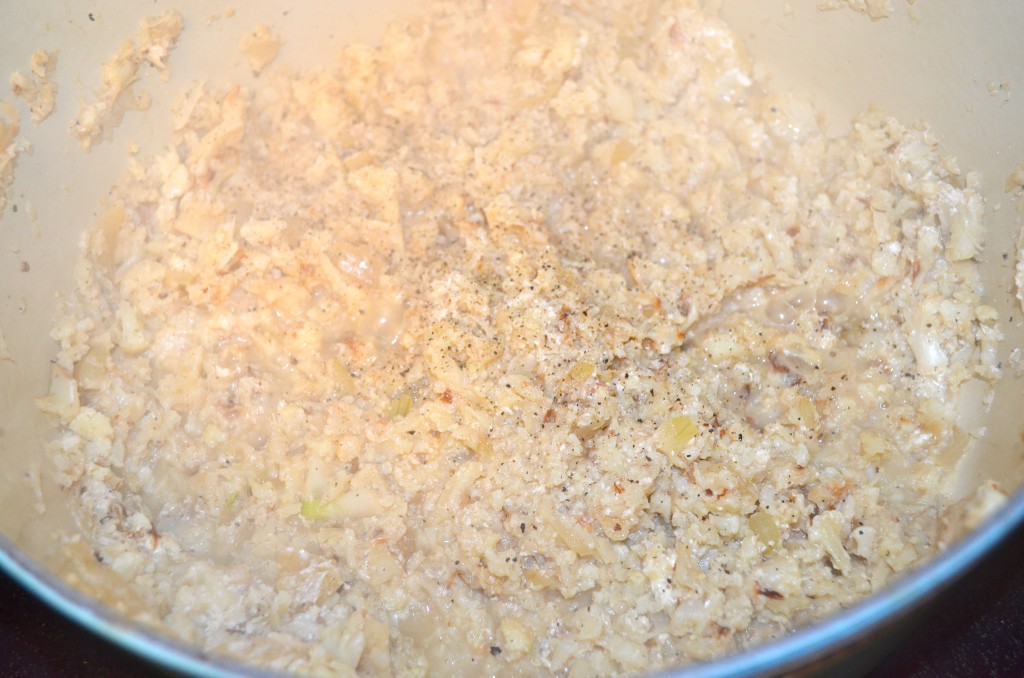 Next grab an immersion blender to make this a creamy mash. Stick in the bottom of the pot and turn it on. The cauliflower will turn creamy within a minute!
Keep mixing another minute or so (scrape the sides to make sure you get it all)
Add the shredded parmesan cheese and stir in
You'll end up with this:
Serve in a bowl, top with cauliflower florets and a sprinkle of paprika
Up close
I had to dig in ASAP!
This recipe makes 4 large servings. Each serving has: 141 calories, 6 grams of fat, 9.3 grams of carbs, and 11 grams of protein.
Compare this to a mashed potato dish you will order out at a chain restaurant which has 25 grams of fat, 564 calories, 69 grams of carbs, and NO protein!
My Skinny Minnie version sounds so much better doesn't it?
Happy eating…
XOXO With a Cherry On Top,
-Minnie