Saturday Share
Hi Gang!
Happy it's Saturday? Me too!
I wanted to share something absolutely amazing with you guys. Have you heard of Zinio? This is an app you can get on your iPad to read magazines. If you go directly through Zinio, you have to pay for it. But if your library has this media resource you can read TONS of magazines for free! Yes FREE! All you need is your library card to register, no credit card needed. A co-worker of mine is married to a librarian and I looked at his. I was amazed when I saw all my favorite magazines I pay for on his iPad absolutely free of charge. You get the full magazine, you can keep them forever, and they are up to date! I immediately downloaded Food Network Magazine, Rachael Ray's, Eating Well, and even US weekly! No, I have zero connections with Zinio, nor did they pay me to say this. I just think it's too awesome. Anything FREE is cool!
Yesterday was one of those days where I had SO much planned in my head to do, but failed. Usually I am so tired from my work week and getting up so early, that I just want to lounge around. Of course I went to the gym, but the rest? Nope, didn't happen. It's my mind and body's way of telling me "hey kiddo take a break". However, my outfit screamed I'm not tired, I'm excited and full of energy!
Friday crazy pants.
At the gym I made it a shoulder day and incorporated my interval work into it. I also did a 20 minute incline run and walk session, more heavy shoulder stuff, and long stretching. It was my typical shoulder exercises: upright rows, lateral raises, rotator cuff abductions, etc.
I came home, made dinner, I had the same thing as yesterday: a bison burger and a salad, and chilled out.
Then I had the brilliant idea to make meringue. For what? I had no idea…
And then I turned lazy and didn't feel like coming up with something to do with it. So I plopped them on a baking pan. And I didn't have a fancy piping bag.
This one looked like a heart <3
Two things I love combined in one picture! Phoebe and a virtually calorie free dessert.
So they weren't the biggest success obviously,  I just need to come up with something better for next time.
I end this super quick entry with a little fitness humor for the day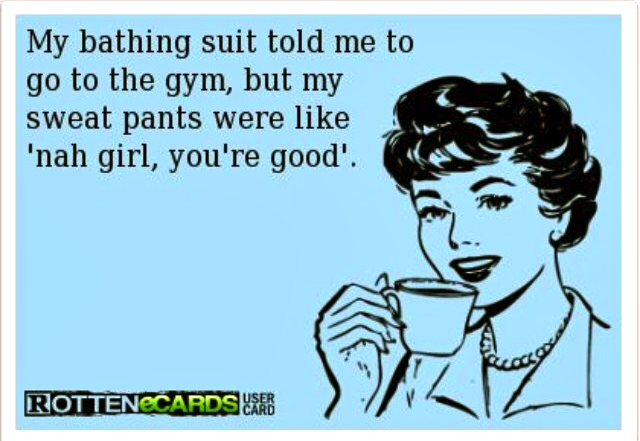 I have a fun, busy day ahead of me. So I probably won't have a Sunday blog, but I'll share my weekend festivities on Monday 🙂
XOXO With a Cherry On Top,
-Minnie