Seattle Came to Baltimore
Hi friends!
Sorry I've been away. Work has been crazy, but then we had the BEST few days off work! My best friend Sarah came to visit from Seattle! I literally counted down the days and hours until their plane arrived. I'm sure you guys are very familiar with Sarah aka SweetBlondesFitLife. We met through blogging, and she became one of my soul mates. I'm a firm believer in soul mates, not just your spouse. Sarah is definitely one of mine. Whenever we see each other it's as if no time has passed, and we are just hanging out like we always do! Phoebe is also one of my other soul mates 🙂 And ya know.. the obvious mister muscle 😉
You can imagine the disappointment both Sarah and I felt when her flight was delayed on Thursday to late afternoon. Their arrival was set for 9:30am. I could've cried (like I normally do), but I knew she was still coming so that's all that mattered!
We picked Sarah and her hubby, Andy up at the airport and it was quite the arrival. The car didn't stop and Sarah was trying to jump in; she bumped my head on the car, but we were so excited to see one another we didn't care.
FIRST STOP was meeting Phoebe Buffay. It's crazy to me that Sarah has never met Phoebe! She's a huge part of my life. If you guys follow me on any of my social media channels, you see a smiling, happy, full of energy pup. This is exactly how Phoebe is all the time, so when Sarah met her, it was not a disappointment. She's just as she appears 😉
I was in disbelief Sarah was actually in my kitchen!
I kept saying all weekend, this is weird… but really, it's not! I don't know how else to describe it. With modern technology, I talk to Sarah every day. I see her every day. She's just not physically here in Maryland. What a great time to be alive, huh?
We headed down to the harbor in Baltimore to show them the main sights. The weather wasn't anywhere near perfect this past weekend, but it could have been way worse. We made it work!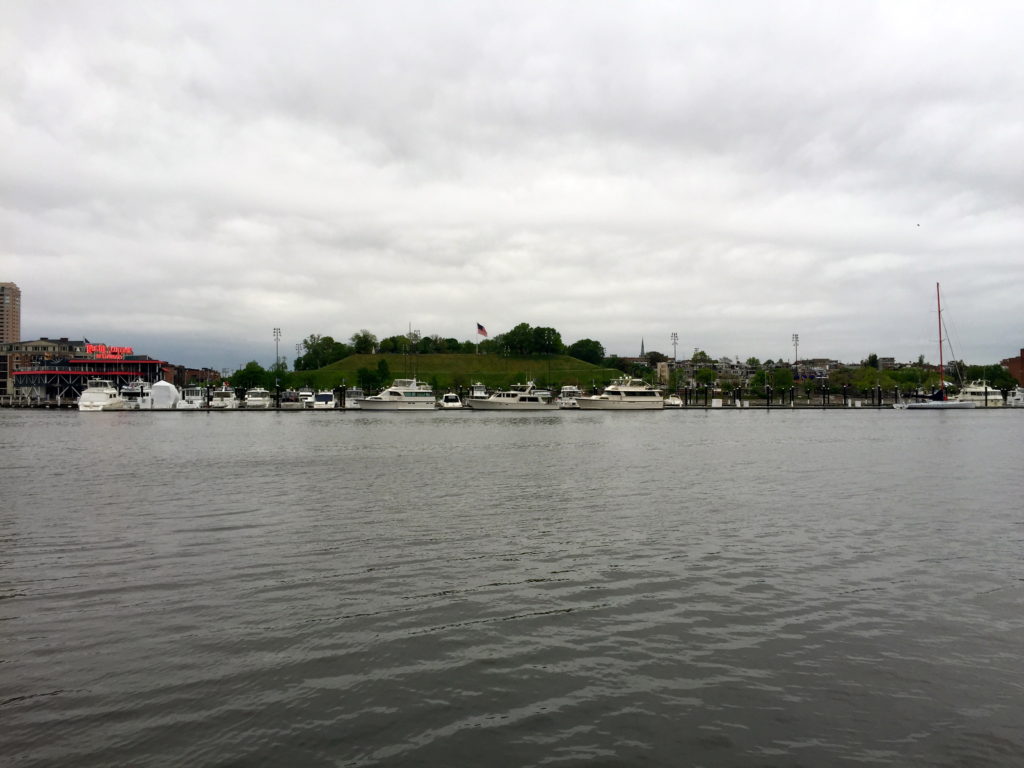 Salads were had at one of our favorite spots, Nalley Fresh. I always snap it to Sarah so she wanted to try it. I love a place where you can customize your food.
Things got a little touristy, when Andy spotted a crab hat. I forget how crab souvenirs are EVERYWHERE in Baltimore.
After some walking around the harbor, we decided more food was the next best thing. I mean, Tony and I prepared for this visit. We were pretty strict with our diets for 4 or 5 weeks because we wanted to enjoy with our friends.
Mexican is our favorite "treat" meal. We've "shopped around" quite a bit with restaurants, but ever since we found this one, we've never gone anywhere else. I swear the best restaurants are places you'd never pick, like in a strip mall, across from your old high school 😉
Our bellies were full and we were prepared to take on the next day to explore Baltimore and Annapolis. I knew so much fun was ahead.
And plenty of Phoebe kisses 😉
So that was the first part of their visit. Stay tuned this week for more Maryland fun!
XOXO With a Cherry On Top,
-Minnie