She's So Crazy
Who is so crazy? Well that would be me!
Why you ask? Well because I got up at 4am to do an ab session before work. I know… 4 am! What was I thinking? Well, I've said before I wanted to start doing morning abs 3 times a week. Well one work day I will do this, the other 2 days I can make 2 of my 3 days off. One work day a week isn't so bad. I can do that!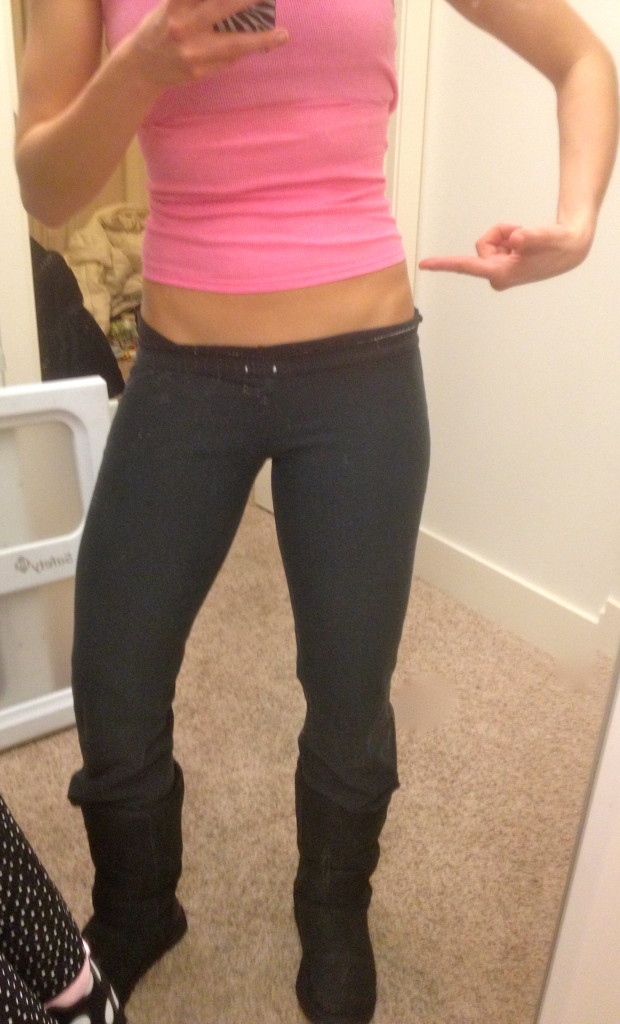 I really feel like the morning ab session makes a difference. I was much more aware of my core all day long, I felt good, and I felt super tight! Plus I was in a good mood going to work. I was more awake, and I was singing along in the car. I never do that at 5:30 in the morning. Usually I'm downing my coffee so I can get to work in one piece. Anyway, hopefully you guys don't have jobs that start at 6:00am like I do because I highly suggest the morning abs! Plus that's less you have to do later on 🙂
My morning started off promising. I had my abs done, coffees (yes plural), breakfast, notes completed, water intake good, but by afternoon things picked up and it seemed I had annoying tasks that took way too much time. Does this ever happen to you guys at work? I'm sure it does. No matter what field of work you do, there's always things that get delayed and you work so hard to get something done only to have 5 more bumps in the road. Very irritating. It's like working in circles!
I had my small work meals all planned out too. Here was breakfast:
Lunch #1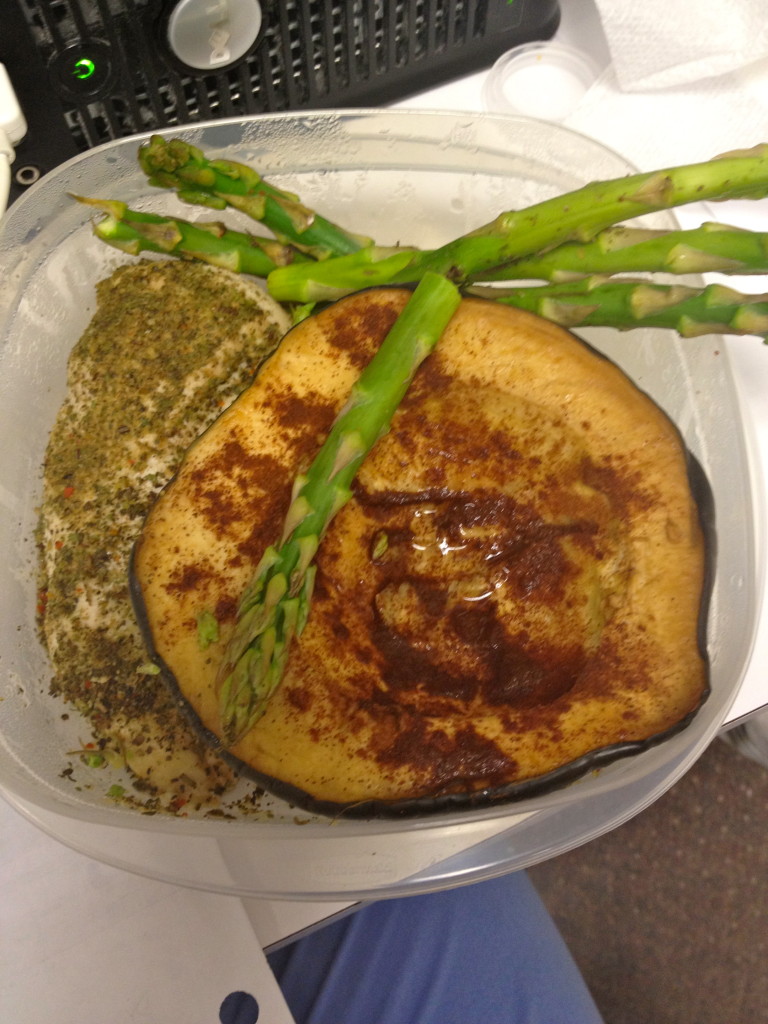 and some cucumbers!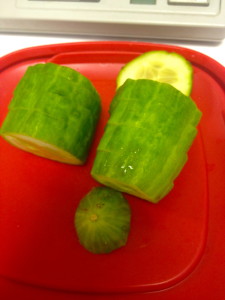 I'm really glad I went for my "heartier" lunch for meal #2, because I never got around to meal # 3 🙁 stupid busy day!
45 minutes before I left, I had my protein shake and banana (this was supposed to be meal #4). I headed to the gym to let the day wash away.
I started with 26 minutes on the elliptical. I like even numbers? Then did a chest routine. Normally I like Tuesday's to be back day but I was still sore from the chin-ups. Here's my routine:
Decline chest pushes/press, 110 lbs, 15 reps x 4 sets

Chest press circles from decline to midline, 50 lbs, 10 reps x 4 sets
Incline chest press, 50 lbs, 10 reps x 4 sets
Pec Fly's (machine), 55 lbs, 12 reps x 4 sets
Standing chest fly, 8 lb kettles each hand, 12 reps x 4 sets
Smith machine chest press, 65-75 lbs, 12-15 reps x 4 sets
Chest squeeze, 15-17.5 lb weights each hand, 12 reps x 4 sets
TRX pushups, 10 reps x 4 sets
I also did 15 minutes on the stairmaster, and more chin-ups! 6 reps x 2 sets, then holding the chin-up position (chin holds) for 10 seconds x 2 sets. Man my arms were SHAKING.
This one is better but I'm not looking up… so maybe not?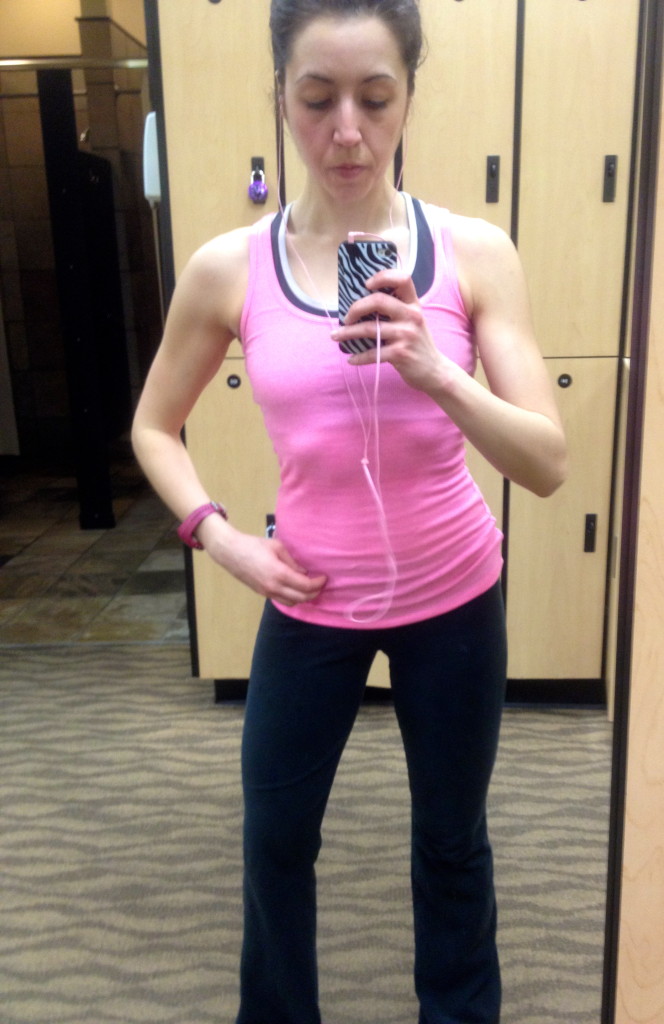 I'm sorry I cannot share my ab routine with you from earlier. I remember I did 16 minutes worth, but the exercises? Well, it was 4am, my mind doesn't go that far back!
Dinner was this huge arugula/spinach salad with crunchy bean sprouts, broccolini, and chicken breast with spicy hummus plopped on top!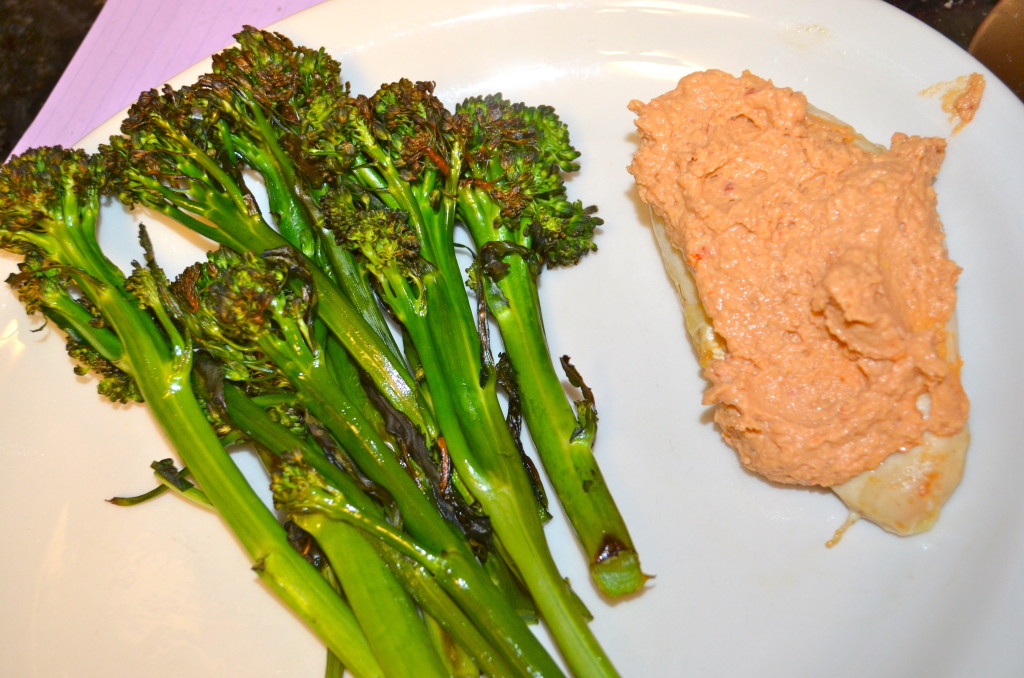 My goal for the night was to be in bed by 10:15. Laughable, wasn't even close!
Tomorrow is supposed to be a full OR day for me again, so no small meals, it's so hard to live this way with this type of job. Wish I could make it work!
Wednesday is here, half way yay
XOXO With a Cherry On Top,
-Minnie