The 9 Hour Waddle
Good Morning Everyone!
I have to say yesterday did not feel like a regular work day to me at all. I spent the entire day in the operating room in one case. I thought I would be done by 2:30, and be able to help out on the floor some, but that didn't happen.
Before my case I had some food. Greek Yogurt with PB2 powder on the side and what I thought was a trail mix bar, but ended up being a really big granola bar. Beggars can't be choosers.
At 7:30 I headed right to my case, only to return back to the real world at 4:30. Yup 9 hours of fun! Actually I did have a good time. I got to do a lot of sewing and work with one of my good friends.
Problem was at one point I was on a sitting stool sewing up a belly and when I went to get up I COULDN'T. Literally my legs were frozen. We were about 5 hours into the case and I just started to feel every single muscle in my body ache like you wouldn't believe. I think I didn't feel it before because I was in one position the whole time. But MAMA MIA! That leg routine yesterday and the chin ups DID MINNIE IN! Okay enough with the caps, sorry. But seriously, I cannot remember the last time I was this sore. It must have been my very first heavy lifting leg day over 6 months ago. Every single muscle is sore too. Even my abs. I had no idea chin ups used so many muscles in your body. My lats and traps especially, holy cow. Oh and the booty.
At 4:30 I literally waddled out of the operating room. Not kidding. So if you want a workout that will make you feel this way, try mine posted yesterday, yikes.
And guess what? A 9 hour case, only 3 hours of sleep, which definitely wasn't straight (I was up every 20 minutes), and every muscle sore as can be, and I STILL hit the gym. Yep! Absolutely no excuses. I may have waddled there, but I did it.
And yes I am the only girl I know rocking a sock bun at the gym. It's a good hairstyle for the OR.
I did 30 minutes of cardio on the elliptical and then a nonstop arm session. No breaks, in and out of the gym! Some of my exercises I did less reps because I was so sore, I was grunting through the pain. The cardio actually felt good. My legs needed the flushing.
Tricep overhead extensions (cables), 40 lbs, 12 reps x 4 sets

Tricep pulldowns (cables), 40 lbs,12 reps x 4 sets
Hammer curls (cables), 40-50lbs, 10-12 reps x 4 sets
Tricep pullover (on a bench with a 30 lb bar, narrow ribcage press up into a skull crusher and back down into ribcage, one movement). 10 reps x 3 sets
Bicep curls with 30 lb bar, 10 reps x 3 sets
Tricep pushups, 10 reps x 3 sets
Bicep pushouts, 15 lb weights, 12 reps x 3 sets
Tricep kickbacks, 20 lb weights, 8 reps, 2 sets single arm, then 10 reps x 2 sets both arms
Alternating bicep uppercut punches, 15 lb weights, 20 reps x 4 sets
Tricep pushbacks, 15 lbs, 12 reps x 4 sets
Plate curls, 25 lbs, 12 reps x 4 sets
Plate tricep overhead extensions, 12 reps x 4 sets
During my gym session, my new BFF decided to make an appearance. What? I don't talk at the gym… I know. I'm talking about Jane. Jane is the name for my vein. Jane the vein 🙂
She really came out full force today!
At the end of my session I STRETCHED IT OUT! And headed home to my girl 🙂
All I wanted when I walked in was a fluff. So I had one. This was a vanilla peach fluff
Speaking of fluff, as promised, here is my Frappuccino Fluff!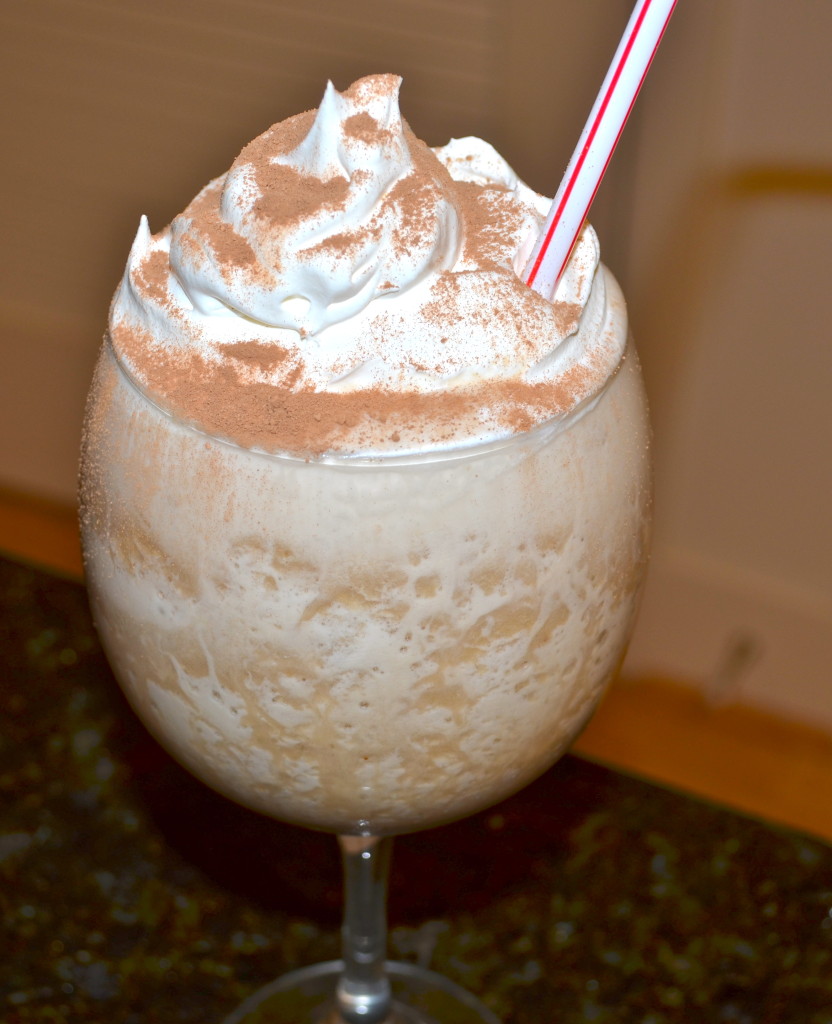 This little guy only has only 250 calories and 2.5 grams of fat for about 1 1/2 of these! This little one in the picture is about 150 calories or so. Indulge today! A Starbucks Frappe for a GRANDE is 430 calories and 14 grams of fat. PASS!
I will have to see how my day goes today, but I'd really like to have a new food recipe up for you guys! I know I had the guac, but I need something a little more hearty. It might have to wait for the weekend.
Have a terrific Tuesday!
XOXO With a Cherry On Top,
-Minnie