Showcase Showdown
Hey Everyone 🙂 I know you are all so anxious to hear about the show yesterday, so let's not waste anytime getting into SUPER SATURDAY!
I got up, had meal one and got pretty for the day. I was going to be in a room with extremely good looking people, so I figured I should at least slap some makeup on.
The show started at 11:00am for pre-judging. This is the portion where each class walks and struts their stuff. I didn't realize there were SO many classes. There wasn't a schedule so I didn't know when the bikini girls would go on. I ate before I left, brought my food and water, but left the food in the car because I didn't feel like carrying it around. Big mistake.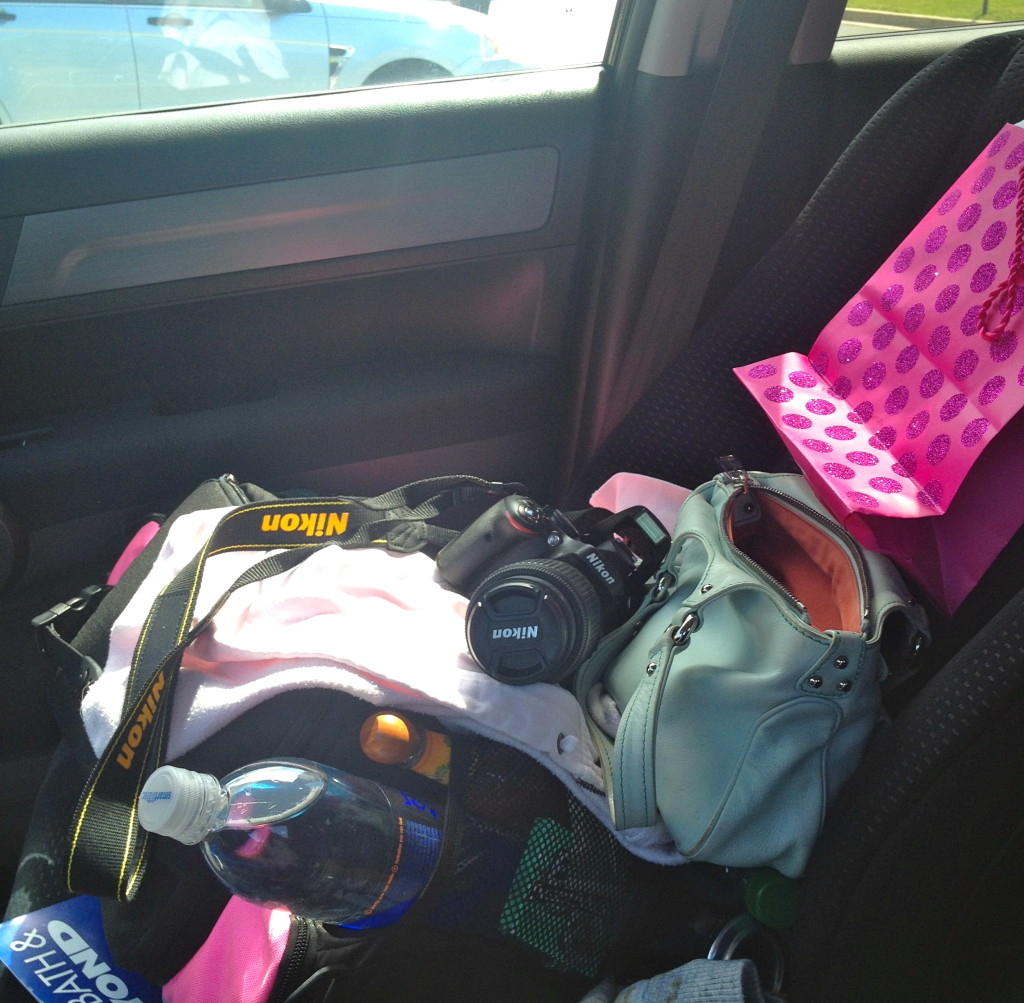 Anyway, when I got there I immediately felt nervous. I wasn't even competing and I was nervous! I wasn't expecting it to be jam packed and I arrived a half hour early. Everywhere I looked there were people with their huge food coolers and gallons of water JUST LIKE ME! I no longer felt like the odd duck, I blended in with the crowd. Never have I seen so many gallons of water in one room before… Nor have I seen so many veins and muscles popping with teeth so white they blind you when a smile flashes your way.
After purchasing my ticket, I walked in and there were booths everywhere. Vendors selling protein powders, shirts, what not. I didn't even browse around. I know what works for me so I stared at the people instead. The ultimate people watching is at these shows folks!
Then I peeked my head in the hallway area where all the women were getting ready. TALK ABOUT CHAOS! Girls walking around with tops half off, sitting on the floor touching up hair, rubbing on touch up tanner, and sitting and eating tupperware meals.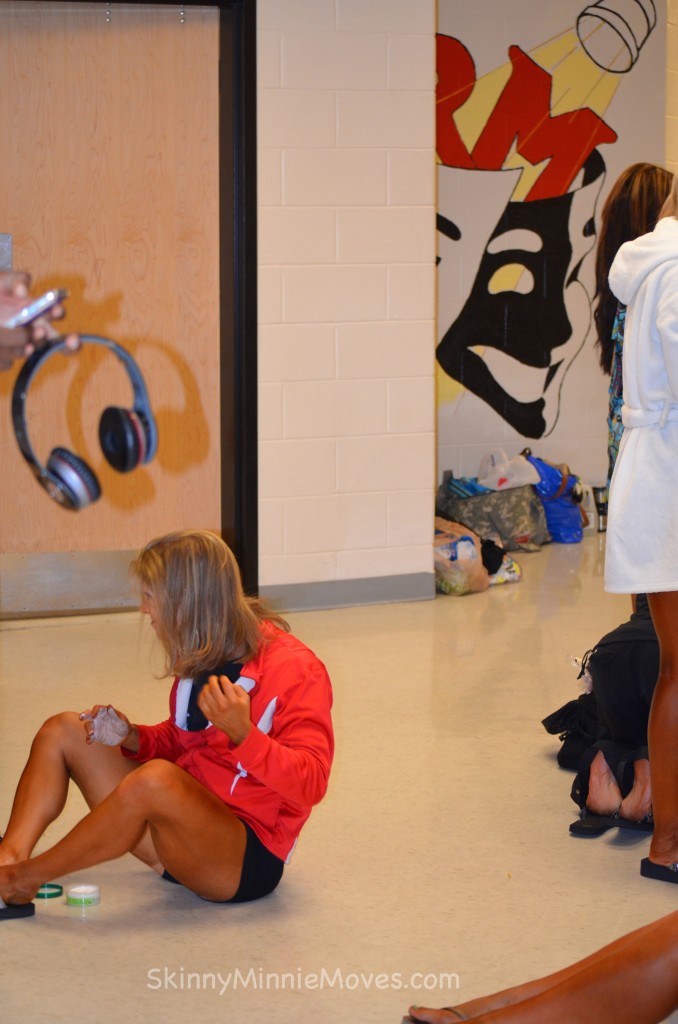 I went in to take a seat, it was pretty crowded, but I managed to find my friends family just based on looking around and realizing there was a girl that looked identical to her. Obviously it was her sister. Oddly enough I also met up with another blogger at the show who competes and was there supporting a friend. I love when I get to meet fellow bloggers 🙂 We are a cool unique little club.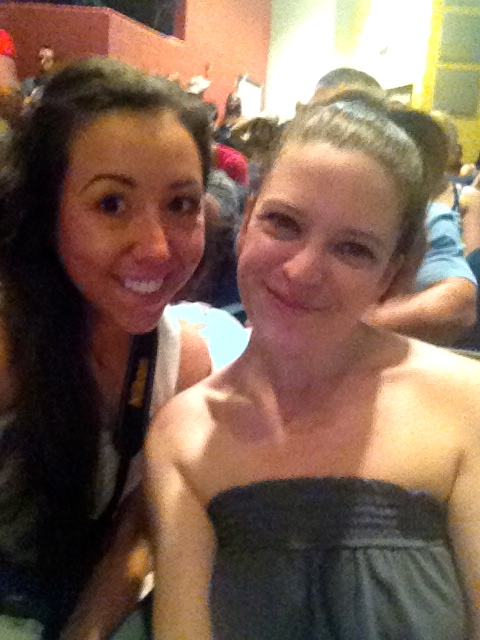 So what I wasn't expecting about the show is how LONG it is. You watch all the guys and their separate classes based on size, then men's physique, then women, FINALLY some bikini, and women's figure. It was a good 2 hours or so before bikini even started. I was glad I got to see a little of everything though.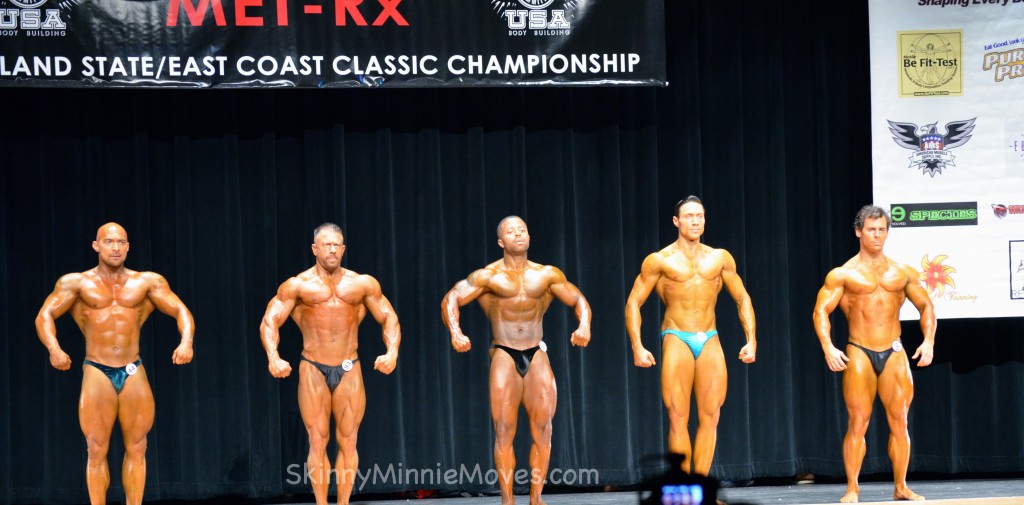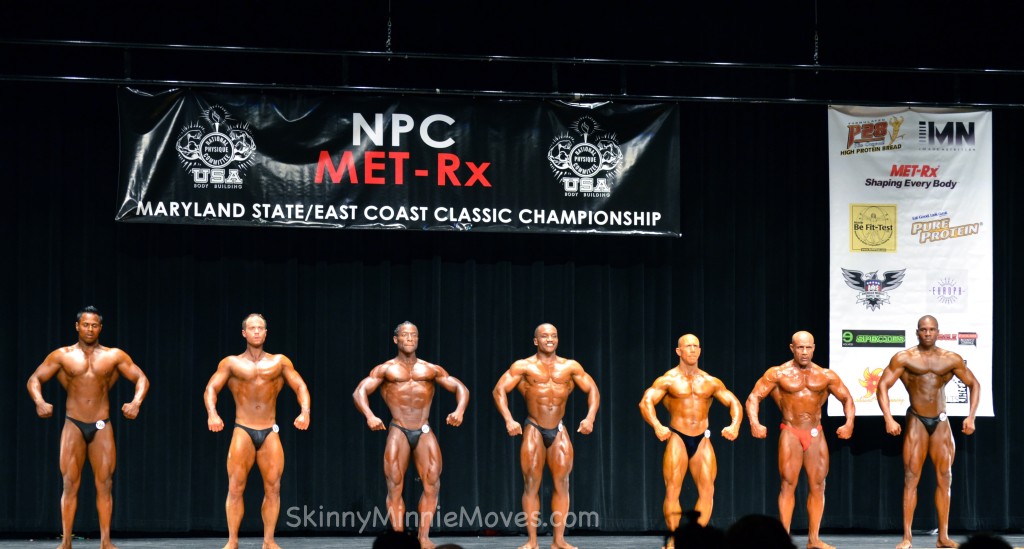 Some of the tans were interesting, gotta say. Some looked SUPER orange, some looked spot on to make their muscles pop, and then some looked straight up like gold spray paint. You wonder if these people give it a test run before…?
Moving on here are some big buff ladies!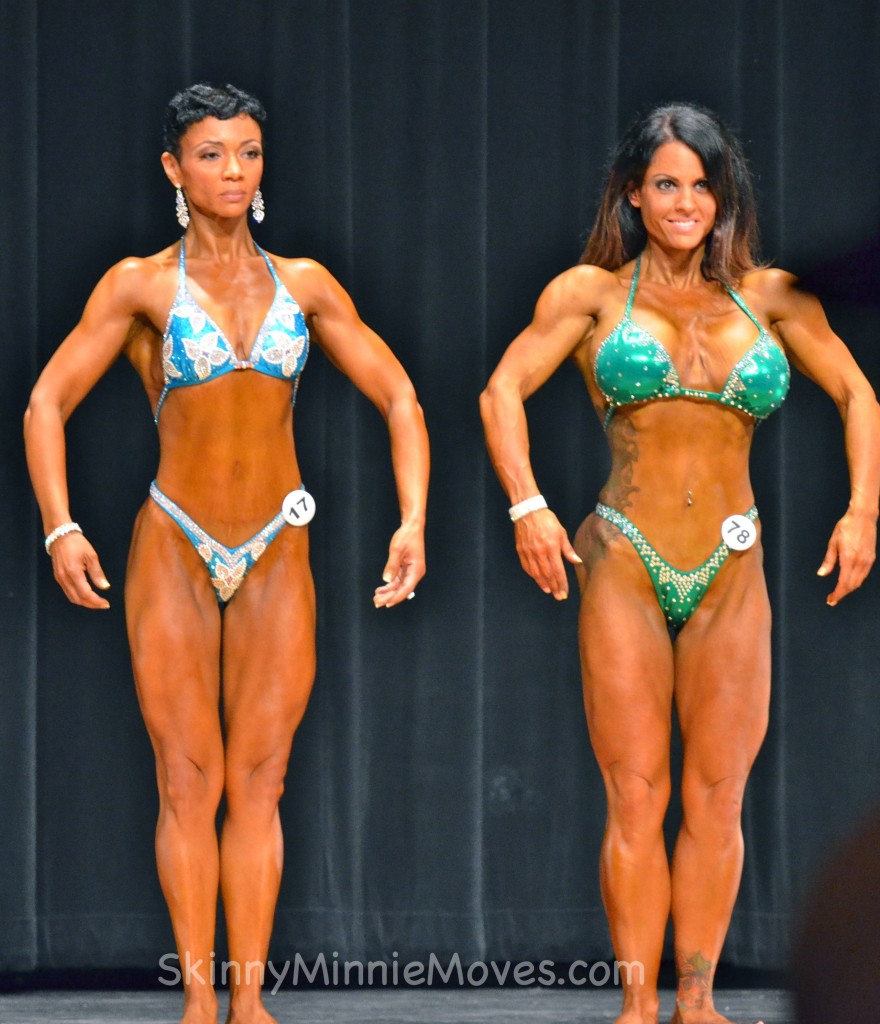 And onto what we've been waiting for… Bikini! 
Again, there were multiple classes, so it took some time. Each girl comes out, does her little walk, her poses (quarter turns each way- it's actually much more difficult than it looks or sounds!), then walks off to the side. From there she has to hold her pose, but look natural the whole time while sucking it in like crazy.
I was SO nervous for my friend Alexis. I was shaking for her and felt really nauseated. I told her the other day I feel like mama bear.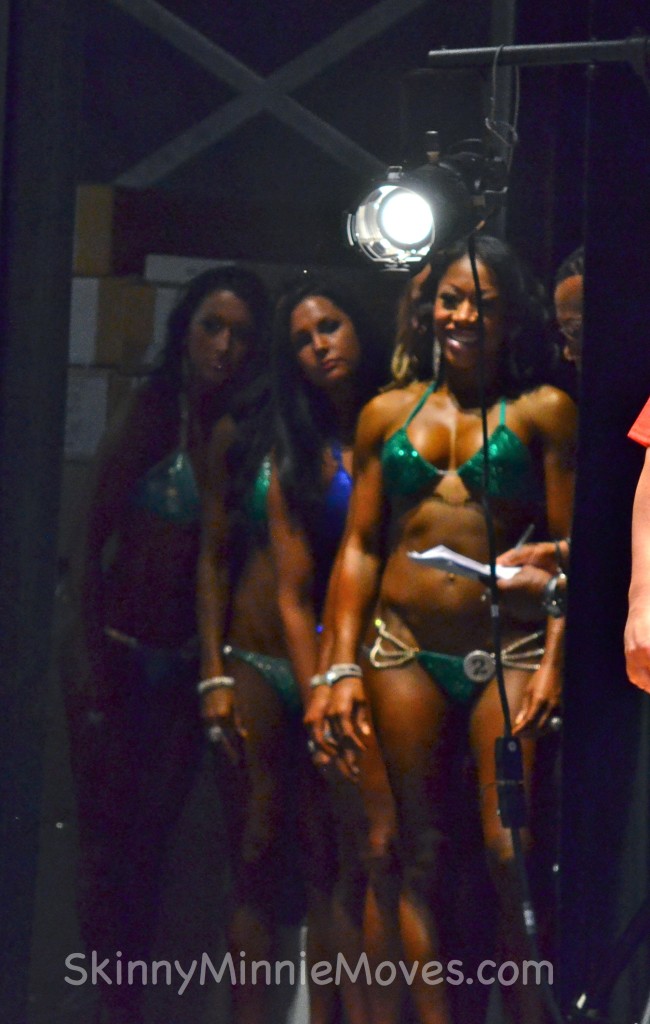 And out came girlfriend strutting her stuff!
To give you guys an idea of where she came from, here was her starting point in January.
I am so incredibly proud of her. She worked so hard this prep and it showed! All that plain tilapia paid off. Plus let me just say that bikini girls have a stereotype, and while I hate to prove that stereotype to be correct, most of the time it is.  A lot of the girls come off not the friendliest little things, and when you talk to them you have to bite your tongue in order to prevent a full on fight from starting. This girl is NOTHING like that. Alexis has a heart of gold and is genuinely a good person, which makes it even better to see her achieve her goals!
Oh and when I am at events for someone I know, I'm a screamer. So yes I did shout out quite a few "YEAH LEX!"
After all the women lineup to the side, they call numbers and you end up holding poses in a line so they can compare for judging. If you're number is called in the first group it's a very good sign! If you are placed in the middle it's an even BETTER sign. Top 5 finishers get a bid to a national show.
I did almost get kicked out once for my flash. They said no flash and no pictures in the first 5 rows (they have professional photographers). So a lot of my pictures that I thought were fabulous were not, because I needed that flash badly! But I definitely didn't want to get kicked out before I saw her (I got yelled at before she even walked, I'm a rebel I break rules).
I did take pictures of the "back poses", but they are not the most PG pics, lots of glute action!
I also was able to take a backstage shot of my little bear 🙂
I actually didn't stay for the rest of the show. I congratulated her after all the bikini women were done and went back in to watch a little bit of women's figure.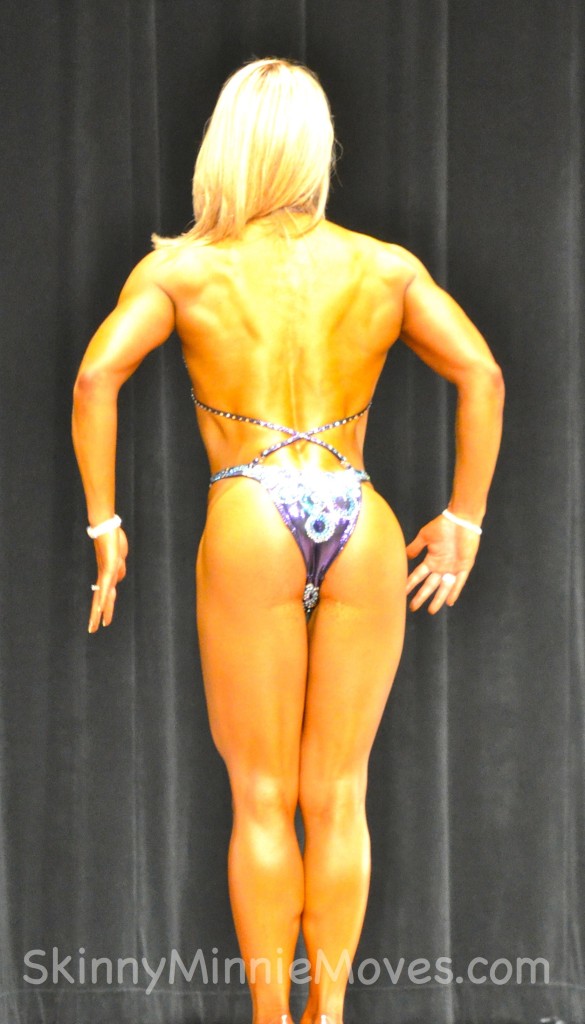 So after a little of this I decided I could no longer go without food. I was STARVING, Phoebe was sick in the morning (poor thing), and I needed to get my butt in the gym!
When I got to my car I was all smiles devouring some food.
I have to say I was a little disappointed I didn't get to see how she did. They have a "finals" show in the evening where the awards are handed out. But it is SUCH a long day and I had so much to do I couldn't hang around. I anxiously sat with my phone near me all night to hear from her!
When I came home I went to my parents house, dropped off Phoebe and headed to the gym! I did a little back and biceps and some spin HIIT training.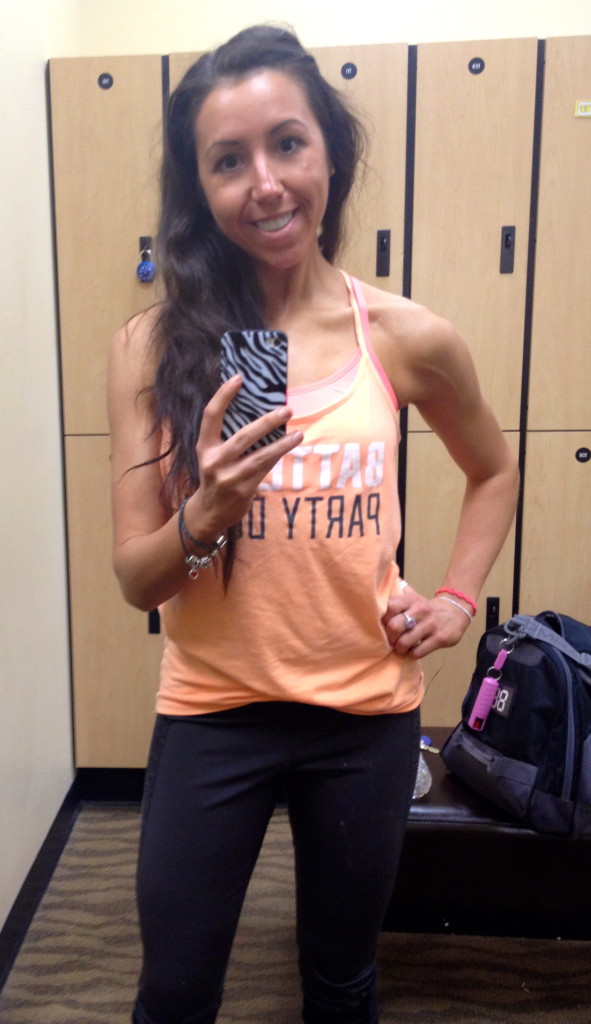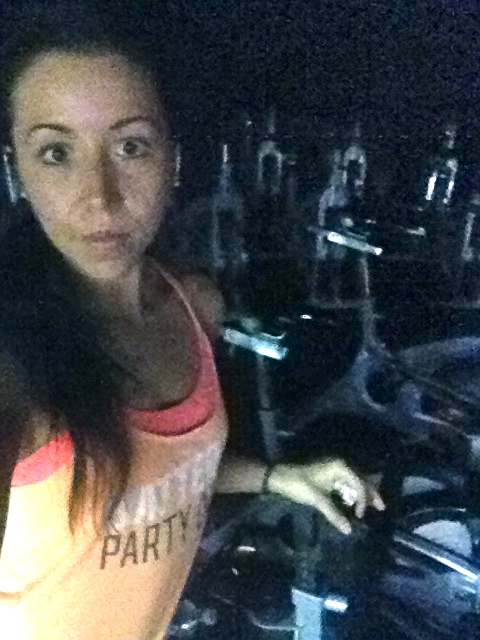 Around 9pm a text came across my phone with the words "winner chicken dinner" and this pic!
Alexis placed! She placed 5th in her class for Maryland and 6th in open. I knew she would! 🙂 I am so happy for her.
Overall I have to say it was such a fun experience, especially since I was rooting for someone in the show. I was all over the place in terms of figuring out if I was going to keep going. When I first got there I said ABSOLUTELY NOT. Then later I said maybe, then a little later on I said NO WAY, then I finished the day out saying I CAN DO IT! So I'm going to go through with it. Again for me it's not the diet or the exercise, it's the whole strutting my stuff in front of everyone. Eek! But a smile on my face is a start right?
Click here for my thoughts of the day Instagram video! (you will have to click again in between the two "pin it" blocks to see it).
The search for the bikini is now on! I was dead set on a color, but after seeing it live I might switch it up! Certain colors just POP and sparkle on stage. Gotta decide soon 🙂
Hope you enjoyed this blog, I did!
XOXO With a Cherry On Top,
-Minnie