Shrimp "Fried" Rice
Shrimp fried rice is such a comfort food to me. It screams hello, eat me in a carton in front of the television when you're having a bad day. Well since I can't do that without having to run a few miles on the treadmill, I made a healthier version of it!
Here I've avoided the unhealthy oils, egg yolks, starchy white rice, and sodium loaded soy sauce. By making a few smarter choices, I've changed things up while still making it taste good.
One of these choices includes liquid aminos. This is the non-processed, natural version of soy sauce or as they call it "liquid protein concentrate". You can find it in any health food store now. It's lower in sodium, but still tastes like soy sauce! 1/2 teaspoon is 160mg of sodium. I use 2 teaspoons in this recipe and it makes 4 servings so this dish is pretty low in sodium for being a Chinese food dish!
Next time you want to do take out, just make this instead, it's super delicious!
For this recipe you will need:
1 cup of uncooked brown rice (I used medium grain)
1/2 cup of chopped thinly sliced carrots
3/4 cup of chopped white onion
1/2 cup of frozen peas
1 1/2 cups of broccoli florets
1 lb of deveined cooked shrimp
2 teaspoons of liquid aminos
2 teaspoons of sesame seed oil
1 teaspoon of sesame seeds
pepper to taste
Makes 4 servings
Start by cooking your brown rice. I knew I was going to make this dish so earlier in the day I made my rice and for the first time ever it came out perfect. I know you're thinking it's rice, throw in some water, boil, done. For some reason every time mine comes out like brown mush, so I did the smart thing and googled. Martha Stewart gave me the solution for the perfect rice and the trick is the pan. I've always used a regular sized pot, but NOPE you have to use a shallow pan. Also pay no attention to the package that may say cook for 45-50 minutes. You only cook it for 30.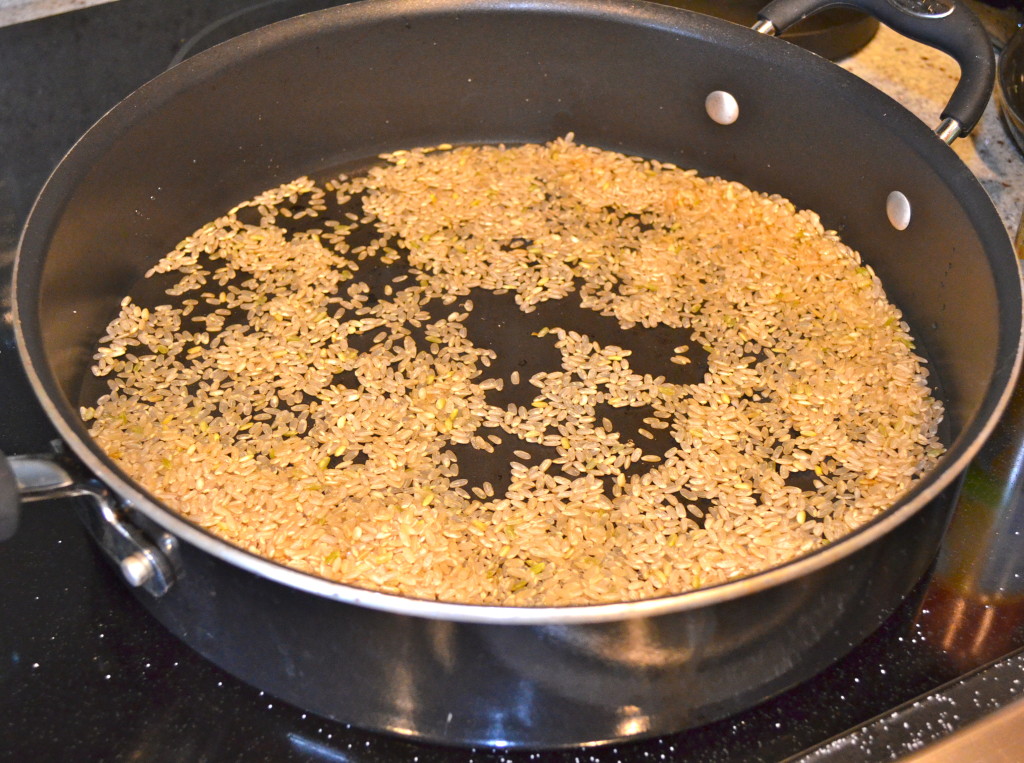 So this was 1 cup of medium grain rice, 1 1/2 cup of water, a pinch of salt, all in a 3 inch deep pan. Bring to a boil, then cover and simmer on low for 30 minutes.
Fluff with your fork and voila! Perfect brown rice.
Moving onto the main dish. I cut up all my veggies and heated a pan on medium-high heat. In goes a teaspoon of sesame seed oil, then the onion and carrot. After a few minutes I added the broccoli.
In a separate pan cook two egg whites. You could do it in the same large pan, but I prefered chunks of egg white and it was easier to cook it separately then break it up.
About 7 minutes later when the veggies have cooked some, in goes the peas, rice, chopped egg whites, a little pepper, liquid aminos, and other teaspoon of sesame seed oil.
Mix together well and then add the shrimp. Continue to cook for an additional 5 minutes.
Now my shrimp were already cooked (I prefer buying them this way from BJs, plus they are deveined), but if yours are not cooked, throw them in before you add the rice. Or you can cook them seperately then add them in.
Top with toasted sesame seeds!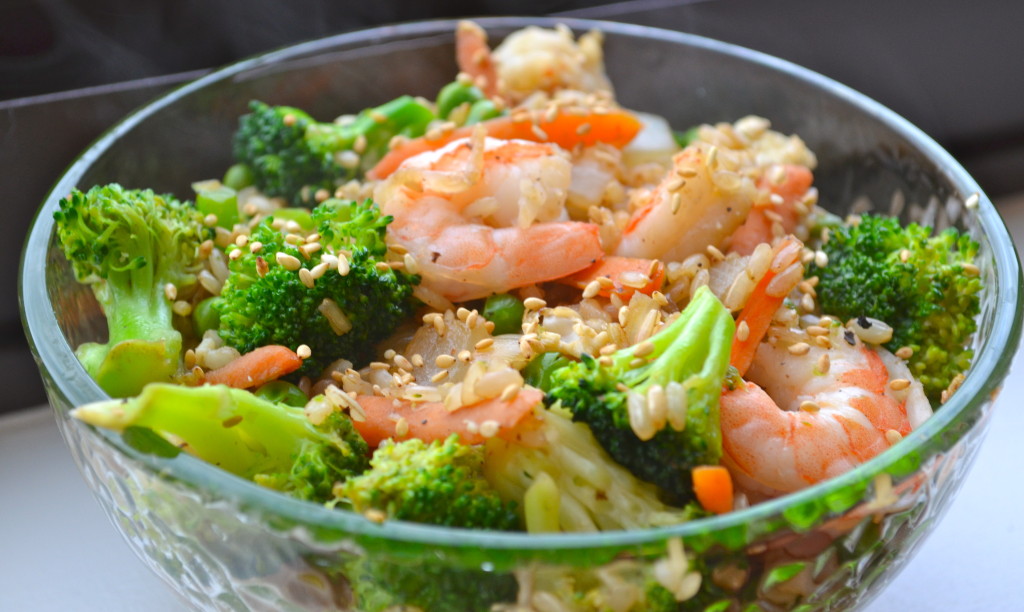 Looks pretty good huh?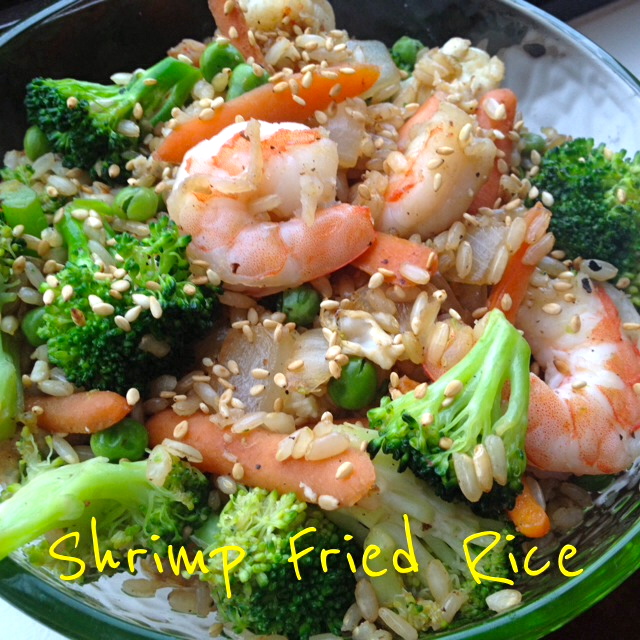 Nutritional info: per serving- 242 calories, 4.6 grams of fat, 22.77 grams of carbs, 23.5 grams of protein. 
Happy eating…
XOXO With a Cherry On Top,
-Minnie