Skinny Minnie French Onion Soup
French onion soup is delicious! The caramelized onions, the melty cheese, and crusty croutons. You look at the menu at a restaurant and think it's just onion… how bad can it be? WELL, regular french onion soup has 24 grams of fat (that's if you use the NORMAL amount of cheese), and 432 calories! And this is for a small 1 cup serving… so if you order it at a restaurant you can probably double this!
I decided to do a Skinny Minnie version of it, vegetarian friendly of course, and it comes to 8 grams of fat, 252 calories, 31 grams of carbs, and 11.4 grams of protein per serving! And this folks is for a HUGE bowl, including the pita and cheese. It definitely fills you up on a cold wintery night.
Lucky for you, those 8 grams of fat are healthy fats! Olive oil is heart healthy and you need it in your diet. Don't be fooled by "fat free" products. They are loaded with sodium to give flavor and will blow you up like a balloon!
For this recipe you will need:
-2 large yellow onions
-1 Tablespoon of Extra Virgin Olive Oil
-1/2 Tablespoon of minced garlic
-2 packets of nectreese (or stevia)
-1/2 tsp of thyme
-1 Tablespoon of whole wheat flour
-1/2 cup of water
-1 Tablespoon of apple cider vinegar
-2 cups of vegetable stock
-1 oz of 75% reduced sharp cheddar, made with 1% milk fat
-1 slice of low fat swiss cheese
-1 Flax pita
Start by thinly slicing your onions. Try to get them as thin as possible, they will caramelize easier. Take a break if tears develop 😉
Drizzle Extra Virgin Olive Oil in a large pot on medium to low heat
When the pot has started to heat up drop in the onions (I love that sizzle sound!)
Keep stirring until the onions start to brown. When they have cooked some, add the nectreese (or sweetener of choice), minced garlic, and thyme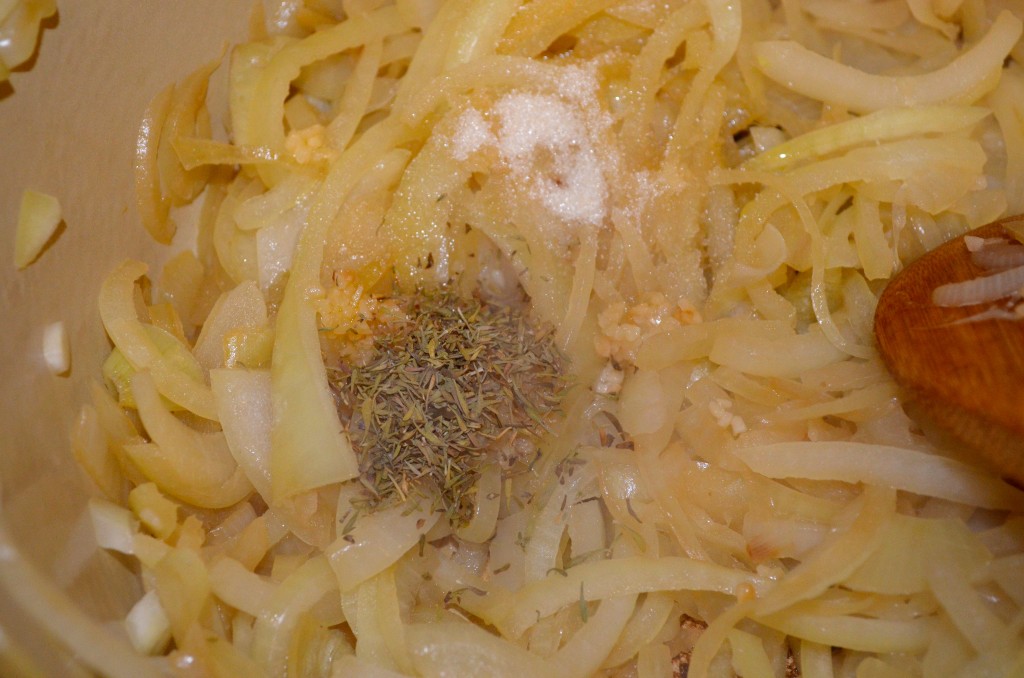 Reduce the heat to low and stir. Continue to cook on low for 30 minutes, stir occasionally
After 30 minutes, add the flour and stir for one minute
Next you are going to add 1 Tablespoon of apple cider vinegar to a small glass. Dilute this with 3/4 cup of water. Normal french onion soups call for white wine. Since I don't drink, I obviously didn't have it on hand, so I add acidity this way 🙂
Add the mixture to the onions and stir. Finally, add the vegetable stock and bring to a boil
Once you start boiling, reduce the heat to a simmer and cover
Cook this for 45 minutes
Next we are going to top the soup with goodies!
Cut a pita into fours (this is for one person!) and toast in the oven on 400 degrees Fahrenheit until browned
Next place 1/2 slice of low fat swiss cheese on two of the pieces and place back in the oven until they have melted
Take your 1 oz of reduced sharp cheddar (I found this at BJs too), grate it, and sprinkle on your soup
Finally top this beauty with your pita!
I couldn't wait, I had to dig in
Look how the cheese is all gooey…
This pot makes 2 HUGE servings. You can see how big my bowl is. And again, the bowl with the 4 slices of pita, and cheese is ONLY 252 calories. You simply can't beat it!
Plus it's absolutely delicious 🙂
Happy eating…
XOXO With a Cherry On Top,
-Minnie