Strike a Pose There's Nothing To It
Happy Memorial Day! Are you out barbecuing? Hanging with friends and family? Working? Whatever you are doing today I ask that you have a safe and happy holiday! I love when holidays fall on a Monday. Added bonus of a weekend. Plus Monday's are always so hard just because it's a mindset type of thing. So have fun! 🙂 It will be a normal day for me. Gym, pack, meal prep, visit G-Mama, etc.
Yesterday my day started at 6:45 am (yuck for Sunday). I had to go to posing clinic at 7:30 and meet my coach! I started with meal number 1 and then hit the road. I was SUPER nervous when I walked in, but excited at the same time. My coach is a BIG guy. He did bodybuilding for years and now coaches others. His wife also did women's figure and I checked out a pic of her when she competed. Stunning.
Anyway he introduced me to the other guys who started their bodybuilding line up and posing. I was a little uncomfortable and when I am out of my comfort zone I start laughing. I call it the nervous giggles. I mean here I am with my Marc Jacobs purse and Ray Bans watching these 10 guys in a line up flexing in underwear and speedos. I kept thinking in my head "how did I get here".
After the guys my coach said "okay show me what you got, strip down"… UHHHHHH huh!?
In all fairness I knew this was going to happen. He needed to look at my body. He asked if I brought my bikini (I had it in my car just in case), but I said no I have on small shorts and a sports bra for today. I wasn't comfortable enough yet to bare the bikini in front of everyone. He told me "we have no shame here". As I looked over my shoulder I thought the guys were going to leave, turns out they didn't, but if I am going to do it I need to get used to being half naked in front of people! So I sucked it up and let him look. I actually kept thinking of my mom in my head saying "If I looked like you I'd be running around naked". So I went with it.
Luckily he said I'm already lean and I don't really have any fat to lose, he just wants me to build muscle and get nice and tight. I think I can definitely get there in 12 weeks!
When it came time for the gals it was one figure competitor and one bikini. I actually felt old because the other bikini competitor looked 14 (she was 20). I watched them pose and walk. The bikini girl had a great walk. I definitely learned it's not all about your physique. It's about the sell! You have to have a super sassy walk and pose and it needs to look flawless and natural. Naturally sexy? ME!? Let's just say I have to work on it…
After I came home I took a nap with Phoebs and then we did our daily trip to G-Mama and Pop Pops.
G-Mama and I attempted to watch Magic Mike and I had another meal.
While we laughed at the strip tease parts, I couldn't make it through the whole movie. We turned it off and I went to the gym!
I started with another 30 minute spin session. I do intervals to get my heart rate going. It's so fun especially blasting my music.
Then I hit biceps and back. My coach is having me split my workouts differently than I have. While the other things worked to keep my small frame, now I am looking to build muscle. Back and biceps are muscle groups that compliment each other. They are the big muscle groups I need to focus on. I definitely did less exercises than I am used to, but I up my weight and take my time.
For some back and bicep exercise ideas check out my Workout Tab 🙂
I did some squats in the empty aerobics studio and a little bit of posing too to get me used to it.
I also hit the stairmaster for 15 minutes, stretched and called it a day!
When Phoebe and I made it home I did a little bit of packing and made dinner. It included some mushrooms I needed to use.
Here was my plate
Thanks dad for the chicken breast!
After more packing (I swear it doesn't seem like ANYTHING is getting done!), I prepped more meals and veggies for the week and had Friends on in the background. Prepping is taking SO much time for this bikini lifestyle. My old meal preps took no time at all, but I literally have to prep 5 meals every single day which takes a lot of time. Since I am pretty good in the kitchen, I don't think I will get too bored with the foods. I'm a creative person 🙂
I'm often asked all the time how exactly do you meal prep, so here check out this little page I made for you guys on how to do it! I think you will like, it has good information 🙂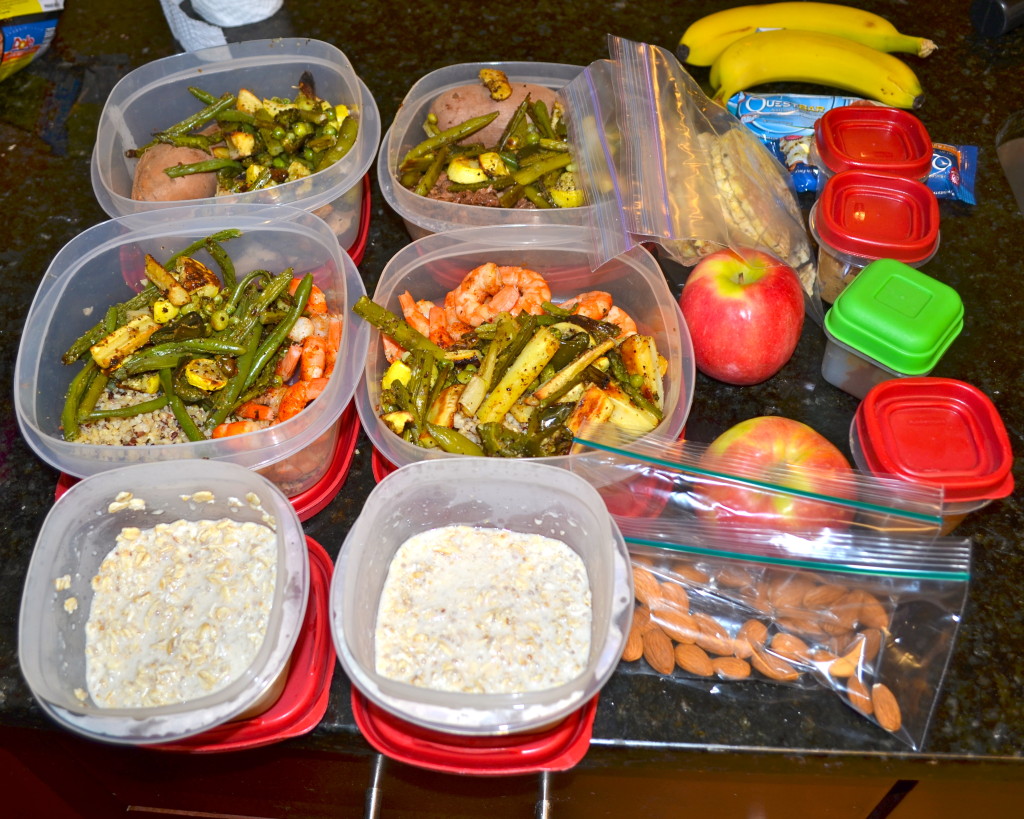 Speaking of creativity, I am allowed nut butters so I decided to nix the natural PB for a few days and I made sun butter! It's made out of sunflower seeds. Just sunflower seeds shucked with a pinch of salt. Technically not a nut, but same health benefits so I am saying it's okay!
Today I will be hitting the gym early since it closes at 4, then pretty much packing and prepping my meals for my next 2 work days. It feels like I never have a minute sitting!
Have a safe and happy holiday 🙂
XOXO With a Cherry On Top,
-Minnie