How to Meal Prep
I am asked all the time why do you meal prep? How do you do it?
Meal preps save you a bunch of time and prevent you from eating bad throughout the week. If everything is already made and pre-portioned, you are less likely to binge and more likely to grab that tupperware full of healthy goodies 🙂
So how do I meal prep? Well for my schedule I prep through dinner time for 4 days a week (the days I work). Dinner I like to come home and cook and make something fresh (sometimes new blog recipes) but if that's not for you then certainly cook your dinner meals as well for the prep! Same goes for weekends, I'd rather make fresh and I have been doing this for such a long time now I know I will not cheat. I have strong will power. If you think you are going to flake on the weekends definitely prep! They say "fail to prep, prepare to fail" The only thing with this is that you might have to prep 2 times a week to prevent the food from going bad.
Tips for meal preps:
Come up with a plan. I make a list of everything I am going to make.
Invest in GOOD tupperware. I bought mine from BJs. You can often get 18-20 piece sets for cheap. Make sure you buy a heavy duty tupperware that doesn't crack after a couple uses. 
Purchase a food scale. Portion is everything and I never realized how off I was with portion sizes until I bought one. I recommend the electronic scales because they are easy to zero out and you can just put the tupperware on top of it and measure. I bought mine for $35 at Target but you can find them as cheap as $15 on Amazon.
Use measuring cups. Again when I eye balled portions I was usually off.
Make an assembly line. Try to cook everything at once by using stove top and the oven to make your life easier and decrease prep time.
Eat with your eyes. I like to make veggie medleys with bright colors and variety so you are not stuck with the same boring lunches.
Make foods that will keep. Chicken breast and turkey meat are good for meal preps. If you cook seafood, make sure you eat it the first day or two or it will go bad!
Keep it simple. You don't need to make lavish meals for meal preps. That's what I leave dinner for. Just pop in your proteins with spices, veggies, and grains and it'll leave you satisfying with much less prep time!
First I start with my list. I break it down into breakfasts, lunches with proteins, veggies, and grains/starches, then my snacks.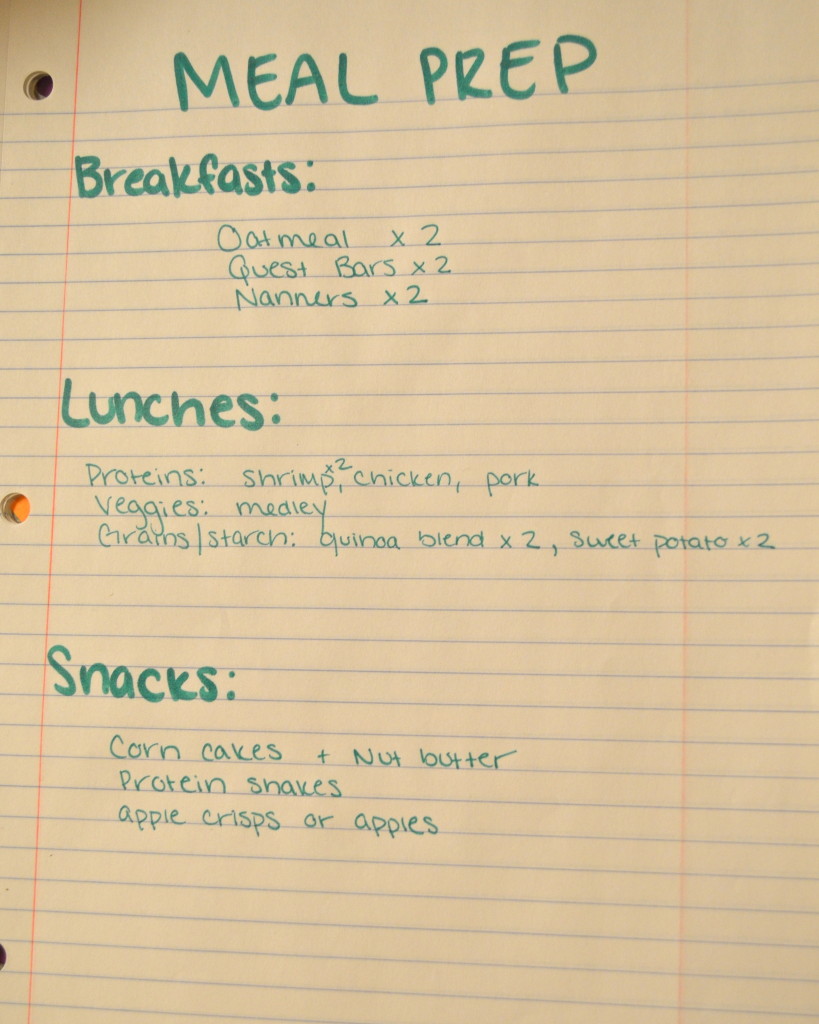 Next I line up all my tupperware so I can do the assembly line trick
Now time to get cooking. Usually I cook my grains, proteins, and veggies at the same time. Grains on stove top of course 🙂
Cook time will vary depending on the grain. I bring my water to a boil first, pour in the grain and let it boil for one minute. Then I bring down to a simmer and cover for the remainder of the time.
While this is going I grab all the veggies I want to make.
Medleys are easier because you can chop all your veggies and throw them in the oven. I spray a little extra virgin olive oil spray on a huge baking sheet, sprinkle with some Ms. Dash (my favorite for veggies is the Garlic and herb flavor) and cook on 400 degrees Fahrenheit for about 30 minutes or so.
I will also pop in my proteins too. Chicken breast I line tinfoil down first with olive oil spray
Shrimp takes less time of course. I like these pre cooked shrimp with the tails that pop off. Even though they are already cooked, I like to cook them in the oven for a little bit to get all of the water out.
While all this is cooking I get to work on my breakfasts and snacks. Oatmeal is a favorite breakfast of mine. I do "overnight oats" which is just your serving of oatmeal soaked in unsweetened almond milk overnight in the fridge. I reheat in the mornings when I'm ready to eat.
Snacks take no effort. It's just putting things in little bags. The peanut butter I do portion.
Sometimes I will make sweet potatoes instead of a grain so after washing them I wrap them in cling wrap and pop in the microwave for 3-5 minutes depending on size. Sweet potatoes are mushy anyway, so it doesn't matter if they are cooked in the oven. Another thing you can do while waiting for everything to cook.
One at a time things will come together nicely. Grain is done, so I start portioning.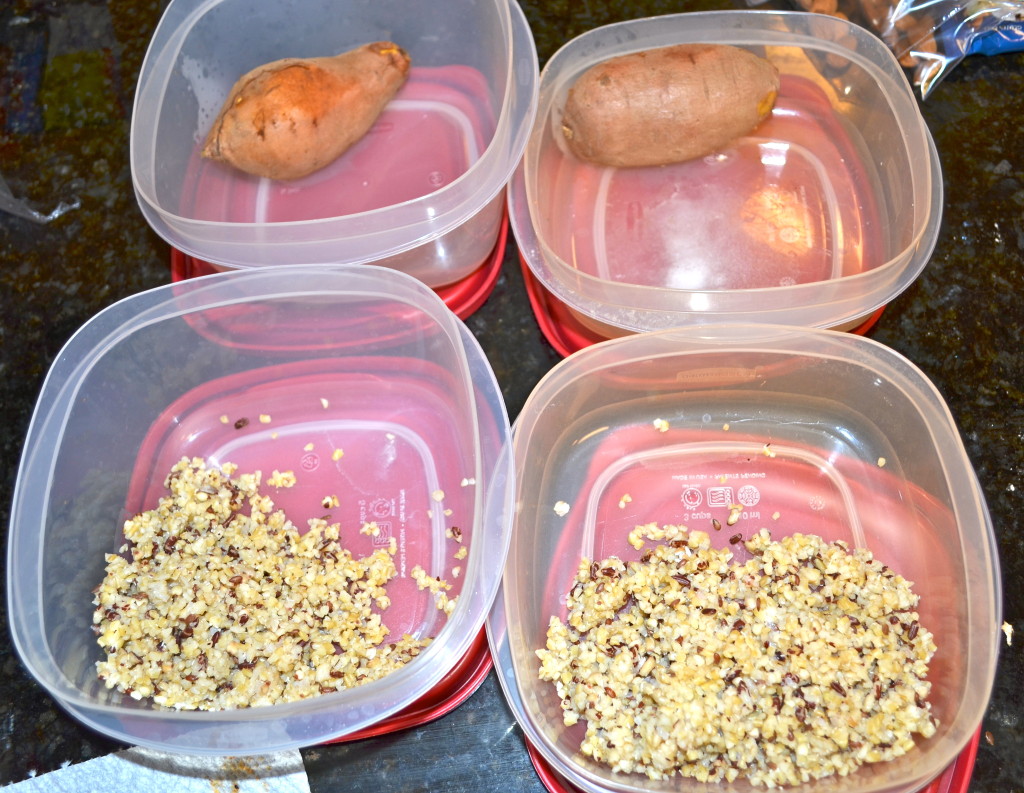 Then when my proteins are done, I measure them on the food scale. I measure all proteins COOKED. Frozen foods hold water, you want to make sure you are getting the proper amount. I typically will do 4-6 ounces of protein. 3 ounces for shrimp.
In it goes!
Then the veggies
Here will be your finished product with all your snacks- MY FAVORITE? Why a Quest Bar of course! You can buy them below 🙂 Cheaper online folks!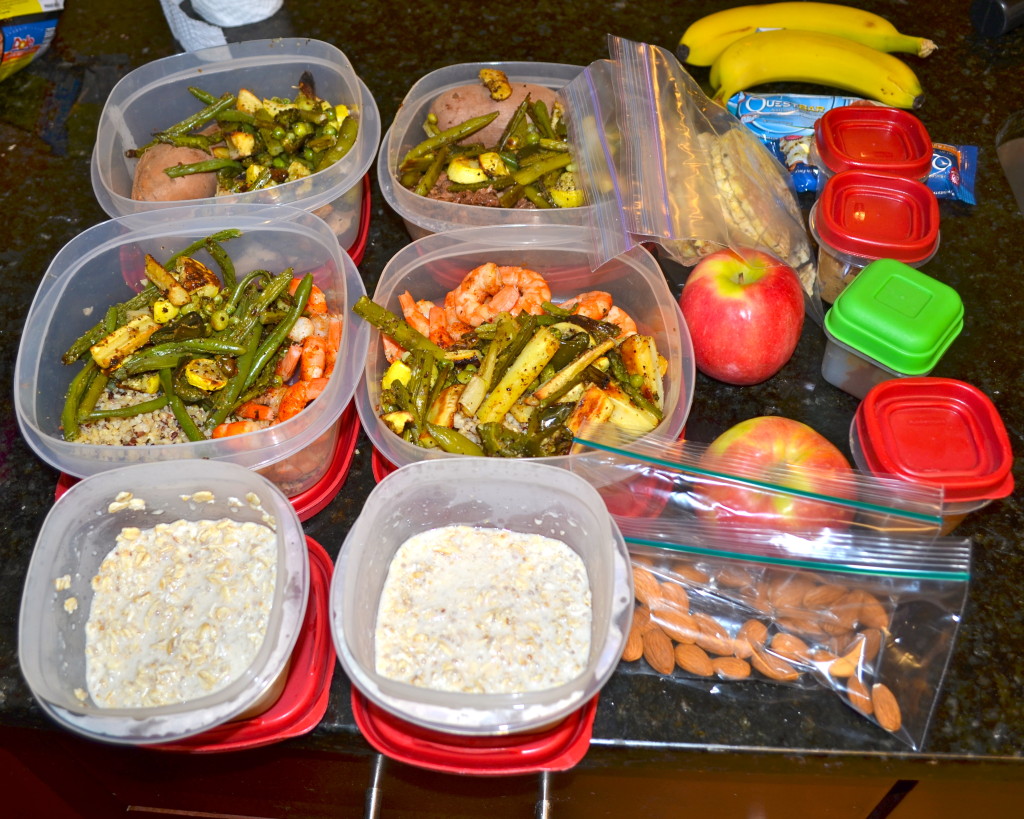 This takes me anywhere from 1-2 hours. It seems like a long time but really it's not. So much easier than having to make your lunches every single day! Get it done in one batch and save some time 🙂 Hope this helped you guys. Enjoy. Fail to prep, prepare to fail!
XOXO With a Cherry On Top,
-Minnie