12 Weeks Out
Well yesterday was the first day of my new bikini comp lifestyle. Honestly, I didn't think it would be too much of a change for me. I was wrong.
For starters my morning coffee (best part of the day) I had to force down. You guys know I love my creamer! Well I had to drink it black and my coach is allowing me a teeny splash of half and half. This made absolutely no difference. I could barely down one cup, in fact I didn't finish it. I don't know how I went those 5 weeks before drinking it black with one stevia.
At 9:30 I had my first meal.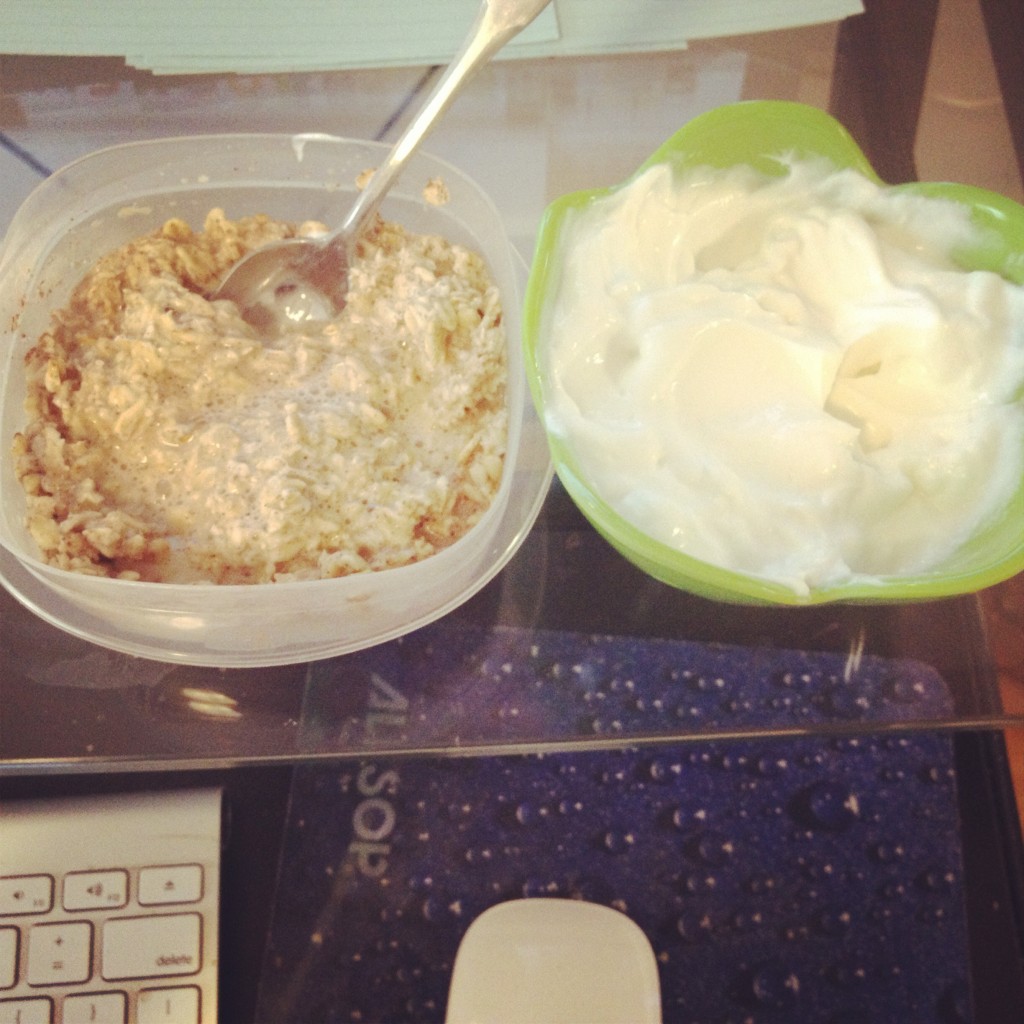 Directly afterwards I was full and my stomach was already messed up from my cheat meal so I was thinking oh this is going to be easy. I didn't want to eat with a rumbling tummy (my body isn't used to the food I had on cheat day). The only reason I did eat it though was because I am going to follow my coaches plan 100%. I can't say oh it doesn't work if I don't follow it to a tee.
By 11:30 I was begging for meal 2, but in the meantime I was prepping for the rest of my day. Around noon Phoebe and I packed all our bags and headed out the door. Look what I look like now!
The lunch box above is the regular one I've been using for a while. I think my mom bought it at Kohl's as a Christmas gift one year (it's Rachael Ray), and every one always asks me where I got it! This is fine for a few meals to G-Mama's, but will not work when I am gone all day. The other night I ordered an Isobag. I sent it to my parents house because I wasn't sure when I'd get it but it already came! Perfect timing 🙂
This little baby carries 6 meals, comes with the tupperware inside and is fully insulated. They also give you small icepacks! Plenty of room on the side for your drinks and a zipper compartment at the top (I'll probably keep my protein powder in there). They also make them in 3 meal size. It's funny how a lunchbox can excite you. It reminds me of when I was little and G-Mama would let us pick out a lunchbox for school. I loved that Little Mermaid lunch box. In fact, if they made an Isobag with Ariel on it, I'd STILL buy it 😉
Before the gym I hit meal #3 (I know it seems like I am eating a lot huh? Doesn't feel like it!)
I was super pumped for my first comp prep leg day.
Let me tell you I looked at his leg workout and again thought "oh I got this!". I am seriously underestimating this guy and OVERestimating myself. I am in great shape yes, but changing up the body's routine is tough! But this is what I need, a challenge to get my body there. Although I cannot share the workout, check out this INTENSE leg workout I did a few weeks ago. Mostly all squats/lunges to get that booty!
Smith machine squats 115 lbs, 12 reps x 4 sets
Plie smith squats 125 lbs, 12 reps x 4 sets
Calf raises on smith machine, 135 lbs, 12 reps x 4 sets
Curtsy lunges on smith machine, 95 lbs, 10 reps x 3 sets each leg
Good Morning hamstrings with 50 lb bar on shoulders, 15 reps x 4 sets
Curtsy Lunges holding 15 lb kettles, single leg 12 reps x 2 sets each leg. Then alternating lunges unweighted, 20 reps x 4 sets
Side bends with 25 lb plate, 20 reps x 2 sets each side
Regular squats unweighted, 15 reps x 4 sets
Plie squats unweighted, 15 reps x 4 sets with 2 sets pulsing up for 8 on tip toes
Seated leg abduction/adduction, 60-90 lbs, 12 reps x 4 sets each way
Stability ball hamstring pulls, (lay on mat, heels on ball, lift glutes and hips off mat and pull the ball in using your hamstrings), 12 reps x 4 sets
My cardio yesterday included a treadmill interval session and also a spin session he recommended. I didn't take a class, I just used one of the bikes in the room. I actually had a BLAST. I was alone in this cool dark room. I took off my headphones and blasted my music through my phone and sang along the whole time. I'm pretty sure people heard me but I didn't care that much.
After a stretch and some posing…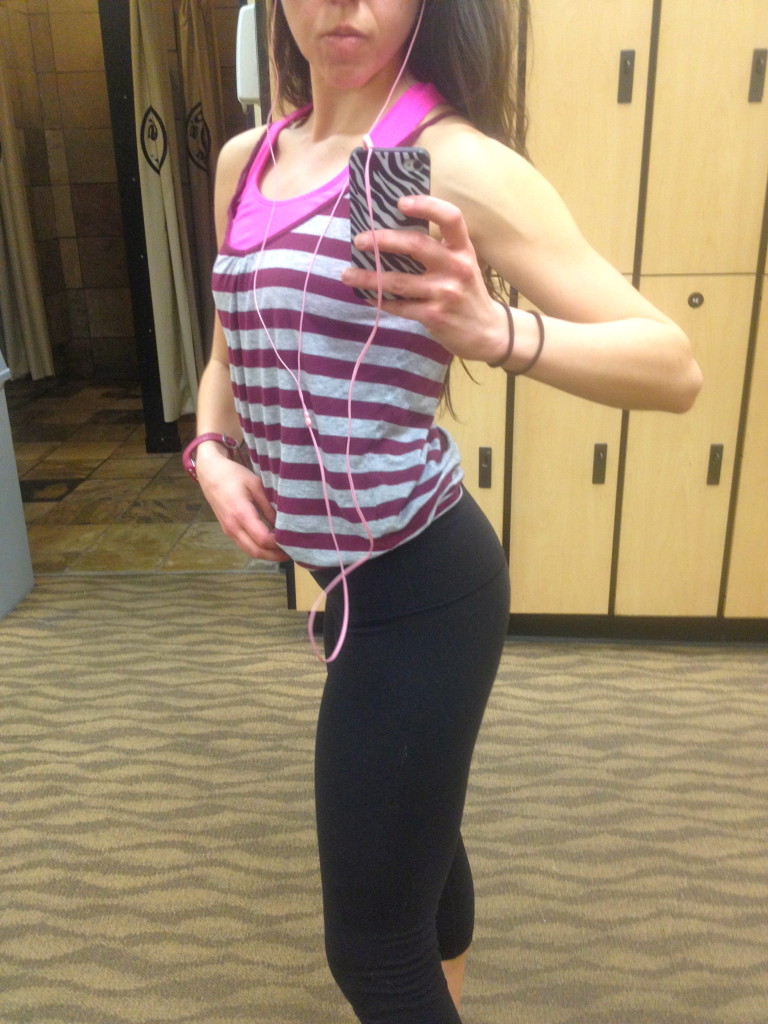 I went back to the locker room for meal 4! This is going to be my life for the next 12 weeks. Mixing protein shakes in the gym locker room
After going back to G-Mama and Pop Pops, I picked up my girl and we headed home. On my drive I saw this cute little dog in a convertible! He was loving life 🙂
I attempted to pack more but only ended up doing my coat closet. Which was not fun to go through. We all have one space in our house that's the dreaded area. I would just end up tossing stuff in there. Well I found 2 shirts that I never returned from a year and a half ago, and some yoga shorts too. Oh well.
I made dinner too!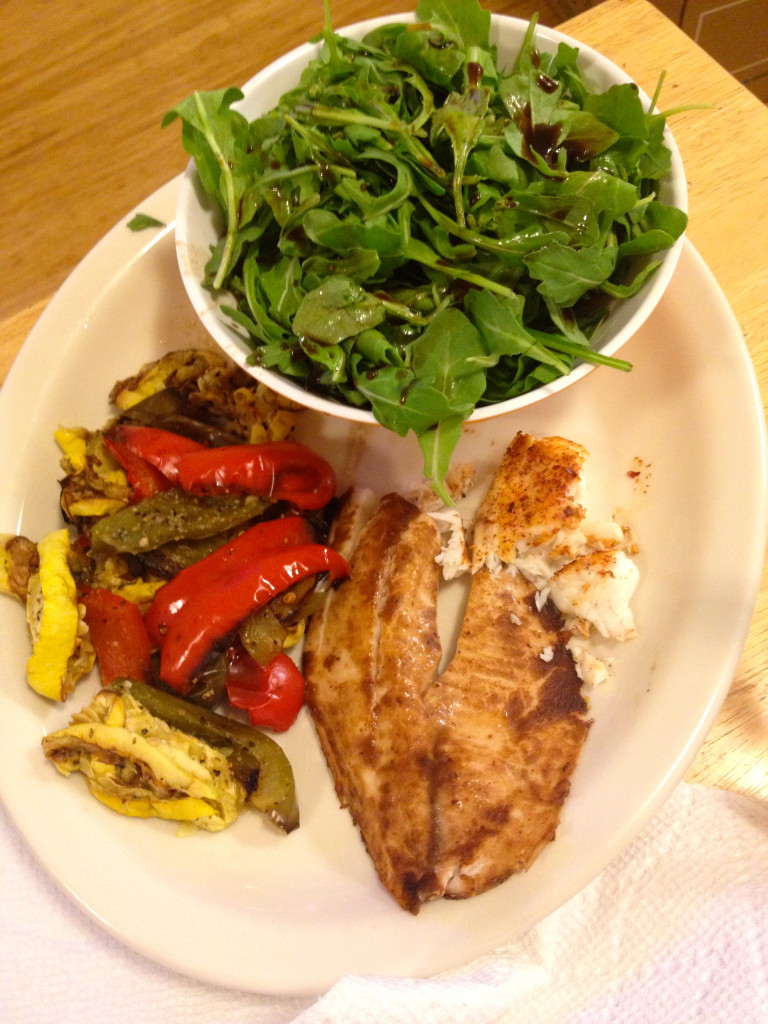 I also relaxed a little bit. Day one really had me wiped. I couldn't pack more because I was too stressed and overwhelmed. Monday I really am going to have to pretty much take the whole day and pack. I don't have a choice. Move in day is Thursday! I wish Phoebe could help.
Well today is the big day. Meeting the coach in person! I can't wait to see all his other athletes. Going to be an exciting morning.
XOXO With a Cherry On Top,
-Minnie