Ready, Set, Go!
Good Morning and Happy Saturday!
It's official, I am 12 weeks out. Am I in panic mode yet? Well kind of… it hit me last night. It's not about the diet, it's definitely not about the workouts, it's about parading around in front of people in a small little bikini. I am a pretty private person (I know I have a blog, how private can I be?). But I'm still a normal person and have fears and worries like everyone else. It's going to take a lot of guts, but I told myself I wanted to do this and I want to experience it once. If I hate it, I can say I did it and go on with my life. Who knows, I may love it and say it was the best decision I ever made. For some people life is about risks, for me it's about a challenge! So bring it.
First thing I did when I got up was step on the dreaded scale. My coach needed a fasted base weight for me and while I am not a fan of the scale I am going to do what he says. I expected around 120 because my diet has been a little flaky, nothing terrible just not as strict and minimal water intake. Well I guess I was wrong because I stepped and it read 116.2 pounds. 
Not a bad start at all. Already lean, just need to do a little sprucing 😉
Then I had a couple cups of coffee with creamer (yummy I will miss you so much!), hopped in the shower, and made a giant fluff. It was my blueberry pancake flavor! Oh and I did have a quest bar because I will miss these.
I did a little cleaning around the apartment, then got dressed for the day. Phoebe and I headed to G-Mama and Pop Pops. Phoebs is always so happy to see them and to see Shelbs. After catching up, I changed for the gym, turned the corner, and said "oh my gosh mom you have to get up and see this"
She jumped in this little toy basket in the house and then couldn't get out. We knew she was too quiet. Needless to say we both laughed our butts off. The baskets she is choosing to jump in keep getting smaller and smaller!
Then she panics and will not jump out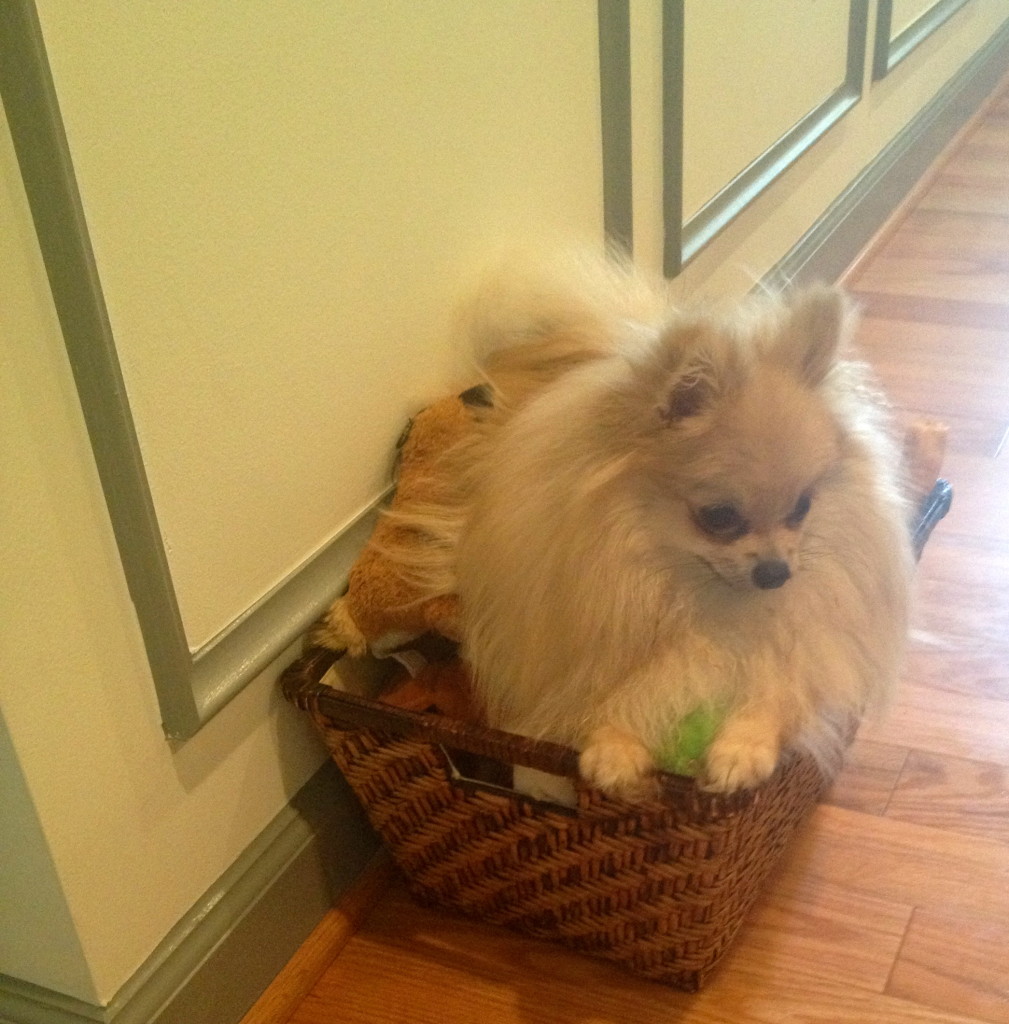 She cried and we encouraged her to jump, but she wasn't going for it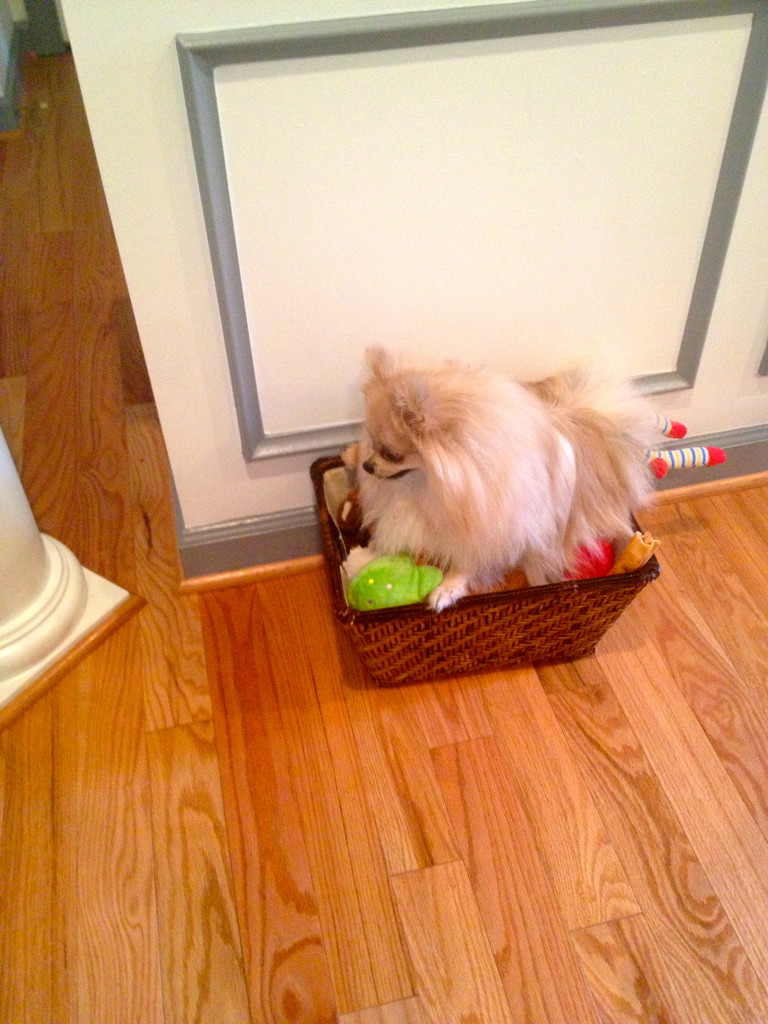 Finally I got down on the floor and worked with her until she jumped out. She finally took the plunge and made it out 😉 She's such a goof ball.
After the basket situation I left for the gym and decided on a killer stair master session since a cheat meal was in my future
here was pre-workout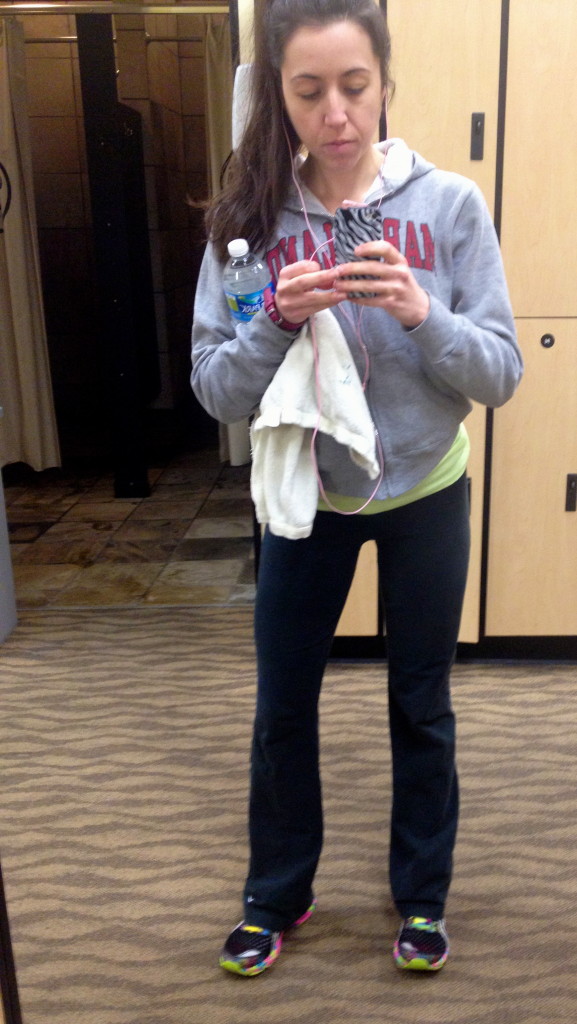 And post workout…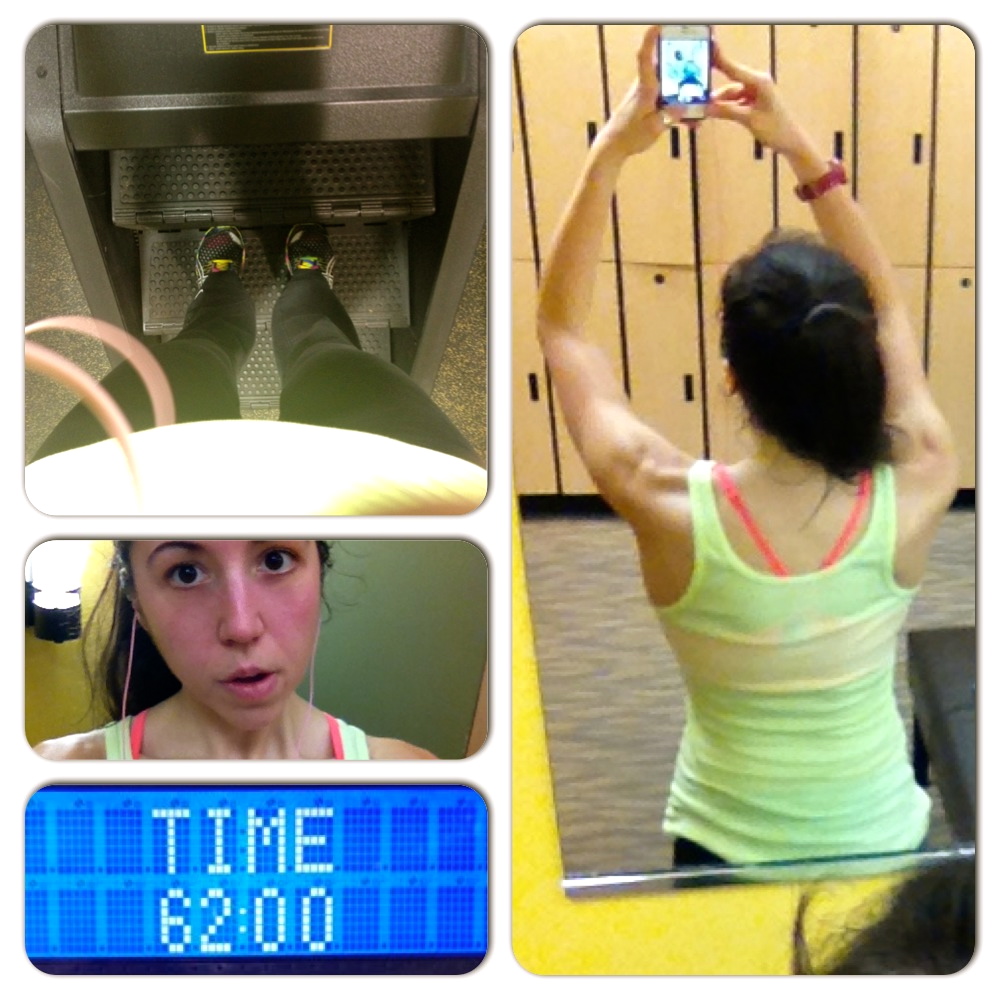 I looked pretty gross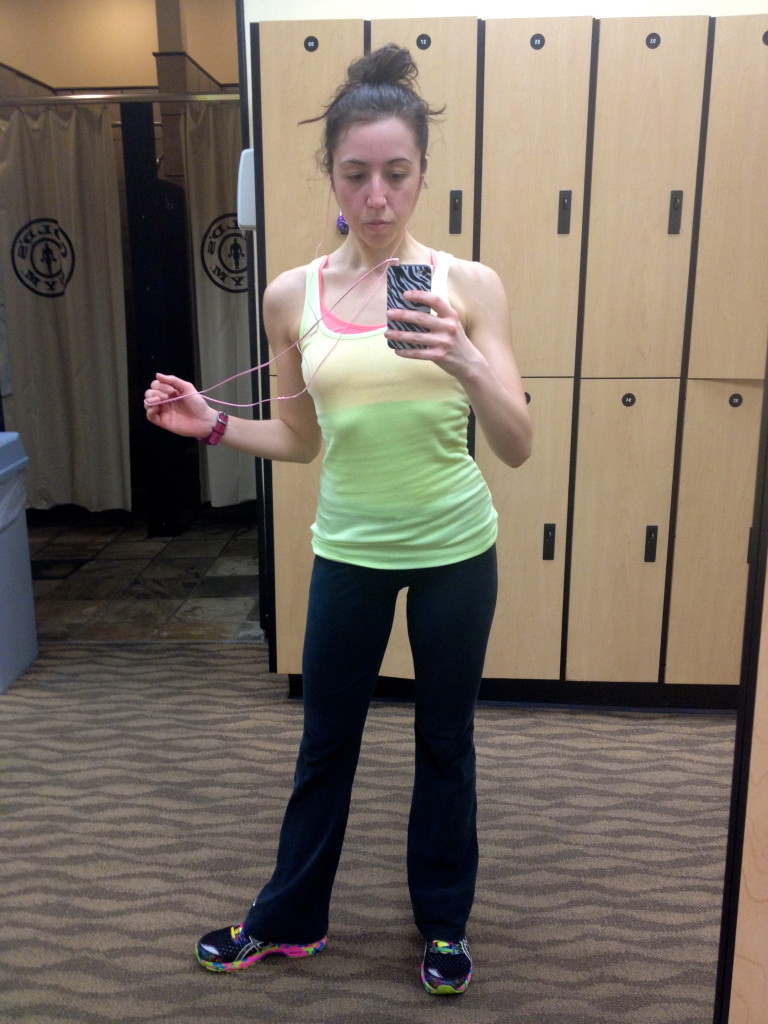 And because I am crazy, I hit shoulders after! I did a routine my coach sent me, unfortunately I cannot share the exact routine but here is one of my favorite shoulder workouts for you guys 🙂
Rear Delt Raises, 20 lb weights, 15 reps x 4 sets
Straight arm lateral raises standing on bosu, 8 lb weights, 12 reps x 4 sets
Front delt pulses standing on bosu, 8 lb weights, hold weights straight in front of you, palms down, pulse for 8, then chest press in, then 8 more straight arm pulses. 4 sets
Cross punches standing on bosu, 8 lb weights, 20 reps alternating x 4 sets
Plate raises, 25 lbs, 12 reps x 4 sets
Pushups, 10 reps x 4 sets
Smith machine shoulder shrugs, 155 lbs (yowza), 8 reps x 4 sets
Smith machine shoulder press, 65 lbs, 10 reps x 4 sets
Hook punches, 10 lb weights, 20 reps alternating x 4 sets
Upright rows, cable, 50 lbs, 12 reps x 4 sets
Open and close rotator cuff abduction, 20 lb weights, 12 reps x 4 sets
I was dead when I left!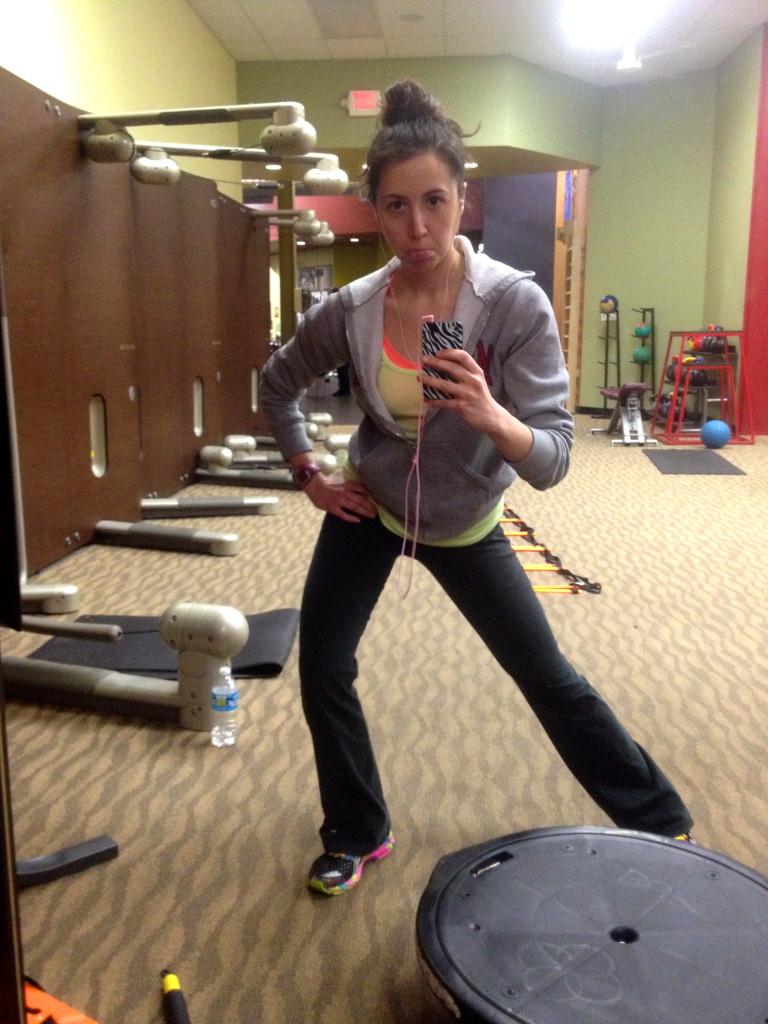 When I left the gym I went right to Starbucks to pick up a skinny caramel latte. Last Starbucks for 12 weeks… sigh…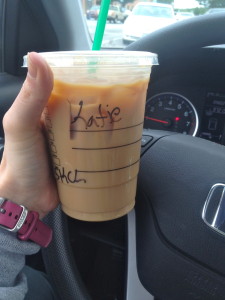 Then I headed to the store to pick up a few things needed for my food prep and back to G-Mama and Pop Pops I went for a delicious cheat meal.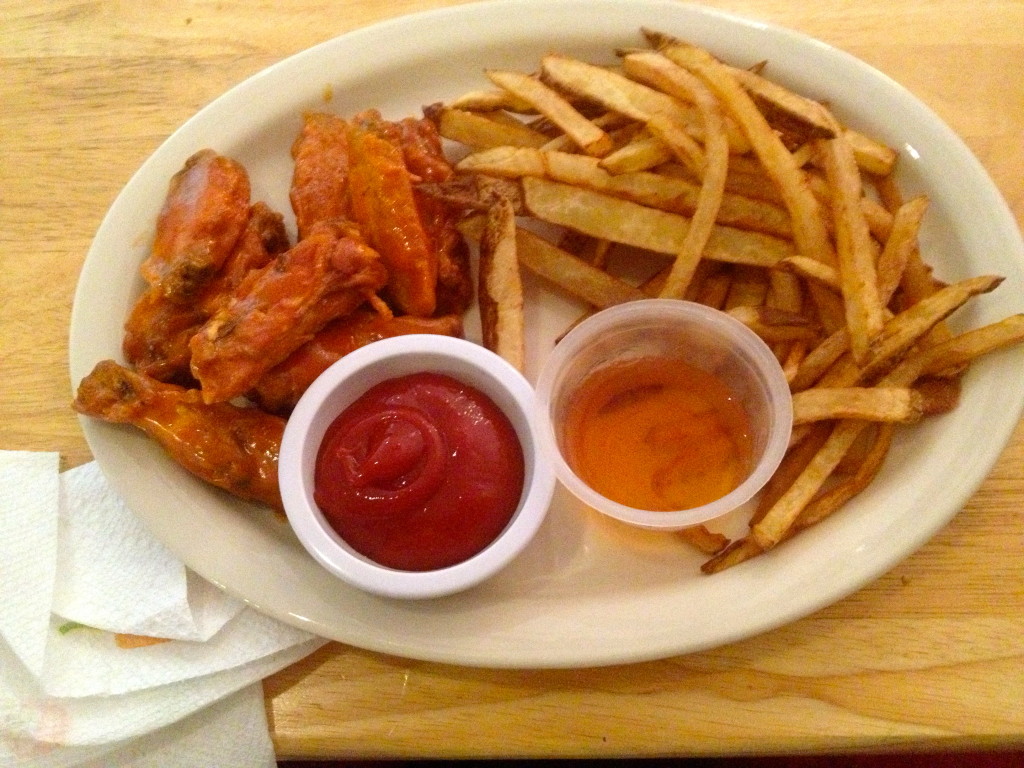 It was delicious 🙂 I seriously haven't had a cheat since Christmas eve… not kidding. That was the great sugar cookie extravaganza where I ate one and ended up eating the whole tin. Whoops!
When I came home I blogged, made a couple of organized lists (workouts, meals, etc), and swore I was going to start packing… uhhhhh well… I didn't pack. I know, what am I waiting for a fairy to come do it all for me? Tomorrow I will do it! I have another 3 days off to do it. It's a one bedroom apartment. How bad can it be?
*Morning edit- after typing this up I felt extremely guilty for not doing a thing, so I cleaned out my kitchen cabinet and packed it up! It took me a few hours and then I realized how much trouble I am in with packing… I also packed up some of my bedroom bookshelf.
Later I watched a bunch of shows on my DVR. Is anyone watching Girl Code on MTV? I rarely laugh out loud at television, but I was laughing so hard I was in tears and my sides hurt. These ladies tell the truth about things we go through as women, from first dates to dieting, they cover it all. So hilarious. If you haven't seen it check it out. MTV repeats them a lot.
So today is day one of prep. It all starts here. Ready, Set, Go!
I'll update you tomorrow on how day one went 🙂
XOXO With a Cherry On Top,
-Minnie