Strong Girls Club
Hi everyone!
I hope you guys had a fabulous weekend. We stayed pretty busy Friday and Saturday so come Sunday it was home stuff and relaxation 🙂
Friday evening we headed to a gym right down the street from my apartment. It's one of those "gritty" gyms as I call them. No fancy TVs or anything like that, just A LOT of equipment to get in a good lift. I LOVED it because it was pretty empty for Friday prime time and no one bothered us. We met some of our friends there.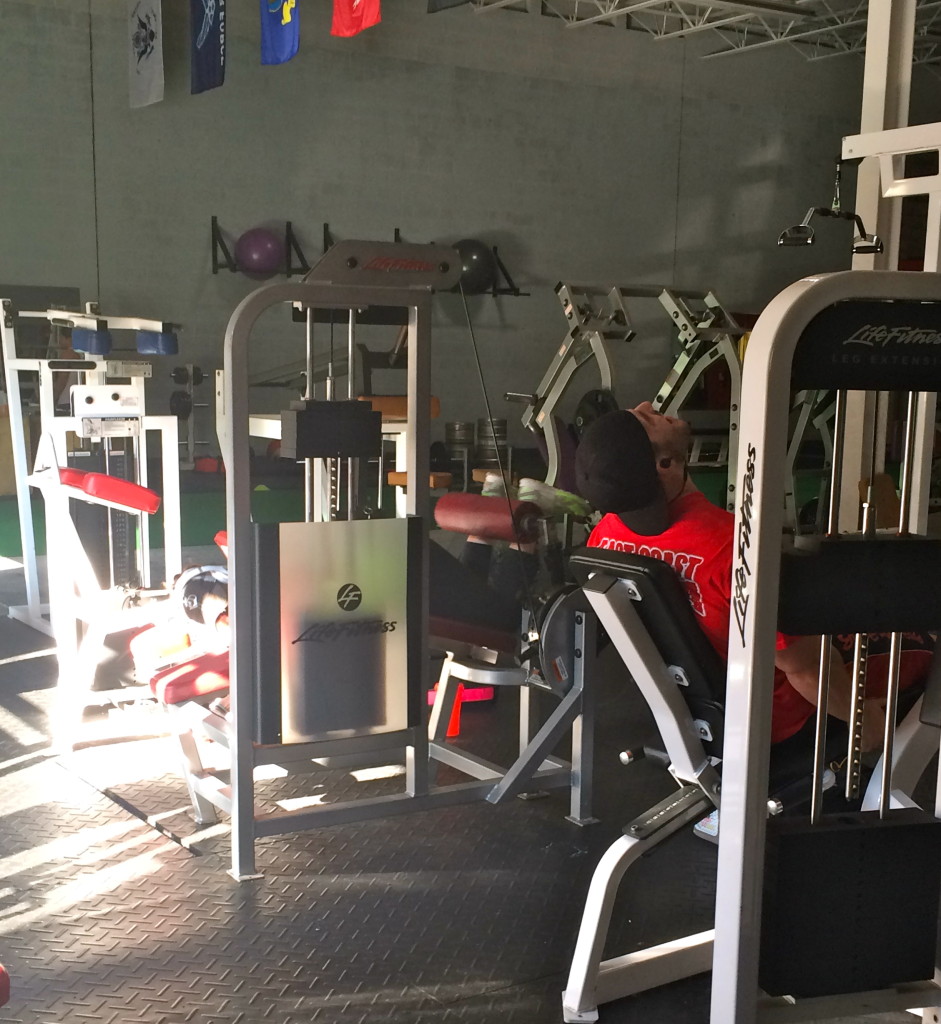 Places like this are crucial for me on prep. Last time I switched from my regular gym when I was around 8-9 weeks out because I couldn't stand being interrupted constantly. I'm there to get in my lift and go. Thursday when I was at my normal spot I was stopped 5 times within 10 minutes. Isn't that a tad ridiculous? You would think the low hat and beats would be a giant clue, but I guess not.
Does anyone else have this problem with their regular gym?
Anyway we all hit legs and had a great time! Tony spotted me for my heavy squats. Here I am squatting 135 pounds. While that might not seem a lot for some people, it is for me because I don't go heavier than my body weight. Even with a weight belt it flares up my sciatica and back problems. I got pretty low though for 135!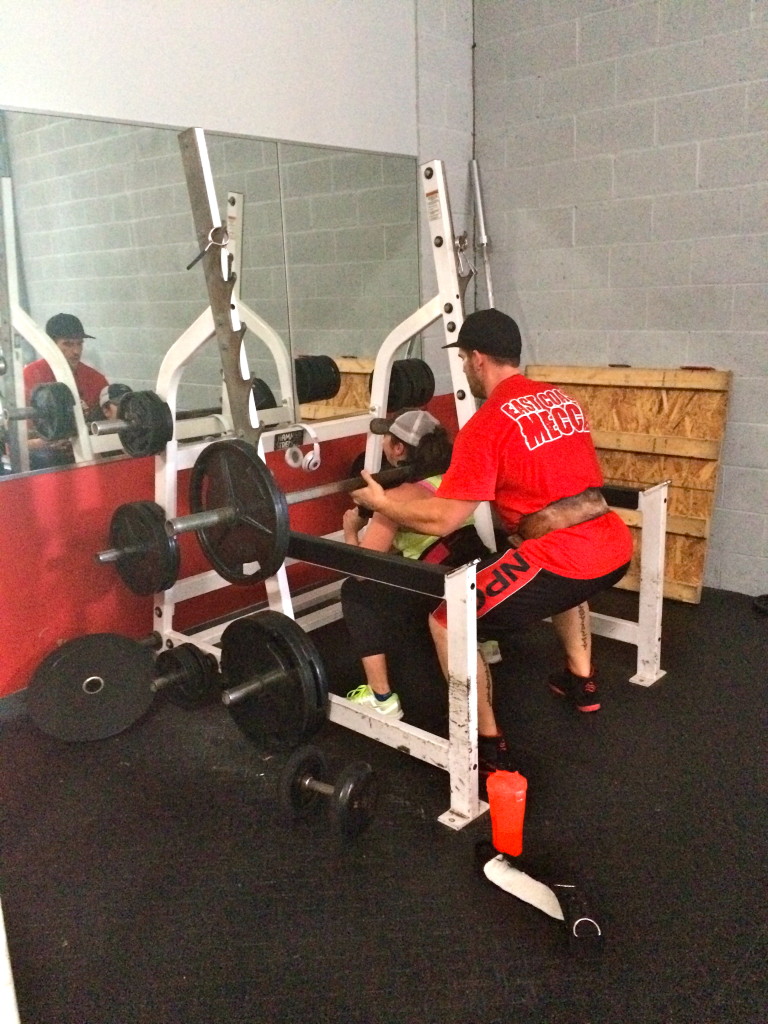 And where there's a new gym, you know there's a new mirror waiting on a selfie.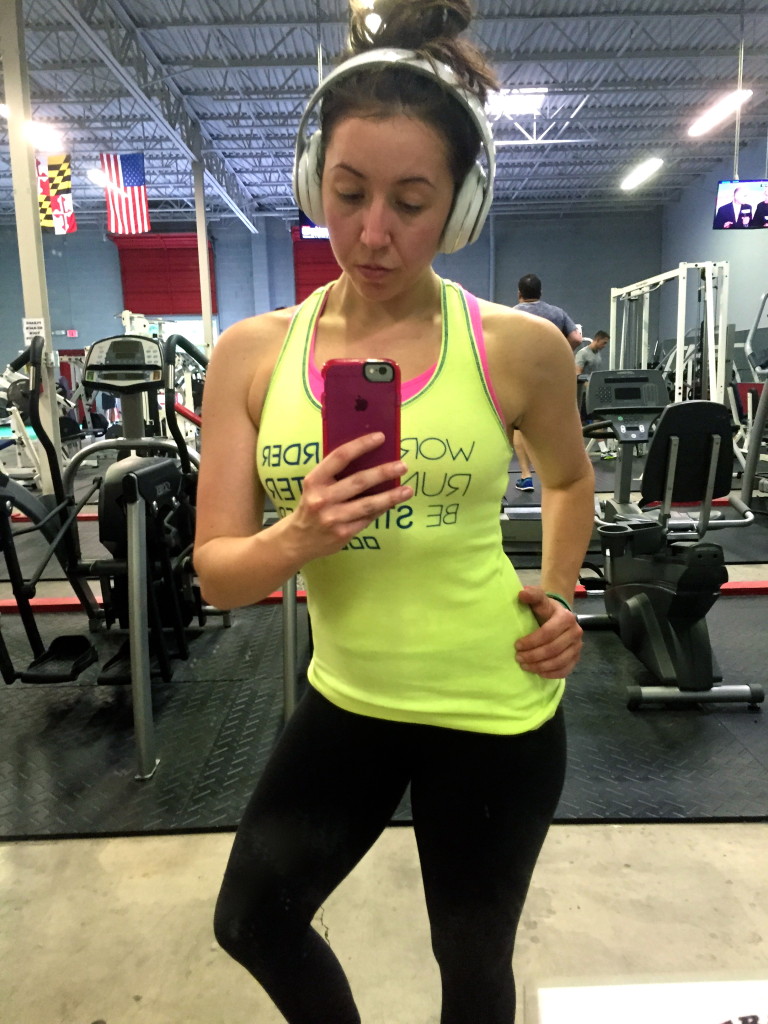 Saturday Tony and I did our grocery shopping hauls (yes two stores), and hit the gym mid afternoon. I had the dreaded plyometrics. You guys know I LOVE to workout, but I honestly dread these every week. An hour and twenty minutes straight of jumping up and down off a step, jump squatting, and rounds of step mill cardio. I lay on the floor like a bug when I'm finished.
Later that night we went to the movies and saw Southpaw. I had no idea what it was about, but I'm glad we went!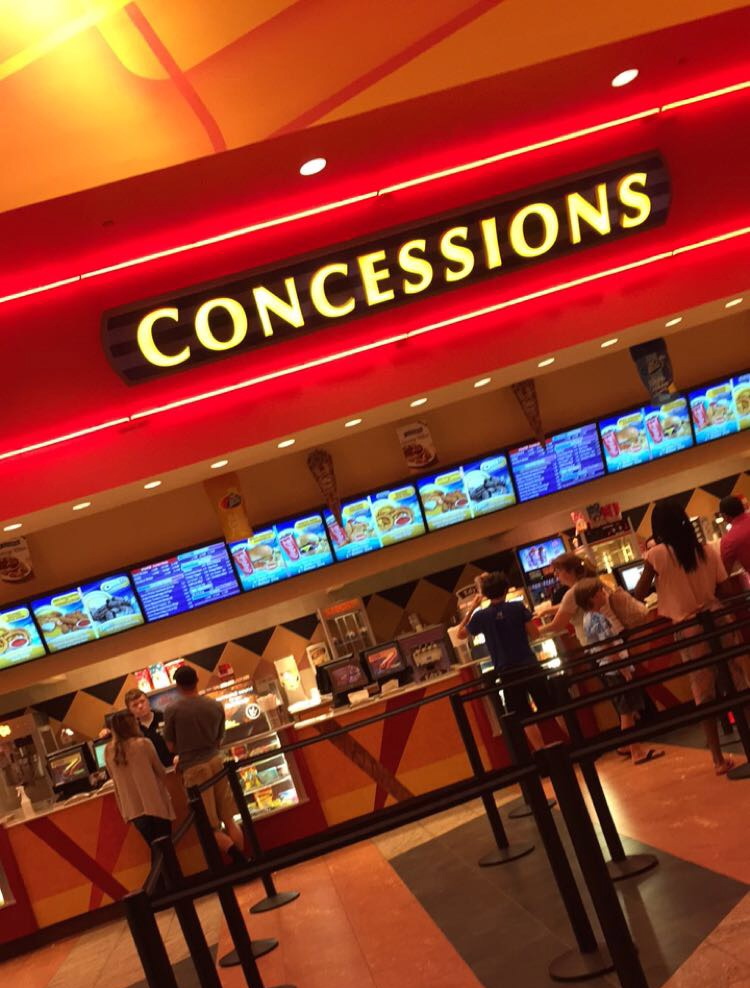 Basically it's about a famous boxer and his family life. Jake Gyllenhal is a great actor and I really enjoyed the plot. It definitely wasn't a boxing only film, it had a great story. I highly recommend!
Sunday was the usual meal prep business, and like I said a lot of relaxing. Tony made some excellent grilled chicken that I've been drooling over.
But then again, is it really the chicken I'm drooling over? 😉
It does look pretty good!
Overall, this weekend wasn't as challenging for me as last week, as far as diet. We stayed busy, I stayed on my plan, and we made it all work without feeling super deprived. However, a little birdie told me a treat meal is happening this week. That birdie is my fabulous coach and I'm very excited for it to go down! I'm waiting though until I can enjoy a proper date night with my boyfriend. It's not as fun getting a treat by yourself.
With that said, come on Saturday!
Have a great Monday!
XOXO With a Cherry On Top,
-Minnie