The Internet Age
Do you ever sit and think about how different our lives would be without the Internet? I remember when I was about 9, my parents bought a computer. We had dial up AOL, the whole bit! You know the deal, it made all those noises to connect, and if mom picked up the phone, you were done! But oh that glorious sound "You've got mail!"
Now the Internet is a click away at the blink of an eye. I have to say I'm an internet addict. I use it for everything. Even when I'm watching a show and I recognize a character I'll say "What else has that guy been in?" I pick up my phone, google it, and relief sets in (I know I'm weird, I have to know things or I go crazy)
One of my favorite shows right now has to do with the Internet. Are you watching Catfish on MTV? It's a documentary show that follows online relationships and the first time the couple meets in real life. The guy that connects the couples actually made a movie about it, based on his experience, also called Catfish. I saw it in the theater!
Well the show is pretty fabulous. It comes on Monday nights and I wait all week for it. The people are NEVER who they say they are. They use fake pictures, fake names, and all the right angles. Sometimes they end on a sad note, and you wonder how could a person do that? Steal someone's identity and carry year long relationships pretending to be someone they are not. I guess we live in an odd world…
If you want to meet someone online, I say go for it! This is 2012 (almost 2013) and that's the way people do it now. Just be smart, meet in a very public place during the day, and be yourself (LITERALLY!)
Speaking of the internet, I am an avid user of Instagram. I think it's a great app, and I love sharing pictures! So fun. Well I uploaded a pic of Phoebe today…
and Mike O'Hearn Liked and Commented! It made my day!
If you don't know who Mike O'Hearn is, he is a fitness God! Very popular bodybuilder, and American Gladiator. He's quite the dog lover and super attractive too!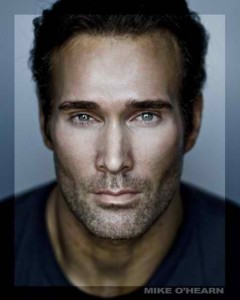 Moving on… this morning I had my new favorite breakfast. Greek yogurt with fruit and chia seeds. Today I used frozen mango and it was excellent. I couldn't believe it tasted so fresh
G-Mama gave Phoebe a huge bone, we weren't sure she'd be able to carry it around. Well she fooled us!
At the gym I hit the arc trainer for 30 minutes (today I used the one with the arms that move- gives you a little extra) and then did some chest work. I'm not HUGE on chest day, but I do it
Chest Presses lying on the bench. 40lb bar. 15 rep x 2 sets, then 12 reps x 2 sets with 8 sets of pulses after each set
Pec Fly's using this machine. 45 lbs, 20 reps x 2 sets, then 65 lbs, 10 reps x 2 sets
Then I did a little standing chest combo. Using 8 lb dumbbells in each hand, 10 reps of low pec fly's, 10 reps of high incline chest presses (these are hard standing!), and 10 pushups on toes. Repeat 4 times!!!
I hit the open area of the gym and decided to do some interval training. I really love this lately, it is such a good calorie burner, yet works on strength training too.
I used the stepper again and did high knees, jumped on and off the step, then jumped on the step and one leg over each side (kind of like an in and out straddling motion-left foot on step, right foot on step, left foot off step, right foot off step! You end up straddling the step, but do this super fast!) I also did some kicks and burpees. I really was sweating. Try intervals next gym sesh 🙂
When I came home I made one of the best dinners EVER!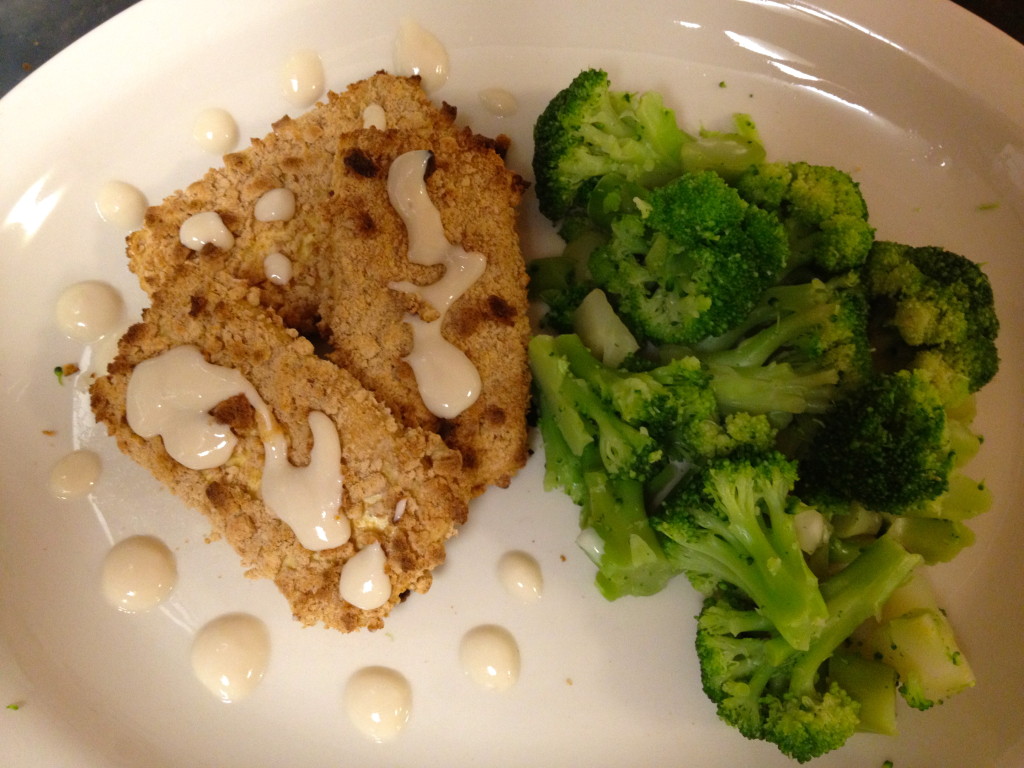 Cheerio Crusted Tofu with Agave Cream. Click the picture for the recipe! I swear you will not regret this one
I wonder what I will come up with tomorrow?
XOXO With a Cherry On Top,
-Minnie