The Piece of Equipment You're NOT Using
Hi Friends,
How did we do going back to work yesterday? My day wasn't too bad. Busy in the morning, but the calm came and I was pretty stoked.
Plus I had a yummy lunch. I normally have salads, but plopped some avocado in this one. Avocado totally makes a salad doesn't it? Plus the steak Mrs. Dash seasoning is my FAVORITE and it's so hard to find. This was the last of it 🙁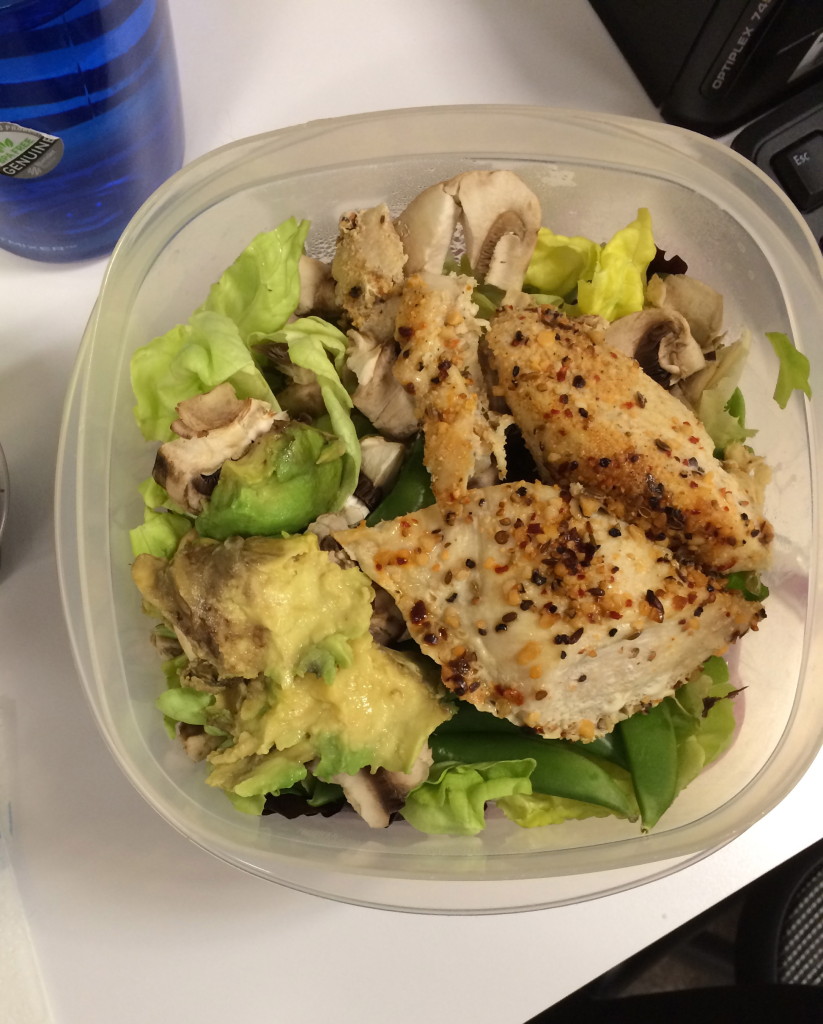 Before I left work I was casted again for fun. Learning activity. I am a good guinea pig!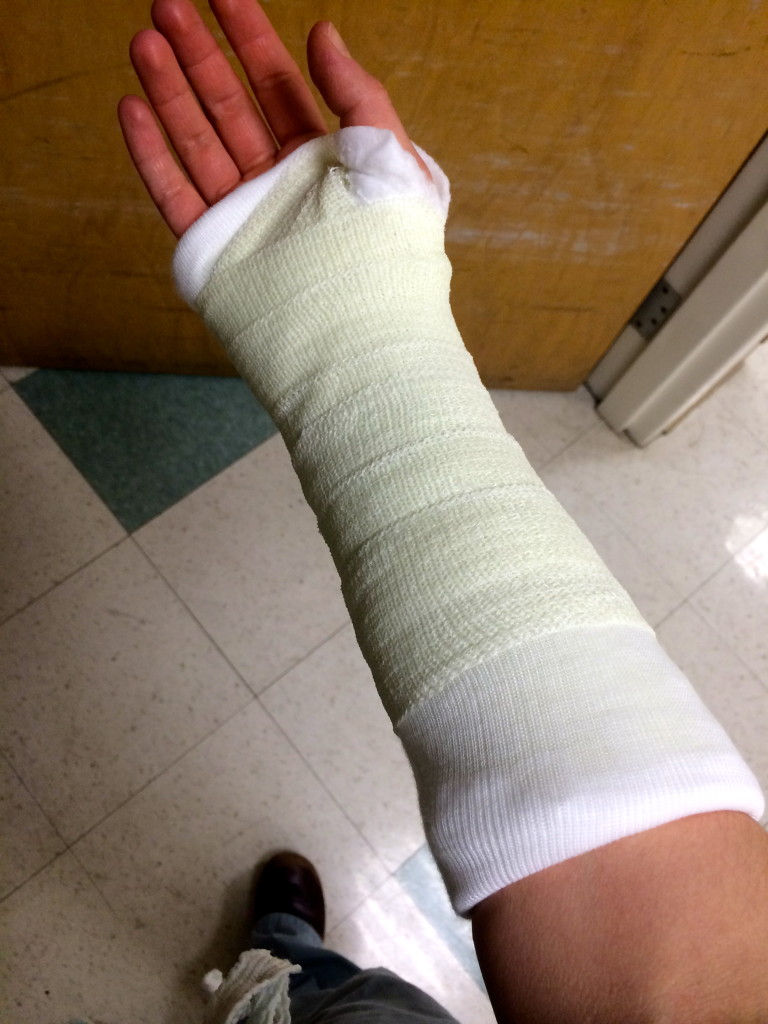 At the gym I did my 30 minutes of cardio (I break it into 3 sections within my lifts now to make it more interesting! 10 minutes a piece), then hit back and biceps. I mostly did tons of rows and of course my new favorite T bar row exercise. Also lots of bicep curls and hammer curls. FEEL THE BURN!
Here was pre- workout: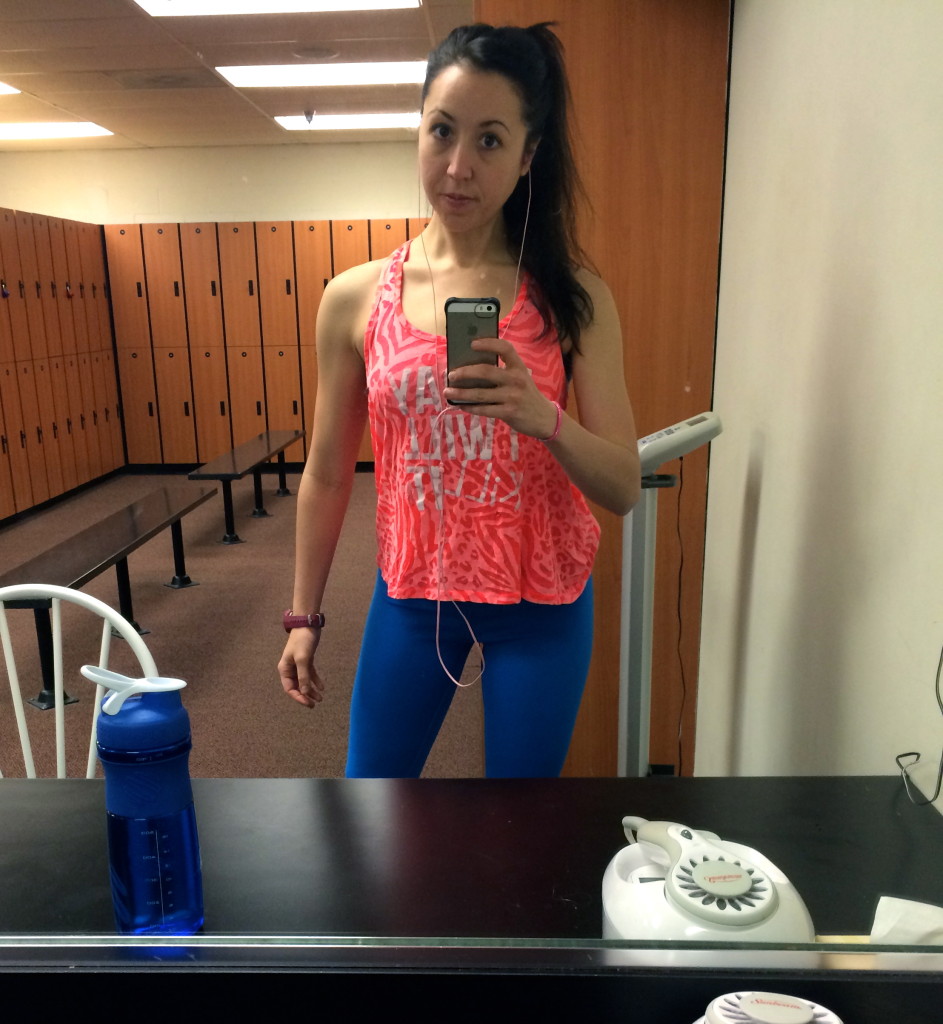 As you see, not much going on with those arms.
POST-Workout
Snow White is a BEAST!
This goes to show you that the "pump" really does matter. So if you ever want to go to the beach and look fierce, do some curls before you go 😉
So what is the piece of equipment at the gym that you are not using? 
THE FOAM ROLLER 
Under my hip here
Under my shoulders here- it's dark and a little hard to see.
I used to stare at the foam rollers and think "what exactly do people use this for?". Then I grabbed one and rolled my muscles over it. GOOD GOLLY MISS MOLLY! My muscles are constantly tight, sore, and feel like knots. This is like a mini massage on your muscles that helps get those knots out. This foam roller was a little more dense, so I could really put my body weight on it and roll. I ended up staying there a good 10 minutes because it felt amazing. So amazing in fact, that I purchased one online when I came home. I ordered a textured type foam roller to really massage.
If you don't know how to use it exactly, you just place it underneath you and roll back and forth to massage. It felt incredible on the glutes (goofy I know, but it did!), and then on the upper part of my back. I could feel the little crunches that a chiropractor would do. Why have I never used this before? If you haven't, you should!
Back at home I FEASTED on veggies and shrimp with balsamic. I was a hungry girl.
I shared the asparagus with the Phoeb-ster. She loves her greens.
So that was my day back from the holiday break. Worked my muscles, but massaged them good!
XOXO With a Cherry On Top,
-Minnie