What's In My… Wednesday Part 2
Happy hump day.
Last week with the holiday I skipped a Wednesday blog, so today I am back for a second round of "What's In My…Wednesday".
This time let's take a peek in my fridge!
I understand I am one person and I couldn't possibly eat all this food. But let me tell you folks, I DO! I never eat out, I make every meal myself, and I load up on tons of veggies and protein. So when you pack breakfast and lunch every day of your life rather than buying in the cafeteria like everyone else, the fridge gets crowded. I dread the day I have to share my fridge with someone else 😉 And this is after half a week of food is gone… whoops.
Top row:
Waters
Salsas- I have about 10, no joke. and other random sauces
Hummus
Dairy products like cottage cheese
Salad toppings- bean sprouts, goat cheese
"Vegan Mayo"
Middle row:
Lemons
Breakfasts and Lunches prepped for the week- oats, chia puddings, salads, and chicken/veggie/rice lunches.
Phoebes turkey bacon
Phoebes dog treats that need to be refrigerated
Hearts of palm, portabella caps
Veggie and chicken stock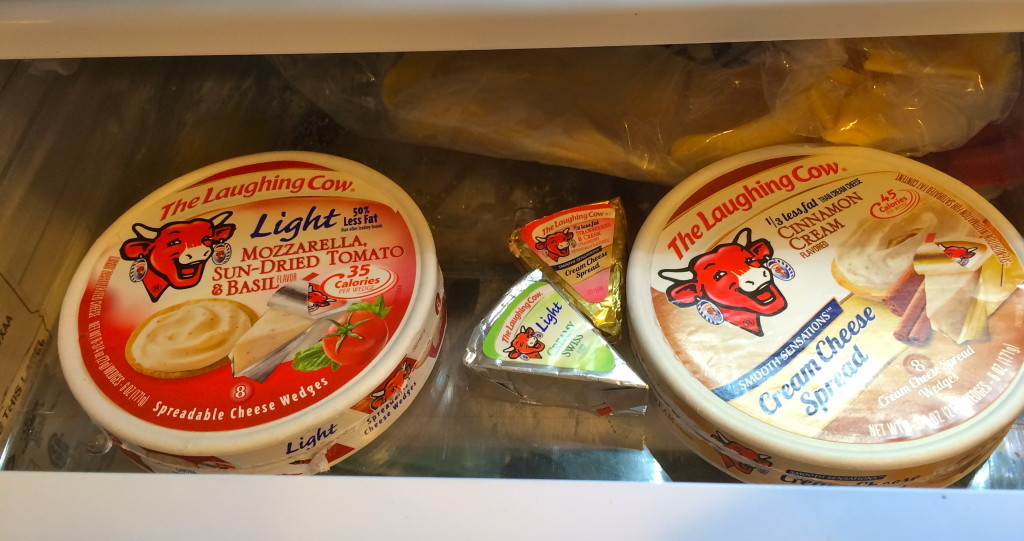 Middle drawer:
Babybell cheeses
String cheeses
Phoebes yellow american cheese
Bottom row:
Ezekiel Bread
Eggs
Tofu
Snapple tea
Various milks- almond, coconut, nogs, half and half
Any meat I am thawing for that day
Produce drawers:
Butter lettuce, spinach, baby romaine
Avocados
Garlic
Baby corn
Zucchini and squash
Peppers
Asparagus
Sugar snap peas
Green beans
Doors:
Minced garlic
Asian sauces, sesame seed oil, Miso, light soy sauce
Salad dressings that I RARELY use, chili sauce
Lime/lemon juice
Baking Soda
Sugar free jams/jellies
Green Aloe shots
Creamers- YOU CAN'T CHANGE ME!
Sriracha
Egg whites
This is what is CURRENTLY in there. I usually always have extra chicken cooked or broccoli/cauliflower on hand.
A pretty healthy fridge I'd say! So no I do not eat 100% clean, does any one really? Probably not. When I did it for 45 days it was near impossible to make sure every thing didn't have one single preservative. Even canned tomatoes have them. When people say "eat clean" I assure you they are not eating 100% clean. Live happy and healthy, read labels, but don't make yourself a slave to it! You know what's "good for you" versus "bad for you". Just make smart shopping choices 🙂
Phoebe eats clean too! She enjoyed peas last night. Girlfriend LOVES peas.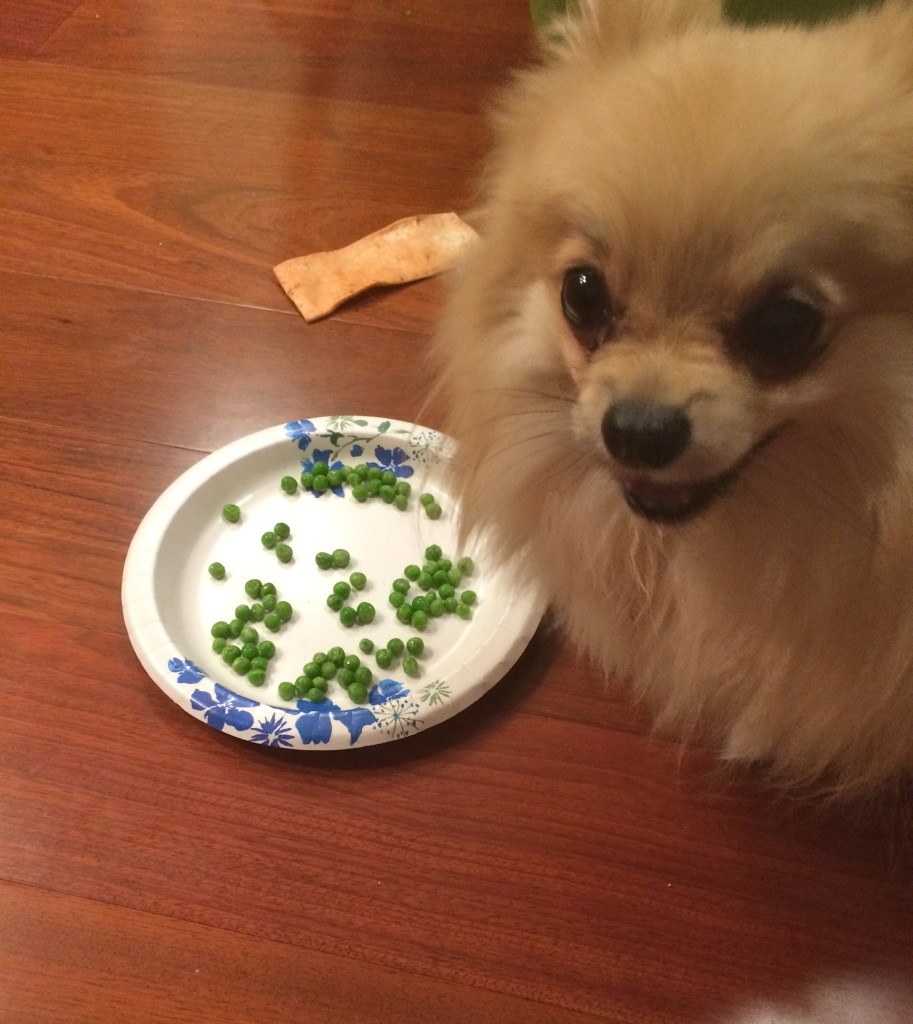 ———
Yesteday was a pretty successful day for me. In the morning I was in the OR and got to do something new I had never done before (win for learning new things!), and then the afternoon arrived, I hit the gym and was ready for some chest and triceps. But before I left, I was made fun of for my outfit. Not once, but twice. I was told it was gym girl, meets going out on a Saturday girl, meets lounging at home girl.
Cute coat and scarf, gym crops, and ugg boots. Hey whatever works leaving the job!
When I woke up in the morning my shins THROBBED. Do any of you out there suffer from shin splints? I hadn't had them since I was a teenager, and wow I forgot how much they stink. I think I pounded the treadmill and stairs a bit too hard. So yesterday instead of repeating that, I cooled it and did 12 minutes on the incline elliptical, then 13 on the manual stair stepper so my legs didn't make harsh movements.
I did triceps and chest and felt pretty good when I left.
Cable tricep pushdowns, 50-60 lbs, 12-15 reps SLOW x 4 sets
Cable chest presses, 40 lbs, 8 reps x 4 sets
Cable tricep single arm pulldown, 25 lbs, 12 reps x 3 sets each arm
Bosu pushups 10 reps x 3 sets
Overhead single arm tricep extensions, 12.5 lbs, 8 reps x 3 sets each arm
Chest presses on bench, 40 lb barbell, 35 reps x 1 set (to failure), then 1 set of 25.
Tricep Ribcage press, 40 lb bar, 12 reps x 2 sets
Low chest press pulse, 40 lb bar, 10 reps x 2 sets
Skull crusher to nose, 40 lb bar, 8 reps x 2 sets
This is just a super flattering picture of my arm, I think I hit the mirror just right because otherwise they don't look this good. You saw the one from the other day where it looked like a twig. Mirrors do lie sometimes 😉
So a strong Tuesday. See ya Terrible Tuesday days, I'm over you! I make them terrific ones now.
Have a good Wednesday and STAY STRONG!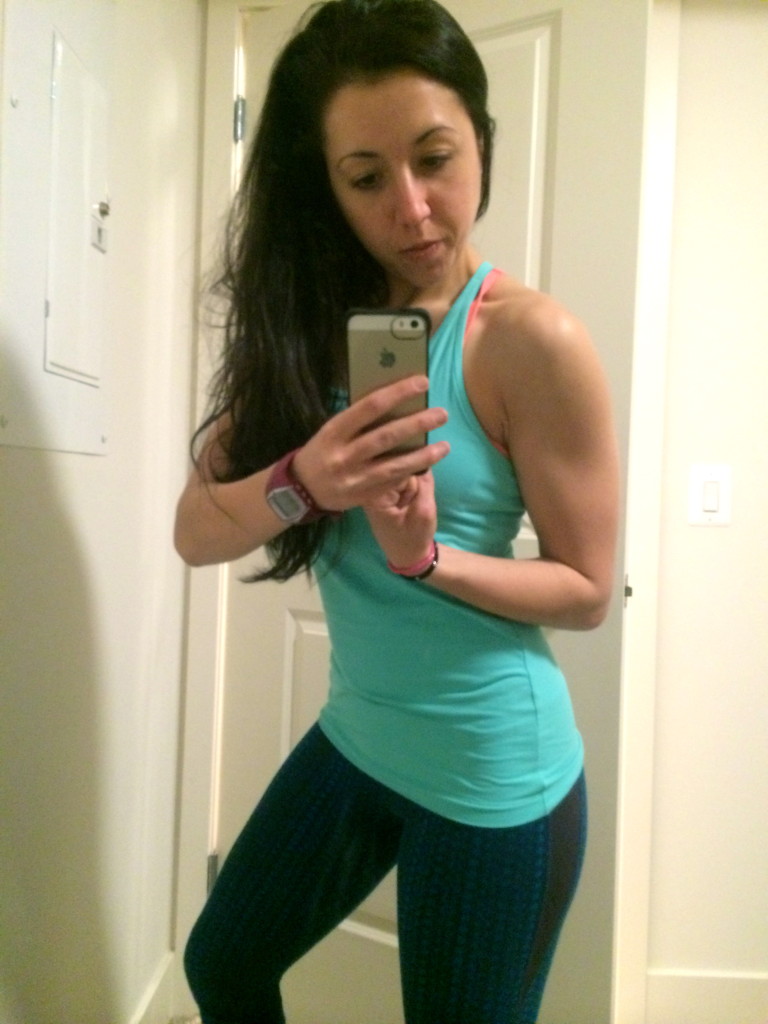 XOXO With a Cherry On Top,
-Minnie