There is a Sale at the "Fashion Boutique"
Please tell me my title brought you back to a time in your child hood. If you are a girl that was born in the mid 80s to early 90s, chances are you owned Mall Madness. This was only my favorite game of all time. I can remember playing with my sister Casey, but of course like everything else we made our own rules. And of course I always cleaned up… I cried when she would walk away and leave me stranded, but my type A personality had to clean that darn game up!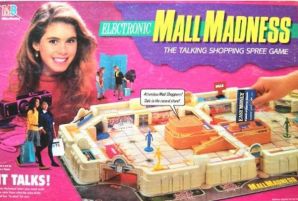 Whenever I think of this game I specifically remember one time my mom joined us and every time she swiped her credit card to get money from the bank it would say "bank closed" in that robot voice. I can remember sitting on the floor roaring with laughter. Good times 🙂
Yesterday I took part in my own little Mall Madness. I went to Nordstrom bright and early for the anniversary sale! The goal was to buy a pair of yoga pants and scope out the shoes to see if by some SMALL chance Nike Frees were on sale (highly doubted), but I'd had my eye on some bright ones for some time. I arrived right at 10am, but to my surprise the doors opened an hour early for the sale.
Here is where I am going to stop with my story just to say something. Can we talk about how amazing Nordstrom is? The beautiful halls, clutter free, lights beaming down on shiny necklaces and rows of scarves and pashminas that just beg you to toss around your shoulders. I have always been a "Nordies" girl. Even the smell of the place is fancy and clean. Everything is colorful, sparkly, and brand spanking new.
Okay on with my story…
I decided to browse first, which is always a bad idea because I eyed a stunning rose gold Michael Kors watch, but walked away because I was there for fit apparel and that's it! I never get any use out of anything else.
Every department I went people kept complimenting me on my necklace. I do think it's pretty fly 😉
Then I went on to the shoes and staring back at me on a glorious round table top were Nike Frees ON SALE!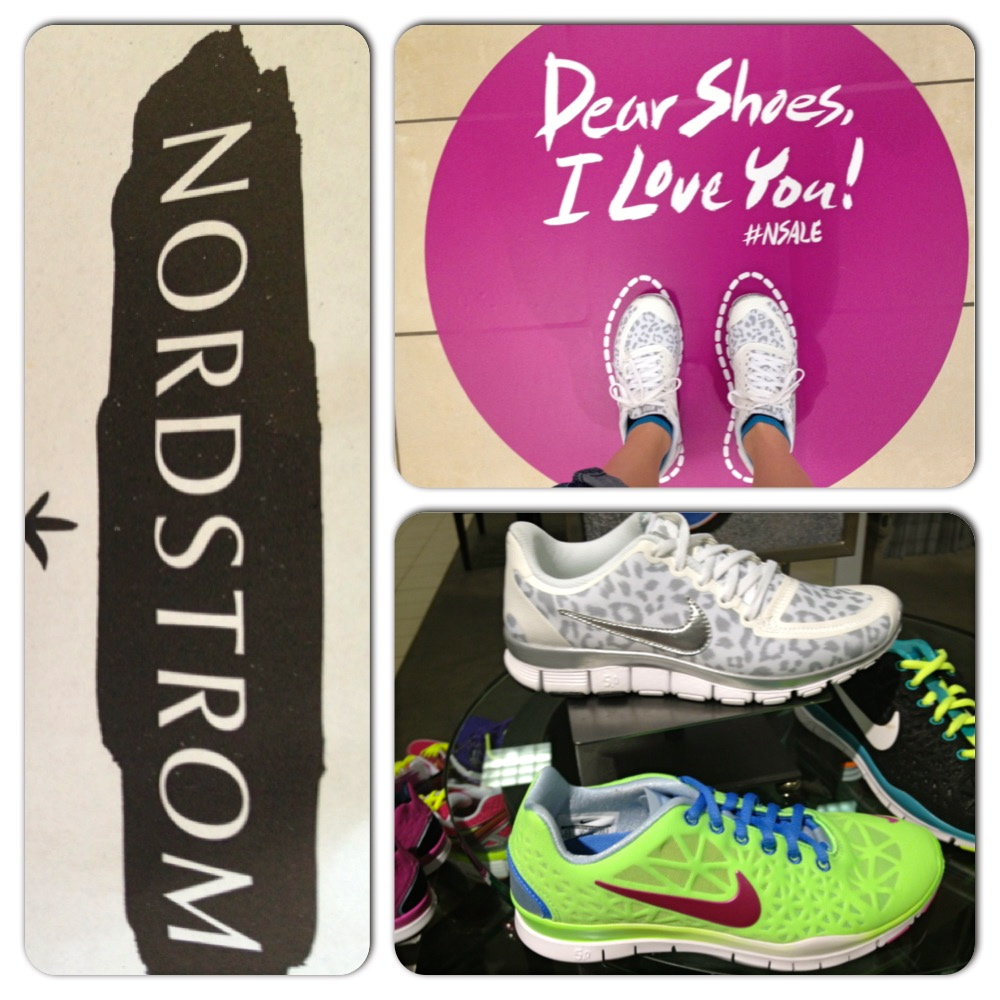 Yes, I bought both pairs. I almost went back for a third because $62.90? You just can't beat that! These babies a pair are around $100! After the sale they go back to regular price so I snatched them up. And lucky for me I scored the last leopard pair. Adorable huh!? I immediately texted some friends telling them about the sale because those shoes went super fast! I was there so early and most of the good pairs were sold out already! In the words of the mall madness robot "Oooooo a long line! Try again later!" 😉
I ended up going a little crazy once I saw the workout clothes. I bought three pairs of crop pants that were on sale for $28 a piece, including the last pair of bright purple Zella's that are amazing quality. Then I went to go grab a pair of underwear or two and noticed they were on sale too, so I stocked up! I live in those little bra tops without the underwire. They are perfect under scrubs, especially for the woman that is not well endowed… ahem… me. I also bought a really cute maxi dress (okay not workout gear, but it was ONE item), I'll wear it next weekend 🙂
I cleaned up! The underwear to the right on top of the bright purple pants are called Yummie Tummie. They are sort of like shape wear but no where near the extreme pain that Spanx cause. I know all of you girls have tried a pair of Spanx before. They are a torture device! Trying to get those on and off is a workout in itself. They suffocate you and half of the time you can tell you are wearing them. These are so much better. Lightweight, still suck you in, and feel like butta'. I bought the shorts and underwear versions.
Oh and check out the laces on my frees. I'm cheetah crazy!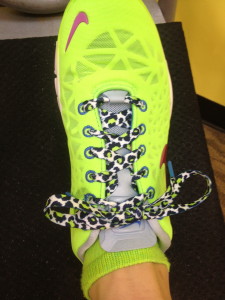 After my spree, I headed to Wegmans and stocked up on my fruits and veggies for the week. I also stopped for an iced coffee with soy milk. It was delicious!
When I came home Phoebe was so ready to hit G-Mama and Pop Pops! She jumped right in the bag. I was also SO READY for the gym. My knee felt 90% better, but I knew not to push it so I made it a shoulder day. And of course I had to rock some of my new gear.
I was pretty much the only woman there in a sea of men dressed in gray and black clothing. I was a walking bag of skittles, so I guess you could say I really stood out! Lately I've been loving the neon colors, and blinding people with my gym apparel.
I took it easy with cardio and stuck to the ellipticals. About 35 minutes worth. It was super hot in the gym too, so the shoulder workout was extra tough!
Shoulder presses, 20 lb dumbbells, 10 reps x 4 sets
Upright rows, 40 lb bar, 12 reps x 4 sets
Straight arm lateral raises, 8 and 10 lb kettles, 10-20 reps x 4 sets
Front arm raises, 10 lb kettles, 12 reps x 4 sets
Front arm circles, 8 lb kettles, 10 reps x 4 sets each direction
Car drivers, 25 lb plate, 20 reps x 3 sets
Rear delt raises, 25 lb dumbbells, 12 reps x 4 sets
Pushups, 10 reps x 4 sets
Cable diagonal shoulder raises, 20 lbs, 12 reps x 4 sets each arm
Shoulder shrugs,  cables, 100 lbs each side (easier with cables), 10 reps x 4 sets (hold last rep for 2 seconds)
I also did very minor plie squats to stretch my quads and knee some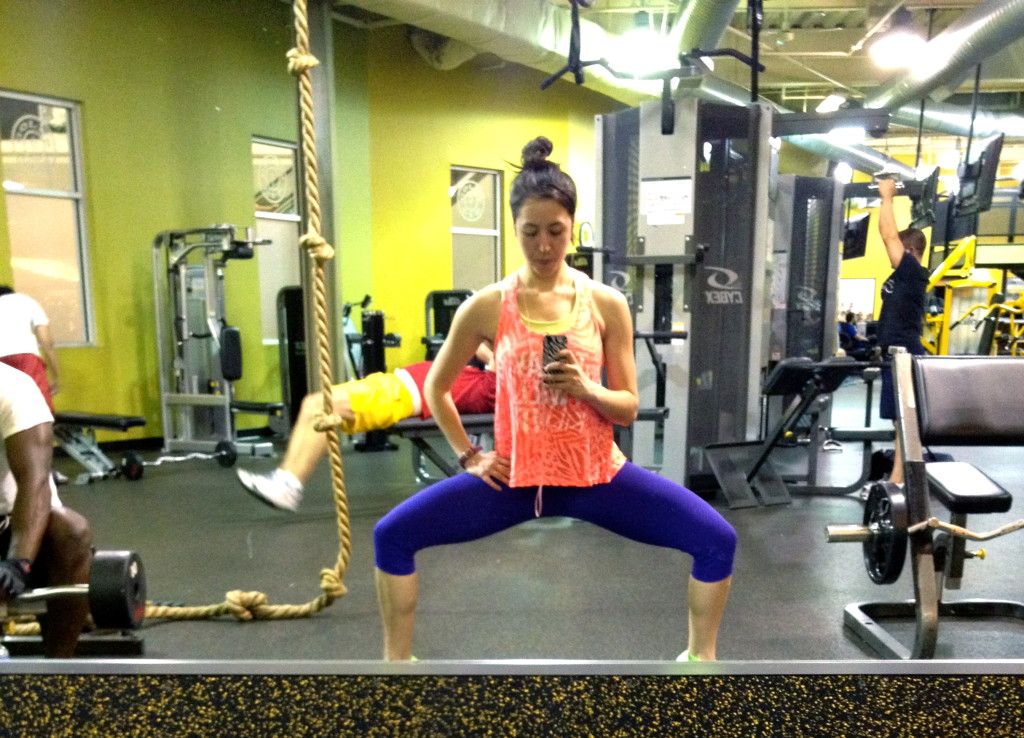 My workout finished with LONG stretching. I am sometimes guilty of not doing a good job stretching, especially on work days because I am trying to get in and out. I learned my lesson though. Injuries happen if you do not stretch!
At home I went on a cleaning spree, made dinner, and caught up on some of the shows I had DVRed from the week. I probably stayed up way too late but hey, it's the weekend!
Today this bag of skittles will be hitting the gym and trying out some of the VMO exercises I talked about yesterday. I'll see you back tomorrow!
XOXO With a Cherry On Top,
-Minnie