Have Mercy
Hey Everyone 🙂
Yesterday morning I did my normal coffee and blog business, nothing new, but I did notice Phoebe wasn't jumping at me like she normally does. I stroll in my bedroom and find this:
That would be my ice pack that I use for my knee. I panicked! How much did she eat? Is it poisonous? I read the back and it said non-toxic, but I called the vet to be sure. I don't think she ingested much, she didn't have any traces of smurf on her. The vet told me just to watch her for an hour and if she's not acting herself call poison control. Well Phoebe was being her normal little bad self!
After things settled I ate a big breakfast of egg whites with veggies and oatmeal with blueberries
Then we headed over to G-Mama and Pop Pops and I hit the gym!
It was time to focus on that VMO. My gym session wasn't a super sweaty one, more slow and controlled to strengthen my muscles. I did 30 minutes on the elliptical and then hit some leg work.
Leg presses, 180-230 lbs, 20 reps x 3 sets normal press THEN plie stance, 12 reps x 4 sets 
Medicine ball squeezes, 6 lb ball, squeeze and pulse down for 10 reps, 5 sets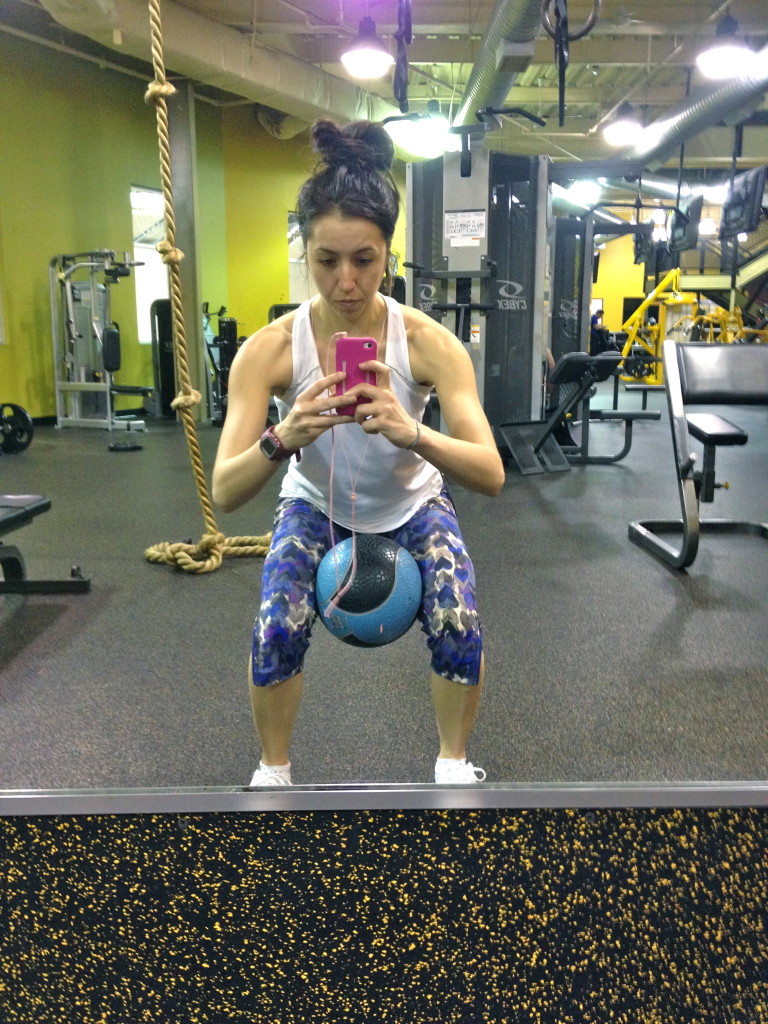 Medicine ball squats, 12 reps x 4 sets 

Plie squats with 40 lb barbell, 20 reps x 3 sets
Then I went upstairs and grabbed a yoga mat. First thing I did was I rip my new shoes off. They are going back for sure! THEY HURT! There is an unnatural curve in the shoe and caused my feet to go completely numb on the sides. They definitely weren't too small, just shaped weird. Check it out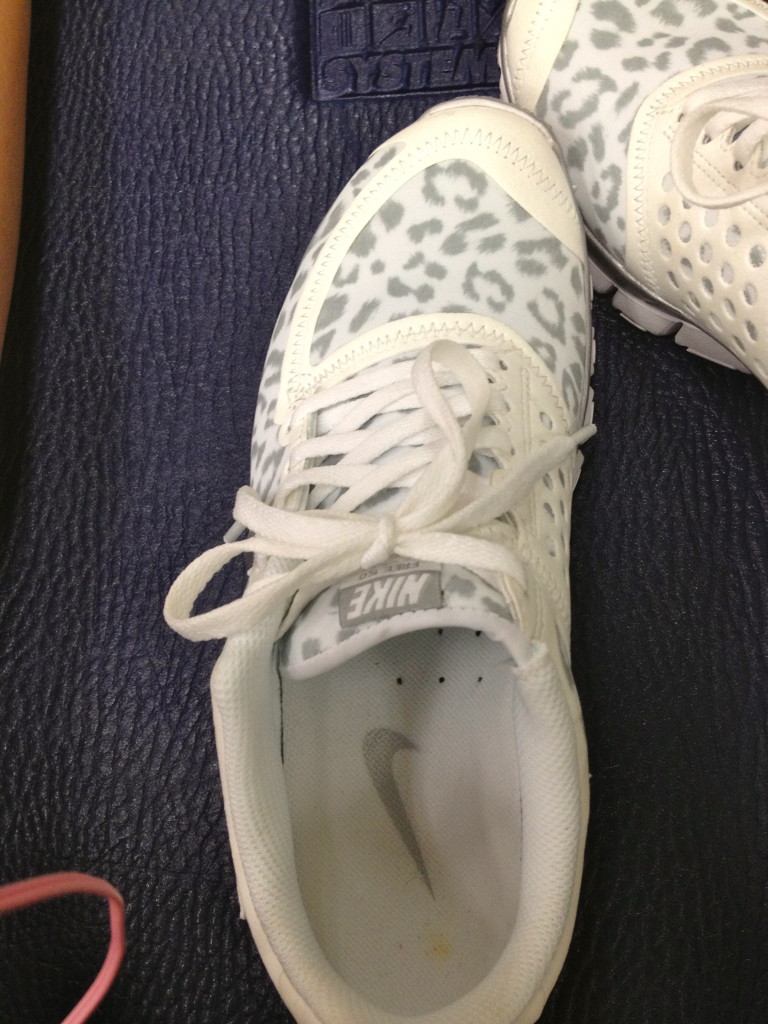 Once the shoes were off I focused more on my VMO (vastus medialis obliquus)
Weighted straight leg lifts, 10lbs, 10 reps x 2 sets each leg, then foot externally rotated (toes out to sides), 10 reps x 3 sets each leg
Foam roller contractions, 5 squeezes, 4 sets each leg, then both legs together for 5 squeezes, 2 sets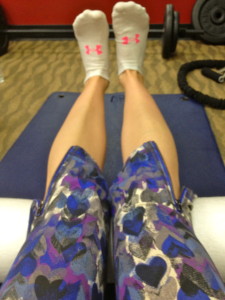 Leg abduction, 20 lb weighted cables, 12 reps x 4 sets each leg 
Lots of stretching followed!!! It felt so good
Back at G-Mama and Pop Pops, I stayed a few minutes to chat and heard little whimpers. Where is she?
She jumps in, but won't jump back out. Silly pup. She is one with the squeaky toys 😉
When I came home I continued my cleaning fest. I tell you, I have been at it for the past two days. I'm talking scrub a dub dub. At one point last night I was on the ground hand scrubbing my hard wood floors. 5 minutes later I see paw prints everywhere! PHOEBE BUFFAY! My little trouble maker is dying for mommy's attention isn't she?
Yep, the little monster splashed around in her water dish than took a little stroll all through out my apartment. I was furious. Phoebe knew I was mad too because under the couch she went. She knows when she does wrong!
————-
Before I sign off for the day, I have to share something magical with you all. In case I haven't mentioned before I am a John Stamos FREAK. I have loved him since the days of "Have Mercy". Friday night on Late Night With Jimmy Fallon, Jessie and the Rippers REUNITED! Stamos donned his mullet wig and sang with the gang all their hits from the show including "Forever" and the Full House theme song. Bob Saget was in the audience and Laurie Laughlin made an appearance too. I laughed until I cried, it was AMAZING. Watch it here and enjoy it as much as I did!
After sharing this with one of my friends this was our conversation. I was talking about loving the song Forever, the remake the Rippers did on Full House.
This is why this girl is my friend. She didn't miss a beat with the tomato remark (remember in the episode where they got married and Jessie fell in the thing of tomatoes and Becky threw them at the bus?).
Okay now that I have totally showed the big nerd I am I will slowly walk away from the computer…
Enjoy your Sunday!
XOXO With a Cherry On Top,
-Minnie