Trying New Things
Hey everyone! Sorry I went MIA after Monday last week. I was super busy at work, then Friday came and I just became a slug that day. It happens, sorry. 🙂
I had a pretty good weekend though, and it started off with something I've always wanted to try!
Cycle/Spin by the water!
A friend from work asked me if I wanted to sign up and I did right away! Last year a similar event was held and I decided not to go because I didn't have anyone who wanted to join (silly reason, I could've gone alone). Anyway this year I went and it was an absolute blast.
It's hard to tell but they are holding up weights for one of the songs. There were 2, 3, and 4 lb weights and one of the guys helping said "do you want fours?". Of course I can handle the fours! I struggled since I did back and shoulders the day before, but I did it! Phew.
As you can see it was a beautiful day! This was at a new place in Baltimore that JUST opened up called The Sandlot (who doesn't love that movie?). Okay, nothing to do with the movie because it is an actual SAND LOT, but I still like the name. 😉
It did get a bit windy at times, but still super fun. Our wedding venue is close to this area too.
Now I've been spinning since I was 17 years old, so quite some time, but this was my first time using this type of bike and I couldn't figure out the darn screen. Oh well, I still felt like I worked hard.
I picked a seat right on the end so I could enjoy the water by my side and in front of me! And just in case you were wondering, I was ALL about the sunscreen. I lathered up. Protecting that bridal skin 🙂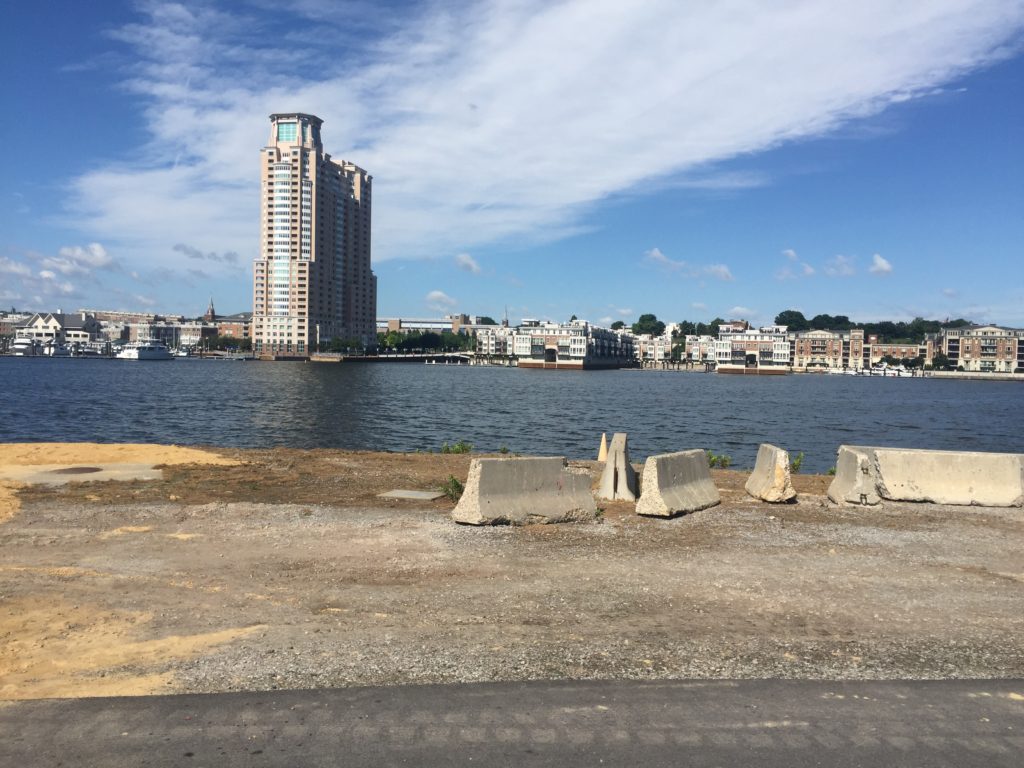 The concrete slabs kinda ruin it huh? Regardless, still pretty to look at!
Afterwards they had super delicious samples of granola and berries, and a few fun juices.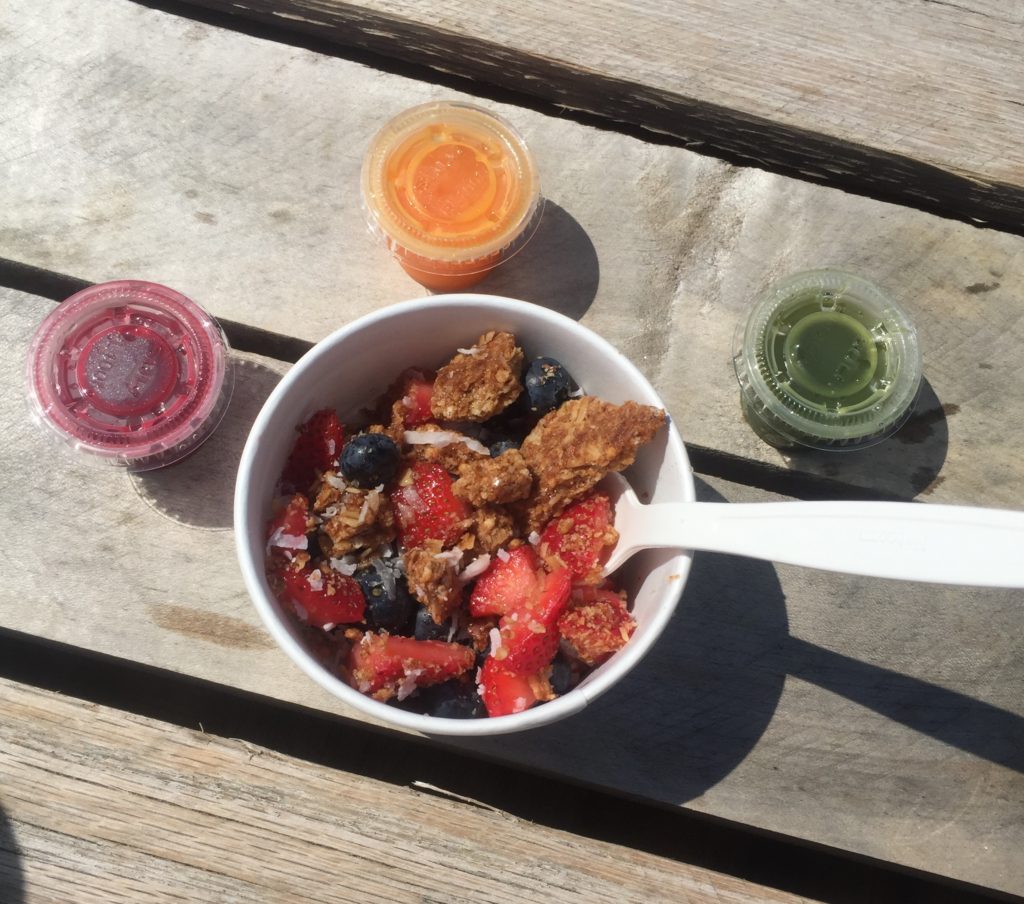 The granola was from a place called Honeygrow. I'd definitely visit on my own time because it was SO yummy.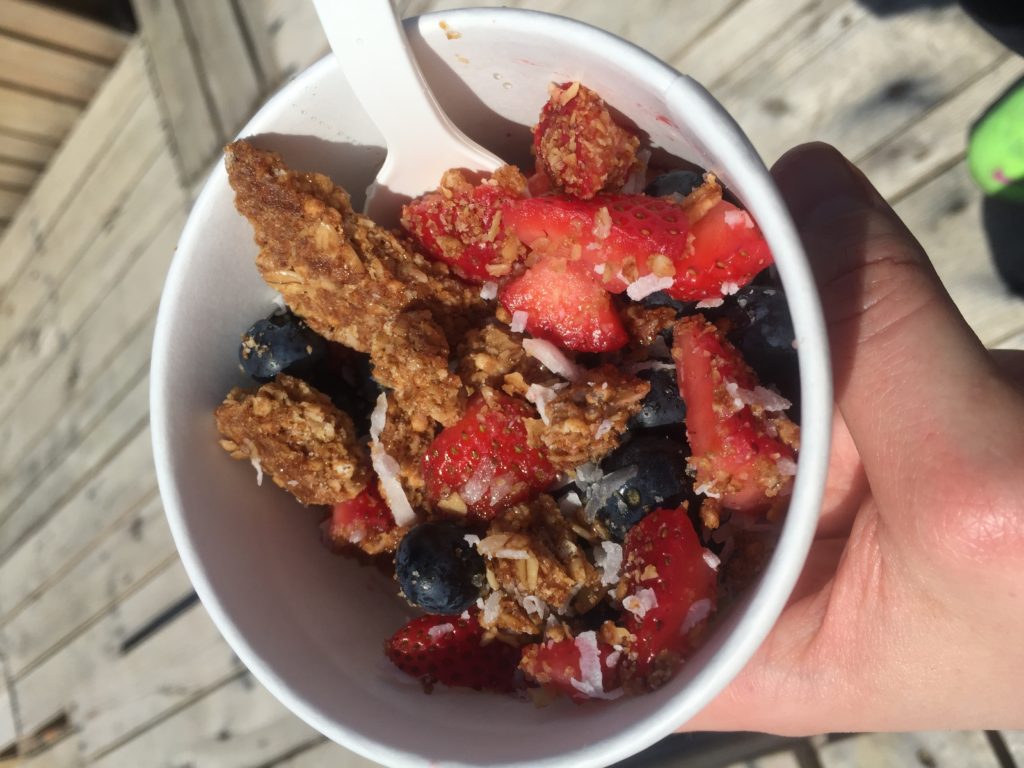 Now that I've done spinning outside, next up is kickboxing class!
Back in college I taught cardio kickboxing, but I've never done the real stuff with gloves and a bag. My coworker swears by it and yesterday when we were driving I noticed they opened up a studio not too far from us.
It's always a little intimidating when you try something new, but at least I am familiar with the general moves. Groupon also has a special so I'm definitely going to sign up for some classes. Sometimes the gym can get boring doing the same stuff over and over, so adding in a kickboxing class maybe once a week might be a fun change!
Okay, I know I am not going to look THAT awesome and poised doing it, but I'm going to give it a go! Plus, I'm the kinda gal who likes to break a sweat when I workout, so I think it'll be a good class to try out. Not to mention, punching out your aggression sounds like a good time to me.
Is there anything you guys really want to try but haven't?
I hope you have a great Monday. I'll be back tomorrow (for real!) 😉
XOXO,
Katie