Twitchy Twitch
Come on week! Keep on moving. Each day one step closer. I know it seems silly that I count down the days until the weekend, but really this is a normal response. My favorite day of the week by far is Friday. I actually enjoy the weekdays, so having one of these off every week is fabulous. Plus another 2 days to look forward to after that! Win.
Yesterday I definitely had way too much coffee. I had my 2 cups in the morning. Then before lunch I bought a huge one. By early afternoon my eye would not stop twitching. It still is twitching hours later. Too much caffeine! I was twitchy twitch.
In the morning I had an apple pie Quest bar. It was good and I definitely recommend if you love apple pie. I am still a fan of the cookie dough one though 🙂 I also had Greek Yogurt with my special "diet" secret. This is sugar free Jell-O packets sprinkled in for flavor. The bright pink color is from the strawberry packet. I sprinkle in just a little bit, not a whole packet! Gives you a sweet taste without the added sugars.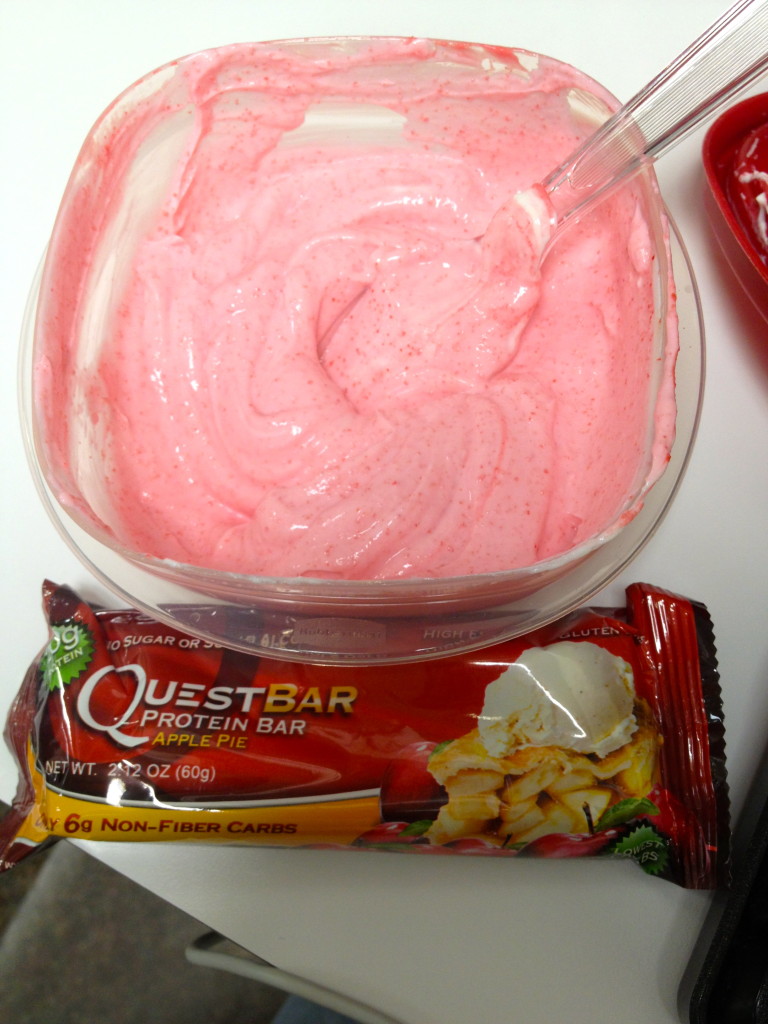 I spent my day on the floor doing work. No OR for me, wasn't a busy day in the operating rooms. I mostly pick up cases on Mondays.
While seeing patients, I made the residents take the stairs every time, even if it was 5 floors. Hey if they want me to go with them, they are going to take the stairs darnit! I like the exercise 🙂 I'm turning into the personal trainer of the group. I even took away someones candy and said hey want that 6 pack? No candy! Gotta keep them in check. 😉
The original plan was for me to skip the gym and go home and relax, but I was SO HYPED from all my coffee that I couldn't waste it and sit at home and do nothing. There was no way I could nap, so I was glad I had gym clothes with me to change into!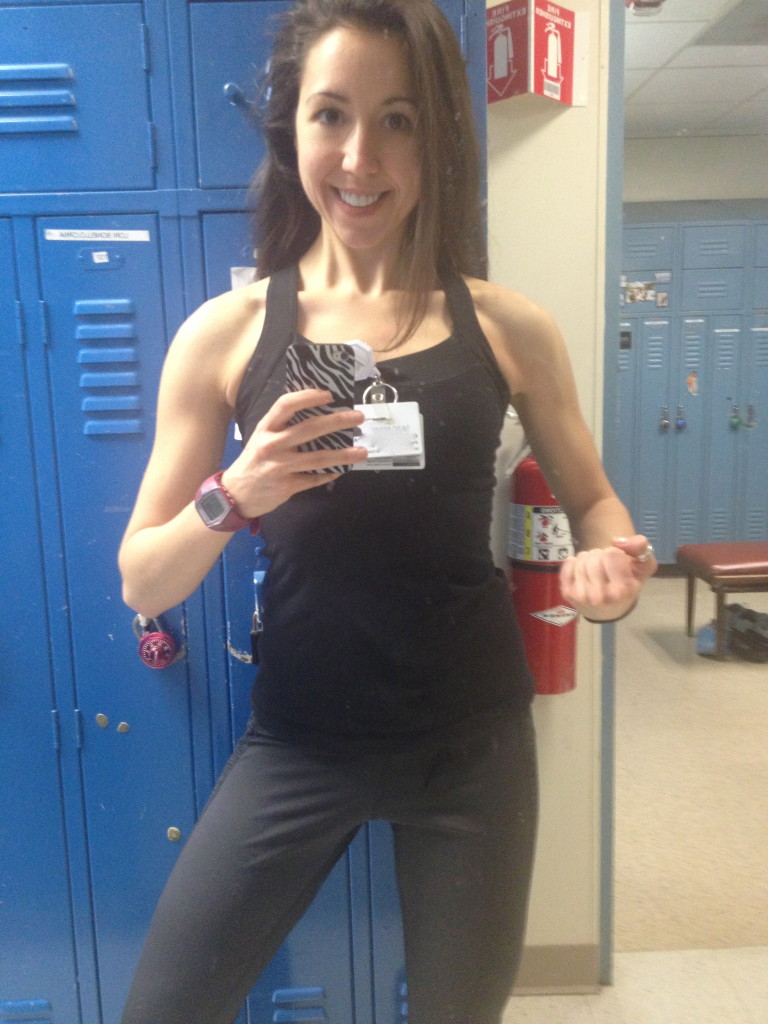 When I got to the gym I started with 32 minutes on the stairs. One of my good friends from college is a personal trainer and she told me it is best to do your cardio at the end of your lifting. I always did it the opposite way because I like to get it over with, but it makes sense you want all your strength for the lifting. When it comes to the gym at 5 o'clock though, you can't predict when you can get a stairmaster. So when I see one open I grab it immediately.
After that I got to lifting! I did back stuff and then incorporated the 2nd little group of exercises between my back sets!
Stiff Leg Dead Lifts, 155 lbs, 10 reps x 4 sets

Regular dead lifts, 95 lbs, 15 reps x 4 sets
Bent over reverse fly's, 15 lb weights, 12 reps x 4 sets
Bent over narrow rows, 17.5 lb weights, 12 reps x 4 sets
Behind neck lat pulldown with 30 lb bar, 10 reps x 4 sets
Dead lift mini pulses with 80 lb kettle, 8 reps x 4 sets
Pushups on bosu, 10 reps x 4 sets
Bosu squats, 12 reps x 4 sets
Mountain climbers on bosu, alternating, 20 reps x 4 sets
Side bends, 25 lb plate, 15 reps x 2 sets each side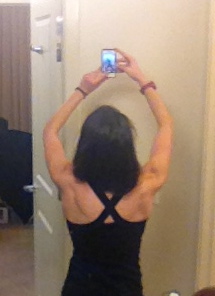 I love this top 🙂 From Lucy (one of my favorite boutiques)
When I got home the plan was to make a stir fry inspired dish, but I forgot to take out a protein before work. I don't have the patience to thaw because when I get home from the gym I'm HANGRY= hungry+angry. So I whipped up some protein pancakes instead. Took under 10 minutes. These are Toasted Coconut Protein Pancakes. I will have the recipe up tomorrow! I plan on taking the day off from the gym so I will have time to do it for you guys 🙂 Really I just grabbed whatever I had in my fridge and cabinet and made a pancake. Not hard at all!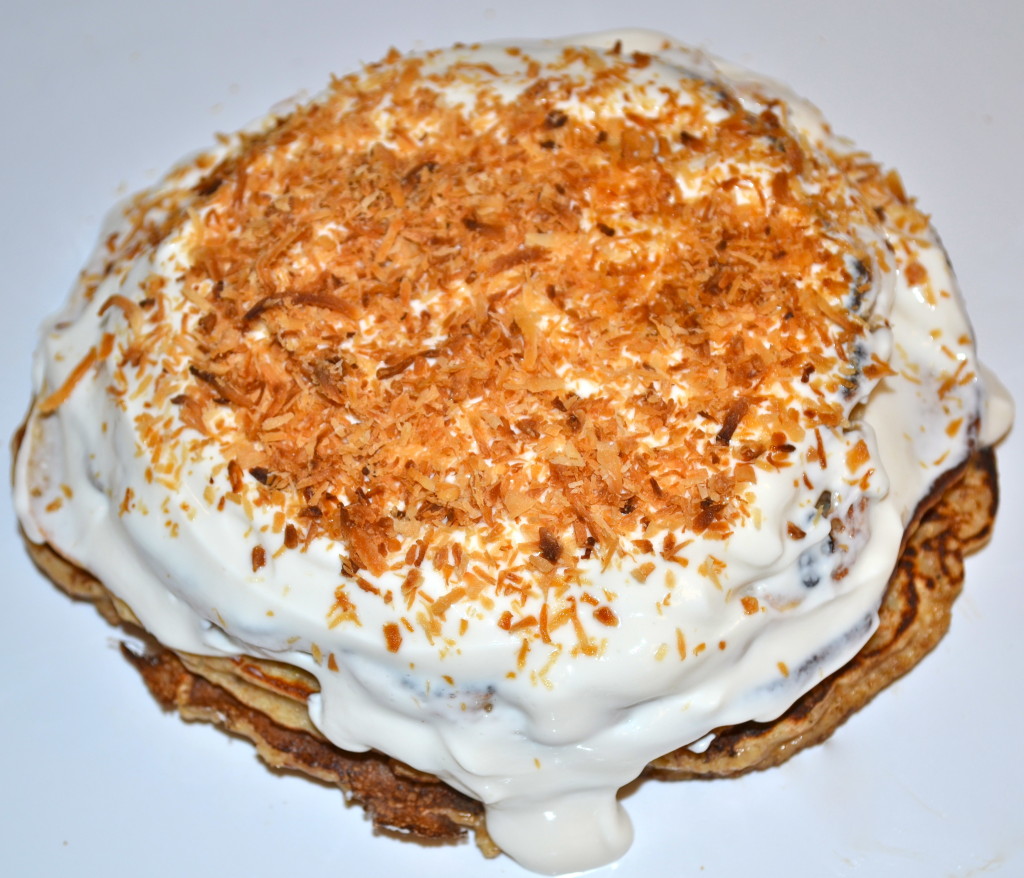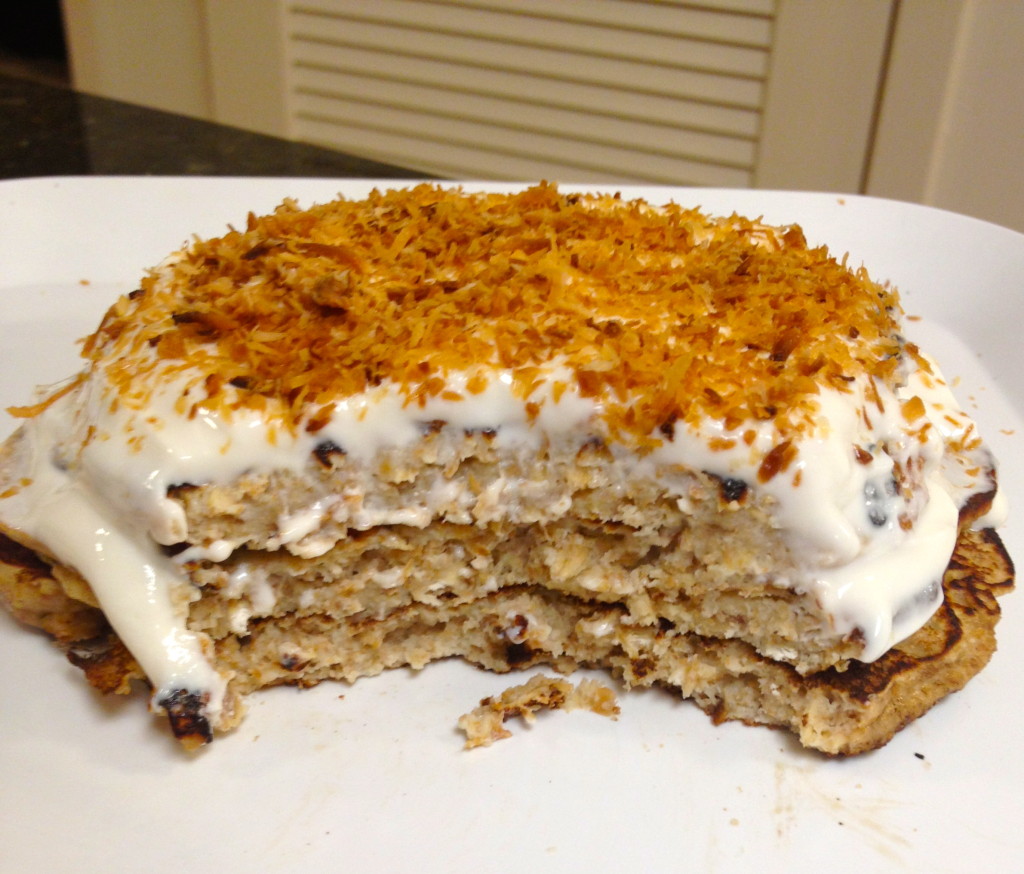 They were really good. I had the toasted coconut left over from a previous recipe. A little carb heavy for night, but I am a fan of breakfast for dinner over breakfast for breakfast!
I will probably make the stir fry tonight.
Oh and update on Miss Phoebe, she jumped in the laundry basket AGAIN, this is 3 nights in a row. Mommy to the rescue….
No pics of her today, she has been sleeping under the couch all night. Not sure where her new spot will be in my new apartment! I don't think I am going to put a couch in. I know, NO COUCH!? I am not big on having company over so it's never used. It's just Phoebe and I and we use my big Lazy Boy. I'd rather have the open space and use it for something else instead of a couch that holds my laundry.
Well, that's all for today. I'll be back tomorrow with that recipe for the pancakes!
XOXO WIth a Cherry On Top,
-Minnie