Vegan Blueberry Cheesecake
When did I turn vegan?
Well, never, but I like a challenge.
Plus dairy isn't my friend anyway…
I've heard that you could make a "cheesecake" from tofu so I attempted it myself. I had silken soft tofu sitting in my pantry that I planned on using for something else, but I thought back to that glorious day (okay not so glorious) when I competed in my second show. If you remember correctly, I didn't like one thing about that show, minus the awesome cheesecake I had at the end.
It was blueberry, it was amazing, and it was from PF Changs.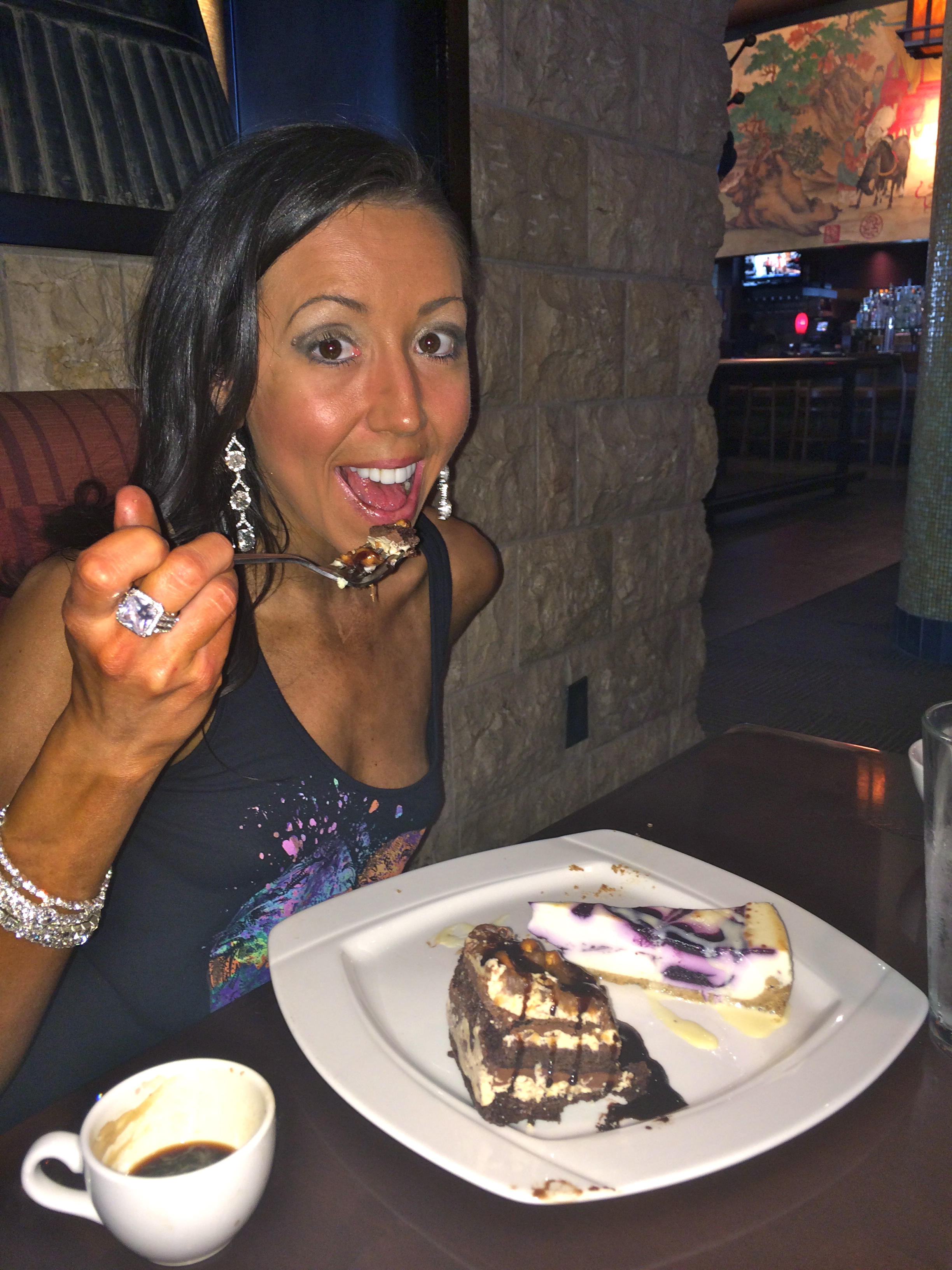 Who orders Cheesecake from PF Changs? This gal… PS. gosh that was a bad tan… 
Actually, it was one of those 3 combo dessert things and I'm not even a fan of cheesecake really, but blueberry sounded like heaven.
And it was 😀
Now let's be honest here… this is definitely NOT a real, thick, and creamy blueberry cheesecake, but it does the trick for being healthy and vegan.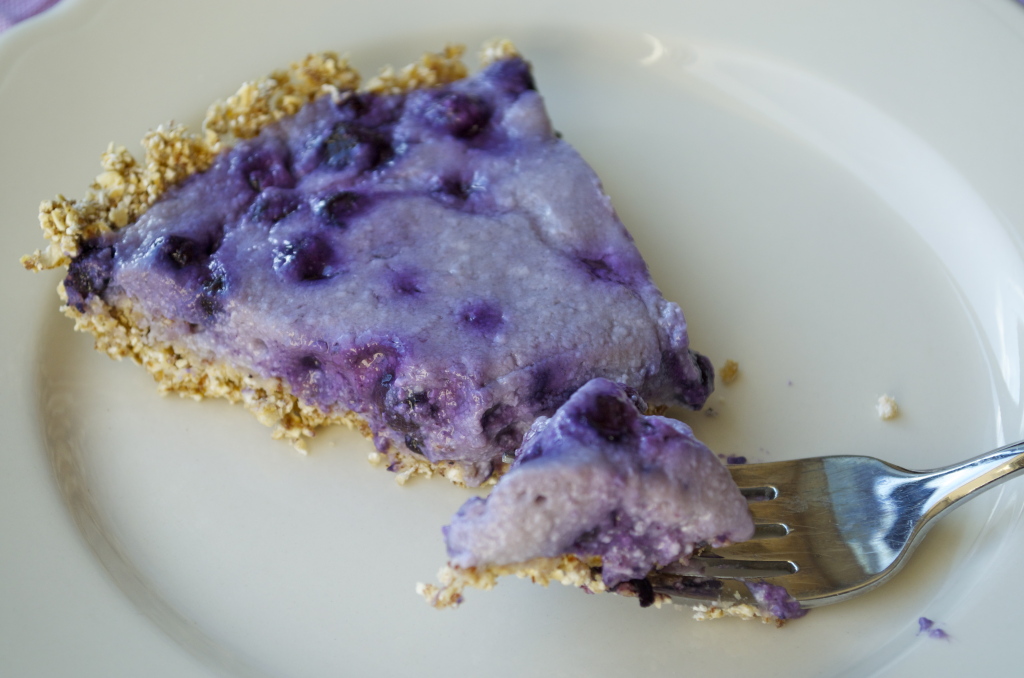 164 calories a slice versus 929… yep you read that right, 929 calories for a slice of Cheesecake Factory's Blueberry Cheesecake. Yikes!
So make my healthy version and avoid a few extra trips to the gym out of guilt 😉
Here's What You'll Need:
1 1/2 cup old fashioned oats
3 T ground flax seed meal
3 T water
1 package softened silken tofu (or 12 oz)
1/4 cup Coconut butter (melted)
1 cup  frozen blueberries
 1 1/2 T pure maple syrup
1/2 teaspoon xantham gum
1 teaspoon vanilla
pinch of salt
stevia to taste
Serves 8
I didn't have a cheesecake pan for this so I used a regular pie pan, it probably would have turned out much more "cheesecakey" rather than pie like, but still gets the job done 🙂
Start by mixing together the flax meal and water. It creates an egg like consistency once it sits for about 5 minutes. Place it in a food processor with the oats to create a crust. Spray a little nonstick cooking spray (I like coconut) in the pie tin and press the crust mixture down into the pan, coating all edges evenly.
In a mixer, bring together the tofu, coconut butter, vanilla, stevia, salt, and maple syrup. Mix until a thick batter has been acheived. Add the xantham gum and whip on low for 2 minutes.
Remove from the mixer, gently fold in the blueberries. My favorite part! Seeing it turn blue-ish purple!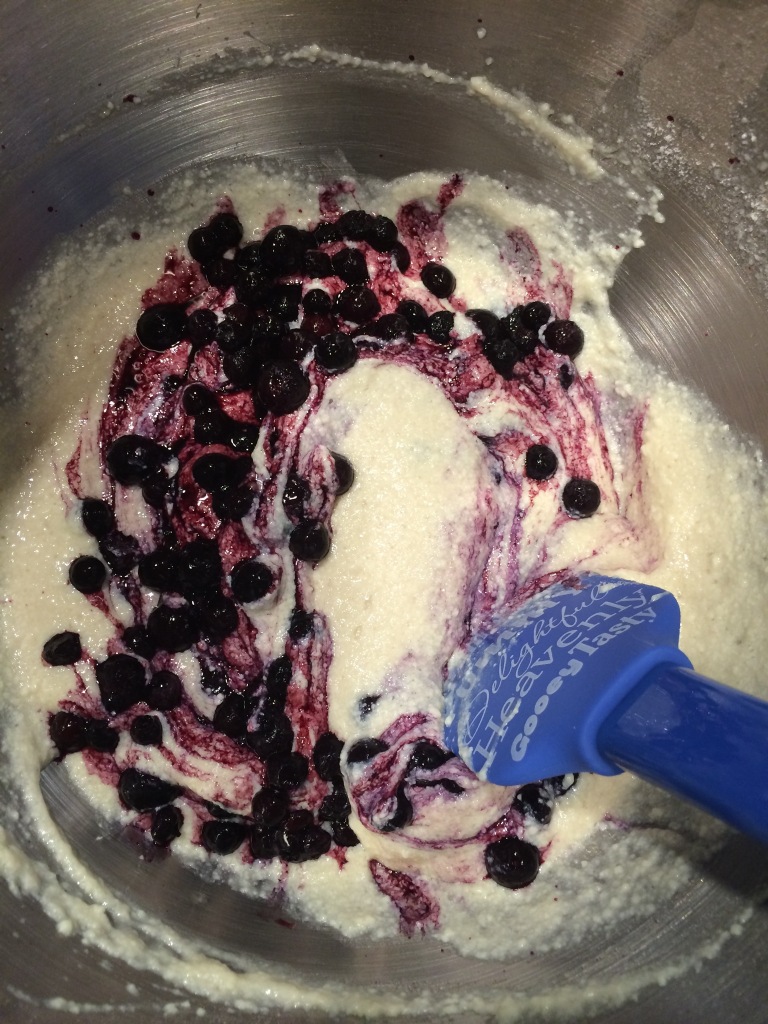 Pour into the pie tin…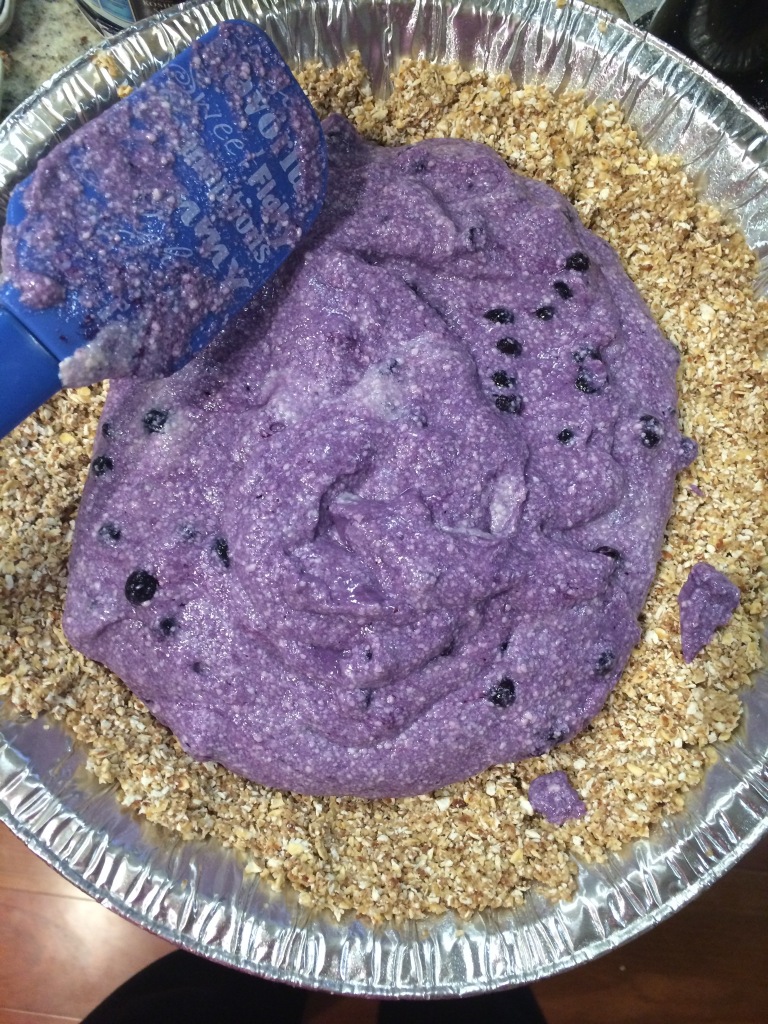 Bake on 350 for 30 minutes and let it cool COMPLETELY. Place in the fridge overnight  to let it set 🙂
Mmmmm vegan cheesecake!
Macros (per slice): 164 calories, 7.6 g fat, 19.25 g carbs (4 g fiber, 4.6 g sugar), 6 g protein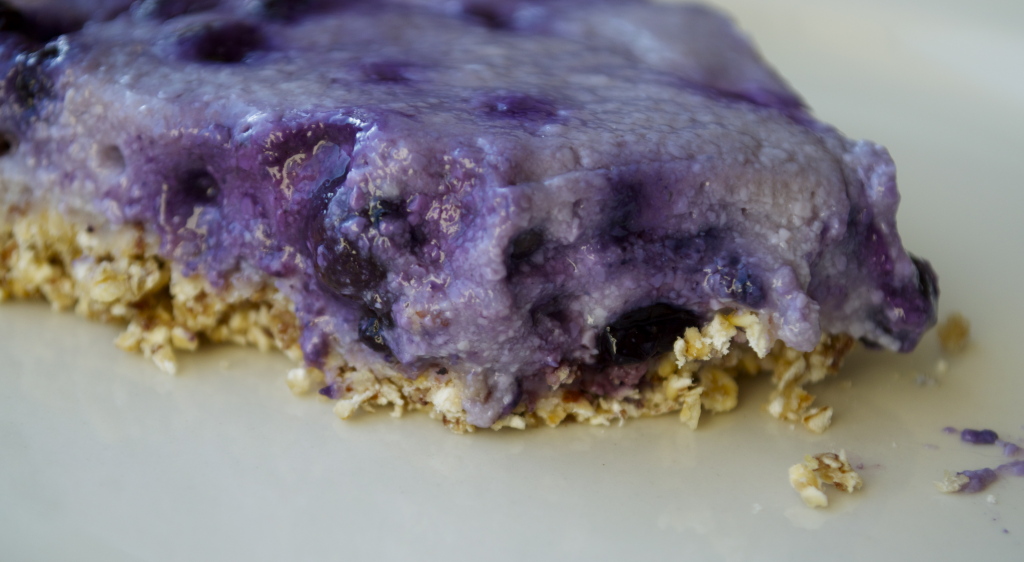 I really love any kind of crust. The best part in my opinion!
Happy eating…
XOXO With a Cherry On Top,
-Minnie