Weekend Finds
Good Morning. Happy Monday. Back to the week we go!
I'm a routine person, no doubt, but I do have to say I absolutely love my weekends because I love my gym time the most on weekends! I am not pressed for time, I can go whenever I want, and I don't rush through things. Wouldn't it be nice if life was like this all the time?
Like I mentioned yesterday, Phoebe's obedience class was cancelled due to rain. I was so upset! I was up super early, got dressed, and boom, sorry, down pour.
So instead I took some pictures in what was supposed to be my day outfit. And little Miss Buffay decided to photo bomb me in every darn picture!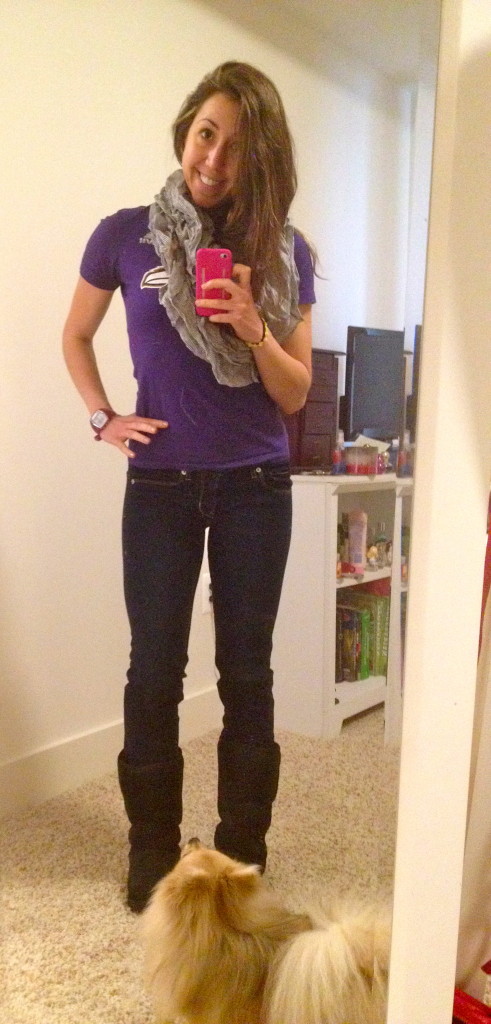 Take one
Take two
Now she's just trying to irritate me!
So no I didn't get a picture alone…
I had breakfast and since it was high carb day, I had rice cakes with peanut butter, one with PB2, and some chia seeds sprinkled on top.
Then I made a fluff! Can I get an amen for some bananas?
We then traveled to G-Mama and Pop Pops, and I headed to the gym. Let's just say my first 10 minutes I wasn't sure I was going to make it. My back was ON FIRE from the workout the day before— you can see it HERE— and I felt a little too full from the fluff and the rice cakes. I guess I over did it with heavy carbs?  I warmed up on the step mill (10 minutes) then went down to do some squats and thought maybe I just needed some lifting to get it out of my system. Well my first set of squats I used a 50 lb bar and then I got stuck.
YEP STUCK.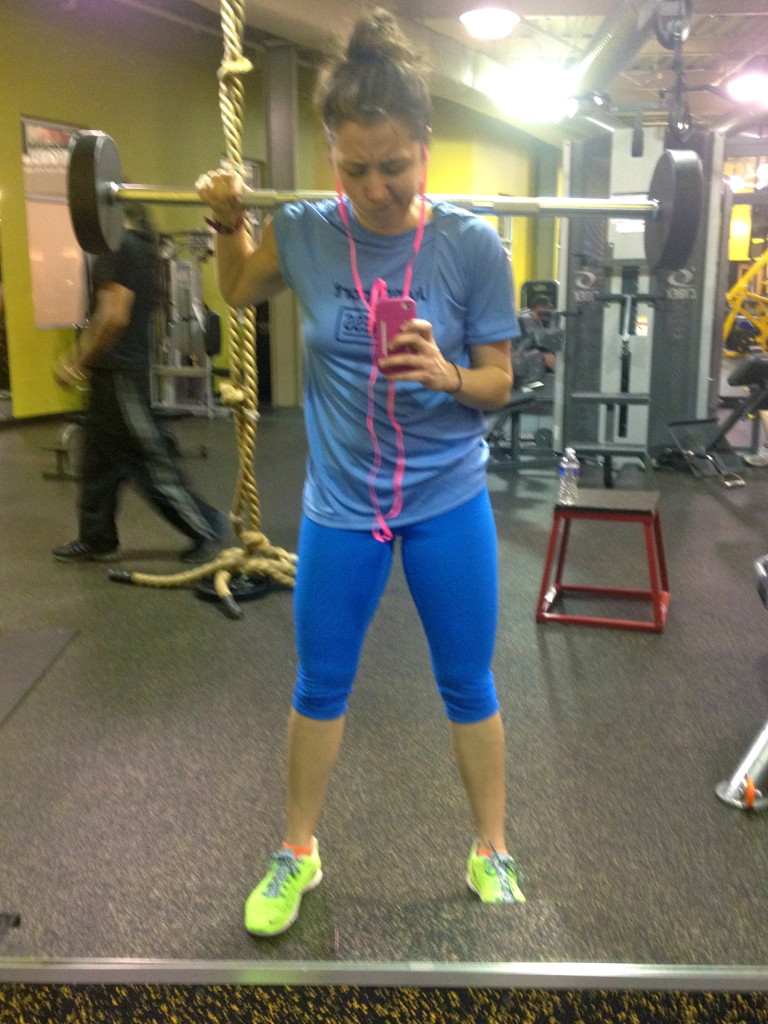 Helllllllp
My back was so darn sore, after I finished my sets I couldn't lift the bar back over my head. What did I do? Naturally I grabbed my phone and did a selfie to capture the moment 😉 but then I took a few deep breaths, and pushed up with all my might to get the bar over my head. I guess I could've dropped it, or asked for help, but I refused!
Once this embarrassment was over, I felt better and then my workout was beastly!
Good Mornings, 50 lb bar, 10 reps x 4 sets
Deep Squats, 50 lb bar, 10 reps x 4 sets
Leg press, 180 lbs, 12 reps x 3 sets, then PERSONAL RECORD!

270 lbs

, 5 reps x 3 sets 
I had to walk it out after the presses, so 6 minutes on the treadmill I strolled
Plie squats, 50 lb bar, 12 reps x 4 sets (2 sets on toes)
Calf raises- seated, 50-60 lbs, 10 reps x 4 sets
Box step ups, 12 lb weights, 8 reps x 4 sets
Wall sits, 45 seconds x 3 sets, 1 set for 1 minute
Wall sits BURN! I alternated these with the step ups.
Squats with one leg on a box step up (works inner thigh more), 40 lb bar, 10 reps x 2 sets each side.
Glute pulses with 40 lb bar on shoulders. (Lift one leg off the ground behind you and pulse up), 10 reps x 2 sets each leg
I realize the pose below is not the best for a blog, but let's talk about my calf progress!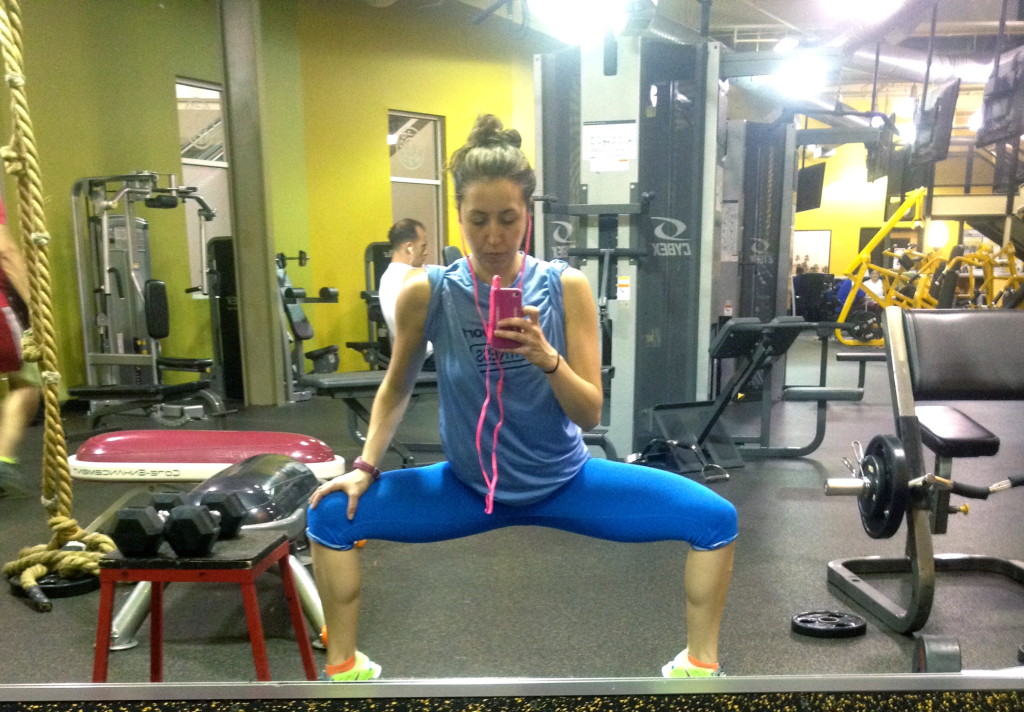 It's those plie squats on the toes! Works them good 🙂 My cardio was also an intense 40 minute spin session. It was hot in that room!
After the gym I decided to venture over to Nordstrom Rack. I was actually looking for boots, but you know me… did I come out with boots? Nope. Did I come out with something fitness related? YES!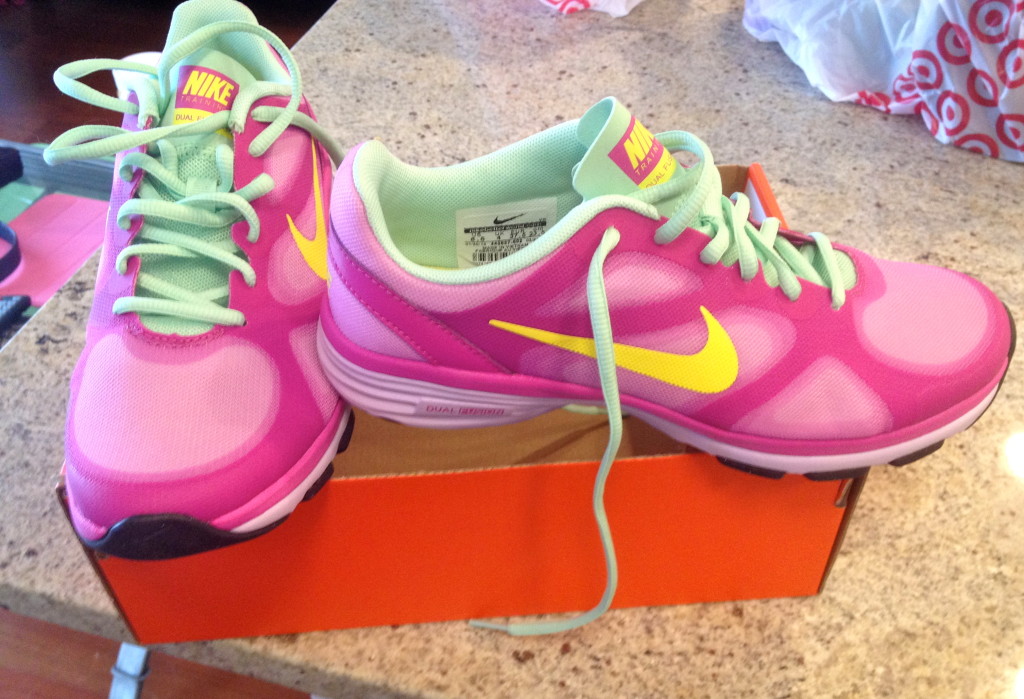 Another pair of Nikes. I thought they were so pretty, I couldn't say no. Plus they were on sale, so that's a win! Here are some of my other weekend finds from these past few days.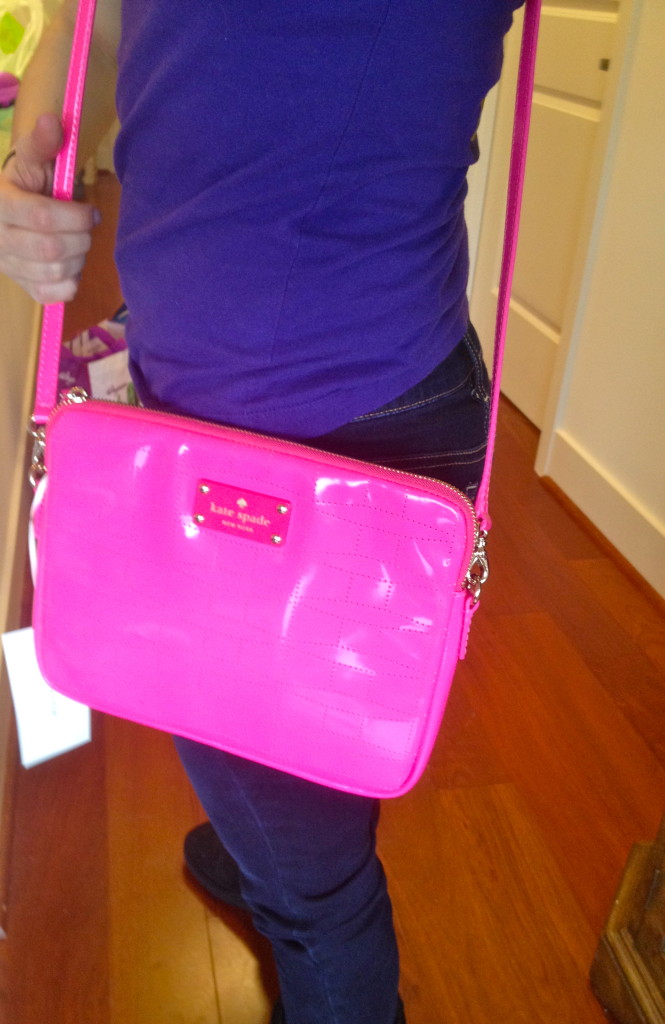 This Kate Spade iPad case was marked down from $178 to $42! 75% off. Such a good find. It doesn't have one mark on it. Plus it's pink, AND patent leather. Double win. Now I don't have to just sling my iPad in my gym bag like I normally do.
I found this cinnamon at BJs and I definitely can tell a difference. It's rich and delicious.
BJs also carries my FAVORITE Mrs. Dash flavor in a huge bottle. I put this on everything. Veggies, chicken, fish, etc.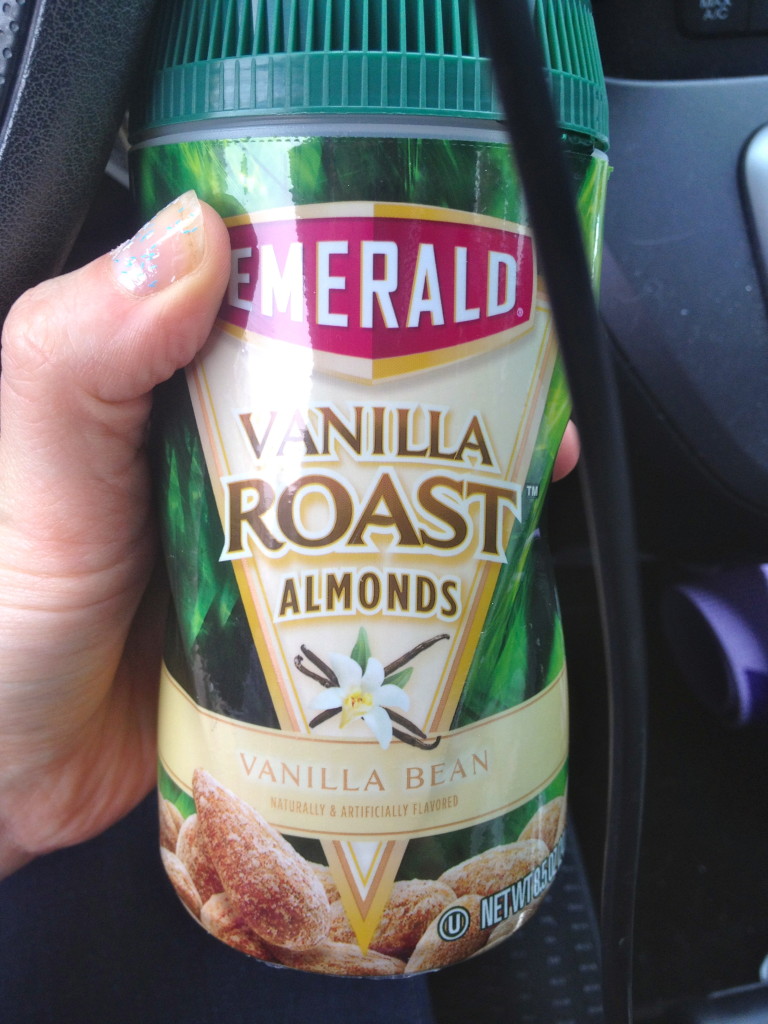 These are my favorite flavored almonds and I found them at Target finally! I snacked in the car because I was starving.
Back at home I meal prepped until I collapsed. Seriously, I had to do 2 huge meal preps because I am carb cycling. So 2 days low carb, 2 days moderate/high carbs. In case you are curious here is the list of everything I made:
overnight oats
egg white frittata (this time I added 2 whole eggs for a little fat)
Balsamic vinegar dressing
low carb meat loaf (already made thank goodness)
chicken breast
spaghetti squash
asparagus and mushrooms
Baked Tofu
Salads with cucumbers, mushrooms, and flax seeds
I also have my sriracha, almonds, rice cakes, and water all packed.
And as if that wasn't enough I made low carb brownies.
Bet you can't guess what piece I went for!
Ha, guilty. The middle is my FAVORITE part of the brownie pan. My mom always saved it for me as a kid. She would mark it with a little post-it note that said Minnie 🙂
These are no flour, no oil, no butter, no applesauce, no bananas, no black beans, no sugar! I know, what's left? Well that is for you to find out later! I'm saving this little recipe for a special project 🙂
I had to stop myself from not only eating the batter, but then I had to stop at just one brownie. I may have cleaned up some of the crumbs and edges though 😉
Today will be a lower carb day for me, and probably arms if my body holds out!
Have a great Monday, stay motivated 🙂
XOXO With a Cherry On Top,
-Minnie