What I Ate Wednesday
As a blog follower and lover, my favorite posts from some of my favorite bloggers happen to be "What I Ate Wednesday". It's exactly what it sounds like. They show you everything they ate during that day. Does this make me a weirdo? Well yeah probably… but I am one of those people that LOVES to know what others are eating. I actually hate watching people eat, but I like to know what they order at restaurants, what they are making for dinner, what they are making for their kids bake sale, etc. First question my mom always asks whenever I go out to eat somewhere is "ohhhh what did you get!?". See, it's in my blood.
I'm even guilty of it with television. I LOVE watching cooking shows, cooking competitions, and those food traveling shows, but I'd never eat the stuff. People always think I am torturing myself, but really I just like watching it! It's comforting without the heavy caloric guilt!
So anyway, here is my version of What I Ate Wednesday. Technically yes, this was a Tuesday, but now it's Wednesday so it counts!
In between seeing patients in the ER (it was Terrible Tuesday), 6 egg whites with Mrs. Dash, overnight oats in a leftover Justin's chocolate almond butter jar, large Starbucks coffee (for the win!)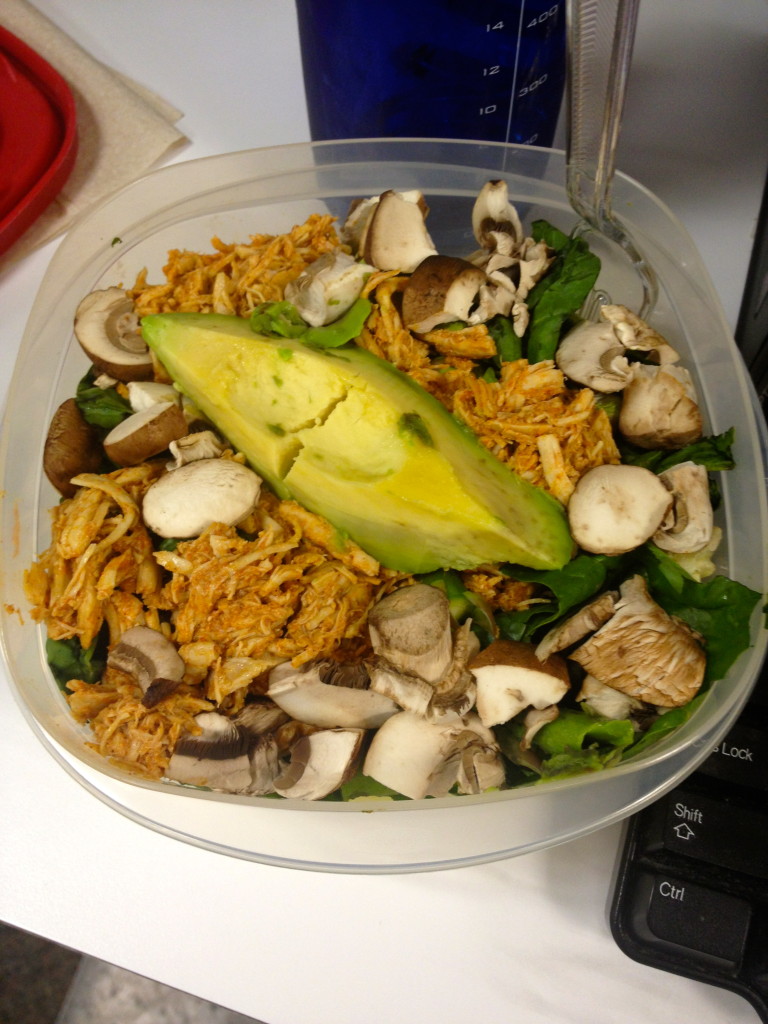 Lunch was a salad with left over shredded chicken breast- taco style. I added in some mushrooms, asparagus, avocado, and used salsa for a dressing!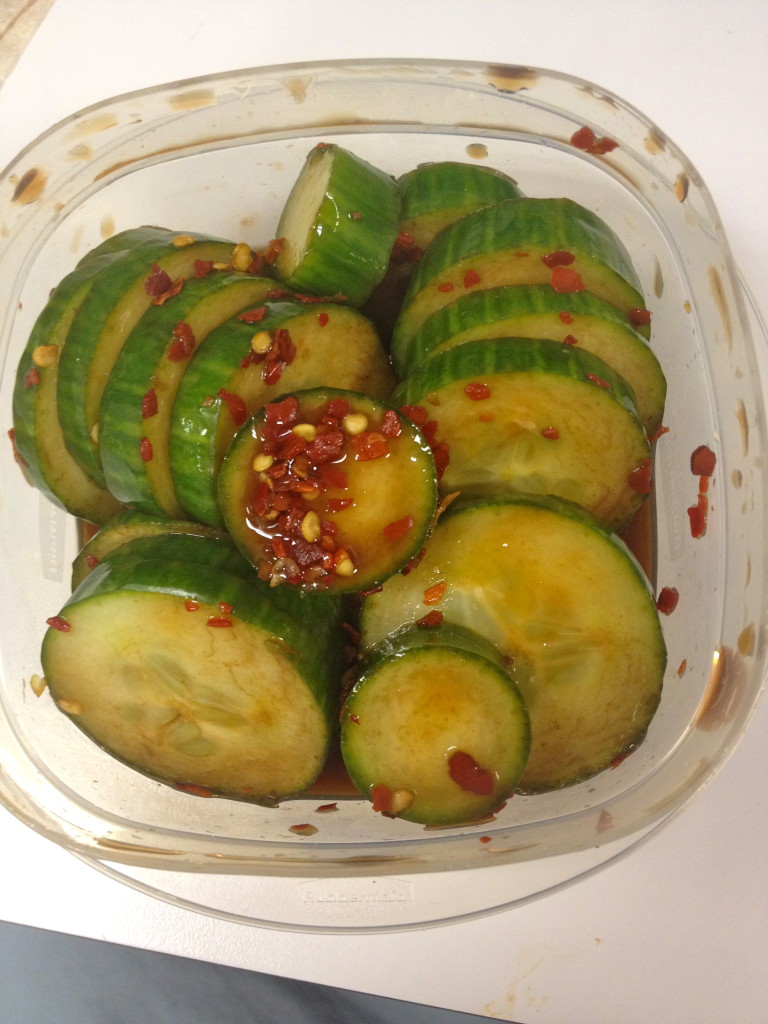 On the side some cucumbers I marinated overnight in a little apple cider vinegar, balsamic vinegar, and red pepper chili flakes for spice!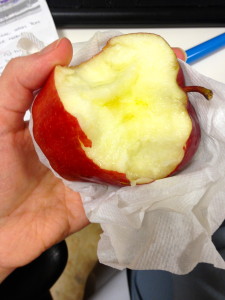 Before the end of the day I swiped an apple from the resident lounge, had some more coffee that I regretted later, and then a small mozzarella cheese that I also regretted! I felt very bloated later. Not sure if it was the cheese or the coffee that did me in?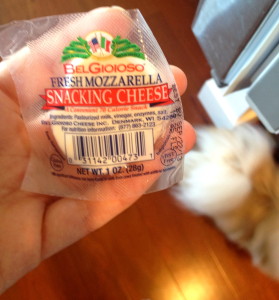 When work was finally through I pushed myself to go to the gym. I really didn't want to go. I was SO sore from all the leg and glute work we've been doing and I didn't sleep much Monday night because Miss Buffay paced the bed all night long 🙁 I made myself go though! I did a QUICK workout that consisted of 35 minutes of cardio, sets of pushups and then side bends. I finished with a long stretching session, so I was there almost an hour.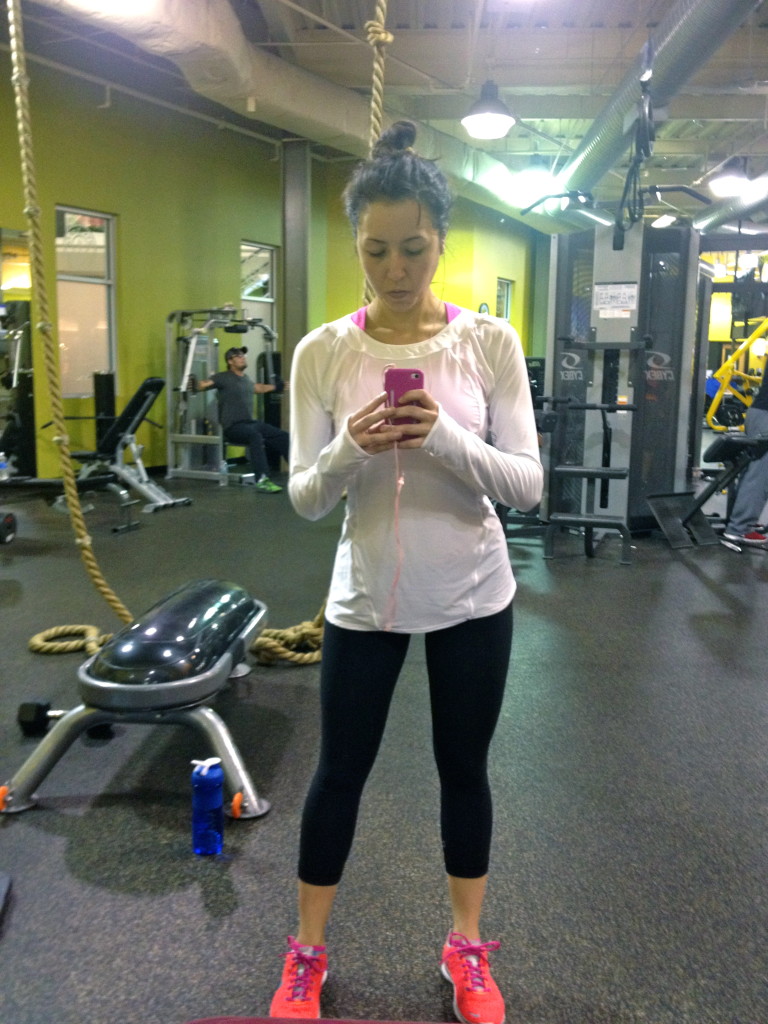 See my white lululemon shirt?
Well I realized when I was almost done that it was inside out! Whoopsies… thumbs up anyway!
I also did my best to avoid some cop that couldn't take a hint. Really dude I'm not into it, sorry to burst your bubble.
Post-gym fuel was a banana! I needed to eat something ASAP.
At home I made dinner which consisted of bison steaks with Mrs. Dash Steak seasoning (I made extra for another lunch) and then another large salad with warm veggies on it.
I did use some light honey mustard dressing, whoops. I can't help it! It's so good 🙂  I usually make my own, but sometimes you have to live a little.
Handfuls of trail mix might have also been consumed 😉
Phoebe had her regular puppy food and also enjoyed a Chewnola Busy Bone (her favorite).
At the end of the night, I lounged in my chair, made my lunch for the next day (I didn't meal prep and I always regret it), and then watched a little TV before bed. I hate that I barely have time at night to do anything. Work comes around too fast again.
My "I don't want to go to work"  face
So that is all. Nothing too exciting around my way! Don't forget today's Booty workout:
I might have to push mine to Thursday if I take today off from the gym. Either way if you do this today, take a rest day from glutes the next day! If you use today as a rest, push it to tomorrow and we will be caught up 🙂
Happy Wednesday, look we are closer to Friday already!
XOXO With a Cherry On Top,
-Minnie