Eye of the Blue Tiger
Good Morning. I hope everyone had a lovely long weekend. Goes way too fast doesn't it?
How's everyone and their bums feeling? Mine is SUPER sore. I'm not used to doing legs and glutes this much, oh boy am I feeling it! Today is officially day 3 which is a rest day for those little backsides. Thank goodness. The walking lunges did me in yesterday. 100 of those are a lot!
Yesterday I started my day with another ezekiel english muffin with cashew butter. This time I drizzled some sugar free maple syrup on it. OH WOW is that heavenly! New favorite breakfast!
this was before I mixed in the cinnamon and stevia
Then I got dressed for the gym since it was closing early at 4. I decided to wear my crazy blue tiger pants.
These are reversible Zella pants I bought during the Nordstrom anniversary sale. The other side are the plain blue that I have worn before.
The gym was EXTREMELY crowded and I was not pleased. There is another Golds Gym I have access to that is technically closer to my work, but I am not a fan of it. I've been thinking about going back though until my regular gym gets their stair master issue under control. Seriously ONE that works out of 4 is not okay. People stalk for the darn machine and I wait around for no one, sorry. I was able to snag the last treadmill thank goodness. I ran 22 minutes straight and then walked another 13. I always feel like I can run more, but I knew I had some glute work to do and needed to save some of that energy! After the treadmill I worked on my biceps:
Bicep curls, 30 lb bar, 12 reps x 4 sets
Bicep pushouts, 30 lb bar, 10 reps x 4 sets
Biceps side curl pulses, 12 lb weights, 12 reps x 4 sets
Plate hammer curls, 25 lbs, 10 reps x 3 sets
Side bends, 25 lb plate, 15 reps x 2 sets each side
Alternating uppercut punches, 15 lb weights, 20 reps x 4 sets
Then I did day 2 of Beautiful Booty Booster
I finished with a quick 10 minute incline elliptical session and then some stretching!
Note to self, do not buy any more sports bras from Forever 21. I bought this hot pink one because I had a card and it was cute, well it bled right through my tank. Thank goodness it was just a target top and not a Lulu!
I went back to my parents house to shower and Bella, Casey, and Drue were already there. As I pulled up, Bella was driving around the neighborhood in her pink mustang. So adorable!
This kid is too cool for words.
The boys had Maryland crabs and G-Mama made everyone tacos. She is always so good to me and makes them healthy for me and my sis! Pulled chicken breast with taco seasoning for Minnie. I made it into a salad instead and used taco sauce as a dressing. I paired it with a tiny bit of guac and a few sweet potato chips for crunch!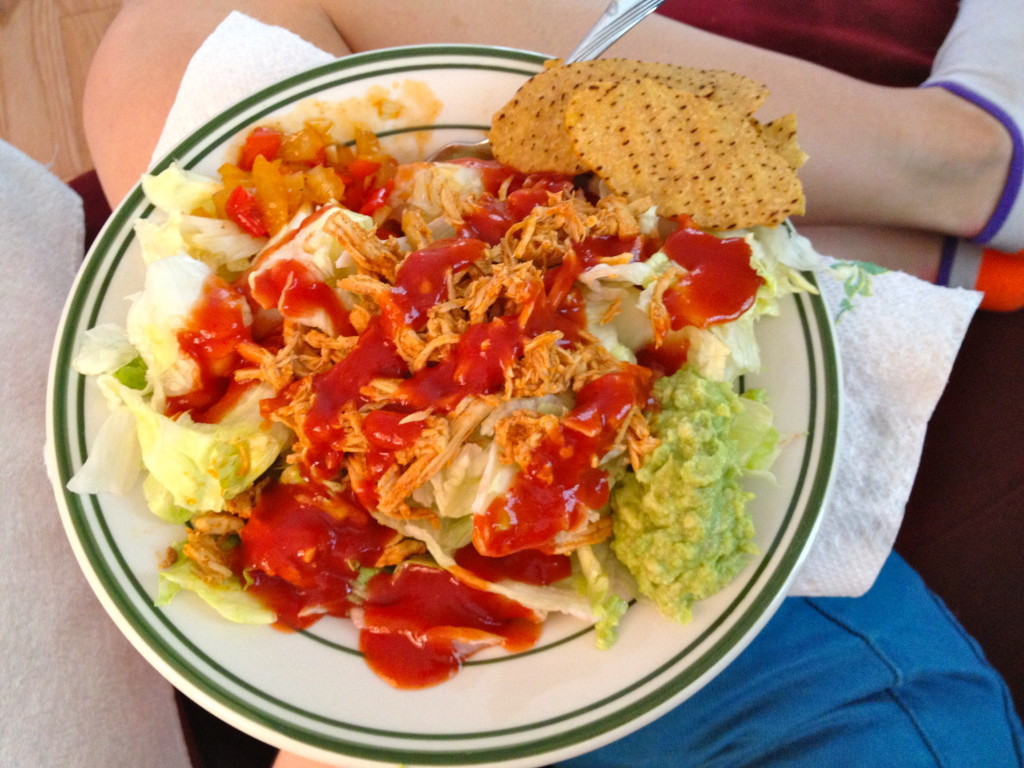 There's never an excuse to be unhealthy! You can make anything into a better option 🙂
Later on in the afternoon I took all my luggage and headed back home. This is a LIGHT day for me.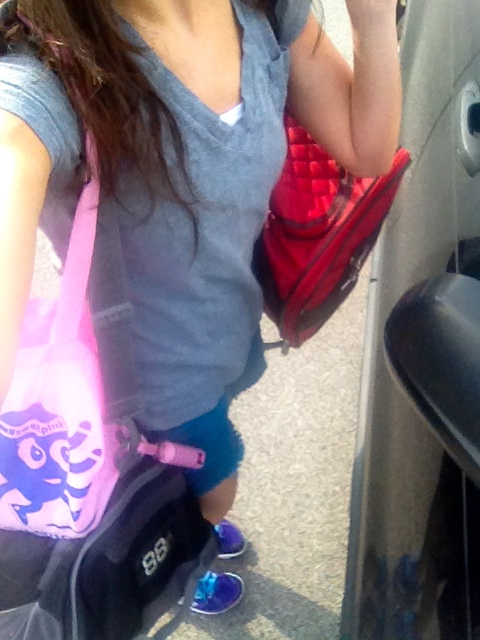 Gym bag, food bag (thanks G-Mama!), and Phoebe's carrier. Lots of baggage eh? 😉
Our night ended with some Big Bang on DVD (okay I am a nerd and started over again, hey I like what I like), some light meal prepping which consisted of mostly snacks and breakfast foods since G-Mama gave me the chicken, and watching Phoebe amuse herself. I love my pup so much. My parents and I both agreed she is so much fun to watch. Such a huge personality on such a small thing.
Day 4 of Beautiful Booty Booster is tomorrow, so here is that workout!
Have a great day, make smart choices!
XOXO With a Cherry On Top,
-Minnie