Why Did the Chicken Cross the Road
Bawk Bawk!
Who's a chicken? This girl.
So I didn't shave Phoebe. After writing my blog the night before I sat there and did quite a bit of research and I am so thankful I did. You guys know I am a proud mama about how beautiful Phoebe's coat is. Well they said IF you are going to get a Pomeranian a trim, take her to a place where they know poms. Even a regular haircut can change the texture of her hair. A full on shave will make her wiry and a fuzzy texture. Phoebe has beautiful silky hair. I read articles and posts from Pomeranian lovers who took the plunge because they thought the same as me, "their dog is hot". Truth is Pomeranians naturally have 2 coats. One during the summer and one during the winter according to climate changes to keep them cool and warm. They said if you clip or shave one too close it can actually have a reverse effect and the dog will not be properly cooled in the summer.
And then I read the posts from owners saying it was the worst mistake they ever made, they cried and wished they had never done it. So yeah we chickened out. I thought about still taking her in the morning just for a "shape up", but turns out my phone totally died overnight even though it was fully charged. I woke up a little after 8 (our appointment). I am all about signs and this has NEVER happened before. Something told me don't take that dog. So we didn't go.
Then I thought what if the tables were turned and Phoebe cut my hair? Hey my long hair is my pride and joy, so yeah Phoebe wins this one. Maybe one day when Miss Buffay is older I will change my mind. But for now she's still a young pup and she hasn't had her coat long, so I want to enjoy it for a little while first 🙂
Moving on. Today is an exciting day! I am going to see my first NPC show! My coaches will be there, but I'm really going to support my friend Alexis. We met at the gym one day after she found my blog and became fast friends these past couple weeks since we are both training. Some of you guys might even know her if you follow Instagram fitness accounts. Her username is Strongisthenewsexy.
I've watched her transform her body over 13 weeks and boy has she done an amazing job. I'm very proud of her for doing it ALL NATURAL. Let's be real folks, a lot of these girls don't do it natural and aren't 100% honest about how their bodies got there. This is a big reason why I considered not competing. Plus the whole people who know people thing… most of the time it's a popularity contest just like everything else.
But for the two of us it's not about the win, it's about seeing your body transform. So sending my love and cheers over to Lex. She already told me I could post pictures tomorrow. I can't wait to show you guys! I'm bringing my SUPER DUPER zoom. I tested it out on Phoebs already 🙂
Yesterday afternoon we headed to G-Mama and Pop Pops. I dropped off my little ball of fluff and went straight to the gym! It was shoulder day. I also did mini HIIT cardio sessions.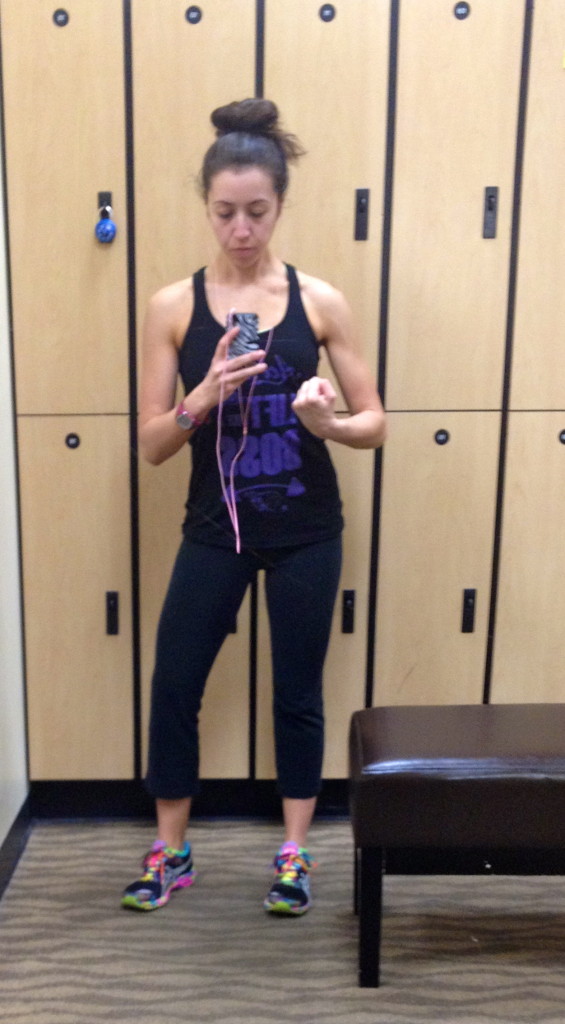 I really feel like this week I went backwards, but at the same time the first 4 weeks are not about being super lean. It's all about the muscle you build. I lifted almost right on schedule these past 4 weeks. I think I only missed 2 days from being sick or other things. So not bad!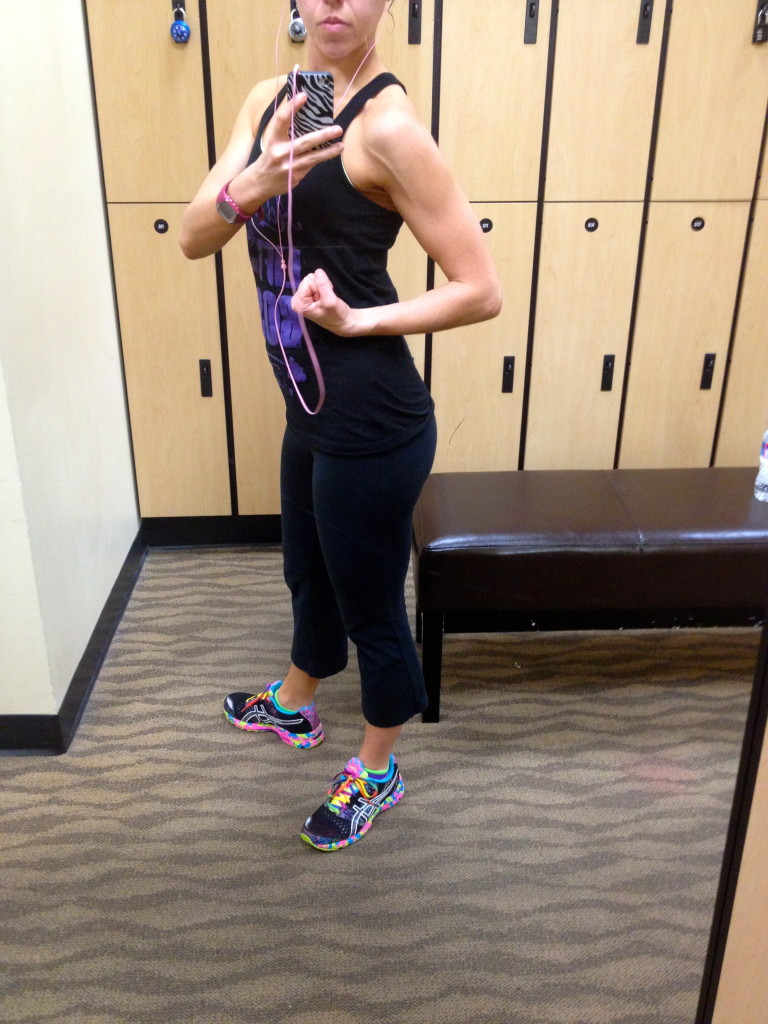 After my gym sesh, I headed in the mall to find a few pairs of shorts. I actually went in Forever 21… call me a snob, but I do not normally shop there.  To my surprise, the clothes were actually SUPER cute, just cheaply made. It's one of those you wear once or twice then throw out. I guess a lot of girls shop here when they need that top to go to the club or something one night, but let's face it… me in a club? Laughable! Only club you will find me in is a gym. I went in because this prep has me all over the place with my sizes. I didn't want something too expensive that is not going to fit later on down the road. So I picked up 3 pairs of shorts that were only 13.50-18 bucks a piece. Including these, which were the ONLY pair in the store and I thought they were so adorable!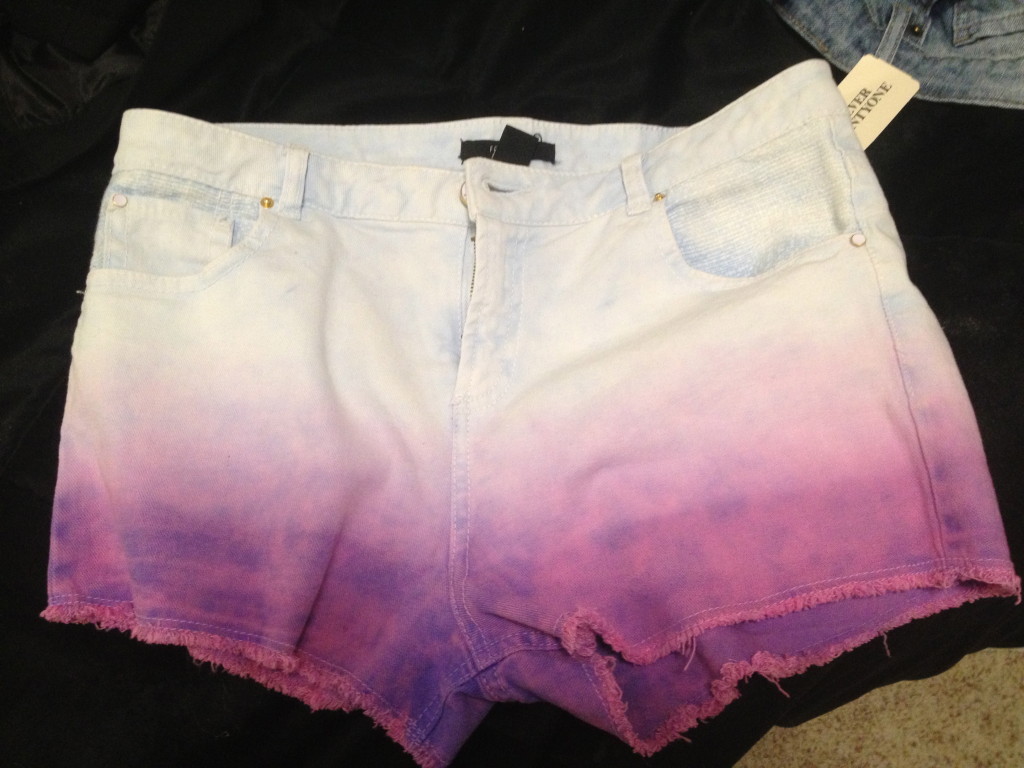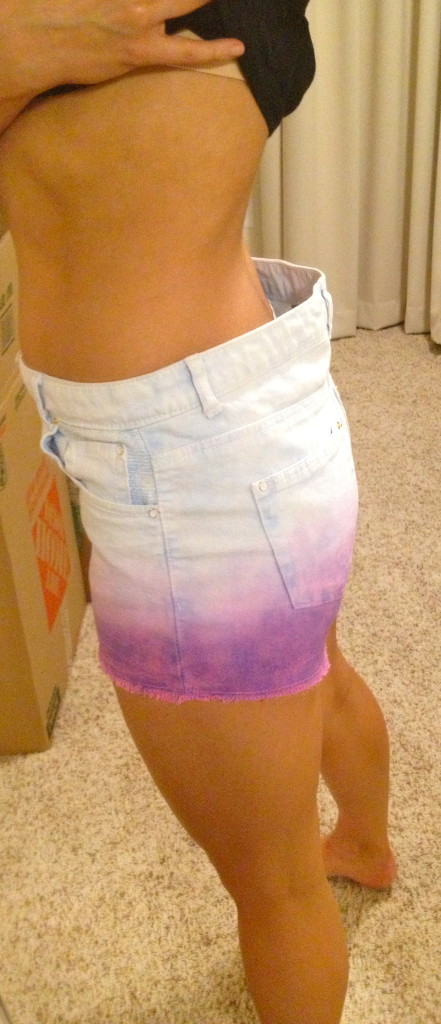 No I didn't try them on in the store. I hate trying on clothes. So I held them up, said hey they will fit and went on my way. Well they don't, too baggy. The other pair was too big as well, and the third pair wasn't a jean material but I hated the way they looked on. Lesson learned. Try stuff on.
When I came home I cleaned up, showered, and headed to get my Friday night spray tan. This time I went with the bronzer on top for the instant tan.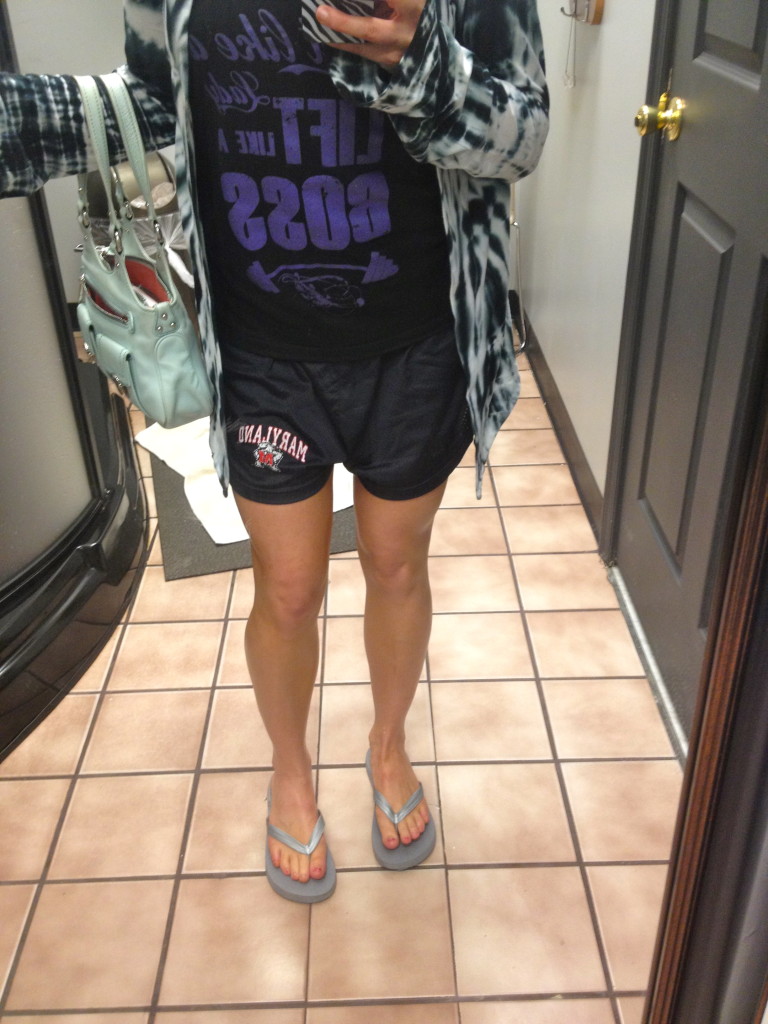 At home I had dinner which included chicken breast and a salad
Then I prepped a few things for the day to get ready for the show! Can't wait to see one finally. It really is going to be a game changer for me. I've been considering not competing, and just doing the diet and exercise for the challenge. Not sure I want to parade my body around for people to judge… today will be the final decision!
Have a wonderful Saturday and come back tomorrow for the show update! 🙂
XOXO With a Cherry On Top,
-Minnie
P.S. Can we discuss how big of a deal it is now that Instagram has video!? I'm obsessed! If you want to see my videos, follow me! Username: SkinnyMinnieMoves. I put a couple of Phoebe up but there will be lots of cool fitness stuff to come. Too bad you can only upload 15 seconds 🙁