You See, I See
Hi my dearest friends!
Today I wanted to touch on something that's been swept under the rug for sometime now. A few weeks ago I did a post titled "Why I do This", a blog about why I compete and put my body through competition prep.  I basically came to the conclusion that I'm not sure where the rest of my prep will go, but I might as well do it while I can.
I think this is the dumbest thing I've ever said.
While it may have been a successful blog and readers enjoyed it, I was making a huge life decision on the fact that I should suck it up and go through prep since it won't always be an option for me.
I was truthful, as I always am. I discussed the positives and negatives, and the desire to live that "normal life", but want the challenge of it all.
Here's what I'm missing in all this… I can challenge myself without a sparkly bikini and a deadline.
When I've talked to G-Mama, Tony, and a few of my closest friends everyone has told me I don't need to write this. I don't need to say why or why not about competing. But if I don't, I feel like I'm not being me, I'm not being honest, and I'm not releasing out into the world what I feel like needs to be said.
For the past few weeks I've scrolled through endless pictures of myself. All around the time of my prep for my last two shows and I saw a very common theme. Lean and shredded, yet insanely insecure, unsure, and spastic.
Here you see me. I look shredded, accomplished, and the perfect image of what a gym girl represents.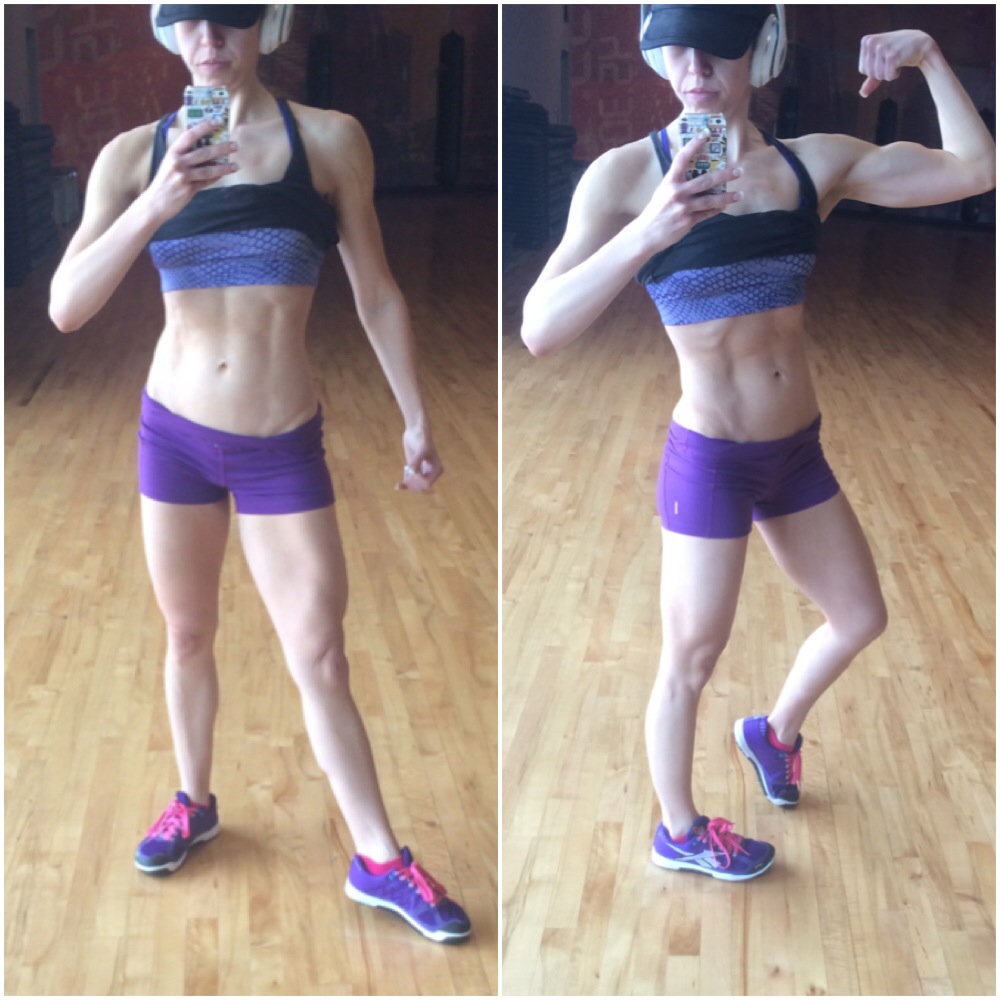 What do I see? I see sadness, emptiness, obsessiveness, lack of motivation for anything other than the gym, emotionless,  and not wanting to be around anyone but my dog.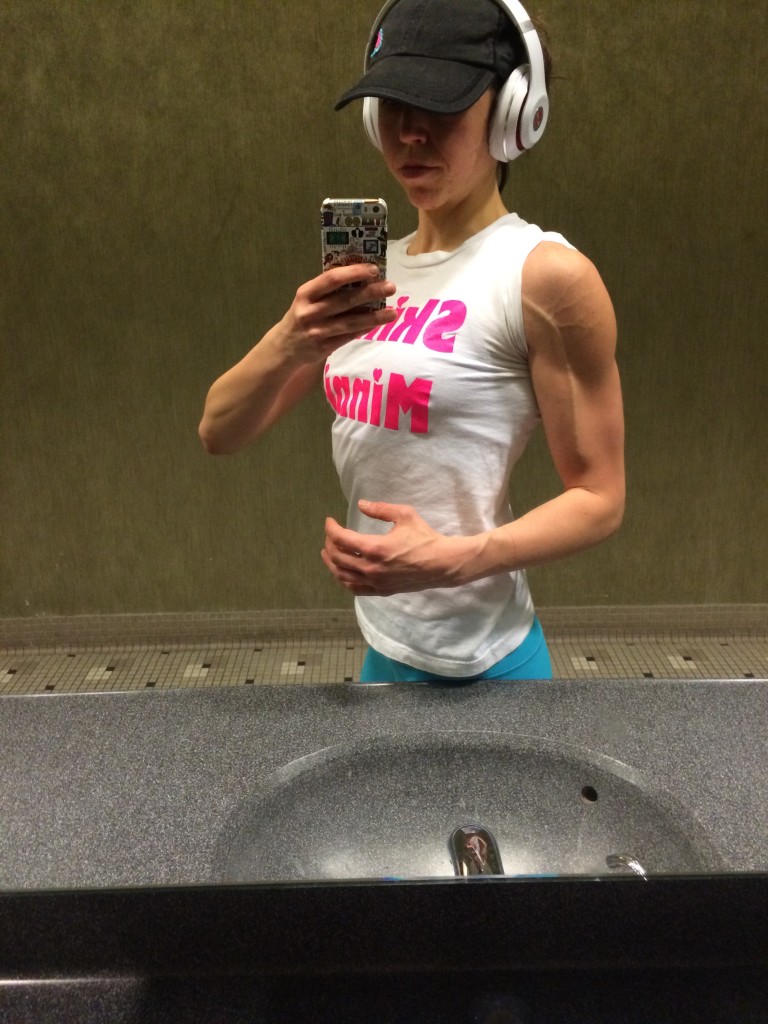 Those shoulder veins? Popping, right? Looking good? I see someone who stood in the mirror for hours scrutinizing every line on her body, and deciding to skip the almonds for a week since her abs weren't flat enough.
Now here I am.
You see a happy woman, smiling, up in weight since the stage, but still keeping a regular routine.
I see the same.
Funny enough, I saw a very popular Instagram fitness "star" post the other day that she is no longer competing. You would think no one would care. It's her life, right? Well people kept commenting WHY!? Why would you give that up? I had to laugh because it's not what you are giving up, it's what you are getting back. Your life. Your happiness. Your sanity. Who the heck wants to live their life weighing pieces of chicken and living out of tupperware? When you are so darn tired from work but you get up at 330am because you have to hit the step mill. I NEVER want to look back on these years and only remember that. 20 weeks here and there of living that way only to be shredded for maybe a week? Then you rebound so hard and are back at square one.
I can't sit here and be 100% negative about this process. The Gladiator I WANTED IT. I wanted it so bad, nothing else in the world mattered. Things change though, and now I simply do not want that lifestyle for myself. I want to be happy and live my life with my boyfriend. I want to be able to go places and not worry about when I am getting in my cardio, or if my fish will go bad in the cooler from sitting all day. If I want to skip the gym after a long day of work and meet my boyfriend at a restaurant for dinner then I'm going to do it without guilt.
So what was the tipping point in all of this? Well I was scrolling Facebook one day and all I saw were competitor friends. Nothing else. It was one throwback Thursday pic after another to the moment in time they were shredded. The constant one upping, talking about how they will slay this off season, or this or that prep, take the overall, saying #PrepHarderThanMe. I clicked the big giant X in the corner of my webpage and said ENOUGH!
I said out loud "I hate this sport". 
Yes, I said those words. Do I mean it? Not really, HOWEVER I hate what this sport is becoming. It's no longer a personal goal. It's doing it to prove a point or to fit in. It's no longer rare or special. You see it everywhere now and it's just too much for my brain to take in. I may get A LOT of backlash for this but I'm going to say it anyway. It's average looking physiques for the most part. I simply don't want to be lumped in with it all anymore. I didn't start this to fit in, I didn't do it to prove a point, and I certainly wouldn't step on stage knowing I could have done something more to look better.
After talking to my mom about this she said "this doesn't have to be permanent you know". She's right. I may be hanging up my heels for now, but that doesn't mean I can't put them back on later down the road if I choose. I don't think I'm done for good, but at this moment it's not what's important to me. I'm allowed to change my mind, there are no rules on happiness. For now I am going to focus on my career, my love, and keeping a smile on my face.
Deuces to the spray tans and ab veins.
XOXO With a Cherry On Top,
-Minnie